The committee oversaw the completed testing and WincovER rating of 62 products across wide range of indoor and outdoor end-products.
"We have completed testing and wind cover rating for 62 products from our two partners Hunter Douglas and Ozroll including ratings for manually operated, timer automated, sensor automated and fixed products," Mayer said.
"We've been having some discussions over the last year because automation plays a very significant role in enhancing the energy rating of window coverings.
"As a result we have formed an Automation sub-committee with Grant Norton (Blindware), Kane Fuessel (Hunter Douglas), Simon Eales (Alpha) and Paul de Salis (Somfy) and we're inviting other automation suppliers in Australia to join us."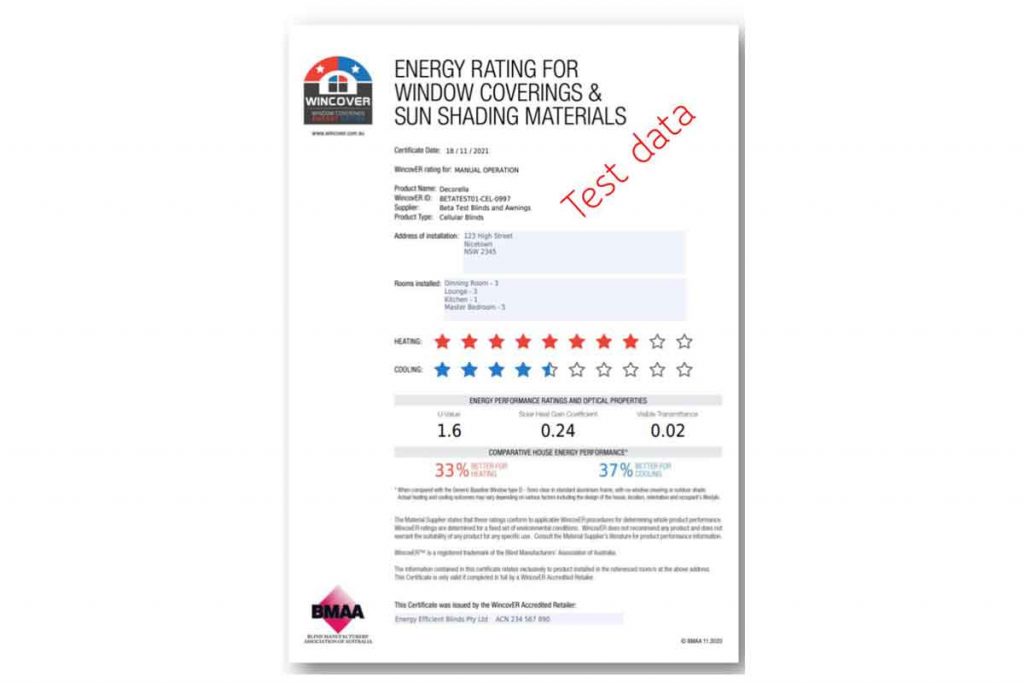 "Ultimately, we will have a list of products of automation products, timers and sensors that will help enhance window covering ratings."
"The sub-Committee will be working on the criteria for selecting products that will qualify. I would say as a WincovER approved automation."
"Approved is a big word there. It's actually products that are compliant; timers in sensors, a light sensor, a sun sensor, a clock timer, or even an internet weather link to operate your window coverings, they will enhance the performance of window coverings and you will achieve a higher star rating."
The committee also made progress on other technical processes, including an update of the scheme's simulation manual, the simulator training course and an audit of all current WincovER ratings.
On the marketing side, a website is in final stages of development and was shown to members during the BMAA Special meeting. The website will include a schedule of operations to guide end users on how to better operate their window coverings. Authorised retailers will be able to produce WincovER rating certificates for customers.
"Trained retailers will be allowed to use this downloaded certificate, which is already prefilled automatically by the database with the heating and the cooling status and the coefficients."
"It will also include the information including what type of rating it is. The retailer will be trained to complete the address of installation, the rooms where the product is installed."
"At the bottom will be the name of the retailer and their ACN number. The retailer will hand this to the end consumer together with an invoice for the end consumer to keep."
Over the next two years the BMAA intends to support and periodically review the deployment of WincovER at retail level with soft-launch partners. In mid-2023 the board will review the WincovER soft-launch achievements and decide if or when to proceed with the full launch of WincovER.
Jack McDonald, General Manager of Ozroll Industries, a WincovER soft launch partner, told WFA the company is hugely proud of and excited to be included the program.
"We expect WincovER to benefit our industry in terms of credibility, a great chance to attract enquiries and 'upsell' for our distributors, and of course a huge step toward potential government support through consumer grants or rebates," McDonald said.
"We've submitted various colours and styles from our roller shutter, louvre shutter and plantation range. Having been involved in sub-committees for this program, I've been really impressed to watch the progress and see the outcomes to date."
"Robert Mayer has done an excellent job coordinating such a large project. The website and product database are world class. We're just starting to see the great work of the technical team in bringing the ratings to life."
Simon Meyer, Managing Director of Blinds by Peter Meyer and a member of the WincovER marketing subcommittee, says that as an organisation, the company is 100% behind WincovER.
"We feel it will improve the sale of automated offerings and energy efficient window coverings."
"In addition, we have installed solar panels on our roof to reduce energy consumption."
"External blinds on our factory also keep out the heat and minimise our impact. We also explore sustainable solutions in our product range and have made it a higher priority in the future."