TBS
While supplying a wide range of products, "TBS is and always will be a specialist manufacturer in curtain tracking systems," says Director Craig Foster.
"The first products the company took to market 15 years ago were made to measure curtain tracks and associated components. Part of TBS' success is the ability to accommodate the most challenging designs thrown at us by our retailers, architects and interior designers."
"There has always been a strong focus on product design and improvement. A key feature to come out of these developments is our ability to bend tracks to almost any design requirement, particularly with our motorised curtain tracks, which inevitably end up in high end developments and renovations."
"One of the attractions of our motorised program is that our track comes in 6.5m lengths, reducing the requirement for joins, and comes off the shelf in white and black as standard supply. We also offer a service supplying tracks powder coated in any Dulux or Interpon powder colour. We've offered this service for some time now but seeing it increase in popularity as more and more designers colour match curtain tracks. Gone are the days of birch white, magnolia or white tracks being all that can be supplied. Recognising and driving changes in the market with colour and design is a hallmark of our business."
For some time now, demand for black curtain tracks and decorative rods has been increasing, says Foster. "However what we're seeing is a move away from gloss to a matte finish. As a result, we've introduced Matte Black Ink to the majority of our track profiles which flows through to our Q-Bar and oval bottom rails supplied with our roller blind program. A matte black decorative rod or track finished off with black components and magnetic bracket covers truly finishes off any renovation or new build."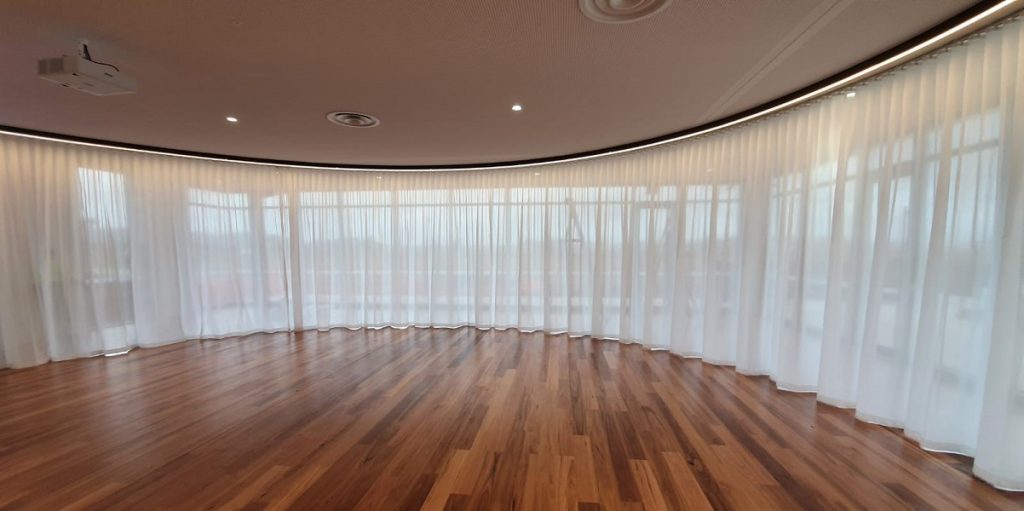 Since launching its Quick Load Cassette for S-Fold runners, TBS has invested in machinery which now allows it to supply the string carriers on one continuous thread without a join.
"We've also developed a new Mini Wheeled S-Fold string runner. We've designed the mini wheeled carrier to be able to fit into profiles as small as our hugely popular Designer 25 decorative rods and System 20 track too."
"Issues with cord getting tangled around the wheel are non-existent with the wheel arch, the stainless-steel wheel pin ensures greater strength and the wheels have been manufactured from material to ensure rolling noise is kept to a minimum."
"The wheeled carrier has also been designed so there is no hindrance from internal joiners and top fixing directly to the ceiling through the track isn't an issue either," says Foster, confirming a new wheeled wave carrier will be launched shortly.
SOMFY
Somfy recently launched a suite of curtain accessories to complement the Glydea Ultra and Irismo 45 WireFree RTS motors.
"Enriching Somfy's curtain motorisation and hardware range, Somfy introduced a collection of new solutions including a 6.3m aluminium curtain track, ripple fold curtain systems, along with sleek and versatile black curtain accessories," confirms Somfy Oceania Product Manager Laurine Massiot.
"The addition to our curtain range demonstrates Somfy's commitment to providing our customers with the best solutions and giving them the versatility and flexibility to create a curtain solution that precisely meets their customers' needs," says Massiot.
The 6.3m Aluminium Curtain track helps reduce business waste by giving Experts and manufacturers the ability to optimise the track over several curtain fixtures or projects. The track, available in White and Mill Finish, is designed to provide greater flexibility and convenience to achieve a desired look and meet customers' requirements.
To improve the precision and consistency of curtain ripple folds, Somfy unveiled a Ripple Fold Arm Adjustable System and a One-Way Butt Arm and Rotating Ripple Eyelet Runner.
The Adjustable Ripple Fold Arm and Motor Adaptor Kit is compatible in both one-way and two-way openings (in conjunction with either snap or hook curtain attachments), giving clients peace of mind that their premium curtain solution will achieve a consistent ripple fold effect (between 48mm – 80mm) from one end of the system to the other. The adjustable ripple fold arm has multiple installation methods and can be adjusted to various snap tape positions to maintain consistent fabric shape.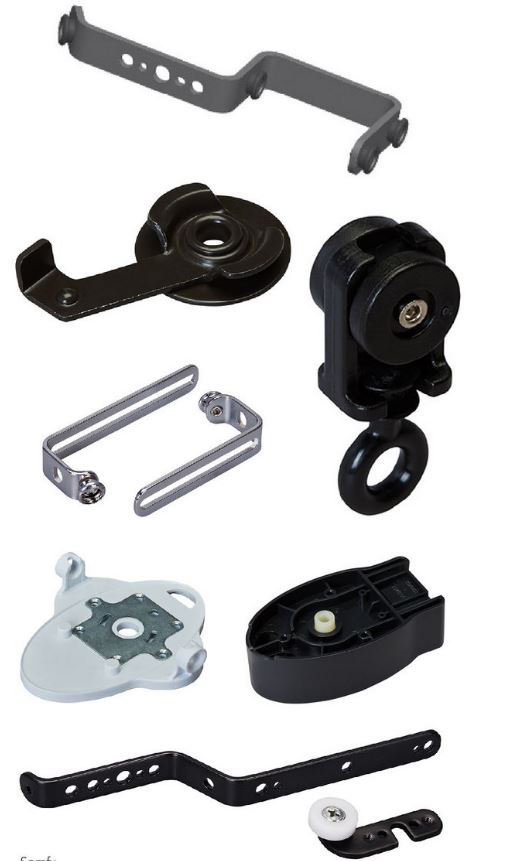 The One-Way Butt Arm helps to achieve a consistent ripple fold over a small pulley in a one-way curtain opening setting, working in conjunction with a snap tape system. The Rotating Ripple Eyelet Runner 80mm is perfect for those designs where an even bigger ripple fold wave is required e.g. to enhance curtain fullness or to cater for thicker curtain fabrics.
Meanwhile Somfy's new black curtain accessories have been met with great excitement, helping to meet customer demands and bring design visions to life.
"Black is fast-becoming the finish of choice in home décor, working well in both traditional and modern settings," says Massiot.
"The new Somfy black curtain accessories enable our Curtain Partners to be able to tap into this market trend and offer their clients more versatility and opportunity to achieve their desired curtain design."
"Pairing black décor with a curtain makes a statement in design, adding sophistication and a sense of luxury to any space."
COULISSE
Rogier Krabbe, Manager APAC, confirms MotionBlinds, Coulisse's automation concept for smart window coverings, has recently been expanded to include two motors for curtains; a 120V/230V wired AC motor and a wireless motor with integrated battery that is USB-C rechargeable.
"This now makes it also possible to motorise and smarten curtains with MotionBlinds, and we now also make these for battery motors."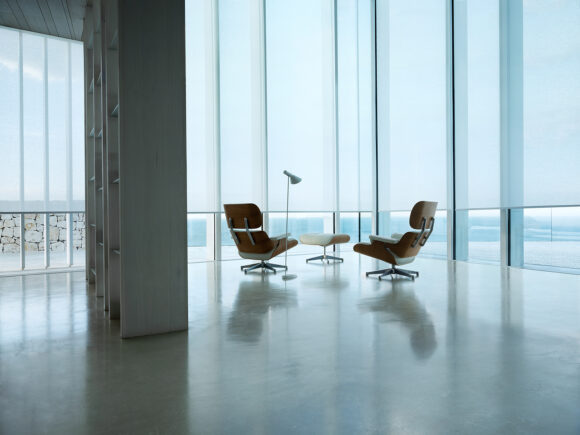 "These curtain motors fit seamlessly on our Absolute Curtain track. The motors are very easy to assemble to the curtain track. The wireless battery motor is rechargeable with a USB-C cable. Bluetooth setup is also easily enabled by scanning a QR code.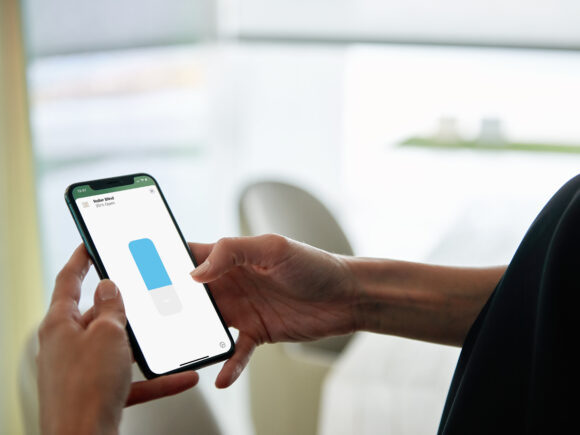 "Curtains powered by the MotionBlinds battery motor can easily be made smart, connected to smart home ecosystems and operated from anywhere, in any way by smartphone, smart speakers, and remote control and with a simple manual pull on the curtain. Thanks to curtain motor with integrated li-ion battery, the smart curtains can be installed completely wireless and recharged with an USB-C cable."
SILENT GLISS BY PETER MEYER
Simon Meyer – Managing Director of Silent Gliss Australia confirms the company will be offering a new range of 30mm curtain poles hitting the market August 2021.
"This is the first curtain pole range we have added since we took over manufacturing of Silent Gliss here in Australia. The Metropole is a tried and tested pole that has been successfully sold throughout Europe and the Australian markets but is being reintroduced with the latest patented quiet rubber mounted 2C glider technology we are running across the entire Silent Gliss curtain track range."
"The Metropole range does not use rings, with the curtains hanging directly on patented, rubber mounted, quiet 2C gliders contained in a channel inside the pole. Unlike traditional curtain poles, the brackets attach to the top of the pole, allowing the curtain to move smoothly throughout the complete length of the pole – no need for passing brackets, making it perfect for wide windows and large expanses of glass."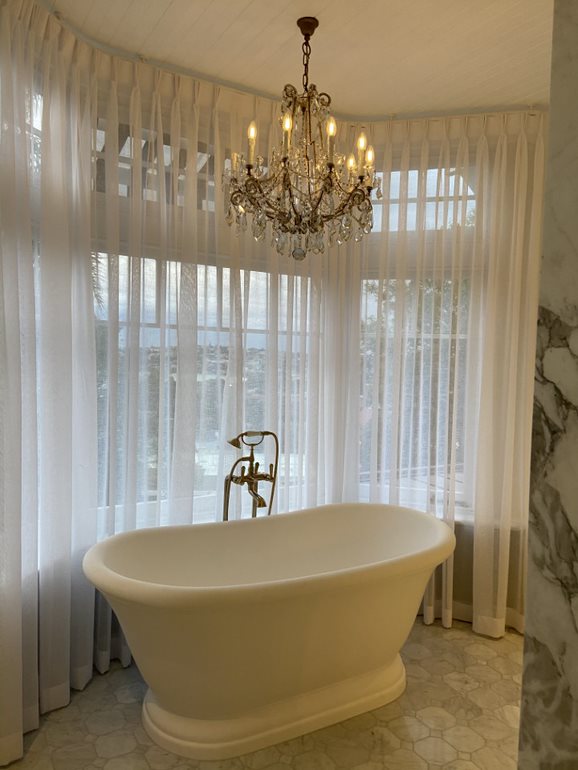 "These products combine whisper quiet specially coated curtain poles with unique two-component patented 2C technology gliders and rollers, allowing the curtain to move smoothly and silently, providing unprecedented silence."
"The range will come in five popular colours including matte white, matte black, bronze, silver and gunmetal. Plus custom powder coats on request and other custom colours and pole dimensions available to be bought in from the UK with our regular shipments."
"It will come with the choice of a Flush End Cap or Stud End Cap. Customers will also be able to enhance their curtain pole by adding a wide range of over 20 different decorative finials. They will be able to choose from a wide range of traditional to contemporary, simple to colourful, metal, wood and glass. Even if your pole is fixed to the ceiling, our top fix bracket will accommodate all of our finial designs."
"The Metropole range will be able to be top or face fitted using our smart fix brackets or concealed top fix brackets and can also be bent in a continuous curve or angle radius bend to fit perfectly to bay windows or other curved applications."
Meyer saysanother relatively new track, the SG6465, is going "from strength to strength."
"This is a small square track that we offer as a standard face or top fitted track as well as offering it flush mounted into the ceiling with its special recess profile."
"The SG6465 also has thepremium 2C gliders and rollers, combined with the specially coated tracks allow the curtain to move smoothly and silently. These gliders are manufactured using two materials, a hard component which ensures stability and a soft 'filling' to absorb the noise. The end result is unprecedented silence."
"We also offer a matching recess profile with the SG6465. The recess profile is installed at the start of a location build and then after the painters have left, the track is then installed. By having the recess profile it allows you to build the track flush to the ceiling giving the curtain a stunning floor to ceiling look and doing so at the start of the built ensures you have a clean site to install into."
"Another feature of the SG6465, along with all the Silent Gliss tracks, is that all the top fix brackets are invisible because there is a little lip on the front of the profiles which hide the brackets behind them so that you curtains are flush fitted to the ceiling, presenting a cleaner aesthetic."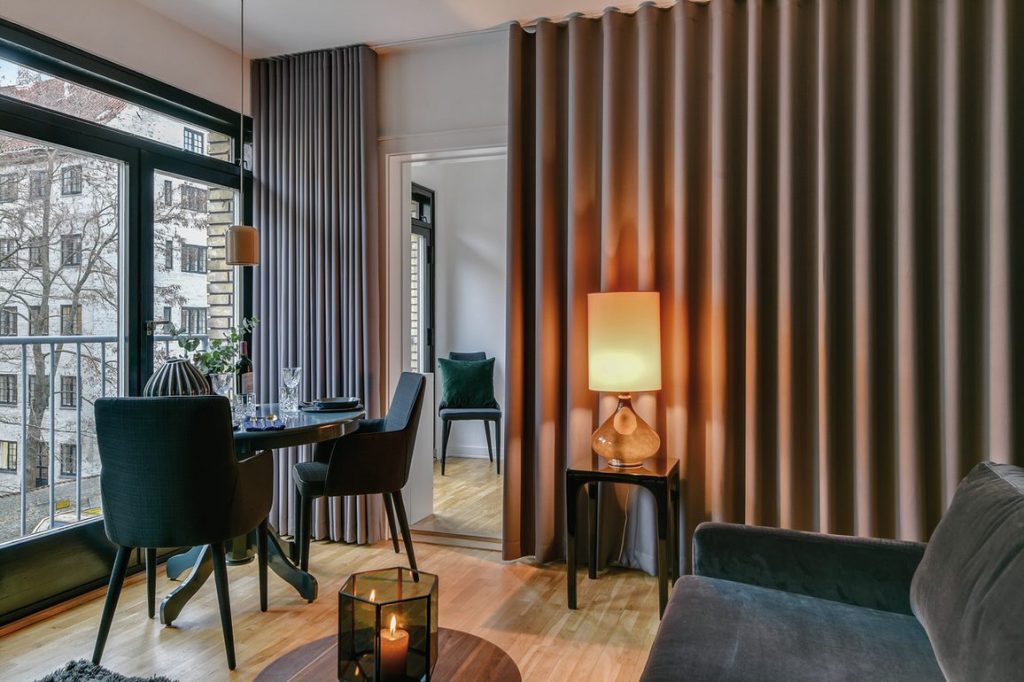 In terms of motorisation, Meyer says the company is seeing an increase as the market grows more accessible. "We are offering both the Silent Gliss motorised curtain tracks and the Somfy Glydea motorised track."
"However, we haven't seen a boost in the curtain motorisation market due to wire free systems as yet. It is worthwhile to mention that we are seeing an uptake in the Roller Blind market for battery operated technologies because it alleviates the need to get an electrician on site.
We sell a lot of wire free battery operated motors in the Roller blind space; however, this boost has not transferred to curtains yet. Battery technology took some time to be adopted in the Roller blind market, so we predict that it will absolutely boost the Curtain track market in the not too distant future. There simply seems to be a bit of a delay in the uptake of wire free motors with the curtain track end consumer. This may be due to the homes within this market tending to be more opulent and easier to get power in from the ground up – but this is just a speculation."
TOSO AUSTRALIA
Toso Australia is the supplier of Japanese window furnishing systems including their Ti-8040 Motorised Curtain Track, says Malcolm Young, Managing Director, who is responsible for the Australian and New Zealand market.
Young says there has been a noticeable trend back towards curtains, where before roller blinds and shutters led the way.
"There are now more textile options for curtains, and this is giving both the consumer and interior designers the opportunity to use their creative flair to use this as their preferred window furnishing solution, though at times they will combine this with roller blinds, and only closing the curtains at night."
He also says there has been a noticeable trend towards the motorisation of curtain tracks, not just for high end homes and hotels but also in every day family homes, as they become more affordable, and the public become more aware that it can also extend the lifespan of the curtains by avoiding the damage caused by cords and manual operation. However, he estimates those that are motorised would be less than 1% of all curtain tracks installed; there is clearly room for growth in this sector of the market.
Toso offers the super silent Ti-8040 motorised curtain track with its smooth "slow start" and "slow stop" function which has a built-in FM remote control receiver along with a Touch Motion function which enables the opening/closing of the curtains without using any switch operations. If the curtain is drawn, it will begin to move in the direction pulled, and will stop at the place on the limit setup.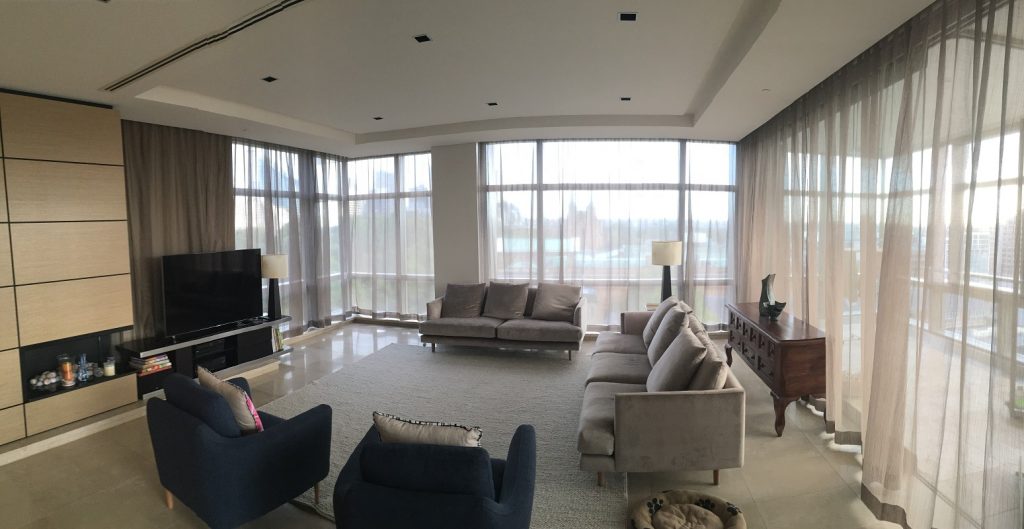 Another advantage of the system is that the motor has both dry and wet technology built within (RTS, DCT and WT), so different motors are not required for different set-ups. "If later the client wants to incorporate it into a home automation system, rather than say using remote control this can be done. "
"Along with motor operation, it also has hand-draw operation because of its built-in electromagnetic clutch, so it can still be operated by hand when no power is available or when a user is unaware that it is a motorised track with no damage to the motor limits or curtain heading. Operating the curtain by hand is that light that you would think that it was just a normal manual curtain track when opening or closing the curtain," Young says.
This motorised track is also one of the quietest available in the market, with the noise level being under 35dB, as against most motorised curtain tracks which are between 44 and 50 dB, and able to do widths of 10 metres with 45kg carrying capacity.
Young says that Decibels (dB) are worked on a logarithmic scale and a 3 dB difference is a doubling of the amount of sound energy. "In layman's terms it is about 'one notch' on a volume control, and 6-10 dB is generally said to be a subjective doubling of volume, so this is a considerable improvement on other systems currently in the market."
Young also says the Toso Ti-8040 system has the Regulatory Compliance Mark (RCM) for both motor and remote. This was previously known as the C-Tick, which all motorised systems require if they are to be sold in the Australian/NZ market, however Young he notes that a lot of the cheaper systems are being imported without the RCM; it is an expensive exercise, but it is easy to check if they are compliant as each motor or remote should have the C-Tick logo attached.
BLINDWARE
Blindware Managing Director Grant Norton notes that the Australian market has recently seen a resurgence of curtains as a popular window covering, "customers recognising the transformative effect curtains can have on a room, to soften hard lines and create a romantic feel."
"Layered over blinds or a standalone feature, curtains have never been so popular. Many traditional blind suppliers have pivoted into curtain supply to meet this demand, however even with this increased availability of curtains, there remains a lack of high quality, affordable motorised curtain track systems that offer inclusions like easy integration with voice control."
"Motorisation remains a key trend in window coverings, and consumers want the latest features in all systems."
Recognising this gap in the market, Blindware has launched some new products into the motorised curtain track segment over the past 12 months. Based on direct customer feedback, the wholesaler has launched two new motor options under its Motolux brand.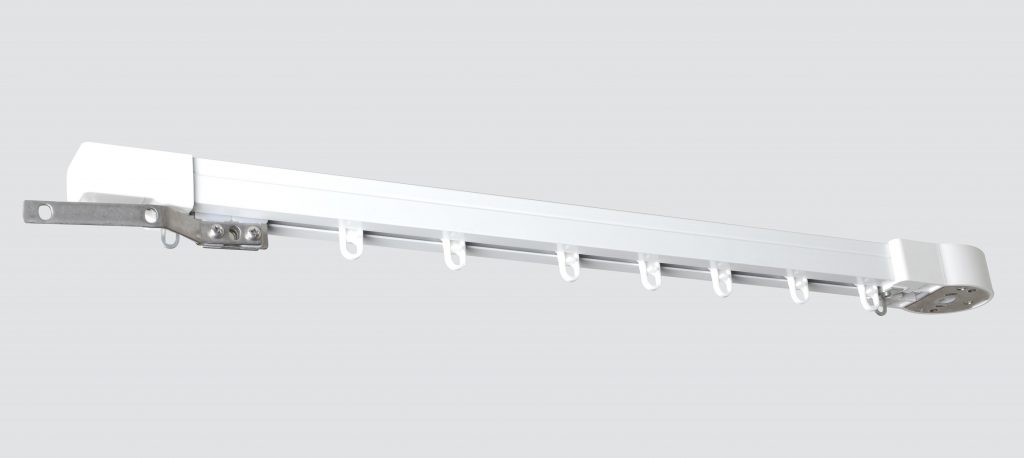 Key features of the new Motolux motor range includes a Hybrid Motor that provides both three and four wire connection to 240Vac power in the same motor, plus a second motor that incorporates rechargeable battery operation. The new motors have been designed to be super quiet- with the soft-start and soft-stop options the curtain glides smoothly to position, plus touch start enables operation with the lightest pull to the fabric in direction of travel.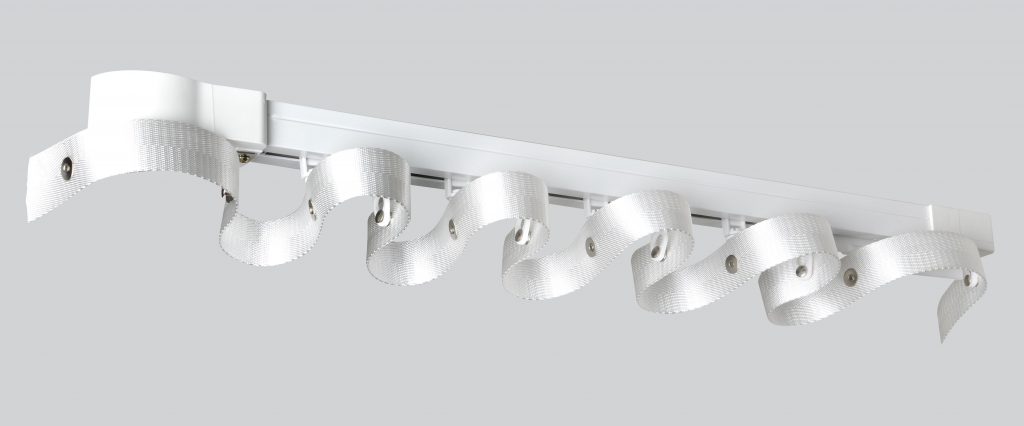 "Blindware understands the importance of aesthetics, so we have released black track and matching end cap components for a sleek, cohesive look that suits most modern homes and offices- in addition to the classic white option. Soft temper profile is stocked locally in both colours, giving customers the option of straight and bent tracks."
Norton says Blindware has never been busier with the manufacture of curtain tracks, and sales are increasing exponentially as companies discover the Motolux track. "The Motolux curtain tracks seamlessly integrate with the same controls as the Motolux AC and DC tubular blind motors, 45mm motors for awnings and systems such as the Blindware motorised Roman track, providing customers a completely integrated offer for almost all types of window coverings."