TBS
TBS has been developing new – and improving on existing – curtain hardware products, Director Craig Foster tells WFA.
"Recognising the change in use from 13mm to 10mm ceiling plaster, we've developed our Designer 10 track which recesses flush into the ceiling without the need to cut notches into overhead battens, which can happen with larger profiles.
"The 10mm high profile fits flush into the plaster but still has enough internal space so that Wave Fold, S-Fold and gathered/pleated headings can be used. The feedback from retailers, architects and builders that we work with is that clients are savvier than ever about their window furnishings and our Designer 10 recessed track meets the demands of clients who want a seamless look.
"If the client is unable to use the Designer 10 tracking system and requires face fix or a top fix track all of our brackets through our product range now come with magnetic bracket covers.
"Aesthetics are important, but just as important is the functionality of our tracking systems. As a result we've developed wheeled Wave Fold and S-Fold string runners. All of our wheeled string runners are available as an optional extra in our made to measure products and offer an even smoother action than our non-wheeled carriers.
"For those customers who purchase wholesales components, our patented easy-load strip allows for seamless, no-tangle loading of the string runners into the track profile. We've invested in tooling which allows us to supply each box of 500 wheeled runners on one continuous string with no joins.
"Continually improving on our existing products, we've introduced our new heavy duty cam-lock brackets which are suitable for our Standard Wave Fold and S-Fold tracking system. Available in single, double and triple face fix the brackets have been designed and tested to carry 20kg per bracket."
With the advancing march towards battery powered products, "the Saber50 lithium battery curtain track system keeps on going from strength to strength," says Foster. "Our battery pack has been tested to 500 open and close functions on one charge and with the easy removal of the battery pack from the motor, an overnight charge will have the motor running for another 12-18 months.
"The motor is capable of carrying up to 50kg and we've developed an entire suite of components for a complete Wave Fold, S-Fold and gather/pleated tracking system. The ease of use and installation of the lithium battery products makes it perfect for retro-fit applications on existing builds where running AC power is cost prohibitive."
SILENT GLISS
Silent Gliss by Peter Meyer has recently upgraded its curtain track systems with two-component (2C) gliders – resulting in what's described as unprecedented quietness of operation that sets a new standard for curtain track specifications for architects, interior designers and homeowners.
"Curtains will move smoothly and silently due to the combination of the 2C gliders and rollers with the specially coated tracks," Simon Meyer – Managing Director of Silent Gliss by Peter Meyer, tells WFA. "Manufactured using a hard component for stability and a soft 'filling' to absorb the noise, the gliders truly bring a whole new meaning to quiet curtains."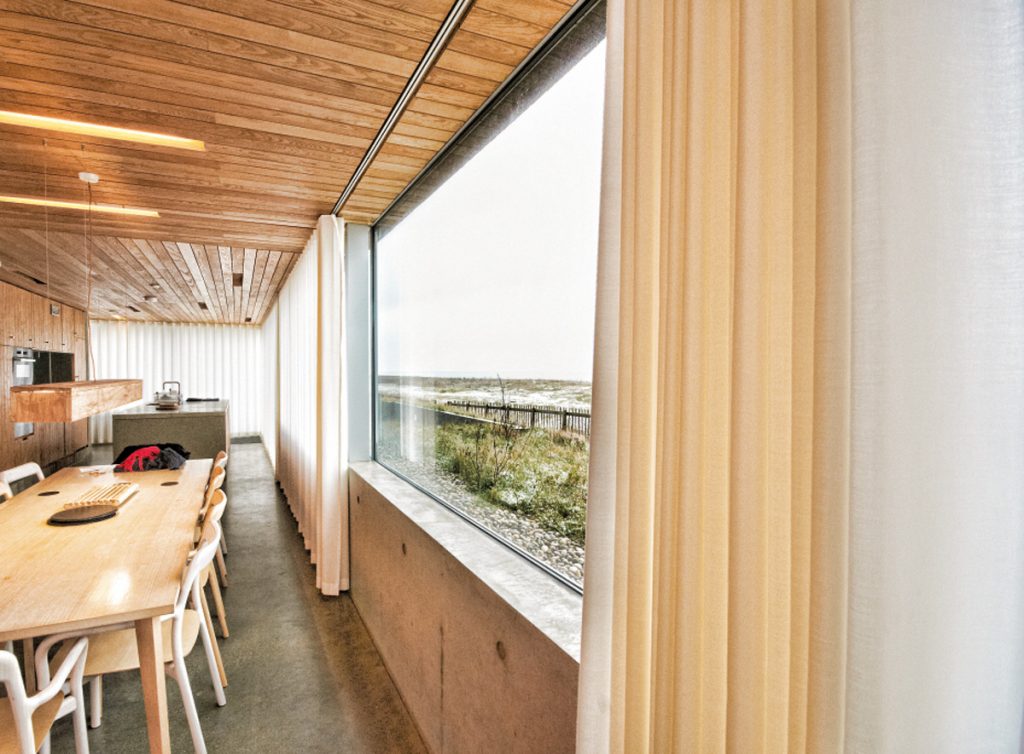 "We have also invested heavily in three different bending machines, plus an A1 plotting printer to allow us to plot out bay window or tricky window dimensions and print a life size template in order to follow the bend perfectly. This ensures an incredibly accurate and high quality finished product."
There's more good news for the brand, with a shift in its manufacturing base meaning a more affordable price-point.
"Silent Gliss has always had a bit of a reputation for being out of reach for most end-users in Australia but now that Blinds by Peter Meyer is manufacturing them locally, they are becoming more attainable," says Meyer. "The hand and cord drawn systems are outshining competitors in terms of innovation and design, while still remaining competitive."
He says motorisation of curtain tracks is also increasing in popularity with about 15-20% now being motorised. Blinds by Peter Meyer manufacture two motorised curtain track systems for end-users seeking either a top-end solution or a more affordable system.
"The Silent Gliss 5600 is top of the range and has superior technical specs, whereas the Somfy Glydea Ultra is a little more within reach while still being a great solution for end-users – especially now that Blinds by Peter Meyer has upgraded the leading arm to ensure a continued wave appearance from end to end of the track."
Meyer says the company's curtain track sales have seen growth in the past few years, due to an expanded range and delivering a more diverse offering that includes bended solutions, curtain tracks and pole. "In addition, interior design trends are leaning towards curtains and there's been an increased focus on investing in the home," he says.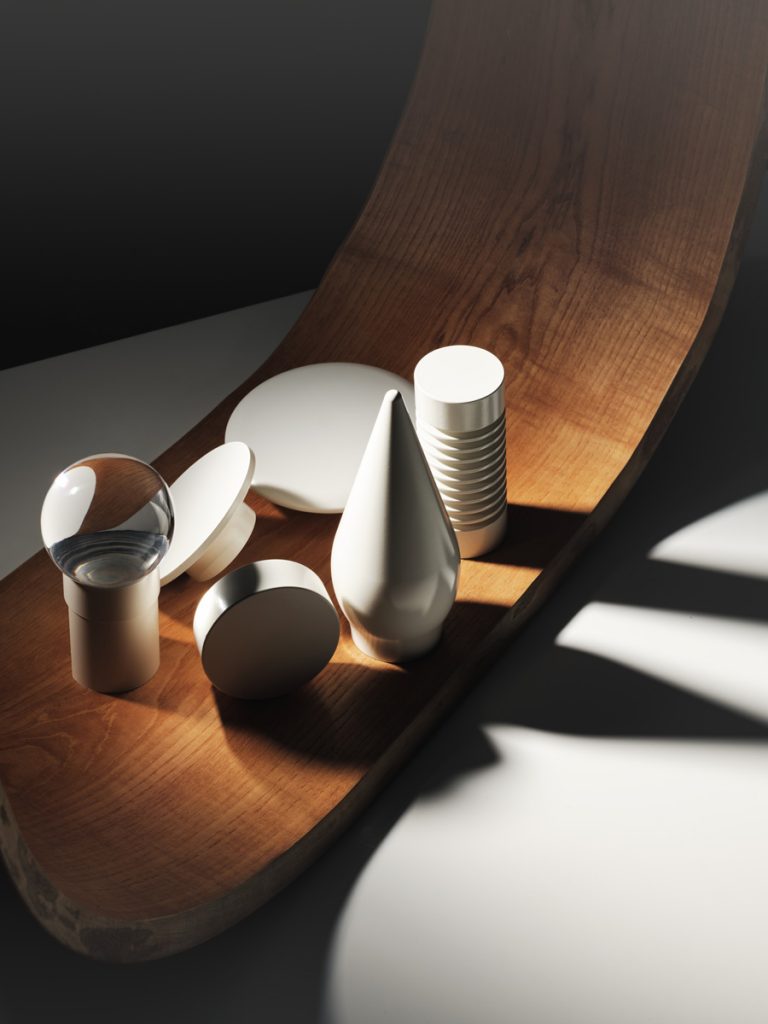 "We have certainly seen a fantastic response to one of our expansions, the new Metropole curtain rod range that comprises of uniquely designed 30mm whisper quiet coated poles with the same 2C patented gliders and rollers as Silent Gliss curtain tracks. So, no more passing brackets or rings required, making them perfect for wide windows and large areas."
In recent weeks, Silent Gliss also released new finial options with an updated contemporary look.
The Metropole range comes standard with a Flush End Cap or Stud End Cap and includes five colours including Matt White, Matt Black, Bronze, Silver and Gunmetal. Custom powder coats can be provided on request. Even for a pole fixed to the ceiling, the top fix brackets will accommodate all finial options, including a large range of optional decorative finials.
ROLLEASE ACMEDA
Described as "perfect for drapery applications", the Automate Versa Motor from Rollease Acmeda provides greater power source and installation flexibility.
"You can choose between a line voltage for continuous power and a wire-free set-up with a lithium-ion rechargeable battery pack, to suit your installation needs. Versa can be mounted vertically within a ceiling pocket for a premium "invisible" aesthetic and features convenient micro USB charging, when using the rechargeable battery pack.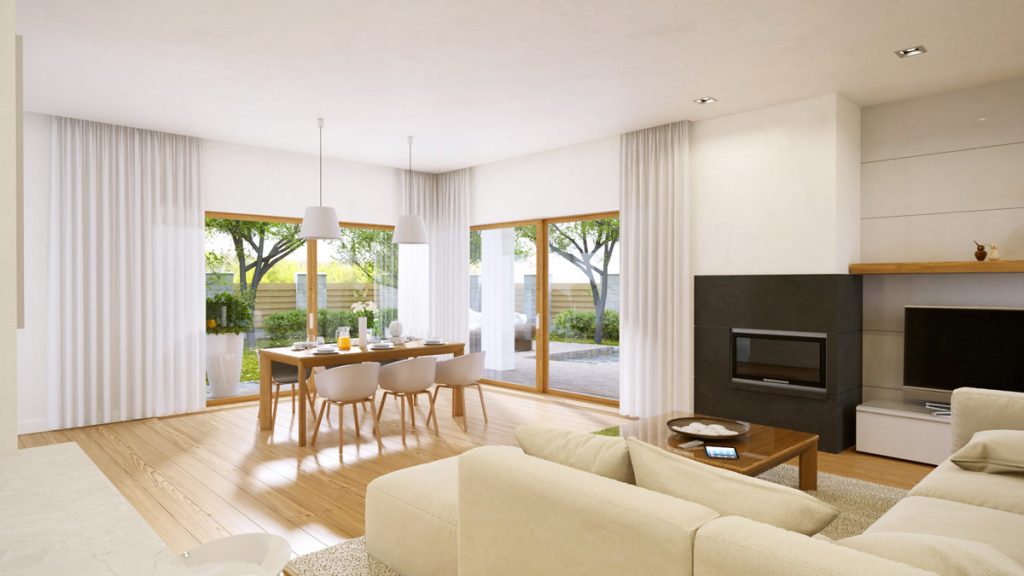 "Three speed settings are available to either speed up operation or slow it down depending on your preference, with the lowest setting offering the quietest operation. You can also still manually activate the curtain by gently pulling on the fabric and the motor will complete the action – automatically moving the drapes to the preferred, open or close, position, while ensuring a soft stop for an elegant refined aesthetic."
With the addition of the Automate Pulse 2 Hub, curtains can be controlled via smart phone using the Automate App or with voice control, using voice assistants such as Alexa, Google or Siri / Apple HomeKit devices.
LUXAFLEX
"The market for motorised curtains continues to evolve from a technology and solution perspective, as homeowners are becoming more comfortable with the use of motorised window coverings," Vera Meharg, Marketing Communications Manager, Luxaflex Window Fashions confirms.
"The solutions currently available for motorised curtains provide seamless operation for the larger and curved windows; the type of windows where curtains are increasingly being installed. Developments in motor solutions and user-friendly operation will continue to evolve for motorised curtains."
The Luxaflex PowerView motorised curtain track offers one of the longest width options in the market, and is available up to 12 metres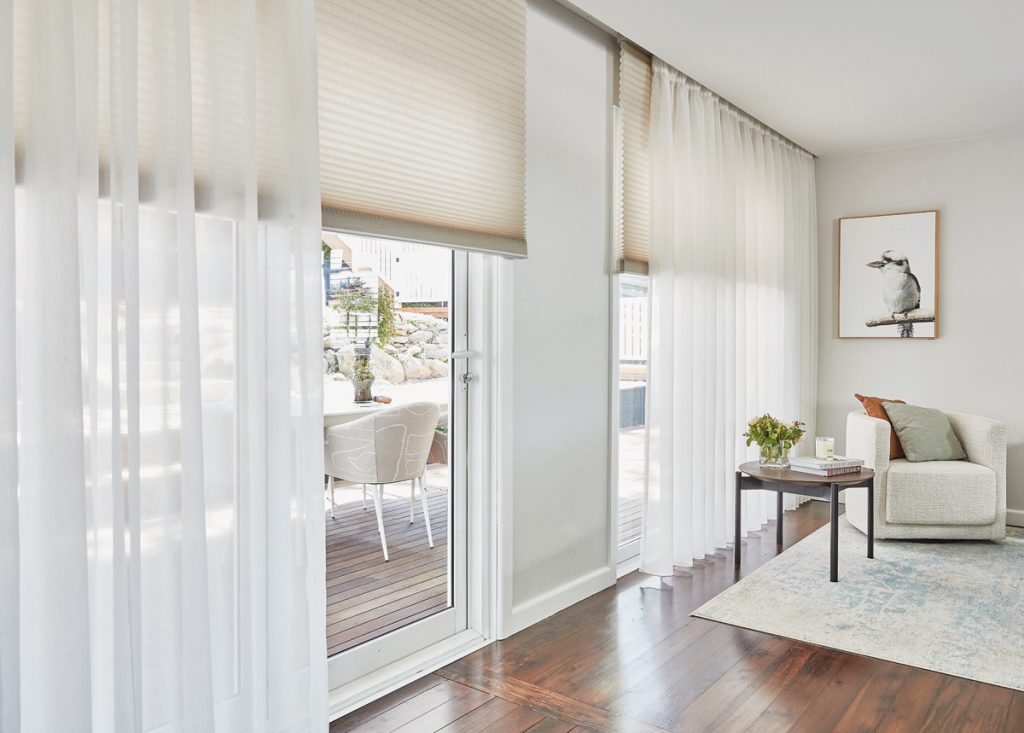 Its other point of difference is quiet motor operation despite the powerful PowerView Motor. It also has a touch motor feature that allows opening of the curtain with a simple pull of the fabric, as well as soft start and soft stop
One of its biggest draw cards is complete integration with the PowerView range including Pebble, PowerView HUB, Smart control through the PowerView app, and integration with voice control to operate drapes.
"Like many products for the home, we're seeing a real shift to automation and curtain tracks are no exception. Motorised curtain tracks are beneficial for larger, or hard- to- reach windows or when safety is a priority.
"Luxaflex PowerView Motorisation is well established in the marketplace for its innovative blinds, so PowerView motorised curtain tracks are a perfect complement.
"PowerView is the ultimate convenience and ideal pairing when it comes to having both blinds and curtains in the home."
SCOTT FREE (AUST)
Scott Free's Wave Curtain Hanging System has been designed to require minimal parts, which in turn reduces production time, says Adam Back – Scott Free (Aust) BDM Queensland.
"We have added a number of features to the system to make it the perfect solution. Basically, you can throw away the tools, well most of them!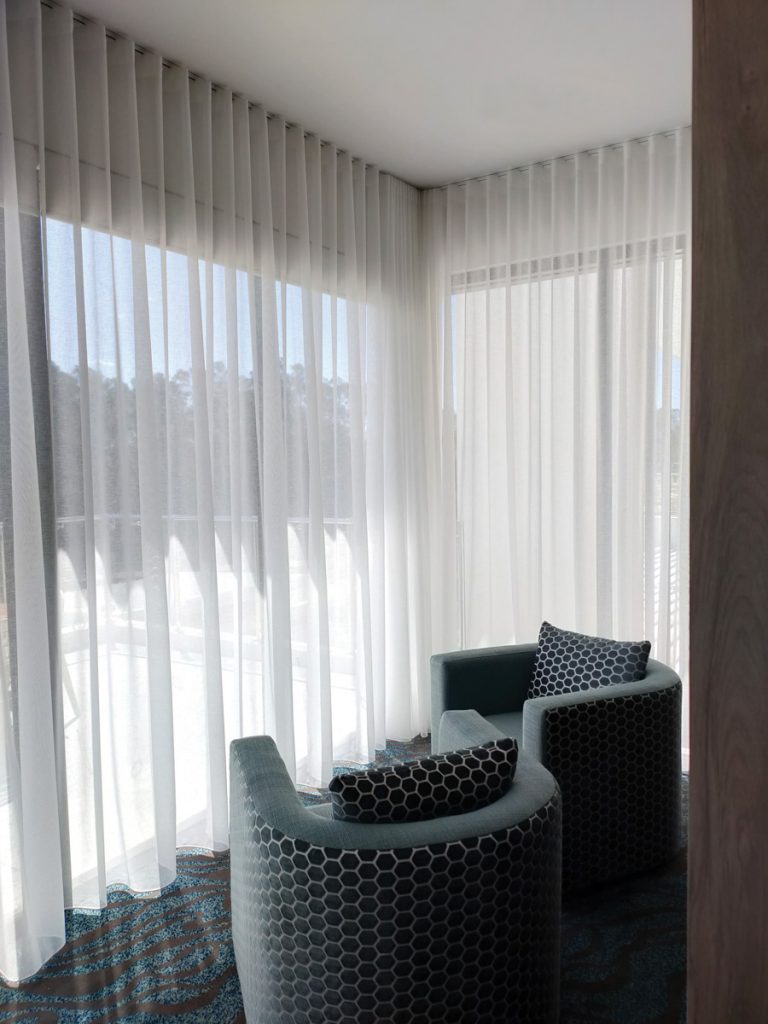 "We have created a single nylon tape with pockets, incorporated pre-determined marked intervals on the tape, and re-designed the hooks to be even easier to add; and our unique master carrier also creates a clean end return. With simplicity at its core, the Scott Free Wave Curtain Hanging System lends itself to – dare I say it – a perfect installation every time."
ALBIS FABRIC FROM RICKY TRACKING WELL
Exclusively available in Australia from Ricky Richards, outdoor curtain fabric Albis is positioned for use with a range of curtain tracks, the company says.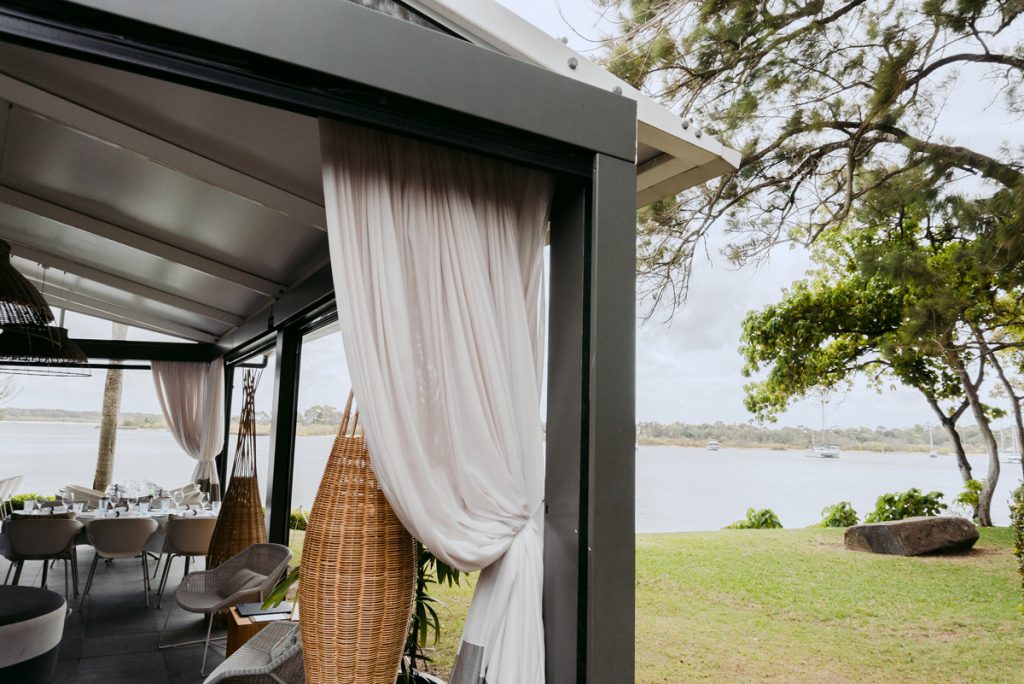 Part of the Bliss outdoor fabrics collection, Albis is 100% solution dyed acrylic, available in five colours, and designed to allow filtered light through, while maintaining privacy. It is suited to light outdoor curtains or sheers in open spaces such as pergolas, bungalows, garden gazebos, or Balinese beds. The 300cm wide fabric – which combines technical features with the fineness, feel and quality of cotton – is supported by a five-year warranty.