SILENT GLISS
Silent Gliss by Peter Meyer supplies motorised, cord and crank operated vertical blinds systems with a "unique range of fabrics also offered," says Simon Meyer – Managing Director of Silent Gliss by Peter Meyer.
"Whether motorised or hand operated, simple operation is guaranteed with the allowance for precise adjustments. The Silent Gliss chain operated vertical blinds system can be horizontally bent with a small bending radius of 74cm. It has simple mono-operation with ball chain for opening, closing and tilting. There is also a chain override to prevent damage.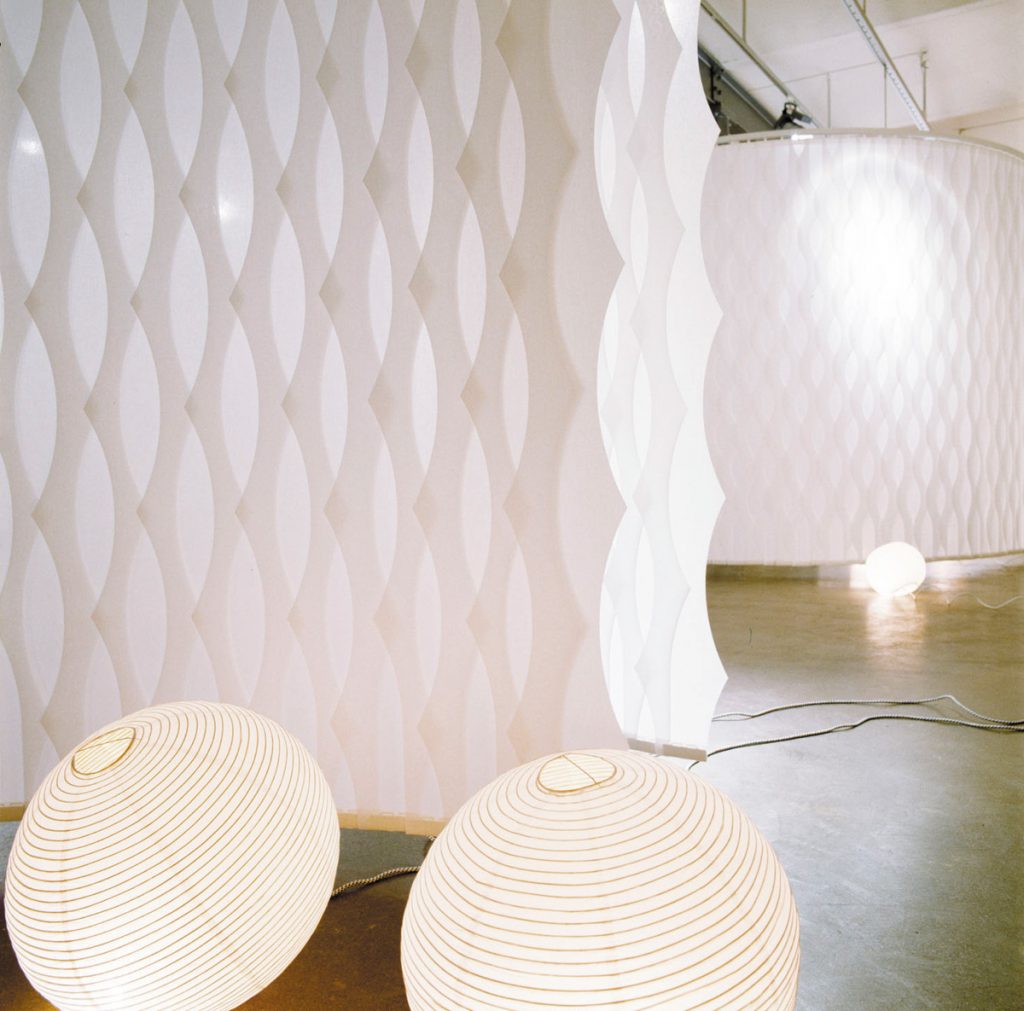 "The crank operated vertical blind system is perfect for people with sloping roofs up to 53 degrees due to its robust, bendable profile and small bending radius of 50cm. It is hand cranked for continuous opening, closing and tilting and has a gear drive with override protection.
"The motorised vertical blinds system can also be used on sloped roofs but with the ease of a simple push of a button to open, close and tilt the blades. The motorised vertical blind also includes a gear override for protection. All three systems can be recessed into the ceiling.
"In addition to the traditional straight blade vertical blinds, Silent Gliss has enhanced its laser-cut blind systems by collaborating with European textile designers," Meyer says.
"The result is a stunning blind range with a breathtaking 3D appearance. Silent Gliss has combined new printing methods with colour palettes, delivering an impactful and visually exciting effect on the blinds.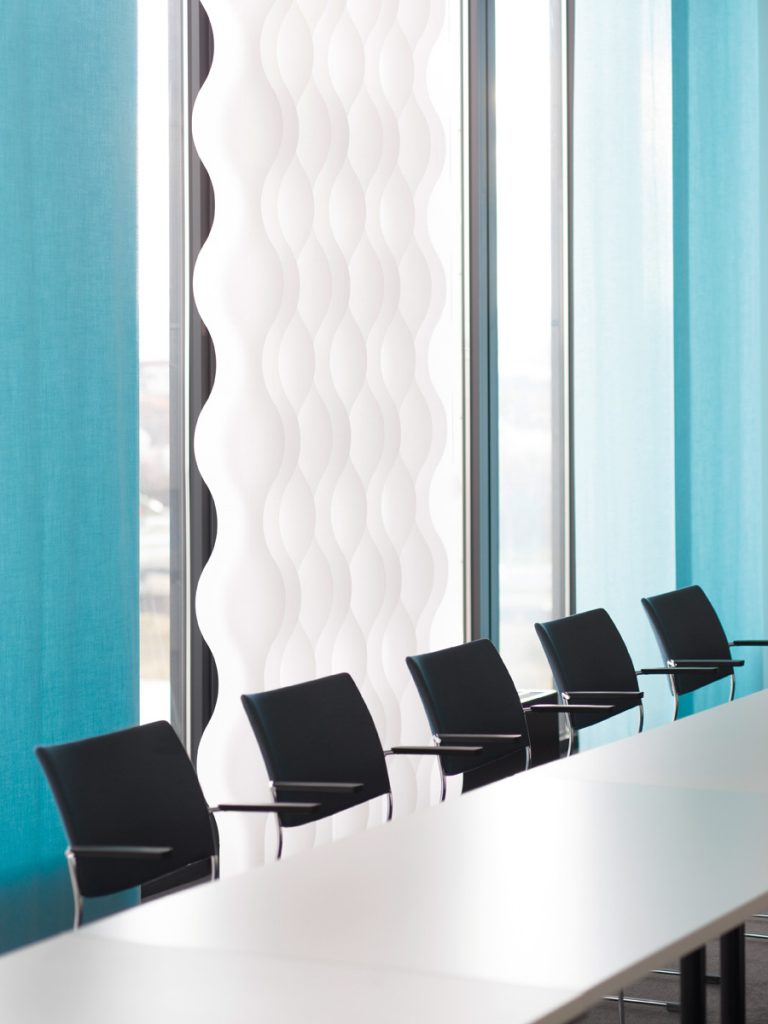 "Vertical Waves are the pinnacle of ambitious design when used as blinds or a room divider and include three different designs – Andrea, Annika and Maria.
"The Andrea wave design runs in opposite directions with a distinct interaction between light and shape. Andrea is also now available in 3D that creates different effects from every angle.
"Meanwhile the Annika is a giant wave with a jagged shape that breaks up the light on the Vertical Waves, producing a distinctive lighting experience.
"Lastly, the Maria is a soft, flowing wave that creates a calm aesthetic that can be further enhanced by the choice of colour for the blades."
All three ranges can be ordered exclusively by indent via Blinds by Peter Meyer.
BM BLINDS
Michelle Macready, Sales Manager at BM Blinds, tells WFA vertical blinds – an industry staple for many years – are now in even higher demand, particularly since the growth of sliding doors and windows which means verticals' rotating blades and ease of cord and chain operation are in demand.
"At BM Blinds we have been manufacturing vertical blinds for over 35 years and continue to offer a variety of options. With the unobtrusive low-profile track, the vertical offers a sleek look and can be made with a fabric track insert if required.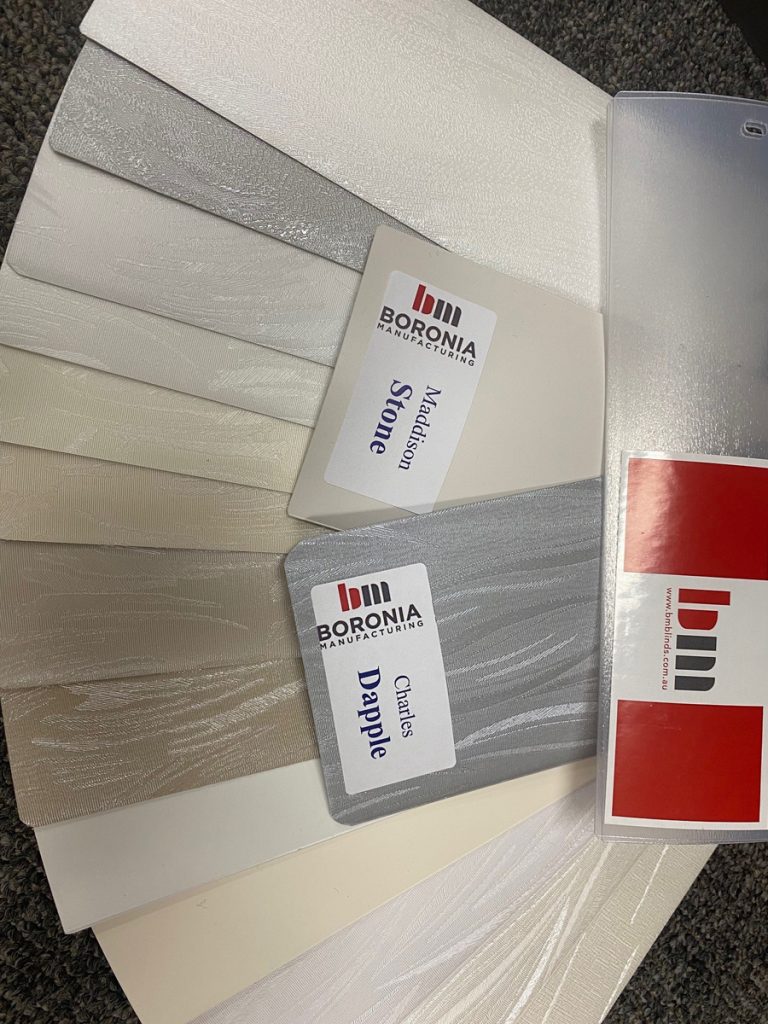 "The low-profile track can be custom powder coated on request to blend into window surrounds or to make a bold modern statement. Our operating systems include wand controls in four colours or standard cord and chain controls.
BM Blinds' tracks are made with incremental spacing, so the blades sit evenly across the opening, eliminating uneven stacks; and the links used are stainless steel ensuring years of hassle-free use.
"Integral to the vertical blind systems that we have known for many years is the variety of fabrics now available," says Macready. "From translucent to room darkening, they are a far cry from the Boucle fabrics of the past. Previously the choice of fabrics was very limited, with usually just one or two ranges offering only four colours within each range. We now have literally hundreds of fabrics to choose from."
"Together with traditional fabric slats, we also offer the rigid 89mm PVC slats in a variety of plain and textured finishes. The PVC Slat range has recently been expanded with two new additions. The Charles Dapple is on trend with grey hues and a self-embossed texture. The new Maddison Stone has a plain finish with a neutral tone, blending in with its surrounds."
Macready confirms that BM Blinds now offers made to measure complete vertical blinds to the wholesale market, made in Australia, with speedy turnaround times for fabric and PVC vertical blinds.
SCOTT FREE (AUST)
Vertical blind componentry has a long connection to Scott Free (Aust). In fact it was the basis for Scott Free (Aust) to start in business, Mike Taylor – Scott Free (Aust) BDM Queensland tells WFA.
"Queensland has an abundance of sun and the simplicity of the system makes verticals a viable choice in many locations," he says.
"While we don't have a new system to announce, we think it's worthwhile for the market to be re-acquainted with a supplier of a vertical system that has been tested and perfected over the last decade, offering the market a tested and proven market solution for vertical blinds.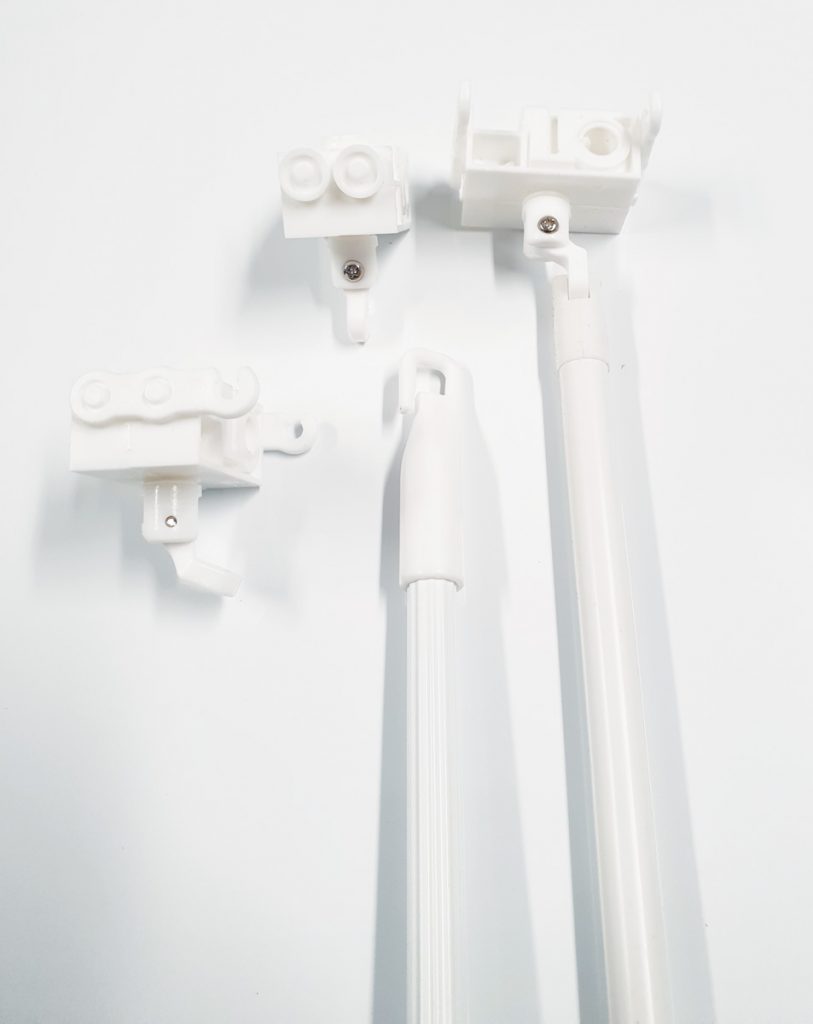 An advantage offered by Scott Free (Aust) is that its vertical blinds system has multiple wand options, to suit every application.
"What adds to the simplicity and ease of our system is EZY Cap," Taylor adds. "We reduced the components list down to offer an integrated solution for the end caps of vertical blinds.
"You simply have to try our system to understand fully the reduction in production time and costs, together with the requirement for fewer components for vertical blind manufacture.
"Proven time and again, the vertical blind system from Scott Free (Aust) is the way to make verticals in today's market."