TBS
As TBS' motorised products continue to increase in popularity, the company is seeing strong uptake in demand for its home hub and Shade Connector app, which allows users to control RF Saber motorised products from anywhere in the world.
TBS Director Craig Foster tells WFA, "With a dedicated Control 4 driver written into the hub the uptake from Control 4 dealers – who simply plug our hub into the Control 4 system via the RS485 port, which then uploads all the data from our app – has been a driving factor in the hub's popularity."
Another factor is that as technology becomes easier to navigate and more accessible to the less tech savvy, integration of RF motors via the hub with home automation eco-systems via Siri Shortcuts, Amazon Alexa and Google Assistant, enables users to control a growing number of devices around the home.
"Even though sales in our AC motorised products remain strong, we are seeing our Saber lithium curtain and tubular motors continue to go from strength to strength. With electricians unable to visit homes or becoming cost prohibitive, and with confidence and battery life increasing in this product group, TBS battery operated curtain and tubular motors are becoming the new normal. Our curtain and tubular motors have been tested to 500 up and down cycles and come with a 5-year warranty."
"As curtains continue to grow in popularity, so do our Saber lithium battery operated curtain tracks. Our tracks are able to be manufactured up to 6.5m without a join, carry up to 50kg, can be bent up to 90 degrees or continuously, and are as easy to install as a hand or cord drawn track."
"All the requested settings are programmed in our factory, so it's just a matter of installing the track and giving the client the remote control."
"The added benefit of our Saber lithium battery range is that our tubular motors can be retrofitted from chain drive to motorised without the need of cutbacks. We have 1.1Nm and 2.0Nm options which are charged via a micro-USB port."
SOMFY SEES MARKET GROWTH
"The smart home market has evolved from controlling solutions; lighting systems and entertainment control; to monitoring and automating functions; energy management, security and HVAC control," says Somfy Oceania's National Retail Manager Mohamed Ourdjini.
"We have seen consumer interest for connected devices grow over the last few years and particularly increase in the past 18 months.
"Consumers are well-informed and understand the benefits of the Internet of Things in making their day-to-day lives easier."
"Home automation ten years ago was done via some sort of home automation system, costing tens of thousands of dollars and very much considered the higher end of the market (and very unaffordable)," added Featherstone.
"With the introduction of Google Home and Amazon Echo being at an affordable price point and easy to integrate with our RTS products through Connexoon Window RTS, as well as other third-party products, more and more consumers can have a connected home for a fraction of the price."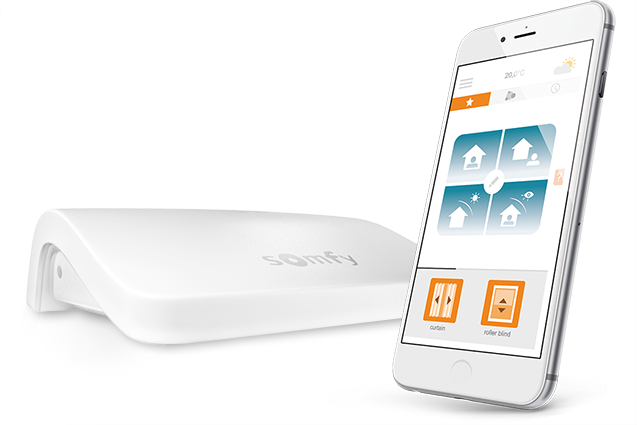 Somfy's home automation solution allows users to stay connected to their home and effortlessly automate daily tasks like opening and closing the blinds. Connexoon Window RTS features scenario scheduling so users can create their own routines such as 'Movie Time' to dim the lights and close the window coverings, or 'Working' to set the blinds in the home office to the perfect height for optimal productivity.
Voice control and smart speakers have spearheaded consumers' entry into the smart home market, with approximately one third of households having at least one device.
Voice control compatibility is an exciting addition to Connexoon Window RTS, making it simple to control window coverings and lights with simple voice commands.
"Savings from holidays that were cancelled, and regular lockdowns have resulted in a surge in home improvement," says Ourdjini.
"Smart homes have benefited from this trend, whether it be for the replacement of an appliance by a connected device or the upgrade of an existing system."
"We have seen a significant demand both locally and globally, with people unable to travel (or leave home at the moment thanks to lockdowns) and low interest rates have seen people reinvesting into their homes," says Jodie Featherstone, National Key Account Manager for Somfy Oceania.
Australians are choosing to renovate their home and improve existing spaces or adapting them to meet their changing needs. Whether that be creating dedicated home office spaces or upgrading their outdoor living spaces to suit the new 'staycation' lifestyle.
"People want to be comfortable where they work and changing window coverings can make a significant difference to any room," says Featherstone.
"Additionally, motorisation has never been so affordable with our Sonesse 30 battery motor being one of our most popular products."
Featherstone says Somfy's WireFree range of motors for internal window coverings makes it easy for those looking to do small renovations, providing a completely battery-operated solution with no need for wiring.
Upgrades to outdoor spaces are also increasingly popular, with Somfy's Maestria 50 RTS giving consumers an intelligent motor with smart obstacle detection that protects the product's lifespan.
The increased time at home coupled with the rising cost of electricity has also pointed consumers to motorisation and automation for alleviating energy bills.
"Consumers are more educated than ever before thanks to the internet and social media and they are learning that selecting the right window coverings can make a huge difference to their homes being energy efficient as the cost of electricity continues to rise."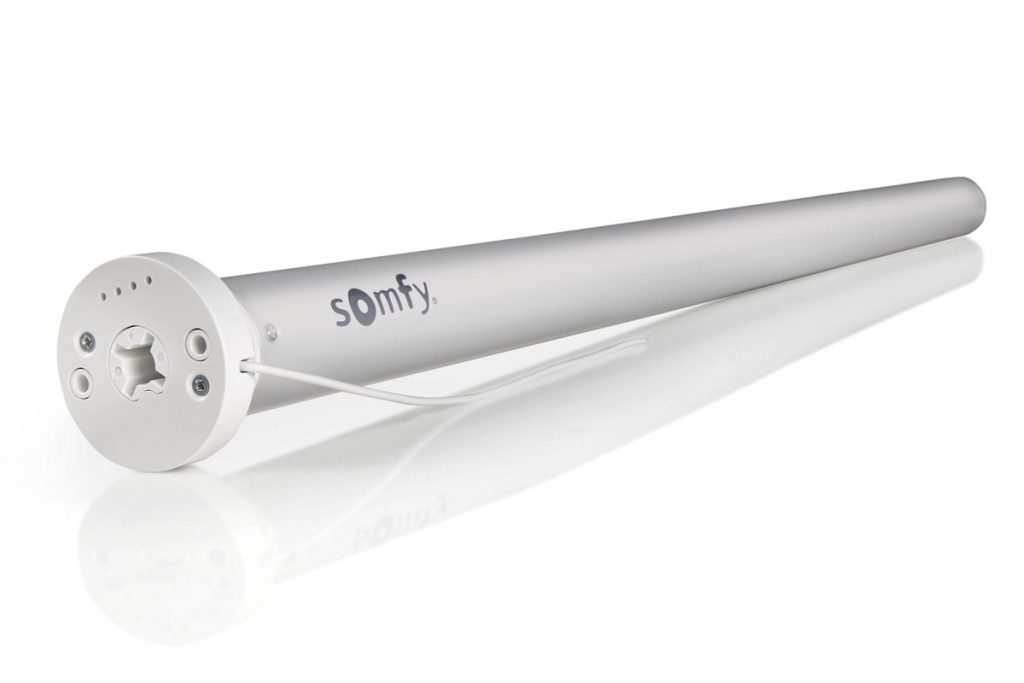 The demand for boosting property value has also been a significant factor in the home improvement boom, encouraging consumers to spend more on quality products.
Investing in a well-established brand synonymous with high quality and a top-of-the-range offer like Sonesse 40 ensures consumers are receiving excellent value.
"Whilst borders are closed, interest rates are low and people continue to work from home, sales will continue to rise in our market."
SOLAR POWERED MOTORISATION TRANSFORMING HOMES
The Luxaflex brand continues to pioneer and meet the demands of the industry with the Luxaflex PowerView solar motor a complete solar powered motor solution for straight drop awnings.
"By combining cutting edge power management electronics with an integrated battery receiver unit with solar panel incorporated, motorising an awning has never been so simple," says Vera Meharg, Marketing Communications Manager, Luxaflex Window Fashions.
"Home owners can enjoy the beauty and convenience of the solar powered motorised awnings with the touch of a button, tap on a smartphone device or voice command."
Making it easier for homeowners and reducing costs, no certified electrician is required for the installation process due to the low power operation of 24 volts. Brackets are provided so the product can be installed in different angles – either flat or 15 degrees.
"More people are spending the disposable income often used on local and international travel on their homes in the form of upgrades, renovations and improvements during the current COVID-19 pandemic. This is providing the opportunity for Luxaflex PowerView products to make their way into more homes where automation can be integrated into their daily lives," says Meharg.
"There is nothing more convenient than simply saying the words 'Okay Google, open my awnings' while sitting at your office desk and having the outdoor space covered without even moving from your chair."
The PowerView Solar Motor is an aesthetically pleasing way of utilising solar light to power awnings for lengths up to five metres wide and is powered by a single 24DC battery receiver unit that integrates a solar panel. The built-in rechargeable battery optimises battery life and is water-resistant.
"Being an eco-friendly and innovative product, the solar energy produced is renewable, clean and reduces carbon footprint on the environment. The PowerView Solar Motor's plastic enclosure body means it is weather resistant and UV stable."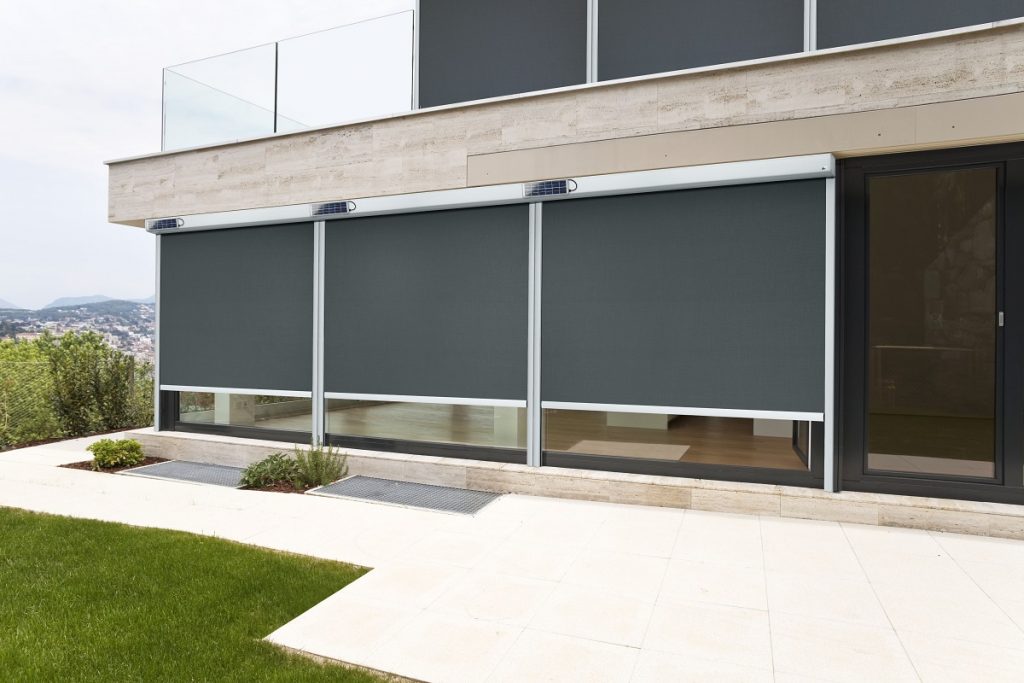 Solar powered motorisation offers the convenience of motorising a product in gazebos, outdoor rooms and other locations where running hardwired power cable is not possible.
"While solar products are becoming popular for many automated homes, the convenience of direct wired powered devices is often a reliable consideration and reduces possible service requirements in the future," says Meharg.
Retailers need to be aware of pitfalls when deciding between wire-free and wire systems. Meharg says the most common pitfall is selecting an incorrect use for solar whereby the device will not receive enough sunlight.
"Other building considerations to keep in mind during installation include shadowing from eaves, neighbouring properties and direction of the façade. This can lead to batteries not receiving enough recharge, which limits the use of the product," she adds.
COMMANDING MORE FROM AUTOMATE
Andrew Robinson, the National Sales Manager for Rollease Acmeda says the company is seeing 60-70% of shade activations are triggered by voice commands though its Automate Pulse2 hub. Launched in June 2019 the Automate Pulse2 has received several enhancements guaranteed to improve user experience.
"If you prefer to use Siri, there is no need to set up, as the Siri integration is built into the Pulse2 app. The advantage of apple HomeKit integration means you can control the shades using either an iPhone, iPad or apple
watch, eliminating the need to purchase a voice-assisted device if you did not already have one."
"Talking to Siri is so easy, as you do not have to be too specific with what you want. You may have forgotten what you labelled your room as within the app, it could have been bedroom, main bedroom, master bedroom, Siri
will understand either and then confirm with you it has captured the right room to perform the desired operation."
Siri can also understand what room you are in without even having to refer to the room (if you are using a HomePod), so you can simply say "open shades" and if you are in the lounge, the loungeroom shades will open. Whether you ask for the shades to open or raise, Siri will understand and if ever in doubt will clarify the command with you.
"You have the power to control your shades to suit your individual lifestyle, by taking advantage of scenes and timers which when set up initially, can
offer autonomous operation." Robson says
"An integrated sunrise and sunset function, which can detect your exact geographic location and use this data to automatically open your shades at sunrise and close them at sunset. This advanced technology aids our daily routines by providing autonomous shading movement with no human intervention."
Robinson says if you have a large living space with several shades all at different ideal favourite positions, you can quickly capture all devices and save this scene, available for you to use at any time.
"For example, a large downstairs living area can comprise of up to 10 or more shades all facing different directions and therefore positioned at different heights to offer the optimal level of privacy and light control your home requires. The Automate Pulse 2 App can quickly convert this into a scene for use on any required day, bringing new light to favourite positioning."
"The battery health symbols & signal strength indicators which are available on shade control screens on the app, both use a traffic light colouring system, to help users determine if their motors require charging or whether the hub is out of range and needs to be moved to another position to maintain an adequate signal."
"This is all thanks to our proprietary ARC (Automate Radio Communication) bi-directional communication, which not only communicates to the motor but allows the motor to communicate back to the control device offering valuable insights ."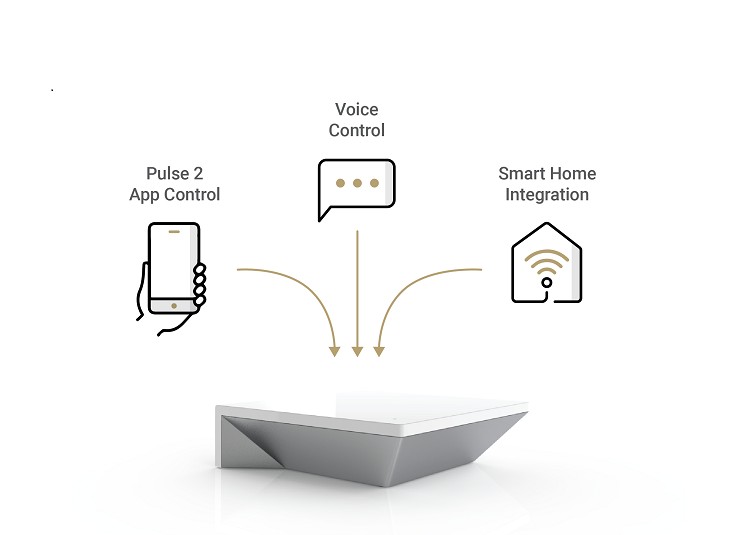 Over the years Rollease Acmeda has grown the number of smart home integrations available via the Pulse 2 hub. This includes, Control 4, Savant, Elan, AMX, HomeSeer, URC, Crestron, RTI & Lutron.
"To support installers to set up and trouble-shoot these integrations, we designed the Pulse 2 Linq tool. This allows the installer greater flexibility to test the hub and motors prior to connecting with your preferred third-party home automate solution."
Other recent developments for Rollease Acmeda include the Plus15 remote and Zero Li-Ion, the company's innovative wirefree battery motors.
"Our Push15 remote control was launched back in February this year and expanded on the popular Push series range. Now boasting a five and fifteen channel remote available in premium finishes, matt black, and gloss white.
"The Push15's durable and modern exterior, has been enhanced to include an advanced metal backing, which has added significant weight and substance to this remote when being held. Activated with a simple double tap of the stop button, you can move individual or a group of shades to a precise desired position using the visual aid levelling bar functionality," Robinson says.
"The Zero Li-Ion motor line grew, offering a range of three wire-free battery-operated motors which can be used in a variety of roller shade applications. We offer a 1.1Nm short motor which can be used on narrow roller shades as small as 570mm, a 1.1Nm for use on most standard shade sizes and a 2Nm which can be used for larger roller shades and linked rollers to achieve wider widths using just one motor."
Existing chain controlled shades can be converted to motorised shades using the Zero wire-free motors.
"You simply swap the chain control out and insert the motor (with drive and crown wheel attached) allowing you to experience the comfort and convenience of automate smarter shades. There are no added costs to change your hardware or fabric, the motor head has been designed to the same shape and size of the chain control allowing for an easy retrofit solution."
THE RISE OF ALPHA'S AUTOMATION OPTIONS AND BATTERY MOTORS
According to Simon Eales, National Sales Manager at Alpha, the sophistication of today's motorisation category has created opportunities for new, specialised products.
"Ten or 12 years ago, if you had a home where everything was voice activated, you probably won an industry award for it," he says. "Back then if you wanted automated blinds that were centrally controlled, you needed at least tens, but sometimes hundreds of thousands of dollars' worth of automation in your home and often a wall, or racks of equipment."
"By contrast, the market now offers huge variety of electronic products compatible with apps, along with the ability to integrate those apps through voice control using Siri, Google and Amazon Alexa," says Eales. "You can then further automate and integrate these products through IFTTT, meaning that true automation and integration is available to almost everyone."
The result is that consumer uptake of motorisation is rapidly growing, and Alpha's latest releases are designed to meet it – specifically in the area of
battery operated motorisation with quiet operation. The company recently introduced a 3Nm battery motor to its range, as well as new curtain motors in both AC and battery versions.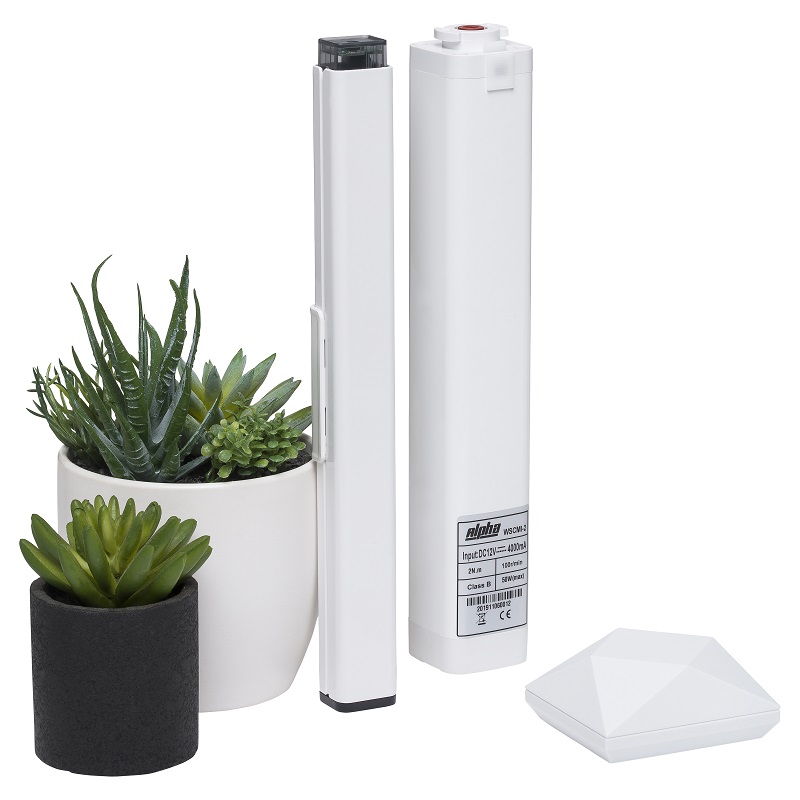 "The WSERD30B 3/20 is a higher torque version of our amazing WSERD30B 2/31 battery motor which is still the quietest and longest lasting battery motor on the market. Predominantly this new version fills the void of larger blinds in excess of 3m x 3m but is mostly used for larger Romans."
"The new curtain motors have a super slim 40mm width and depth and are super quiet. The Battery version has a separate battery pack which can be removed and charged with the same charger as our blind motors. Both curtain motors can be operated by remote control, our Neo App, and can be pull started if desired. They can also be manually operated in the event of a power failure."
Demand for such releases is strong, with the market for rechargeable battery motors – across both curtains and blinds – continuing to experience
considerable growth, Eales says.
"In general we have also seen a much higher demand for both our AC and battery curtain motors in recent times. This is largely being driven by requests to curtain track manufacturers to supply our motors for control compatibility with blinds they are installing. Often though after testing the motors, the manufacturer will use them regularly afterwards."
MOTIONBLINDS MADE 'SMART IN A MINUTE'
Rogier Krabbe, commercial director APAC for Coulisse says that the rise of smart home is unmistakable. "We are now well past the point of gadgetry, and way beyond the long-dominant idea in people's minds that this kind of home improvement is for the happy few."
"It started with lighting, heating and security, and progressed to climate control, comfort and convenience."
"That's where window coverings came into the picture. The key benefits of smart window coverings perfectly match these main motivators for consumers to make their homes smart."
Coulisse has a number of innovations within its automation concept, called MotionBlinds. "The MotionBlinds line provides a complete range of cable-free and wired motors and controls that are designed for easy assembly, installation, and ease-of-use for all types of window coverings in residential, commercial and hospitality," Krabbe says.
"First, the battery-powered motors developed for various types of window coverings feature Bluetooth technology. This allows the window coverings to be made smart in a minute, simply by installing them cable free and scanning a setup code with your smartphone. Then, the blinds can be controlled by app and automated with timers, making them open and close
automatically at preset times."
"With the addition of the MotionBlinds Wi-Fi bridge, the blinds can also be controlled away from home by smartphone and easily connected to other devices in the smart home ecosystem, since MotionBlinds works with smart assistants such as Google, Alexa and SmartThings. This allows MotionBlinds to be controlled by voice with smart speakers."
"Window coverings with MotionBlinds are rechargeable with a standard USB-C cable. The battery motors are developed in such a way that the USB-C ports can be made easily accessible. Recharging is required only once or twice a year with average use. This makes motorized window coverings more accessible than ever before. The cable-free blinds can be installed just as easy as manually operated systems, and charging is a breeze."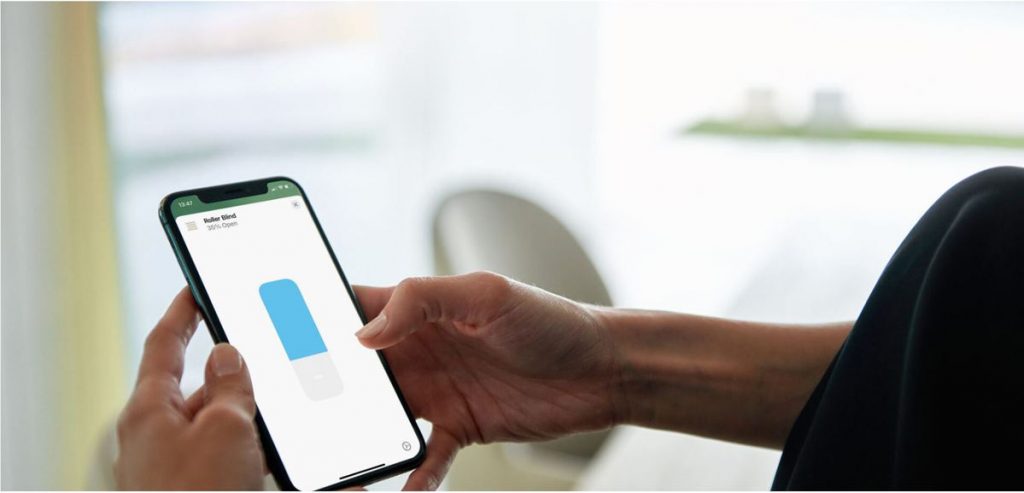 Pull operation, a special feature of MotionBlinds, is a simple manual pull that automatically sets the blinds in motion and overrides smart automation. The child safe pull function can be used to program end limits and favorite positions too.
MotionBlinds is applicable to various types of window coverings: roller and double roller, honeycomb and pleated, venetian, vertical, roman and curtains.
EVE MOTIONBLINDS A 'TRUE GAMECHANGER'
Part of the MotionBlinds concept is Eve MotionBlinds, a series of cable-free motors that work with Apple HomeKit technology, created in collaboration with smart home specialist Eve Systems.
"This is truly a game changer in the market with a super easy setup simply by scanning the HomeKit setup code, no gateway or bridge is required."
"The user can effortlessly set up schedules that put the blinds on autopilot, independently of the iPhone and home network."
Eve MotionBlinds supports Bluetooth and Thread, the new standard in low-power home networking which makes these new motors a futureproof
choice. All data and intelligence are stored locally on the motor and stay in the home.
The new Eve MotionBlinds range will become available soon, starting with a roller blind motor.
HEAVY DUTY OPTIONS FROM SILENT GLISS AND BLINDS BY PETER MEYER
Simon Meyer, Managing Director at Blinds by Peter Meyer, says that the company is seeing year on year sales growth as more people opt up for motorisation.
"The technology has become smarter and more accessible. Home automation hubs such as Automate Pulse and Somfy Connexoon are making people's life more integrated with different scenes being set for when people wake up or leave the house."
The company has just launched a heavy duty and entry level motorised interior Roller Blind system with Silent Gliss by Peter Meyer.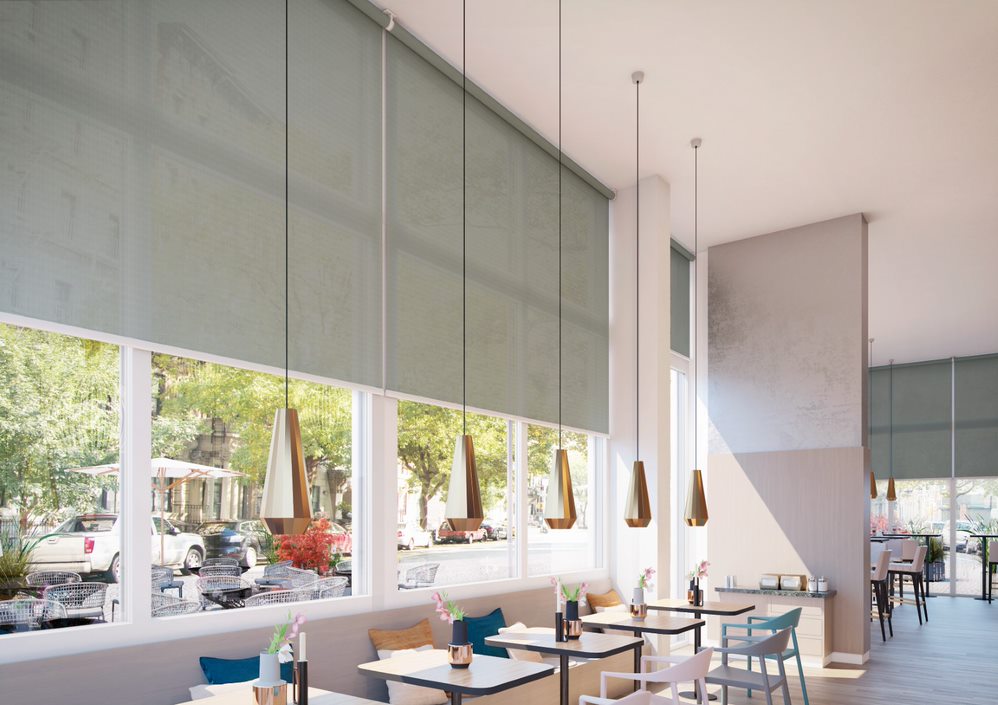 "The top of the range, heavy duty motorised Roller Blind System is ultra-quiet, fast and has soft stop and obstacle detection to prevent your blinds from getting damaged. The obstruction protection is available in many outdoor blinds but to our knowledge it is quite a unique feature for internal blinds."
"The obstacle detection is a fantastic safety feature that will prevent your blinds from getting damaged by things that may be placed in front of a window such as a pot plants, etc."
HARDWIRED FOR RELIABILITY, SAFETY
Grant Norton, the Managing Director of Blindware says that whilst wireless systems may be great for residential settings and renovations, they are not the solution for all environments.
"For example, hospitals cannot risk the interference to their life saving equipment that can come with RF devices."
"There is also some question around the reliability of RF systems to operate 100% of the time in critical installations such as high up awnings or co-ordinated facades of blinds designed to all operate simultaneously from a central command."
"In other cases, concrete or steel used in walls can severely limit the range of wireless signals. But hard wiring can be a challenge and costly, especially when it comes to a series of blinds using "old fashioned" cabling methods."
Melbourne-based Blindware offers a solution to customers who want the next level in blind control in the shape of their RS485 solution, a hardwired network solution for tubular and curtain motors.

"While RS485 is generally too high tech for many, it is something Blindware can confidently say they understand, with a number of Motolux customers now successfully using this solution in complex installations."
"RS485 systems enable each motor to be controlled individually, or in groups. The effectiveness of the RS485 lies in its flexibility – with the option to either wire direct to each motor in a daisy-chain network or to network via a series of RS485 wireless hubs that combine cable and wireless into a single system."
Norton says the RS485 saves the large number of control relays that greatly increase hardware costs and cabling costs that can also increase the chance of a system failure.
"RS485 allows bi-directional communications with individual motors to communicate and control key information such as blind or curtain position, plus receive back a wide range of motor diagnostic feedback."
"RS485 is the ultimate hardwired networked solution, and something that few suppliers have the proven technical expertise to offer and support. Blindware is paving the way in advanced blind motorisation with RS485 being the jewel in their crown for complex motor solutions."
HOME ISOLATION DRIVING MOTORISATION SALES AT NORMAN'S PERFECTTILT SHUTTER MOTORISATION
Plantation shutters have gained wide popularity throughout Australia homes over last 20 years. However, Peter Boyle, Norman's Product Development Manager says that there have been very few manufacturers who have dared to bring shutters into the 21st century by offering a smart and affordable automation solution.
"Now with Norman's PerfectTilt solar charged motorisation combined with the Invisible Tilt concealed rotation system, the perfect shutter automation is now available to Australian homeowners," Boyle says.
"Norman's PerfectTilt offers a convenient solution for light control and privacy for multiple shutter panels and those shutter installations that are out of reach. The novelty factor shutter motorisation used to serve, has been replaced by customers appreciating the convenience and practicality of simple things like keeping louvres aligned perfectly for all times throughout the day or night and operating via your iPhone."
The market for shutters has been on a growth trajectory for over 20 years. As with all product lifecycles the tendency to reduce price takes over, with little apparent differentiation in product offerings. Norman says they have addressed this with their PerfectTilt Shutter motorisation, which provides a niche for their Retail Partners with few competitors in this space.
"Shutters are the last mass market window furnishing product to offer reliable motorisation and no shutter motorisation have the feature packed advantages of PerfectTilt."
"This has given retailers an amazing point of difference and opens up a whole new potential market where the conversation isn't all about the cheapest quote."
Boyle says motorisation took years to get right in other window furnishing products, mainly due to the prohibitive cost of the previous generation automation technologies.
"But now due to the rapid pace of technological developments especially with the advent of Wi-Fi, Bluetooth and lithium batteries, automation options have become more affordable and more convenient to integrate into existing home automation networks."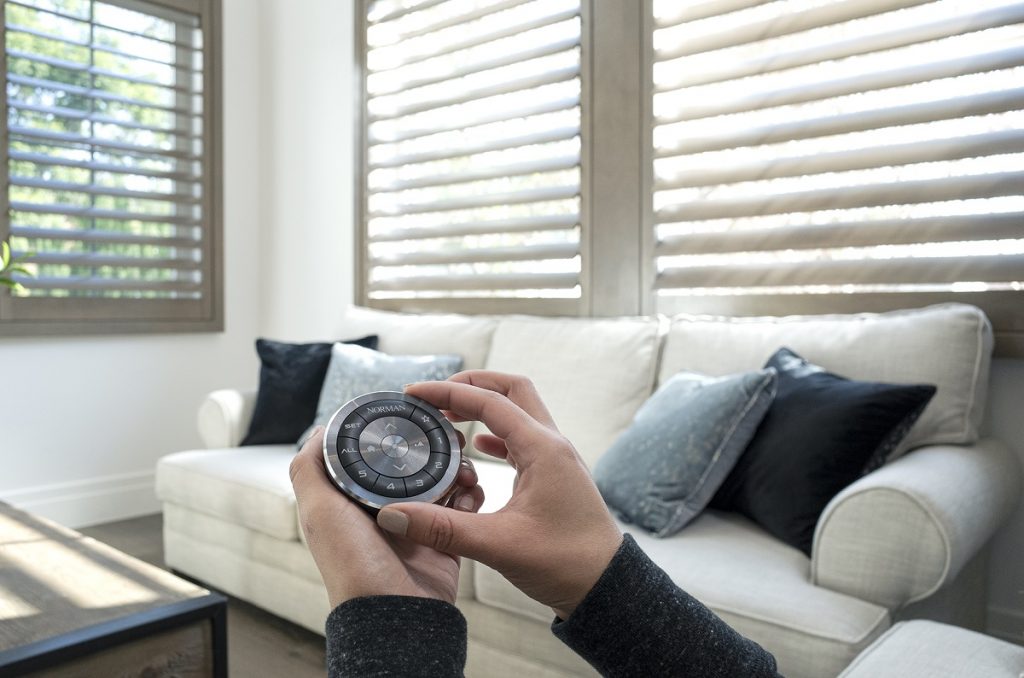 Since launching the G4 (iOS integrated) PerfectTilt shutter automation system on the market, Boyle says Norman has won international awards for its unique design and functionality.
"In the latest G4 PerfectTilt offering, reliability, design and sustainability has been paramount. The bonus being that you can retrofit the G4 PerfectTilt to replace the older generation systems in Norman shutters."
Each motor includes a solar panel to extend battery life, sometimes for years on a single charge when installed in sunny locations.
"The motors come pre-installed and pre-programmed from the factory. You can even select which motors you want paired with which others when you order so all you need to do is to install your Norman shutters, wake the motor up and check the operation Instantly you will have a very happy customer."
BM BLINDS
Michael Shaw, Director of BM Blinds says that consumers are looking to make their home their sanctuary during the pandemic and at a wholesale level the company is seeing an increase in the demand for a range of traditional products to be motorized.
Products such as motorized roller blinds have been popular for some time, however the introduction of home theatres and spare bedrooms being used as virtual boardrooms for important zoom meetings, blinds such as cassettes complete with side guides and base rails give these rooms instant darkness at the touch of a button."
"We are also seeing an increase in items such as motorised Veri Shades and cedar venetian blinds as discerning customers look for modern finishes on popular blind products. It really is about making your home as comfortable and as functional as possible."
"Also as more people use outdoor areas as functioning parts of their homes, motorized eZIP blinds are also increasing in their demand. It's really is about utilizing every inch of your home and these types of awnings help make these outdoor areas a practical space to live and work."