ICL (SA)
"Side retention blind systems have been available for a number of years. Most, when combined with the appropriate fabric, allow you to 'take the inside outside', increasing living and entertaining areas by providing year round protection from the elements and options for quick easy operation."
"What they all have in common is the hard industrial look and feel. Until now! We are not reinventing the wheel. We are merely giving a good idea a well needed facelift," said Peter Monkhouse, Director ICL.
"In 2012 ICL announced the release of the DTrack side retention blind system. The DTrack system incorporates all the features expected in a side retention system, however using our years of industry experience, combined with knowledge based in research and development ICL have made it better than ever before."
"Gone are the angles and edges, replaced with DTrack's soft framing curves. Now the slim-line bottom bar and side channels have a smoother, rounded, more pleasing look about them."
"The reason for this change is that the end customer is more discerning, looking at the overall aesthetics, with greater expectations of what they want. DTrack fulfils this need."
"The system really does offer a point of difference in the market. Previously customers didn't really have a choice, it was square and industrial or nothing. Now you can give them a real option. DTrack will give you the edge. Your installers will be pleased with the ease of installation, your sales people will be surprised by the numbers of orders they take and your customers will be excited by the overall performance and look of the product."
"Feedback from installers, fabricators and sales consultants has allowed us to refine DTrack to meet and exceed the requirements of straightforward fabrication, quick installation and easy low maintenance operation. The side channel, like the wall mount, comes pre-powder coated in Satin Black, Custom Cream, and Paperbark. It's available in 3.0 metre lengths as well as mill finish in 2.5metre and 6.0 metre length. The unique track insert has been developed to assist side spline movement while providing protection from wear and tear on the spline as well as limiting the amount of grit that can gather, as in more open style systems. The DTrack insert and spline has been tested to 120kg loading. The spline's small profile means the fabric does not bulk up on the keyway ends, creating that tell-tale 'smile' sag."
DTrack is part of an extensive product range available from ICL (SA) PTY LTD and its regional distributors. Also available are the Channel-It and Channel X side channel blinds, the Optimus Glide stylised auto awning and of course the traditional Auto Awning. To complement each system are the VSP Components and A-OK Automation and motorisation products.
ROLLEASE ACMEDA
The Rollease Acmeda suite of external drop rollers consists of the flagship Zipscreen side retention solution accompanied by the Veue – Wire Guide, Straight Drop, Channel Guide & Pivot Arm systems.
"All five solutions use the same modern designed square headbox, ensuring that you can mix and match any of these to maintain a consistent premium aesthetic across any home or commercial space. This presents a low inventory solution for any manufacturers offering the full suite of Zipscreen and Veue systems and maintaining easy assembly and installation across all systems."
"Our high-quality extruded aluminium headbox is available in fully or semi-enclosed designs and full or semi-fascia configurations, ensuring maximum installation flexibility. All our outdoor shade solutions can also be manufactured using the one convenient universal open bracket. The four additional Veue systems present varying tension and guiding operations, which offer reduced price points for different applications and job requirements."
"Our top of the line Zipscreen solution boasts our patented zip-guided system; z-lock, which provides a secure integrated connection between the side channel and fabric, for a robust, smooth and streamlined finish. The latest patented Ultra-Lock boasts adaptive locking technology, which allows the shade position to be easily reset if simultaneous locking is interrupted by unexpected weather conditions or obstacles. A more robust heavy-duty latching pin combined with a hidden integrated design ensures a reliable solution, which can be pre-assembled off site, for a quick and easy installation. When paired with the Automate FT Motor, you can close, lock and tension your outdoor shade with one simple press of a button."
"We offer a comprehensive choice of Australian made bubble seals for our Zipscreen solution, accommodating uneven floor levels. These range from rigid lengths to flexible rolls, all varying in size, merely sliding or pushing into a groove allocation within the bottom of the weight bar. These options ensure you can provide the right fit and solution for each customised application."
"Our robust bearing idler features a large 15mm stainless steel shaft to deliver a strengthened, durable operation, for a long-lasting Zipscreen installation. The spring-loaded idler is retractable, up to 16mm, providing the flexibility needed for easier on-site installation. Additionally, stainless steel roller bearings which promise to outlast market alternatives, ensure a quality smooth and acoustically performing, squeak-free outdoor shade operation."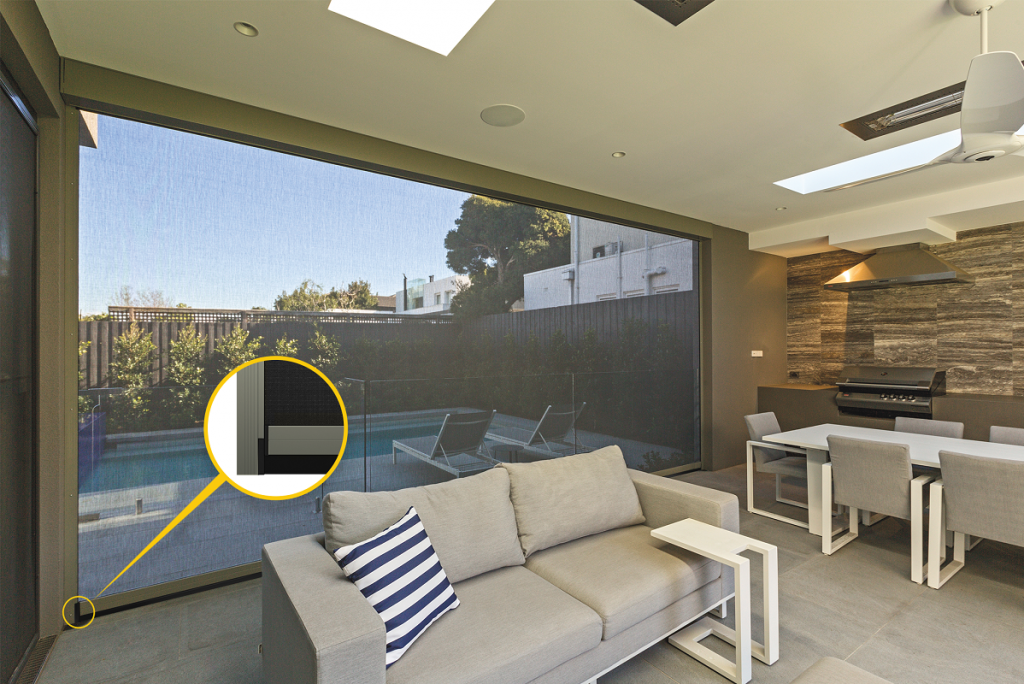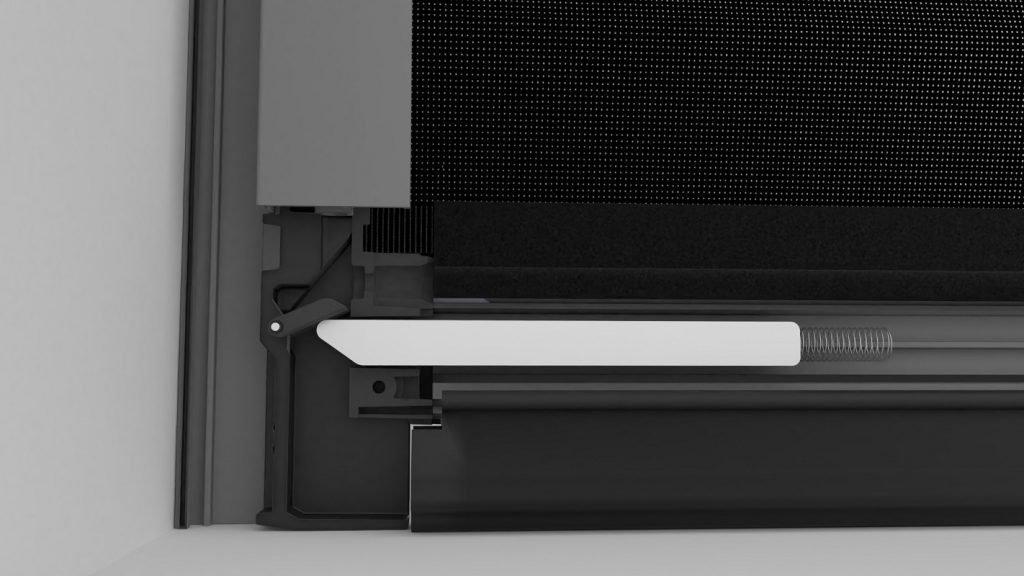 BLINDS BY PETER MEYER – WEINOR
"Since releasing the Vertitex 2 last year, Weinor has seen an uplift in sales of over 60% compared to the same period last year," says Managing Director Simon Meyer. "This growth has been consistent through COVID 19 and is not limited to only the exterior roller blind range but also the rest of the folding arm awnings and retractable roof systems."
"The Vertitex 2 system is available in both round and square profiles and boasts the smallest cassette on the market (75mm) while still being able to span up to 6000mm. Available in 56 standard powder coat colours, there is no better system on the market. Three system styles are available: cable guide, channel guide and zip. Weinor has recently released its largest cassette in the range for the ZIP style blind, all of 112mm and allowing for drops of up to 3000mm. In the 92mm cassette they can achieve 4000mm drops for cable and side channel options."
"As the smallest Cassettes on the market at only 75mm (also available in 92mm and 112mm) each cassette size can span 6000mm due to their patented Optiflow technology, where the roller tube is constantly supported by a profile in the cassette, meaning the tube can't deflect. This offers optimum fabric performance while maintaining a sleek slim profile."
Meyer points out another benefit of the system. "Tight installs are no longer a problem; these discreet cassettes mean that you can now integrate exterior roller blinds into building facades with minimal impact on the building design. With the two different cassette shapes you can also offer a practical solution for all building styles."
"The exterior roller blind market is strong and growing. Blinds by Peter Meyer produce for the trade our own locally made Solare Teknica range which can be made up to 5000mm wide and comes in Straight Drop, Cable Guide, Zip and Pivot arm Awnings. This on top of the Weinor Vertitex product gives us a complete offering in terms of quality, service, lead-time and design."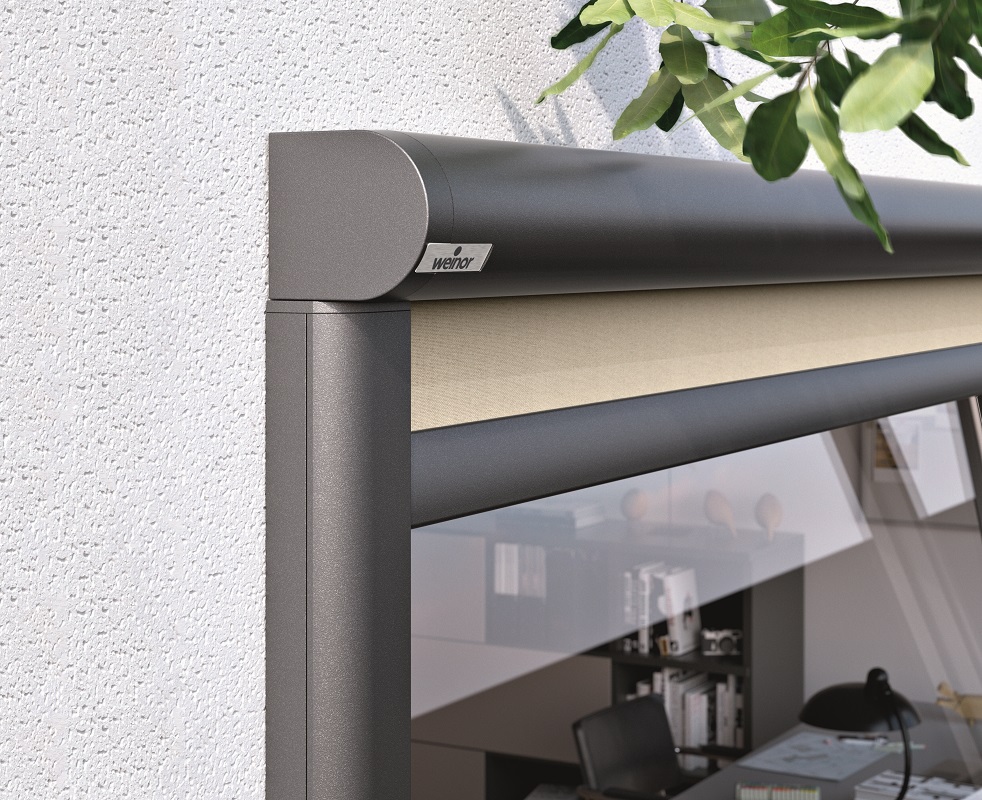 SHAW
"The Shaw Outdoor product range includes seven external vertical awning systems, designed locally to withstand the challenges of the Australian climate," says Marketing Manager Sarah Harris. "Shaw strives to supply components for universal use across systems, including; tubes, brackets, pivot pin and plates, and gearboxes, in an extensive colour range. The Habitat systems have options for motor or crank control, and can be installed with or without hoods. All the systems are quick and easy to install. Shaw supplies a compatible external screen Dayscreen, available in; a 5% range of 16 colours, and a 1% range of six colours."
Details of all systems can be found in Shaw's recently released Outdoor Catalogue which presents system drawing, component photographs and pricing.
Shaw's range of Vertical Blind Systems includes:
Habitat Deep Channel: Blind travels up and down inside the deep channel. The success of this system comes from the fact that the fabric is not locked into the side channel. Skin tension is achieved with the cleverly designed bottom bar, which is locked into the channel with tension applied.
Habitat Straight Drop: This is the perfect solution where Habitat wire guide or Deep Channel are not practical.
Habitat Wire Guide: Designed with an integrated spring loaded stainless steel wire guide, giving operational longevity.
Habitat Multi Stop: This is Shaw's entry level side channel system. Design smarts include friction lock end caps which enable the bottom rail to travel up and down the side channel and stop in any position.
Habitat Verso Pivot Arm – open and closed: Italian designed, verso pivot arms provide strength and design features. This is suitable for face and reveal fit treatments and offers multiple projection options. The modern front bar design includes a built-in gutter with water displacement end caps.
Habitat Automatic: A traditional awning system where a five-sided bottom bar travels up and down the automatic guide with the use of auto arms to lock them into place.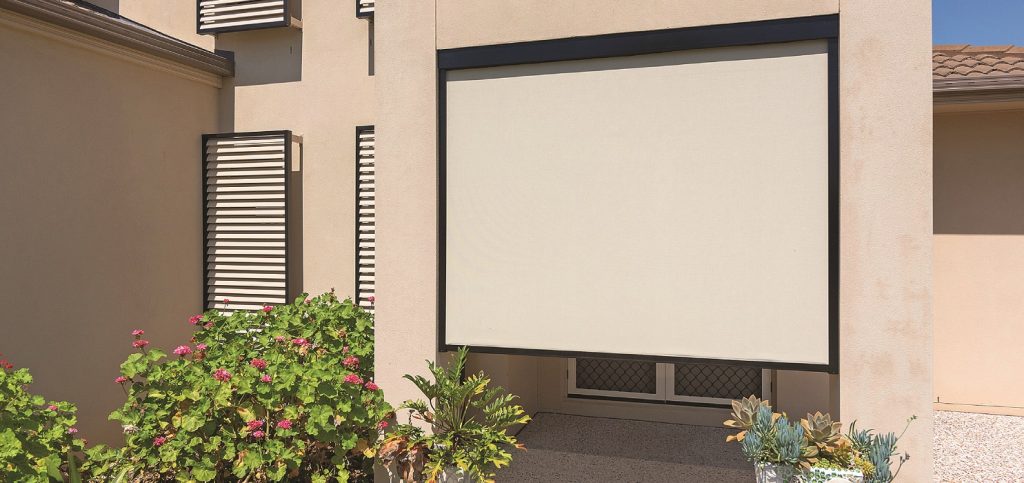 GLOBAL BLINDS
"As the demand for eco-friendly design increases, Global Blinds is taking note with innovative and creative approaches in outdoor shading systems well ahead of the trends. The initiative aims to reduce the environmental impact of products for the duration of their life cycle. Global Blinds promote continuous improvement to its environmental performance through the manufacturing process. It's not only about changing the way that designs are created but also about the materials that they use."
"We maintain a focus on using sustainable materials with responsible manufacturing practices. By even further reducing our carbon footprint, Global Blinds ensures packaging is recycled, they have reduced the standby power consumption of motors, they optimise transportation solutions and maximise shipping for long distances."
Global Blinds offers an extensive product range that includes Sunbreaker, Pergolas, Flexy Screens, Venetians, Verandas and Awnings, all with multiple options available to suit exact project requirements. These shading treatments are not only pleasing to the eye, but they're also doing their part to preserve our ecosystem.
"With rising energy costs and environmental considerations, a quality outdoor shading system can manage heat and light entering a building providing a cool, glare-free space, preventing heat accumulation, a problem that can add to daily expenses on any home or workplace in summer. Innovative products provide the ability to regulate temperature, reducing the reliance on heating and air-conditioning, reducing electricity consumption and minimising greenhouse emissions. Modern systems have been developed to incorporate sun, wind, and rain sensors that will react immediately to the weather to maximise efficiency. Not only is insulating your home or building a smart investment for the future of our planet, it's also a simple way to improve value and liveability."
"Whether you're looking to design a six star green building, create a dynamic façade or add a purposeful solution, Global Blinds External Shading Systems offer an ideal solution."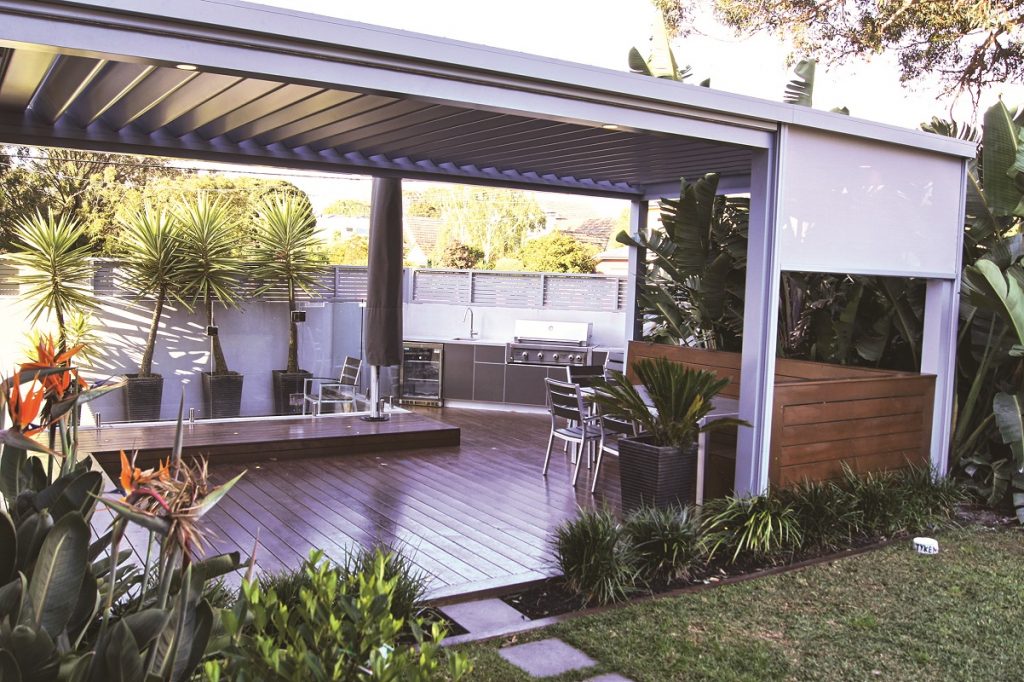 SOMFY
"As the days get warmer, the Australian lifestyle sees people naturally gravitate outdoors to dine, entertain and relax. Each year around this time, we see the line between inside and out blurred, and an increased desire to update outdoor spaces with external shading. Covid 19 has forced people to spend more time at home and they've been left considering upgrades to their home," said Somfy Oceania Marketing Executive Mary Maidiotis.
"I believe we are going to see this trend continue to boom well into summer as people will look to entertain at home rather than gathering in public settings."
With the external screens growing, Somfy's goal is to increase the motorisation rate by creating demand and educating end-users on the benefits of automation.
"Somfy's universal solution for external screens, Maestria 50 RTS, is the smartest zip system motor on the market with innovative features such as obstacle detection and automatic adjustment. Using accurate and reliable obstacle detection, the motor will retract when an obstacle is detected to prevent damage. The ultra-precise limit setting allows for the perfect limit position, while automatic limit recalibration ensures perfect fabric tension over the product's life."
The motor boasts a quick and easy installation with three limit setting modes available: manual, semi-automatic and automatic. Maestria 50 RTS is compatible with all types of external screens including those with automatic locks. The Maestria 50 RTS is also compatible with Somfy's automation solution, Connexoon Window RTS. Customers have the freedom to control their external screens using their smartphone or set automatic schedules for the ultimate convenience and peace of mind.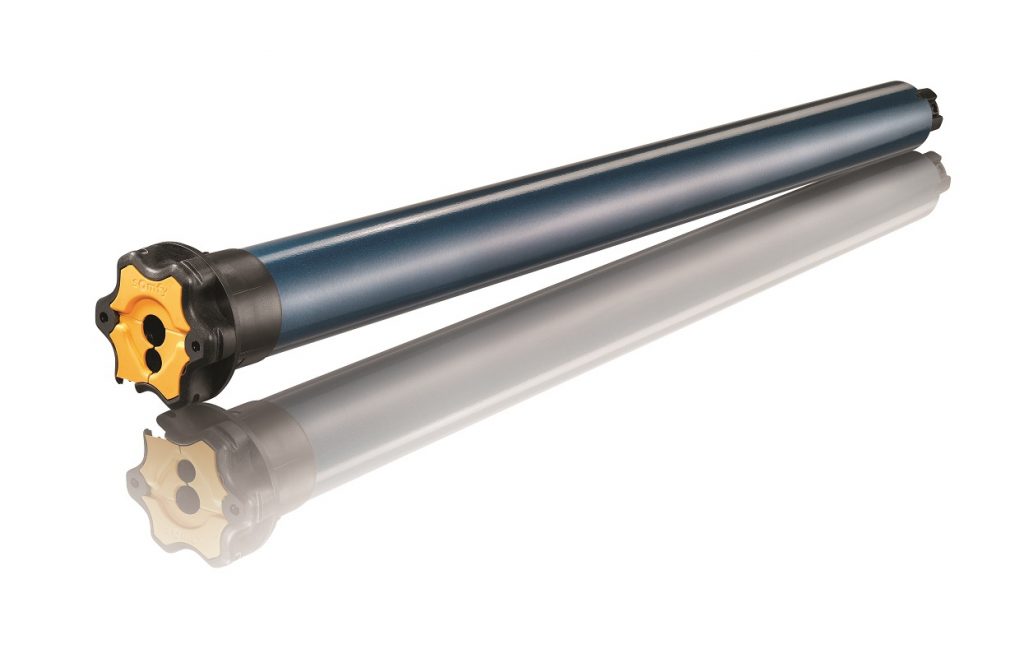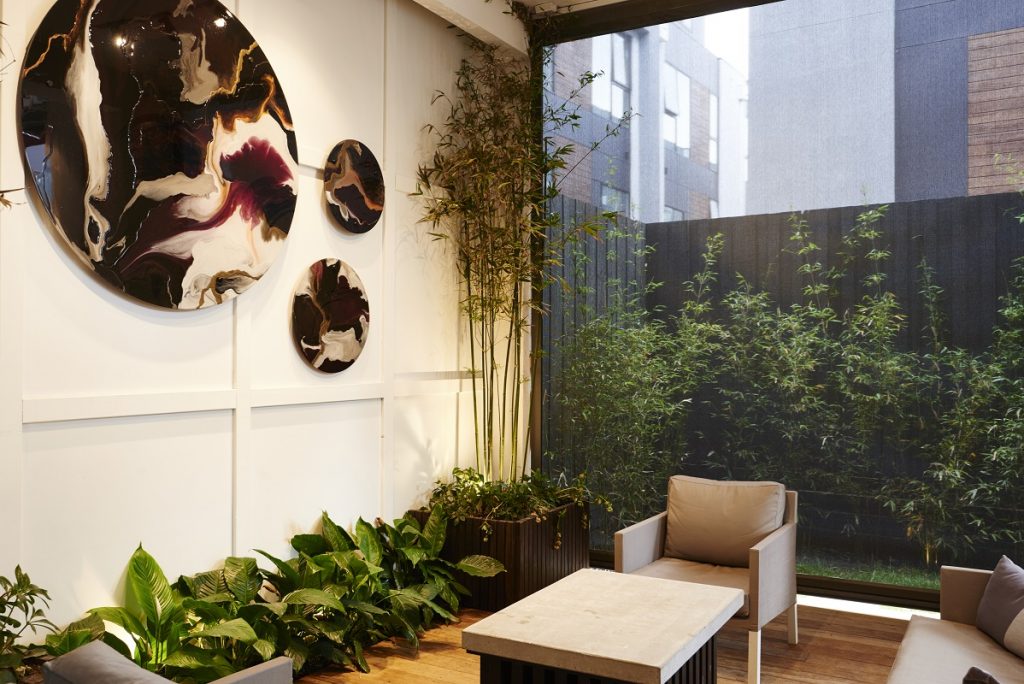 ZIPTRACK
The Streamline Pelmet with Insect Control System from Ziptrak looks set to attract strong demand for the summer and beyond, offering an additional protective barrier against insects and debris, which also enhances the blind longevity and long-lasting performance. For wide blind applications the Extra Heavy Duty Bottom Bar provides consumers a stronger product with a modern design that integrates seamlessly to every home.
"Ziptrak's market research found that consumers are looking for outdoor blinds that are unobtrusive and integrate seamlessly into the building structure of homes and businesses. Our research also indicates that consumers are seeking further protection from elements such as insects entering their outdoor areas."
"Insect Control is a feature built exclusively for the Streamline range of pelmets; this system utilises a set of dual brushes at the base of the cavity to provide an additional barrier of protection against the elements and stopping animals from nesting inside the pelmet."
"This research, along with feedback from our retailers and fabricators, included easier and more versatile installation options. These factors were then taken into consideration during the design and creation process of the Extra Heavy Duty Bottom Bar and Streamline Range of Pelmets."
"The Ziptrak engineering team developed the Extra Heavy Duty Bottom Bar to achieve outstanding performance on wide blinds. Its design is 50% stronger – reaching areas of up to 21m2 per blind while maintaining a weightless and smooth operation. The mechanism guiding the blinds was redesigned to form a single structure that continues the silhouette of the bottom bar, reducing the number of plastic parts required and decreasing assembly time of Ziptrak's Centre Lock-Release Mechanism during fabrication."
"The engineers created the Streamline Pelmet with self-holding covers that stay in place whilst securing the head-box, prompting safer and easier installation. They also designed a revolutionary three-part loading system which allows mounting of the blind from both the front and rear faces of the pelmet. This exceptional design enables safer installation for high rise buildings and balconies." 
"We're increasingly noticing that consumer outdoor spaces are changing, the demand for higher-density housing such as apartments, units, and terraces with reduced square meterage  is increasing.  These housing options have fewer outdoor blind applications per dwelling but require wider blinds than traditional housing."
"We have also noticed a trend which reflects that Australians are investing significantly more on home improvements than in previous years. Although it is difficult to forecast the future, based on current numbers and the summer season just around the corner we expect this to be just the beginning."
"The greatest challenge for Ziptrak as an Australian component manufacturer and supplier to the industry, has been adapting to the rapid fluctuations in demand this year – from a brief minimum production period (due to world events earlier in the year) to exceeding demand normally seen later in the year during the busy summer season in a short period. The disruption of shipping schedules as freight companies struggle to keep up with demand has had repercussions for both the local and overseas markets, with our international customers particularly affected."
"At Ziptrak, we thrive on responding to every situation as an opportunity to improve and evolve. The flow of ideas and close collaboration with our local suppliers and distribution partners have been key to overcoming each challenge and successfully supplying product to our Australian and overseas network."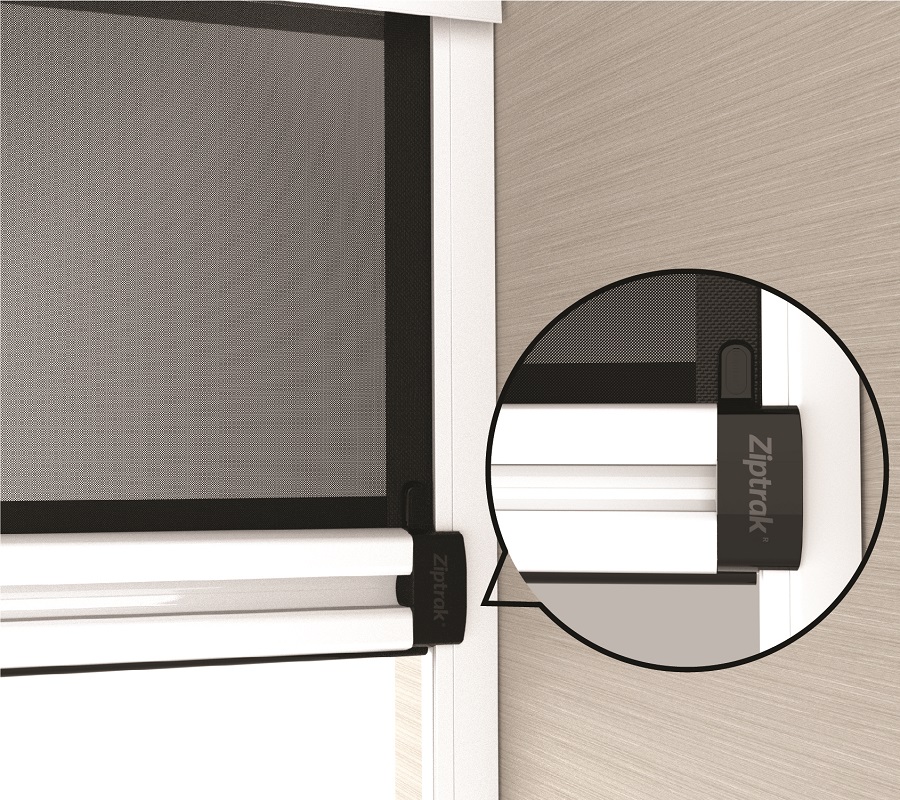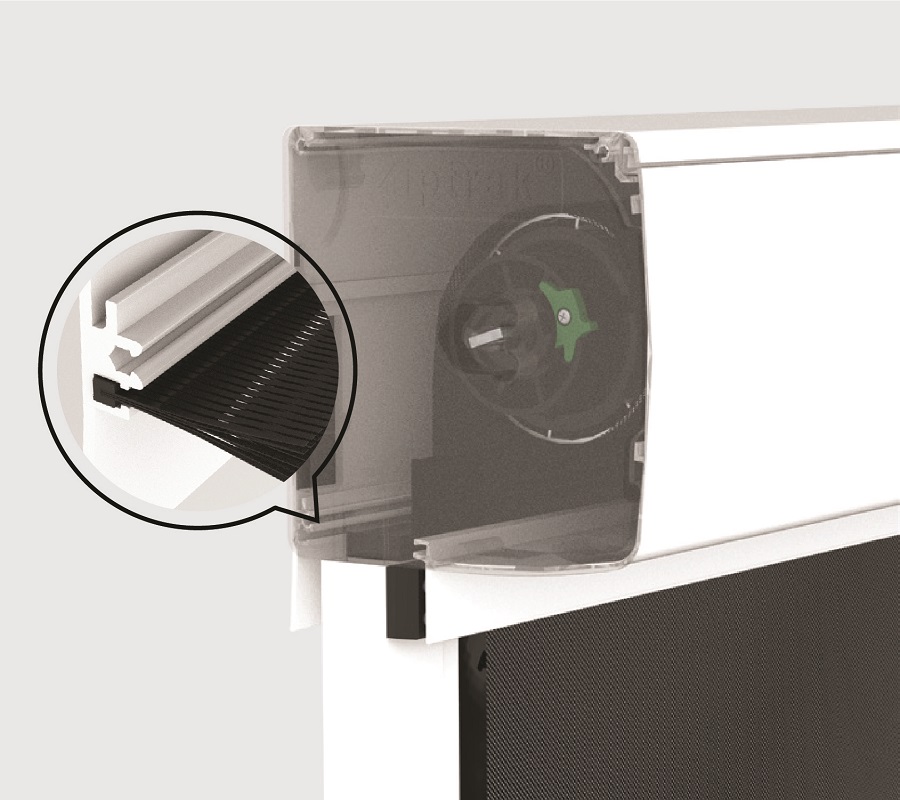 SHANN
When The Shann Group mass launched the Urban Track track guided blind system to Australia back in 2016, our intention was always to keep moving the product forward, innovating and changing its design to make it aspirational and functional for our customers, and to stand above its competitors, says Melissa Vine, National Product Manager – Window and Industrial Fabrics. "Fast forward four years and these innovations have propelled Urban Track to one of the leading blind systems on the market."
"Having been labelled the best available by fabricators and customers, one of these innovations, the exclusive central locking mechanism, continues to set Urban Track above other product offerings."
"The new lighter weight pelmet is robust and strong, yet 30% lighter and more cost effective than the previous pelmet. As well as the new pelmet, we have introduced a heavier base rail, creating a sturdier, more durable option for the motorised Urban Track."
"Urban Track end plates are pre-drilled for simple, faster installation. New top flutes make it easier to fit the skin into the track. Wider rail end guides that fit into and over the base rail to give the rail significantly more flexibility and play, making installation a breeze. The entire Urban Track system is designed for ease of fabrication, installation, to be durable, functional and exceptionally good looking. And the best part, it's officially an Aussie and is proud to carry the Australian Made logo."
"Looking ahead, more new ideas and improvements are on the drawing board to ensure Urban Track is always the best choice for track guided blind systems."
TURNILS
Turnils' Alpha M, described as "the next evolution in external awnings" offers a range of unique benefits that make it well suited to the Australian market.
"Alpha M Awning has been engineered and tested in Australia to specifically handle our diverse and unforgiving conditions all year round. Independent testing by James Cook University's Cyclone Testing Station, in accordance with AS 4040.2, has shown that the Turnils Alpha M Awning (3.5m opening span width) is able to withstand pressures up to 185kph*."
"Alpha M has the smarts to self-correct fabric blowouts back into position without a service call. The patented neodymium magnet technology is hidden within the side channels allowing Alpha M to outperform standard zip systems. The Alpha M also features an inner tube-in-tube design for unrivalled strength. This specially engineered design enables the awning to hang straight at ultra-wide sizes extending up to 6.5 metres wide."
"The Turnils Alpha M Awning is the strongest Straight Drop awning that has been wind tested in Australia. Alpha M is also Australia's first and only magnetic retention system, delivering up to 200kg of pull force keeping the fabric taut and neat inside the channels."
"With most of us spending more time at home now, our backyards have become increasingly important in providing a haven and entertaining area. Awnings that can close off alfresco areas and protect against harsh UV and debris are in high demand. But it's often hard for awning products to maintain taut skins due to fabric stretch over time. The Alpha M, partnered with a high performance fibreglass screen, solves this issue."
*Turnils Disclaimer: 
Report No. TS1166 of James Cook University Cyclone Testing Station, College of Science and Engineering dated 12 March 2020.
Despite the Turnils Alpha M Awning's performance in high wind loads, it is recommended that all awnings be retracted during wet or high wind conditions. 
Refer to our manufacturer's guide for full limitations, width, projection and wind rating information.
Performance is dependent on adequate fixing to a solid structure.Tested in accordance with AS 4040.2 with constant wind pressures held for 1 minute. Before relying on the representations made relating to the Alpha M Awning, please read our disclaimer at turnils.com.au/AlphaM# Results based on a single storey, brick veneer home on a concrete slab using ducted air-conditioning and equally distributed windows.
ULTRACUT SUPPORTS IN-HOUSE AUSTRALIAN MANUFACTURE
Ultracut director Garth Jacobs confirms the company has developed innovative solutions to support demand for in-house production of external blinds.
"We've noticed a significant increase in growth in the external products industry over the past years, with many customers looking to take advantage of the higher return on these bigger dollar items," said Jacobs.
"The number of systems on the market now, is further confirming that demand is still rising, with many customers now looking to manufacture these products in-house."
"Ultracut has worked closely with customers who have been manufacturing these products for many years and sought feedback to design the ideal machine for current demands."
"I spoke with many customers and asked for their wish list, before starting the design phase. We wanted to be sure we build a machine that enables manufacturers to do exactly what they need."
"Features like the ability to adjust from a 10mm wide weld to a 20mm wide weld at the push of a button are key benefits that Ultracut has patented worldwide. It's features like this and the ability to securely hold many different kedar and zip sizes for systems like Ziptrak, ZipScreen, eZip, and Alpha that place Ultracut in a league of its own."
"Not only can our solution hold all the different zip and kedar sizes, it has programmable positioning of the offsets for each type that you can save and build a library to recall later easily. With popup stops both sides, it makes joining fabric as simple as it gets and the advantage is clea; ripple free joins and welds with minimal skill required every time."
Jacobs says many customers are reporting that an investment in this machine and their large format 5.1 x 5.1 metre cutting capacity Combocutter table results in a great and cost effective solution to manufacture external products.
"The return on investment is fast thanks to the labour savings of the welder, which is able to weld even multiple skins up to 6.4 metres wide at once."
"With Ultracut being the only Australian made and locally supported welding machine in the market, it makes sense to bring manufacturing back locally, especially during these tough times. It is great to see these new innovative products emerge in the industry to further expand the industry's product offering to the public."