RICKY RICHARDS
Outlook mesh fabrics from Ricky Richards are known for sun control while still allowing in the cool breezes and uninterrupted views; with the exception of Mode Zero which provides complete visual block out
The company says there are six key reasons why Outlook continues to be recommended for external blind or awning projects.
Outlook mesh fabrics were created by Ricky to suit Australian conditions almost 20 years ago and have always come from the same supplier; Phifer Incorporated USA.
The Outlook collection is a cleaner mesh option that contributes to making this world a better place for our children. With 98% of the plasticisers used in this fabric being derived from non-fossil fuel feed stock, it means around one litre of petroleum is saved each time Outlook mesh is used for a blind measuring approximately 10 square metres.
Outlook mesh fabrics are supported by a full 10-year warranty which gives customers confidence in the longevity of this fabric.
Outlook mesh fabrics are Greenguard certified, which ensures that these fabrics have met some of the world's most rigorous and comprehensive standards for low emissions of chemicals including volatile organic compounds (VOCs) into the air.
Outlook mesh fabrics are Microban treated using an antimicrobial technology to inhibit bacteria, mould and mildew growth, which also keeps air healthy and clean.
A percentage of sales from Outlook mesh fabrics is donated to Melanoma Institute Australia (MIA). These funds support vital research and help MIA reach their goal of zero deaths from melanoma.
HVG FABRICS
Launching in the 2022-23 season, Visiontex Glisse from HVG Fabrics is described as an innovation in solar protection, Maria Macri, HVG Fabrics Sales & Product Manager – Blinds & Awnings confirms.
"Visiontex Glisse was designed as PVC coated Fibreglass for outstanding strength and stability."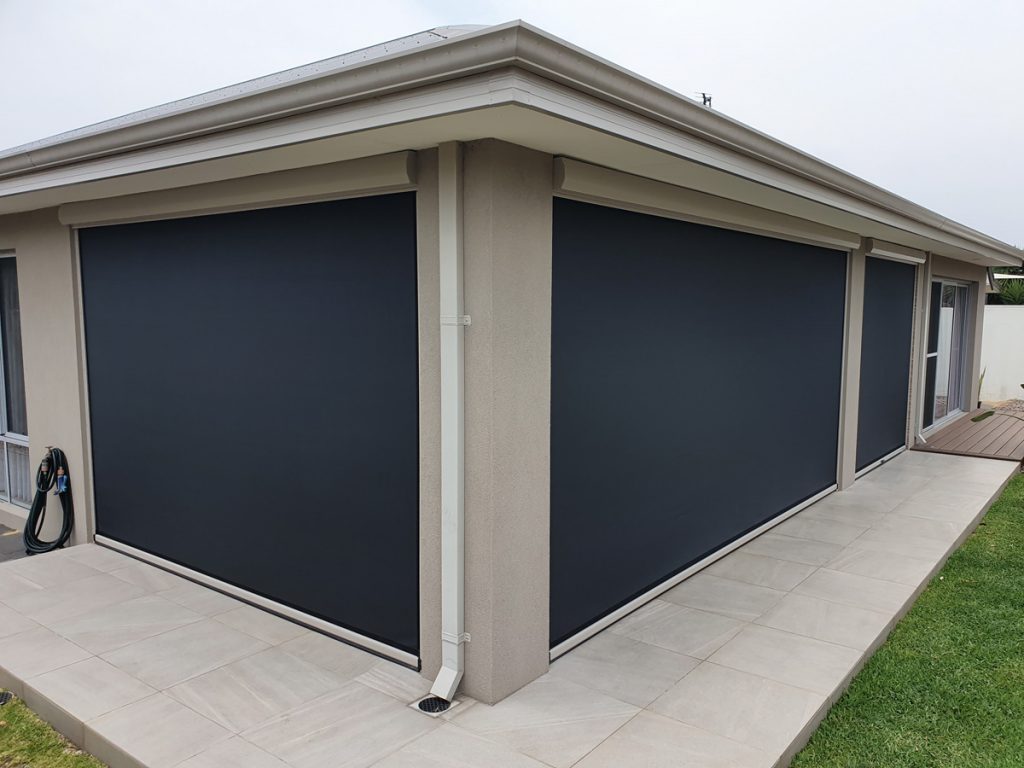 The fabric is available in six colours designed by HVG Fabrics for the Australian market, including Naxos, Majorca, Malta, Naples, Rhodes and Genoa , supported by a full range of sampling options.
"This unique solution offers a very stable, strong, thin and lightweight blind skin. The traditional 1 x 1 weave construction makes it another complementary all-rounder product offering 94% UV ray protection for great weather protection and ventilation."
"Visiontex Glisse is ideally designed to be railroaded as a as the blind system is capable of going. It also has a very unique finish."
"It is fairly new to the external market. It is however seeing growing demand as awnings are increasingly being designed for larger openings; this fabric brings superior stability to these applications."
Meanwhile, HVG Fabrics's Visiontex Extreme was developed in 2019 and continues to perform well in the market.
"Visiontex Extreme's unique tight weave pattern delivers greater than 99+% UV protection and outstanding privacy. When railroaded, expect a slight see through glimpse when looking up and down. It is also a great alternative to canvas."
Available in eight colours – Dakota, Ararat, Maui, Rio, Sierra, Tanami, Kalahari and Rocky – it comes with a full range of sampling options.
"Visiontex Extreme features strong and flat weft yarns, making it most suitable for wide span applications due to its extra strength and stability; no 'hour glassing' expected when installed with high tension blind systems."
"The tighter closed weave is a growing market as it provides great privacy in outdoor settings. The complementary Colorbond colours are also an added selling feature, so these colours work well."
HUNTER DOUGLAS
Hunter Douglas' Stance Ultra Black (5%) is a naturally fire resistant twill weave external screen using an Enduris Fibreglass yarn made in Europe.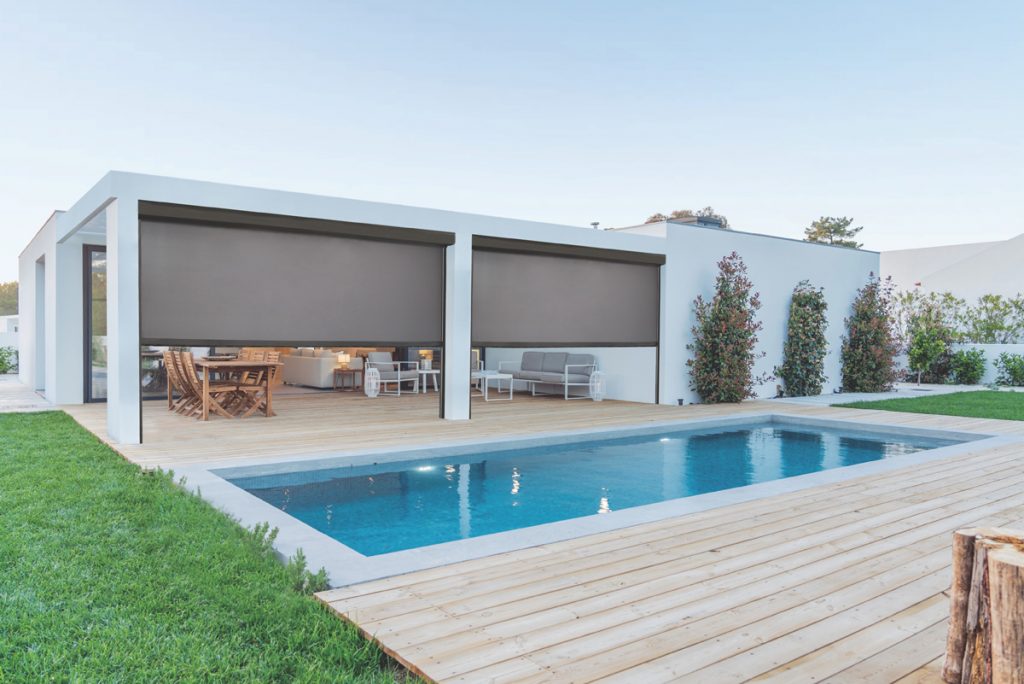 Designed for performance and stability, Stance is particularly suitable for side restrained/zip awning systems and awnings with wider widths, the company confirms.
"Stance Fibreglass fabric has a high fibreglass yarn content versus the PVC coating, making it stronger and more stable compared to similar products with a lower yarn to PVC construction.
"The unique twill weave featured in Stance Fibreglass sunscreen, provides a more durable construction and adds to the dimensional stability of the screen. The twill weave also provides flexibility for Stance to be railroaded for wider width awnings.
"The fabric has stronger tensile strength compared to polyester external screens, performing better under tension and pressure."
Stance Fibreglass Ultra Black also has a higher yarn content compared to polyester screens, which reduces elongation in the fabric, enabling it to perform better in harsh environments without stretching.
Stance Fibreglass screen is lighter and thinner than other polyester screens in the market for better performance in awnings. When the screen is rolled up on the tube, it produces a lower overall thickness allowing for larger shades to be made and less stress and deflection on the hardware components of the awning.
It is also less likely to stretch compared to polyester screens.
Another key feature of the range, Stance Fibreglass sunscreen (Black, 5%) only transmits a small amount of the total solar energy through the awning. "Therefore, comfort is enhanced when using Stance Fibreglass sunscreens on your outdoor awnings. "
Ultra Black Spectra 5% has been designed to meet consumer demand as black is one of the most desired colours in external screens
"Stance Ultra Black Fibreglass Sunscreen is aesthetic, functional, and Eco-friendly meeting the current market demand for sustainability and social responsibility."
Hunter Douglas also points out that manufacturers are now operating in the context of changes made to Fire Regulations of the National Construction Code, relating to the installation of Awnings and Blinds on the upper floors of Class Two through Nine Buildings.
"Since the introduction of adjusted National Construction Code, we have noticed that consumers are asking more about the test reports and questioning the suitability of the product."
SHAW 
Mark Lewis, Head of Division, Shaw Performance Fabrics, says key products in the Shaw offering continue to attract demand.
These are the Dayscreen 5% openness factor fabric and more recently added Dayscreen 1% openness factor fabric. Dayscreen is a uniform 2×2 weave, specifically manufactured to stand up to the harsh Australasian climate.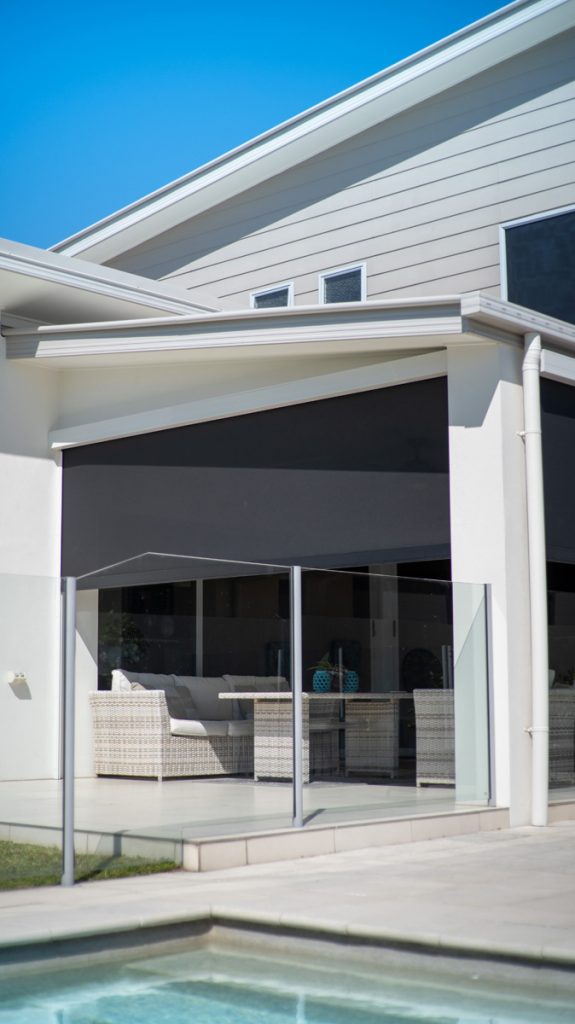 "These products quickly received positive feedback on their useability, durability and technical specification," says Lewis.
"There are 17 on-trend colours to choose from, all developed specifically for the Australian market and trends. These colours also co-ordinate with Colourbond powder coat and bestselling exterior paint colours."
"Dayscreen is manufactured by a reputable long-established manufacturer using ISO standards 19001 and 14001. It is supplied and serviced by Shaw Performances Fabrics' national call centre and distribution network in Australia, and New Zealand. A robust and durable product, it is supported by a 10 year warranty."
"The 1% is 3200mm wide, and the 5% is available in multiple widths; 2200cm, 2750mm, 3200mm, giving cost savings and wastage reductions to the awning / blind manufacturer."
Lewis adds that it has a superior clear view to the outside in all colours, but particularly in the darker shades.
Overall, Dayscreen's unique selling point is that it extends Shaw's comprehensive indoor fabric portfolio to the outdoors, he tells WFA.
"Dayscreen's colour scheme was developed with consideration for the current trend to continue internal colour schemes to the outside. This colour scheming extends to Shaw Performance Hardware's external Habitat external awnings and Side Retention System, designed to have a simple elegant appearance and to be low maintenance.
"The powder coated hardware co-ordinates with leading external paint manufacturers giving a smooth transition from the external shading system to the building façade."
For retailers, Dayscreen is presented in a neat binder which converts into show room presentation, and a compact feeler swatch for use out in the field.
"As part of Shaw Performance fabrics growth strategy 2022 we are working with manufacturing partners to expand our external product program," Lewis confirms, adding that Shaw predicts continued growth in the external fabric market due to a number of factors.
"Although we are beginning to get back to relative normality, the need for outdoor space continues to grow. We are enjoying extra space at home created by external blinds and awnings. Hospitality businesses have adapted to serving customers inside and outside. They are using the extra space to generate income as they recover from the revenue losses imposed during COVID-19 restricted periods."
"Furthermore, environmental impact is high on consumers' agendas. External products are the first line of defence when preventing heat and light entering a building. External fabrics and systems reduce the need for air conditioning, which is a positive for the environment, and gives cost savings to the consumer at a time when energy charges are at a premium."
Shaw is also taking an active role in responding to recent fire regulations changes, he adds.
"Shaw is a member of the BMAA and supports their work as they canvas to find a resolution to the restrictions imposed by the recent changes to the Fire Regulations of the National Construction Code which relate to the installation of Awnings and Blinds on the upper floors of class 2-9 building types."
SHANN
With the arrival of winter, "blinds and external treatments are just as critical in the cooler months as they are in the summer ones," according to Shann, whose external mesh product Atmosphere continues to attract strong demand.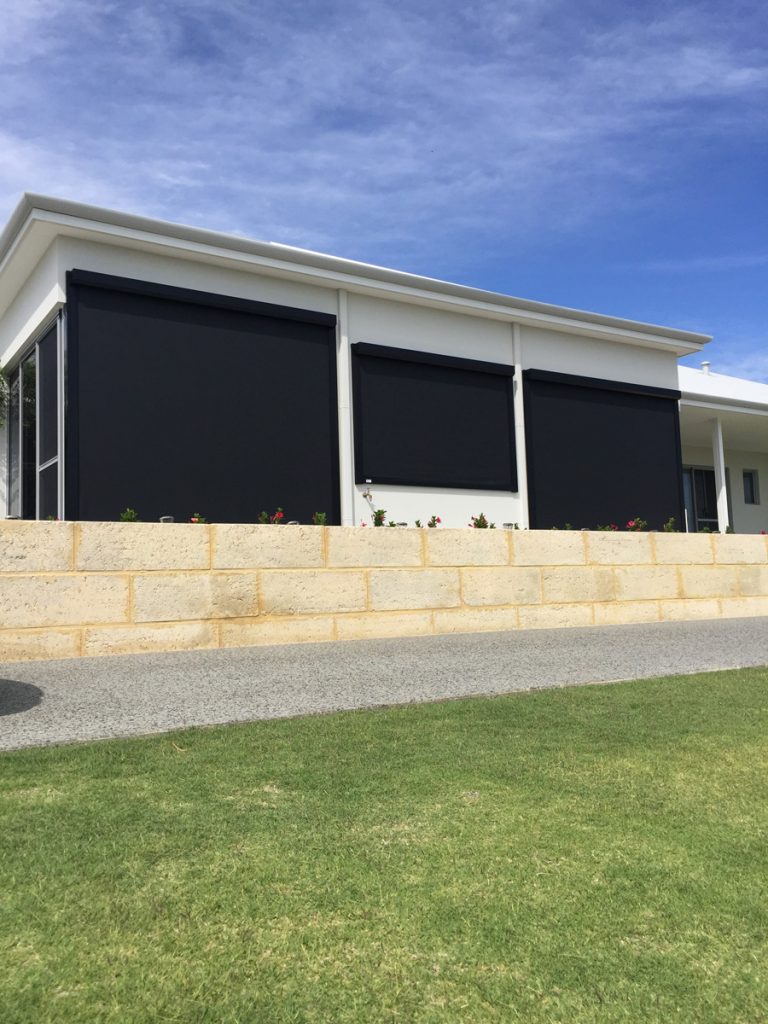 "Fortunately for our customers, Atmosphere is designed to perform, keeping the cold and frost off to help insulate windows and prevent heat loss through the glass.
"Whether your windows are more traditional or the latest industrial designs, Atmosphere's dimensional stability and its excellent welding properties coupled with its low shrinkage percentage create a versatility and confidence, especially for large and panoramic windows.
"And whether building new or renovating, maximising available space is critical. Atmosphere's generous width options lend themselves to use for a plethora of applications, from drop blinds and awnings, to side retention blind systems like Urban Track.
"Atmosphere allows you to design your best home or commercial space by delivering and incredible colour range and outstanding performance characteristics that live up to its market leading reputation, allowing our customers to create innovative and cost effective decorative shading solutions."
Atmosphere is supported by a 10 year warranty and boasts a low defect rate, which Shann says makes the mesh an effective option from both a cost and production perspective.
"It has superior flatness properties, controlled colour consistency and high tensile and tear strength and it's been delivering all of that since 2008."
BM BLINDS 
Michelle Macready, Sales Manager BM Blinds, tells WFA the company offers a range of products designed to meet diverse requirements.
"At BM Blinds, we believe that retailers should be able to choose the external screen fabrics that best suit their clients' requirements.
"For this reason, we include the Outlook range from Ricky Richards, Dayscreen from Shaw, Visiontex from HVG and Vistaweave from Nolans. Each external screen comes with its own colour palette, and we know that retailers have their favorites.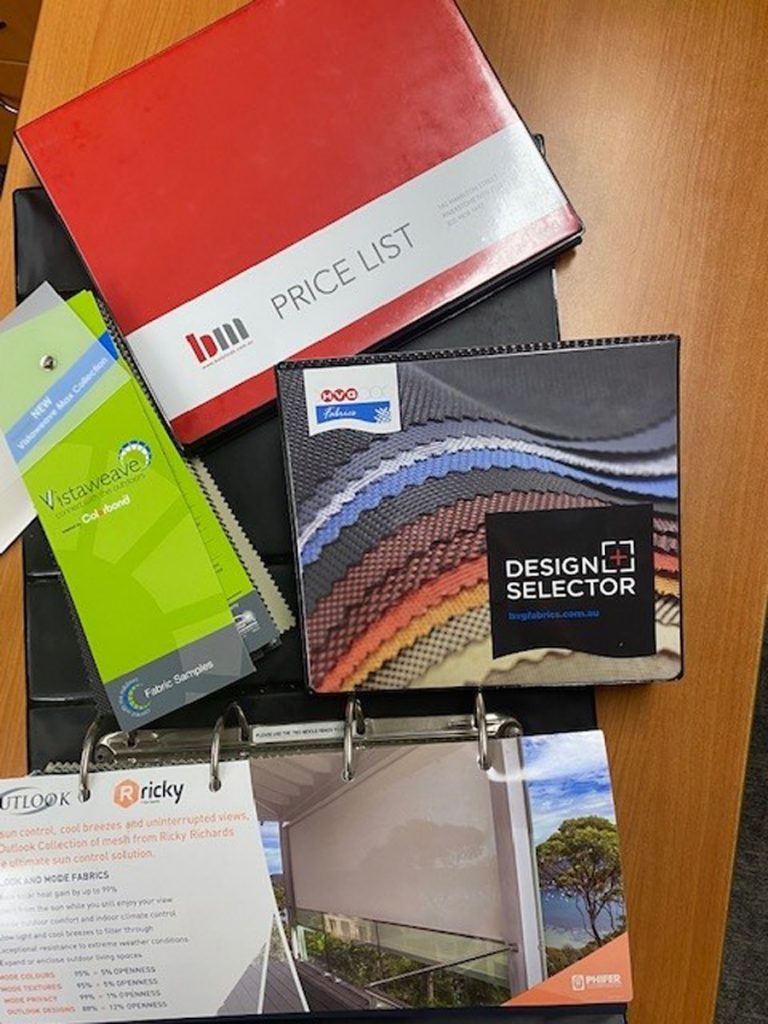 "Awnings are a fast growth product range to our wholesale offering. Our strongest sales are in the eZIP product group. These awnings, coupled with an external screen, seem to be best suited to the Australian conditions. In summer these are used to help keep the area cool with the added protection of zero right through to 10% openness, whereas in winter it is more about keeping the heat in and the cool breezes out."
"With alfresco areas now considered another fully functioning area of modern homes, the screen fabrics offer a practical and functional way to extend outdoor living areas."
Macready says new ways of living following the pandemic are resulting in a new end-uses for these fabrics.
"COVID-19 has brought about many changes to people's lives and has also changed the way they view the areas of their homes. Juggling home schooling and working from home, many homeowners are utilising these indoor/outdoor areas as rooms for band and dance practice for their children, boardrooms for zoom meetings or offices for work for themselves as they conduct this new normal from home."
"Everyone has now come to realise that with new COVID-19 variants, we all have to get used to living adaptably; altering our homes to suit, means looking at the home and seeing where areas can be utilised in new and flexible ways."
"A good quality mesh, married with a practical awning system gives people more choice and helps make staying home a comfortable and rewarding experience."
NCC CHANGES EXPLAINED
Changes made to the National Construction Code (NCC) in 2018 that saw an exemption clause for awnings and blinds relating to fire regulations deleted.
The changes made in 2018 mean that technically any blind or awning fitted to any building upper floor of Class 2 – 9 buildings does not comply.
The Blind Manufacturers Association of Australia (BMAA) has lobbied to have the clause restored and has made submissions for the exemption clauses to be reinstated.
As it presently stands, the draft of NCC 2022 incorporates almost verbatim the "ancillary elements" clause from the 2019 code. Consequently, there is a considerable likelihood that the current difficulties experienced by the industry in gaining approval for the installation of External Blinds and Awnings on the upper floors of class two through nine buildings will continue through to 2025.
If the clause is not restored the industry would have two pathways to achieve compliance. The first would be a 'deemed to satisfy' EW fire rating obtained through testing to AS 5113, the second being a 'performance solution'.
The 'performance solution' is a professional assessment undertaken by qualified fire engineer who provides an opinion that the generalised 'performance requirements' stipulated in the code are met.
This has been considerably simplified and Ignis Consulting have provided the BMAA a DIY Template that can be filled in by the fabricator and submitted directly to the certifier.
Provided the materials and fixings meet the requirements in the 'Installation Verification Check', the standard Ignis Certification applies.
However, if the certifier requires a specific certification for the project, Ignis Solutions can provide the covering documentation. Members are now able to obtain the DIY Template directly from the BMAA office.
This relatively simple and cost effective process is frustrated in Victoria by the need to obtain a certificate under regulation 126. This requires a formal covering letter by the fire engineer specific to the project, and entails costs of approximately $2,000.
The 2022 NCC will be available for preview on 9th May 2022 at ncc.abcb.gov.au and will be adopted by states and territories from 1 September 2022.