JAMES DUNLOP TEXTILES
Stephen Vetten, Product Marketing Specialist for James Dunlop Textiles, confirms the brand's statement, newly released sheers and semi sheers have a directional aesthetic. They're also woven wide-width, "providing a delicate and soft fabric option for any environment, big or small."
"Within the new range of sheers, we have incorporated classic textile techniques of embroidery and fringing with a modern twist and have also been inspired by knitting and crochet to enhance the hand-crafted fabric trend. We also play with the technique of digital print, creating a bold botanical design. Among the more technical and beautiful designs we have also included a simple plain that is constructed as a wide width drapery in 100% polyester. This offers durability and the added benefit of flame-retardant properties."
The Fusion Cocoon Collection includes a range of highly finished and versatile options:
Mindful is a wide width drapery constructed with 100% polyester for durability, with a modern and tactile open weave structure. Timeless uses a classic embroidered technique, modernised with a geometric form. Wide width drapery in 100% polyester for added durability. Refraction is a wide width drapery fabric with a mixed composition of polyester and cotton. It has a technical woven structure creating layers within the design. Reminisce is a technical woven jacquard creating layers of fringing in a wide width drapery. Gentle is a wide width drapery constructed with multidirectional and natural yarns of linen and cotton. The design feature of the textured yarn creates an eye-catching geometric dot.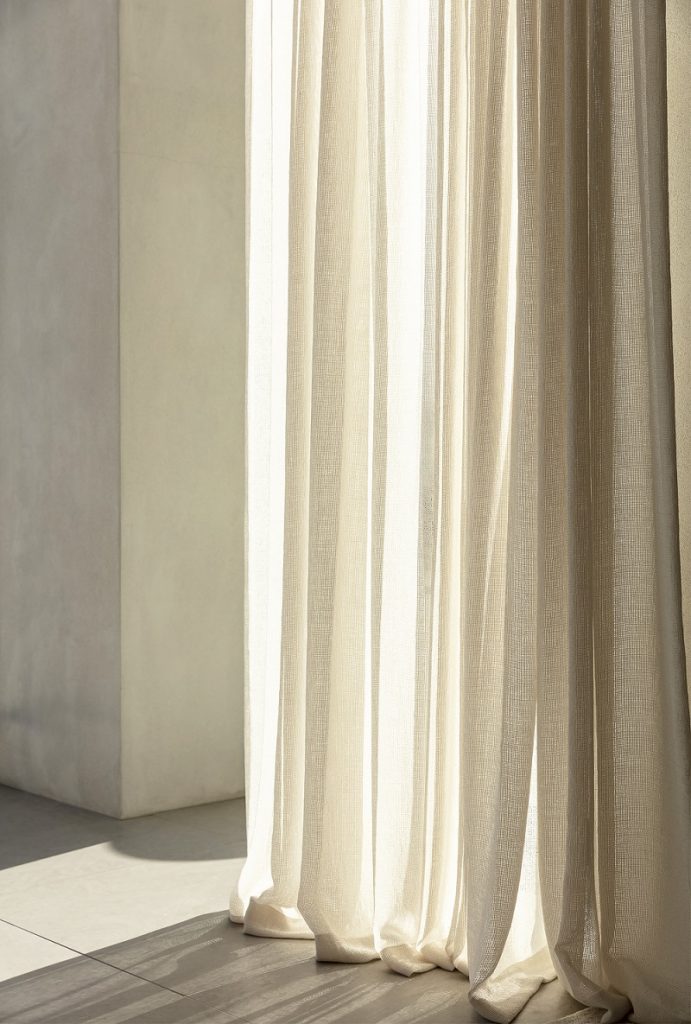 The Fusion Collection includes Season, a simple silhouette, bringing nature indoors, in a wide width drapery with a mixed composition to give more of a natural look and feel; and Tactility – inspired by classic textile techniques of crochet and knitting – textured and open weave structure that offers a hand-crafted look. Tactility's wide-width drapery is in a mixed composition and offers stability and durability.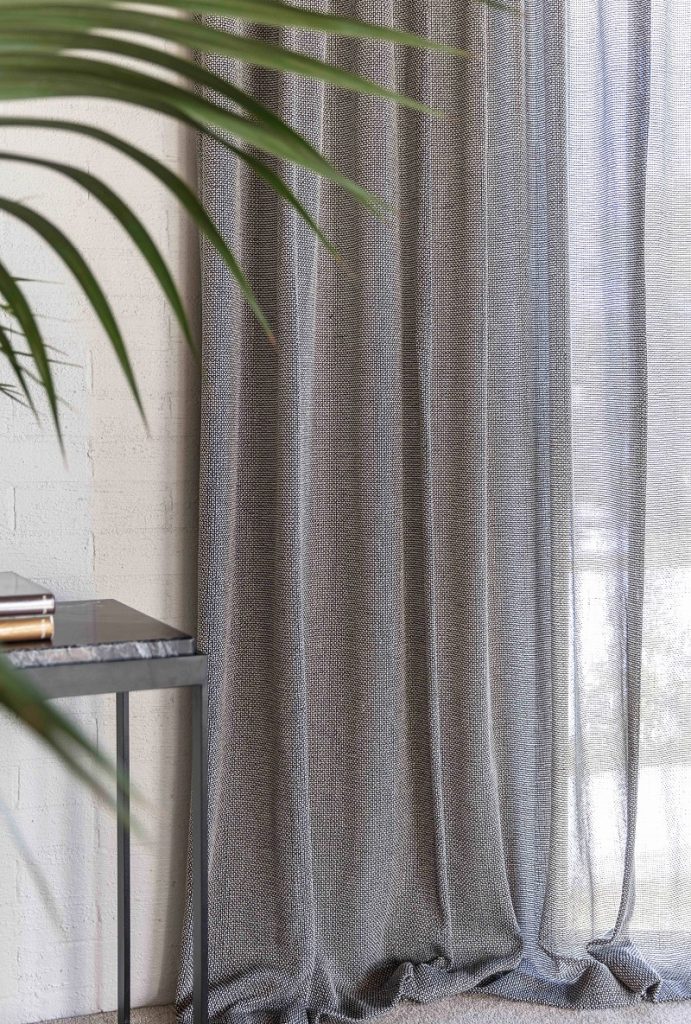 Other recently released designs include Pacific, a wide-width drapery with mixed composition, which utilises the modern technique of digital print; and Coastal FR, a simple textural sheer in a soft neutral palette. A wide width drapery in 100% polyester, it offers durability and flame-retardant properties.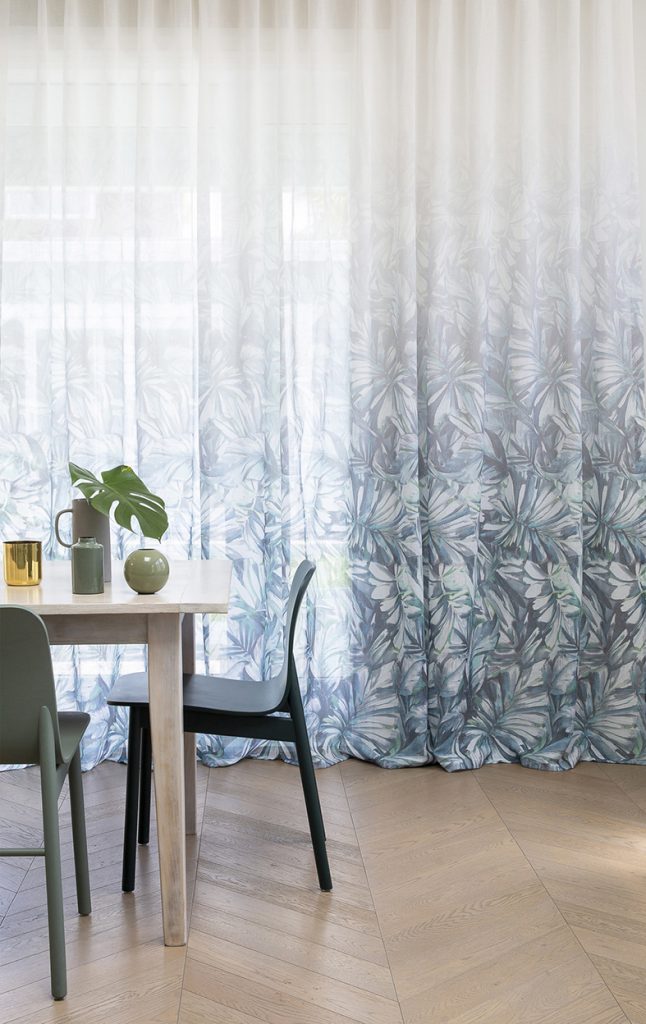 WILSON FABRICS
Wilson Fabrics will shortly release its new Sensory sheer blind. "Sensory is made of a soft and elegant summery colour palette which is perfect for a modern and minimalist interior."
"The sheer blind lets ample light into your room, whilst providing privacy during the day. It functions in the same way as a sheer, with the modern minimalist look of a blind. The elegant surface of the sheer blind has a shimmer which is highlighted by the sunlight.
"This new design is stringently tested to colourfastness to light ensuring the blinds will stand the test of time."
"Sheer blinds are a great way to maintain privacy during the day while allowing to see outside and filter light. We still consider sheer blinds to be an emerging market. Whilst still quite niche, it has gained momentum over the last few years.  Sheer blinds are a minimalist window covering that functions as a sheer with the look and cost effectiveness of a blind.  Sheer blinds are visually  lighter in appearance and more elegant on the window. Their function and style offers something a little different to other light filtering categories in the market and therefore, Wilson believes this category will continue to be an important part of the market."
SHAW
In response to the ongoing interior trend for sheer fabrics, Shaw has launched two new sheer fabrics. "The new sheer roller fabric will add a new dimension to Shaw's already established and extensive fabric collection," says Sarah Harris. "Roller or panel blinds made using sheer fabrics give a clean lined architectural finish to the window, gently diffusing light and providing an airy feel to the space. Sheers mask the view to the outside and add a decorative feature to the design scheme of the room, working well with classic and modern interiors. They can be used independently or, in the situation where greater privacy and light control is required, they can be installed as a dual blind paired with a black out fabric."
The Shaw sheers designs are Orora FR and Spectre. "Orora FR has a subtle linen look, in a palette of colours from crisp white through to soft aqua, and moody greys appropriate to modern living. It is suitable for residential and commercial application with Greenguard and NFPA 701 FR accreditations, and is tested to AS1530 Part II & III."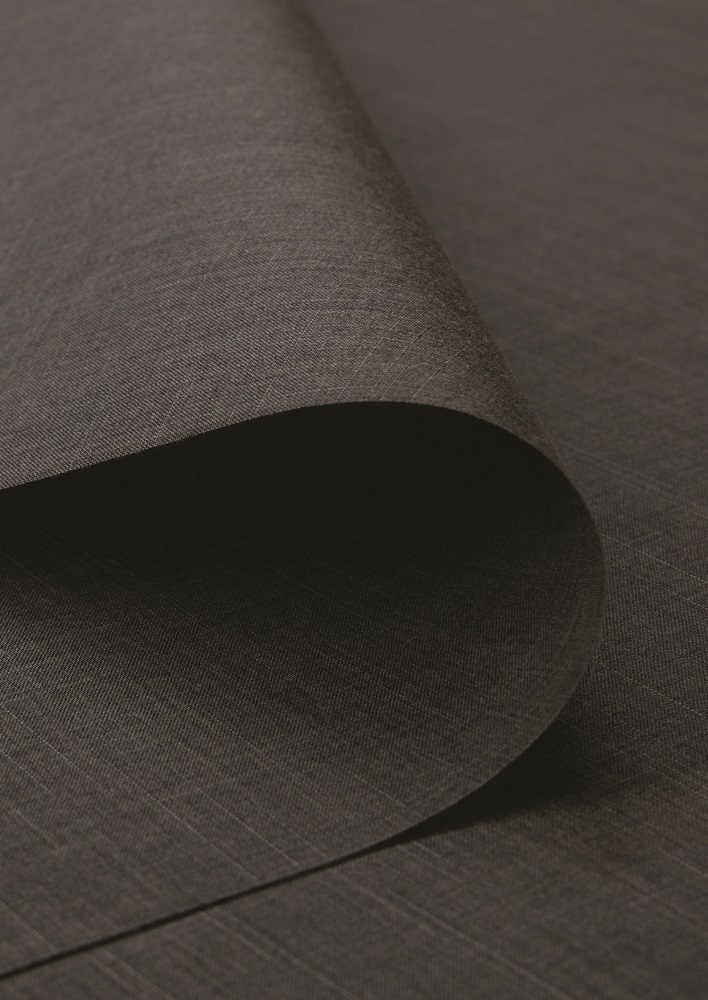 "Spectre's organic appearance is a fusion of traditional screen and linen fabric, with a multi yarn finish. This unique sheer allows views to the outside while still providing decorative glare control. The colour range is inspired by current trends in interior design, from crisp white through muted natural tones to sharp black."