According to Influencer Marketing Hub, a social media resource for brands, a number of key retail trends look set to impact the window furnishings industry in 2022.
They include what's described as the "expansion of the 'at home' economy" with consumer spending into areas such as home cooking, online shopping, and consuming digital products set to continue and encompassing that well-documented focus on home improvement, an unexpected result of months in lockdown.
That doesn't mean that people will be stuck at home indefinitely however; quite the opposite in fact. For retailers themselves, Influencer Marketing Hub says that physical stores are re-emerging as a drawcard for shoppers, with some upgrades designed to enhance safety and wellbeing.
"Brick-and-mortar stores have realised that they have had to redesign their spaces to keep customers separated and feeling safe. While they will undoubtedly reverse some of these once COVID-19 disappears, many will remain in place for some time yet."
"These changes can be as simple as adding Perspex screens at the checkouts or as complex as making complete changes to the in-store layout, with separate entrances and exits to divide traffic."
Meanwhile, from a marketing perspective, the enforced uptake of technology across all age groups, including older consumers, necessitated by the pandemic, has led to a more digitally astute market.
It's perhaps not surprising that Influence Marketing Hub also predicts a rise in omni-channel marketing. "Consumers now use an average of almost six touch points when buying an item, with nearly 50% regularly using more than four."
What's also clear is that "Many retailers now take a digital-first approach, where they place their primary focus on their online store ahead of their physical shops. They have invested heavily in digital technology and have built online-only warehouses."
The strategies of key brands approached by WFA reflect these trends.
Somfy
For Somfy, the last 18 to 24 months have seen the company optimising and updating its digital tools as end users ventured online to conduct product research, says Somfy Marketing Communications Manager Mary Ladu.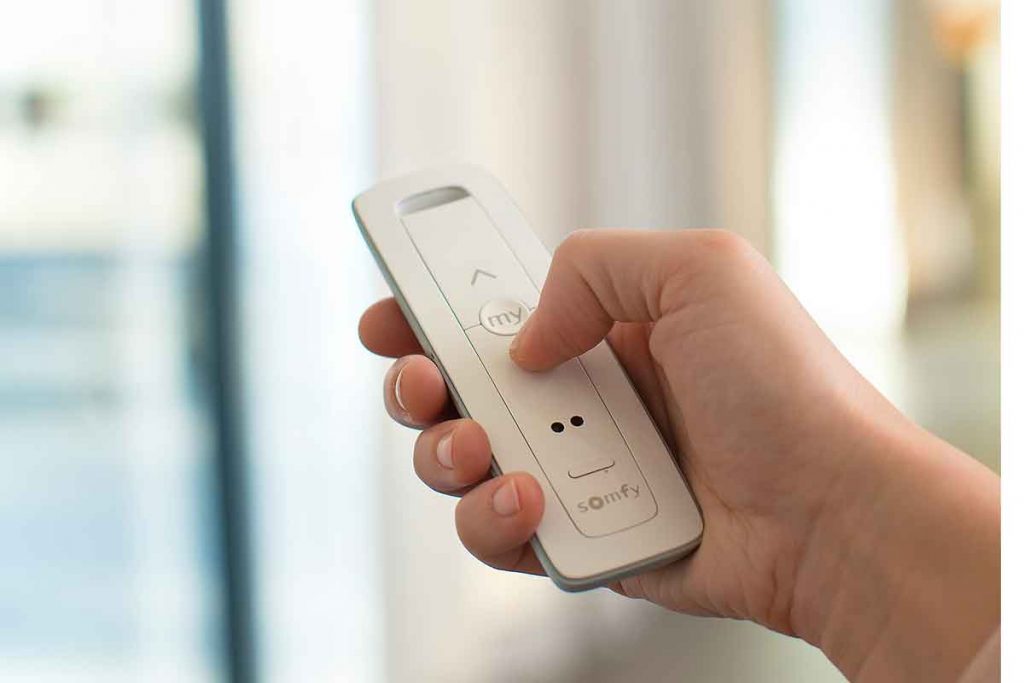 "The introduction of our Virtual Showroom during the peak of lockdown in Australia's biggest states provided end users with a method of researching Somfy-motorised internal products and operating them with a remote control, voice control or app control with Connexoon Window RTS, like they would in a showroom, all from the comfort of their home, 24 hours a day."
She confirms that many end users "continued their product journey by making enquiries with Somfy through its national lead generation campaign and connecting with its nationwide network of Somfy Expert Retail Partners."
"As we exited lockdown and returned to face-to-face visits, we found that many end users were heading back into showrooms to see motorisation in action and test out product controls in-person, proving that exhibiting product and POS displays in retail showrooms remains an important factor in successful selling."
The Somfy Expert Retail Partnership Program, launched 20 years ago, offers motorised product and POS displays for retail showrooms; and Ladu says the tactile experience it offers is a successful selling tool.
"There is nothing quite as effective in selling motorisation as seeing it in person or holding a remote in your hand and sending a blind up and down.
"We work hard with our Somfy Expert Partners to ensure they have working motorised displays for their entire range of end products to show end users how easy, convenient and magical motorisation can be.
"It has been really important for us to not only exhibit our range of motors in Expert showrooms, but to invest in having our range of remote controls, Connexoon Window RTS and voice control available in every showroom to capture customer attention and convince them of the benefits of Somfy solutions for their own homes."
"POS material and showroom product not only helps increase Somfy's brand awareness in a showroom but also adds credibility to our retailers with Somfy Expert branding," says Mohamed Ourdjini, National Retail Manager for Somfy.
"It's critical in helping our retailers merchandise our solutions and demonstrate motor benefits such as noise difference, speed and so on, and build a rapport with consumers through an engaging and positive retail experience."
"We know that the research phase of the customer journey now heavily relies on online tools, but the impact of walking into a retail store and creating a memorable experience and sense of excitement for a customer remains vital in converting to purchases," adds Ladu.
Blinds by Peter Meyer
"We offer high quality samples, virtual showroom and POS," says Blinds by Peter Meyer Managing Director Simon Meyer. "Partnering with Weinor in particular gives us access to amazing offerings such as a full showroom display partner stores whereby Weinor will design and curate a full display for customers.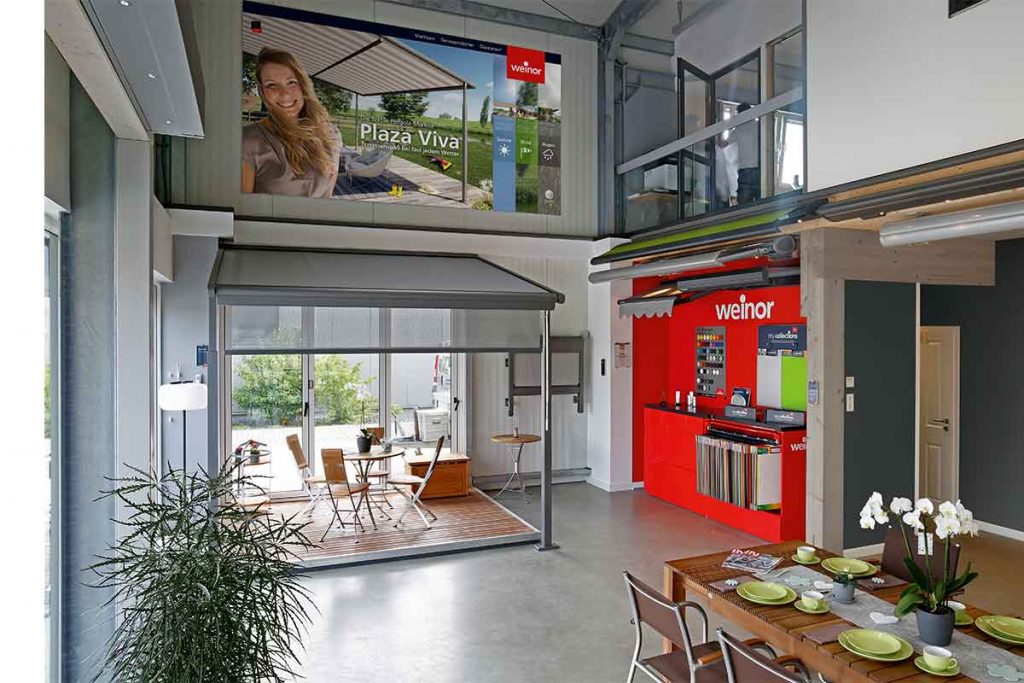 "They even have LED light box displays for stage motifs. We can also offer pens, key rings, beanies – you name it, there is probably a Weinor branded version of it. These excellent quality POS systems and samples give our customers the competitive edge."
Meanwhile, on the marketing side, Blinds by Peter Meyer Managing Director Simon Meyer tells WFA 2022 will see the company focusing on social campaigns, as well as a range of new video content for its virtual showroom in 2022.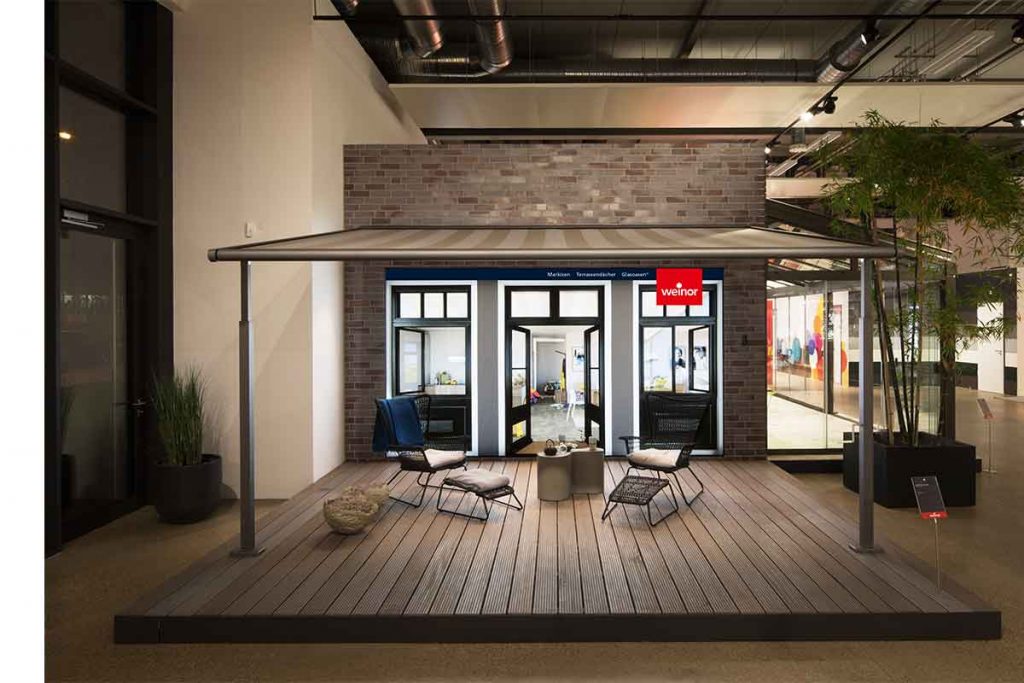 "We spend a lot of time curating samples for our trade customers, whether from our curtain track sample bags, our fabric sample books, or our folding arm awning hand sample kits to show a life size extrusion of folding arm awnings."
Ricky Richards
The marketing team at Ricky has focused on merchandising with the creation of a range of sample books and sampling options based on feedback from customers, input from the sales team, and the marketing team's own experience within the industry.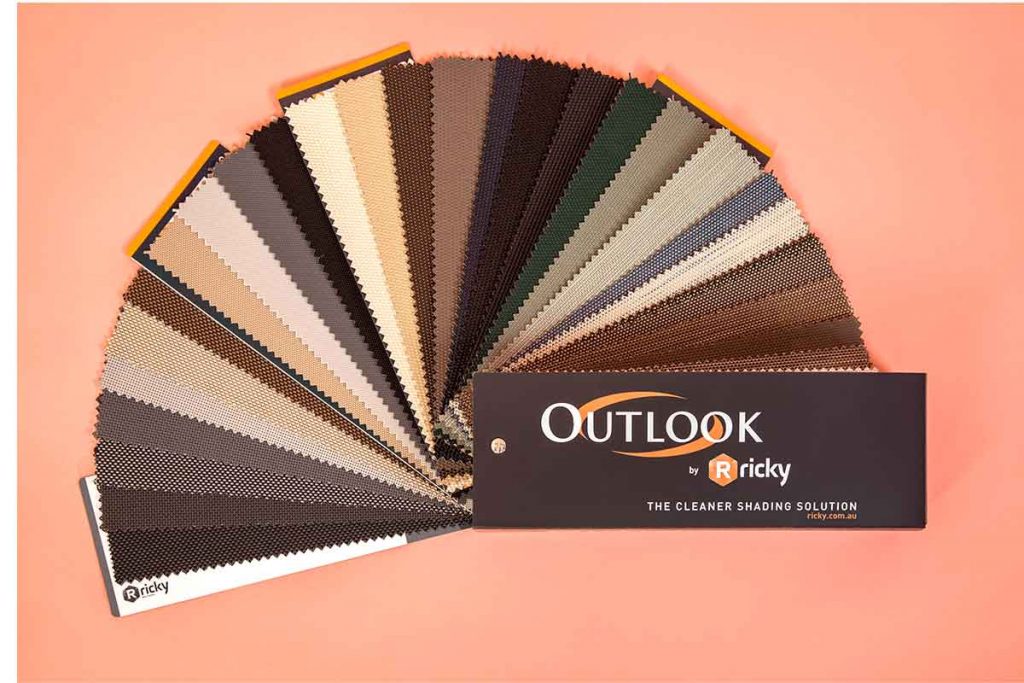 "We offer a variety of sales tools to support your business when you promote and sell our popular blind and awning fabrics such as Docril, Outlook and Barrington," says Sasha Afiouni, Marketing Coordinator at Ricky. "Our sample books are designed with our customers in mind."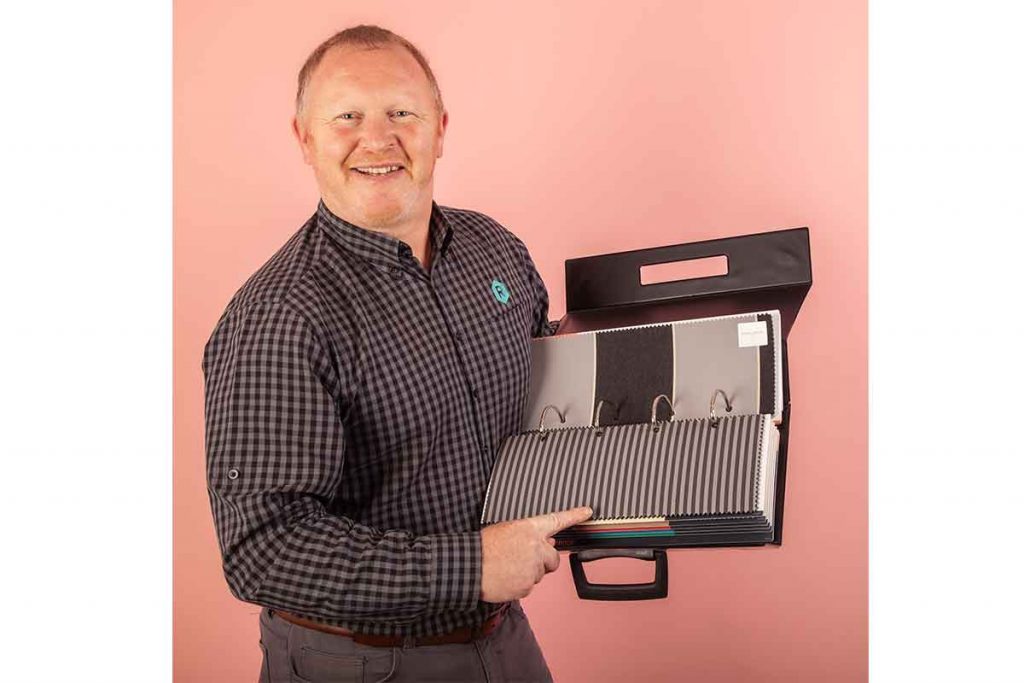 Docril solution dyed acrylic and Outlook mesh fabrics are both represented by two types of sample books available and by request, larger pieces of individual fabric can be supplied.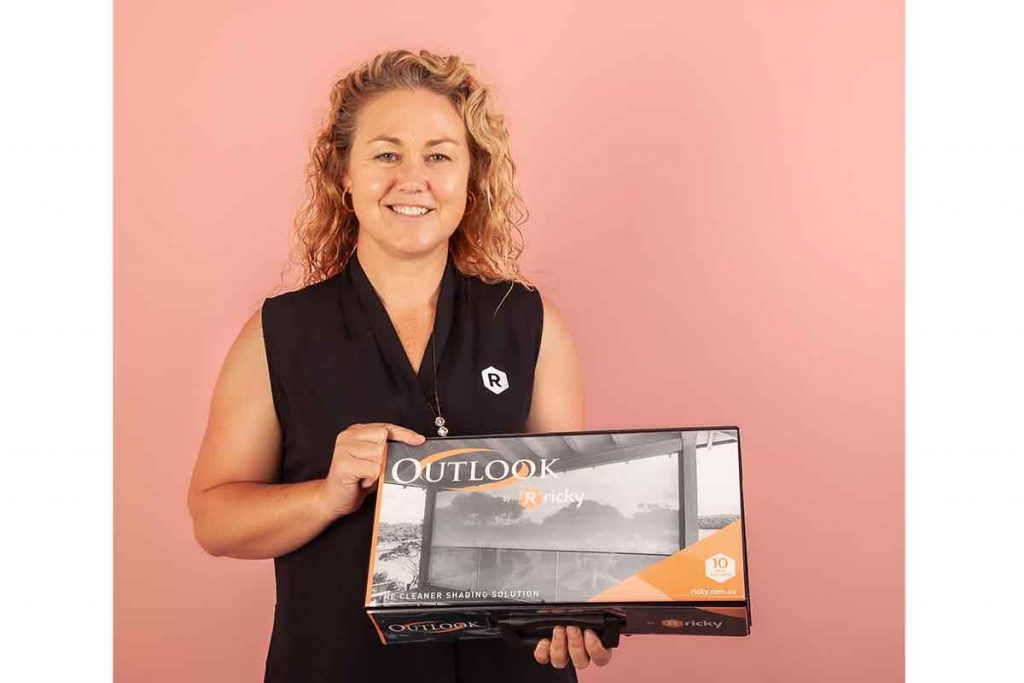 "The two sizes of sample books are made for convenience. The large book suits showrooms, presentations, or tradeshow environments; whereas the smaller size is the perfect solution for the on-road sales team member that has a lot to carry around with them."
Along with Docril and Outlook sample options, Ricky also offers a sample book to showcase the Barrington collection comprising Australian designed and made canvas.
All sample books contain detailed information about the products, and sample pieces so customers can feel the fabric and show the colours in real life.
BM Blinds
Phil Macready, BM Blinds Sales Representative, confirms the company offers a range of sales support tools to help retail clients showcase the products that they can offer.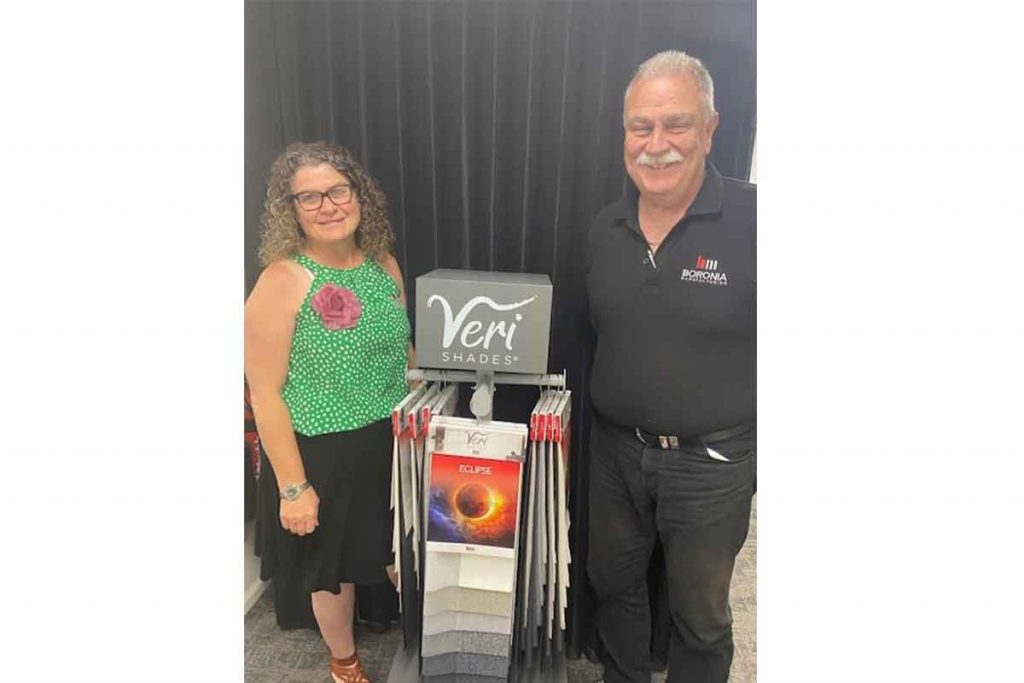 "In 2020 to 2021, we revamped our fabric display folders, which include all the fabrics in our classic range. This includes sunscreen, light filtering and blockout fabrics that we keep in stock.
"The advantage of choosing a fabric from our classic range is that you can choose to Fastrack your order. This means that for a small charge, your order will be fastracked and ready for dispatch within 72 business hours."
Veri Shade hangers and stand have also proven popular, with six individual hangers showcasing the Luxury, Eclipse, Mist, Autumn, Standard and Net ranges.
"The Veri Shade merchandise also includes a working hand sample, giving retailers the benefit of being able to both explain and physically show an end user exactly how the blind is assembled.
"It's very useful to be able to show clients the ease of removing the individual billows for cleaning and for them to see the stainless-steel spacers that BM Blinds uses in the Veri Shade tracks to increase the longevity and functionality of the tracks for many years of trouble-free use."
It looks like the return to something a little more like life before the pandemic is a welcome one. What's also clear is that the crisis has highlighted the importance of adapting retail marketing and merchandising, so that they're fit-for-purpose for current conditions.