CHARLES PARSONS INTERIORS
"During these difficult times of economic adversity, our customers have found ways to be innovative and overcome the crisis lockdown periods that they have had to contend with," says Warren Sharpley, National Sales Manager – Australia, Charles Parsons & Co – Homewares. "At Charles Parsons Homewares we have been fortunate to experience strong sales."
"The upward spike in swatch and imagery requests has enabled us to work remotely, abiding by health orders, whilst keeping our industry alive with strong sales in our finished goods from our Rapee and Maison by Rapee brand in particular, but also our homewares brand Charles Parsons Interiors with drapery and upholstery textiles."
Charles Parsons Interiors has been working closely with Lisa Robinson, our Design and Product Manager for homewares, using feedback from customers and its national sales team to create a list of priority items to develop. It has been working with its long-standing supply chain across the world to find options and solutions for products to begin "a new and exciting range."
"We started with Drapery – Sheers. Despite already having an extensive selection of sheers, our vision was to expand the range and colours available, with texture, colour and width being the basis of Lisa's vision."
The resulting new releases include Carter, Jordan and Drake; 100% Polyester, FR approved, wide width textured plain sheers. In addition, Boyd, which is a new wide width textured Polyester/Linen composition, will expand Charles Parsons' linen blends as demand for linen continues to grow.
"All items showcase a varied and diverse colour palette that will appeal to a variety of marketplaces."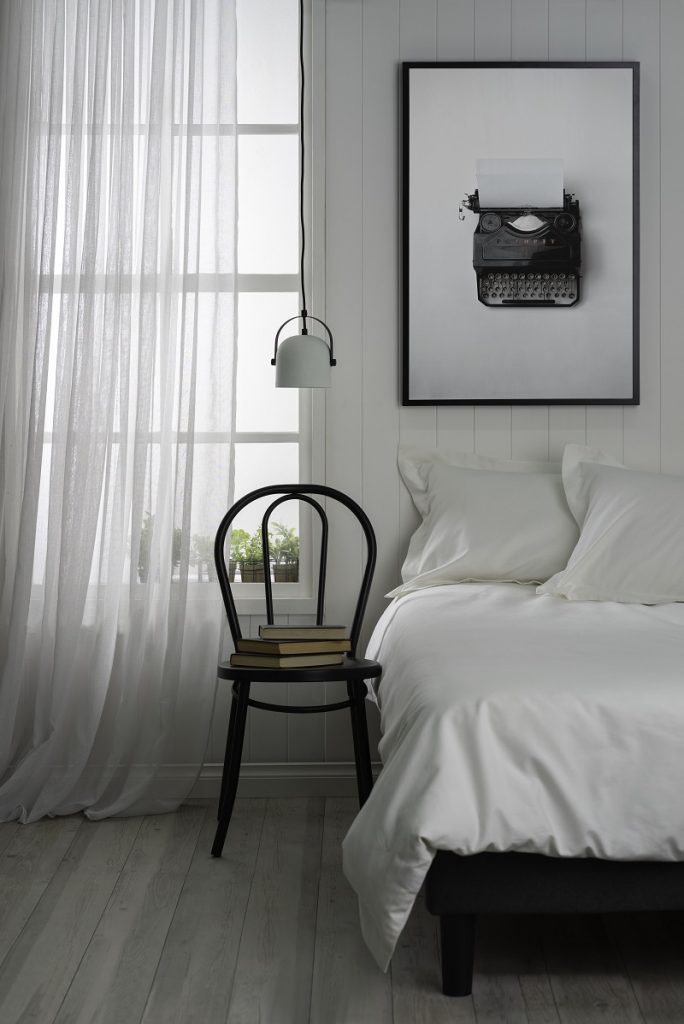 Jacquard and printed drapery options were also identified as a key area of innovation.
"Miramar and Miramar Garden will launch in the coming months – both a contemporary spin on the traditional jacquard with fresh colours and a lovely sheen. Lisa and her design team have also fashioned the Long Island Collection which is a Hamptons inspired, uniquely designed selection of coordinating prints and colours. Long Island is a dual use drapery and upholstery collection that introduces a coordinated fresh look on traditional mix and match concepts."
"The luxurious velvet Athina is also on its way, which has been FR tested and is made from the softest velvet. Coordinating with its sister upholstery option Venus, Athina and Venus both offer a low tracking nap, which has proven attractive and a 'must have' item for our customers since its soft launch."
"Sheers, our proven strength, are the catalyst for our new, wider 318 cm coloured lining option Eco Line. Available in several on-trend colours that coordinate with any drapery product, it's a must have item direct from the production line in New Zealand. Using our tried and tested quality USA blockout coating compound, Eco Line is a stand-out with a low flocking finish to reduce sticking.
"It is machine washable and dry cleanable – something many of our competitors have been unable to achieve.
The Eco Line range gets its name from its minimal impact on the environment.
"Our supplier's mission is to become carbon neutral by 2022, so by choosing Eco Line customers can help us care for the environment."
SHAW
"Like most home improvement sectors, window covering products have certainly benefitted from people being unable to travel," says Shaw's Mark Lewis.
"Linesque and Orora drapery fabrics are new product lines in the Shaw portfolio. If the names sound familiar it is because they co-ordinate with Shaw's very popular Linesque and Orora window blind fabrics."
Lewis tells WFA Linesque drapery was specifically developed to co-ordinate with the popular Linesque blackout and light filtering roller fabric.
The three different types of Linesque fabric mean that the window covering can be tailored to each aspect of the building, controlling the level of light, heat and privacy with the same design throughout the home.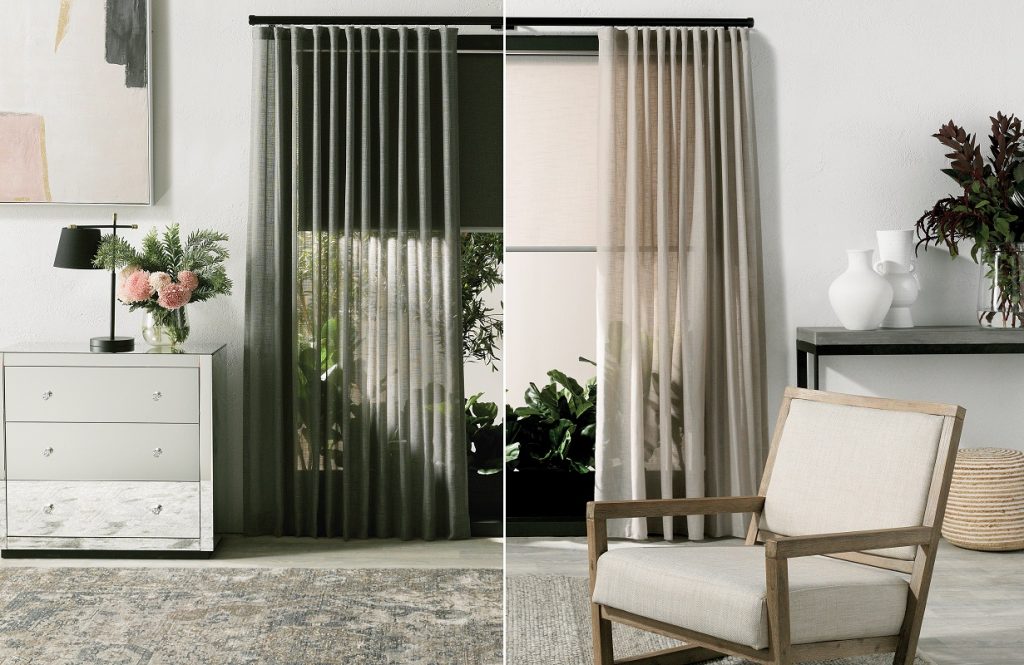 Orora drapery fabric co-ordinates with Orora FR sheer roller fabric, supporting the trend for layering sheer-on-sheer fabric, giving decorative day time privacy. Orora drapery is supplied with quality eco-beading.
"Linesque and Orora are high performance drapery fabrics, with superior handling in the work room including cutting, sewing and movement through the production process. Once manufactured, the finished curtain hangs beautifully."
Both fabrics are tested to AS1530 Part II & III, and are accredited with Greenguard certification.
"In terms of colour trends, the market heading more towards warmer colours and tones, rather than the standard whites and greys. As always Shaw will be monitoring and forecasting colour and interior trends locally and globally."
ZEPEL
Jannah Stevens, Product Developer, Zepel Fabrics, tells WFA the company has been focusing on the virtues of velvet drapery with a range of new designs.
"Characterised by its luxurious pile, velvet is an ideal option for any interior environment as it's often durable with a high Martindale rate, boasts high-performance qualities such as stain resistant and fire-retardant properties, while being extremely soft."
At Zepel, we offer a large range of velvet fabrics for curtain applications that satisfy all tastes. We also offer from our luxury international brands, Casamance and Christian Fischbacher, an exquisite variety of velvets from the classic and demure, to the extravagantly unique and bold.
"Velvet is no longer looked at as too formal or opulent for the everyday interior. It is this fact that defines velvet as being highly versatile and sought after in the market, perfect for all projects that must comply with key standards – most notably fire retardant, holding the Oeko-Tex certification, and being easy clean, preferably machine washable."
New velvet fabric Opera is described as "retro revival at its best" and "a luxurious, multi-purpose crushed velvet that makes a statement through its highly textured, shaded surface."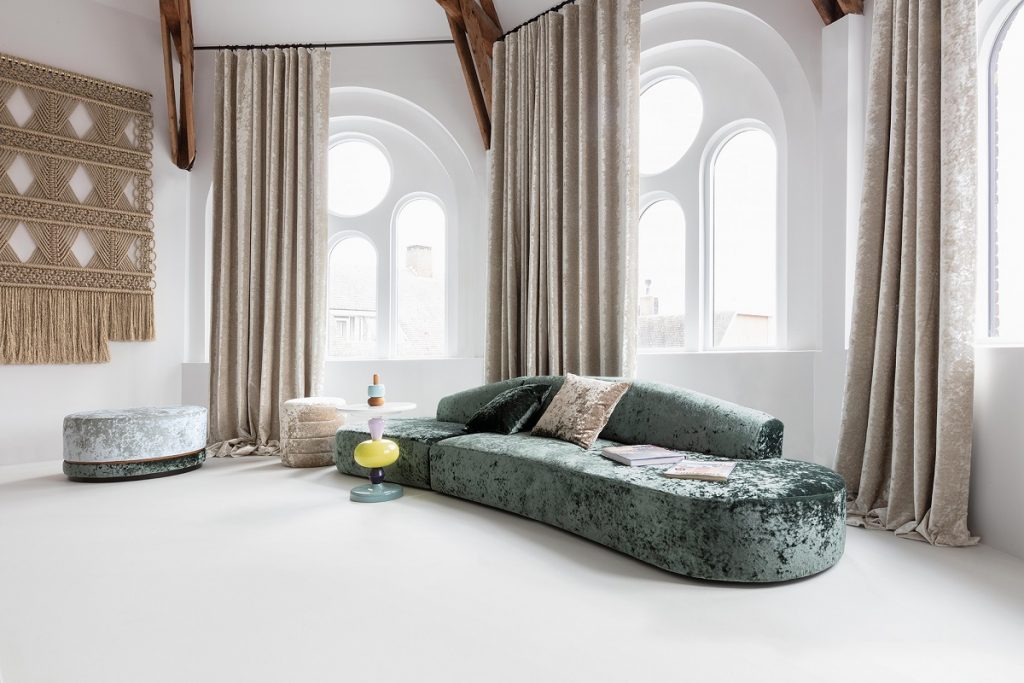 "This decorative velvet is highly durable and boasts the formidable easy-clean attributes of FibreGuard. This stain free technology is inherent in the yarn and finishing process of the fabric, giving it endless style with peace of mind.
"FibreGuard is also Oeko-Tex certified which guarantees the design is free from harmful chemicals, making is safe for humans, pets, and the environment. Whether it's for super luxe, cinema room drapes, bar stools or mid-century inspired interiors, this design won't disappoint, and is suitable for commercial settings."
The 'new' Mont Blanc, a viscose, cotton velvet, imbues a sense of luxury. "Rich in both texture and hue, this sleek and super smooth design, although highly durable is designed to patina over time, enhancing the surface texture of this glossy, low pile velvet. Mont Blanc is highly decorative and creates a play on light and texture in any bespoke interior scheme and commercial projects looking for that distinct point of difference."
Dolce Vita by Casamance is described as "a luxurious velvet in an extensive range of 50 classic, vibrant, and rich shades."
"Inspired by the sensuality and sweetness of life portrayed in the world of Fellini films, Dolce Vita reflects this via its opulently plush, downy surface formed by thousands of short cut yarns. This design is also water repellent and composed of 100% cotton which holds fabric colour beautifully while giving it a rich lustre."
Parioli by Casamance is a fabric pattern recalling an Art Deco style with its sharp angles of contemporary architecture lines. "Parioli celebrates this current fascination with this art movement and trend of 'cut velvets'. Displaying a defined geometric motif, this highly durable design suitable for commercial settings catches the light in remarkable ways when draped and in movement."
Benu Talent by Christian Fischbacher is a "hard-wearing velvet with hidden properties that showcases the advancements in current yarn technology."
"Benu Talent is woven with 100% recycled PET, is additionally fire retardant, and a high performance indoor/outdoor fabric boasting easy clean properties. This design has a vast selection of 30 colours ranging from neutral, natural, and classic hues, to vibrant outdoor shades. Benu Talent does not only create luxurious, heavy drapery but can also be used for upholstery in both residential and public spaces."
JAMES DUNLOP TEXTILES
Annie Moir, James Dunlop Design Director – James Dunlop Textiles, tells WFA the curtain category remains strong as global travel restrictions have encouraged consumers to redirect their spend toward investing in their homes.
"Interest in the home category has always been high, however at this time of global disruption, people are acting on those impulses to put a little more love into the places they spend time in with their families."
She also notes the increasing popularity of nature-inspired colours and shades, "which evoke comfort and a sense of cocooning – the full spectrum of green, blues and sun-baked tones of clay and terracotta – with the aim of bringing nature inspired hues back into our interior spaces."
"There is also a preference coming through for warmth and comfort in our colour choices for our home. Brown is slowly resurfacing and is being embraced especially in tactile fabrics such as velvets as well as warm neutrals – whites, cream and parchment."
A return to nature is also evident in Evergreen, described as an "over scaled leaf design" digitally printed onto 100% cotton, with a soft finish for drapery and the added benefit of a stain repellent treatment for upholstery.
"In a fresh tropical palette of green hues, Evergreen is available in three colourways from soft sage through to opulent emerald."
"With overseas holidays on hold, we're seeing the growing importance of embracing the concept of visual optimism within your home. Visual optimism is all about cultivating joy through the colour and pattern. It's such an honest concept, as having beautiful colour in your home does create a sense of happiness and wellbeing. Evergreen pulls elements from the outdoors in and allows you to immerse yourself in the tropics all year-round."
The fabric can be "paired beautifully" with Elisabeth by James Dunlop, described as "an elegant wide width semi sheer woven in linen, viscose and fine polyester, creating its subtle lustre, soft colour variation and natural texture."
"A sophisticated sheer available in three classic neutrals, Elisabeth has a soft finish and will suit both modern and traditional interiors.
"Typically, the widest sheers currently in the market sit around 310cm-320cm wide, as does the gorgeous new Elisabeth. This allows for the fabric to be turned and hung continuously around a room without the need for joins. James Dunlop is launching a new extra wide range of sheers this side of Christmas which will be 350cm wide."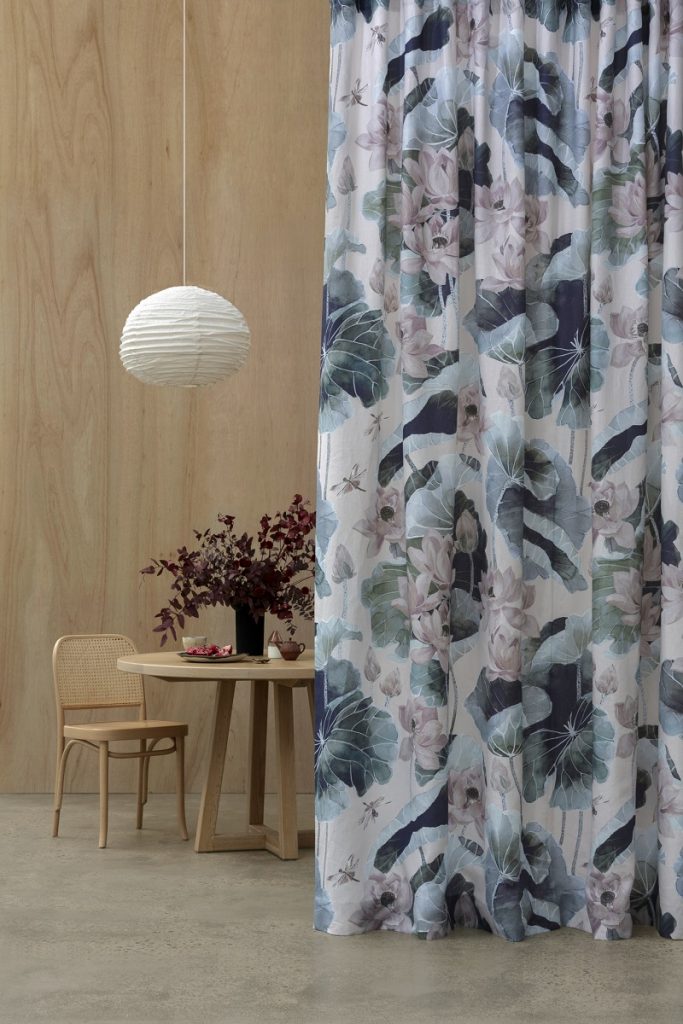 Within the Mokum brand the Ikigai collection offers key themes of feminine design, visual optimism and bringing the outdoors in with an Asian aesthetic.
"The colour palette throughout the Ikigai collection elicits a sense of nostalgia as we see neutrals warming up, as people seek comforting colours within the home. Included are beautiful tones of parchment, calico and cream as well as a resurgence of brown, which has returned from banishment.
"The Ikigai collection also focuses heavily on green, which is very much in line with what we're seeing in colour trend forecasting. Green elicits a calming energy within interior spaces – creating a sense of bringing the outdoors in and encouraging us to slow down and become more mindful."
Mizu Garden by Mokum is a serene hand painted oasis inspired by Japanese watercolour paintings and features two red crowned cranes, which in Asian culture are a symbol of luck and longevity. The cranes are elegantly wading within the Mizu water garden, which features floral motifs referencing water lilies from Lotus and peonies and wisteria flowers from our previous prints, Peonia and Papillon.
"The name Mizu derives from the Japanese word for water. The palette is nuanced, anchored in mineral green foliage, accented with feminine floral motifs, expertly hand painted in shades of pinks, reds and purple. Mizu Garden has been printed continuously onto a soft 100% linen base cloth, creating a semi translucent, atmospheric watercolour print."
Lotus by Mokum features giant rhythmic water lily leaves and lotus flowers with a hand painted contemporary aesthetic. "Whimsy is added via the inclusion of playful dragonflies, inspired by Japanese depictions of water lily paintings, which typically feature these exquisite insects.
"The two colourways, powder and willow, are soft and calming. The grand water lily leaves are tinted in deep mineral greens and blues, rendered in watercolour effects, mixed with soft green or blush pink depending on your colour choice. Lotus has been digitally printed onto a 100% linen base cloth, which has been tumbled to create a soft elegant drape."
Peonia Velvet by Mokum is a velvet version of the Peonia linen print. "The hand painted flower laden peony branches and whimsical bumble bees have now been digitally printed onto a luxurious velvet base cloth. The pattern repeat has been reworked to suit upholstery requirements and unlike the drapery version is now a straight match. Peonia has been carefully custom coloured in three darkly romantic colourways and coordinates with our recently launched Vintage Deux plain velvet."
Bonsai by Mokum is a 100% linen extra wide drapery which utilises yarn slub effects, creating subtle texture and soft colour variation within the weave. "Named after the classic art form of tray planting, a Japanese tradition which dates back over a thousand years, Bonsai is an elegant and natural textile, which has been tumbled to create a sublimely soft drape and suits contemporary and classic drapery applications."
"Overall, these new fabrics reflect the growing resurgence of interest in the natural environment, within interiors and bringing a sense of the outside in. Many of our designs above reflect that trend, bringing vitality and colour into interior schemes."
James Dunlop Textiles is also introducing new digital tools to help designers communicate colour and design across a range of different curtain types and executions.
"These tools assist to bridge the "imagination gap" between the now and what is possible, helping customers and clients come to decisions about their curtain purchase. Our digital curtain visualiser is an online tool that creates real life visuals of your choice of drapery fabric, so you can consider the tones and textures of your next curtain without leaving home."
"Once the choice of curtain fabrics has been narrowed down using our digital tools, fabrics can then be sampled using our memo sampling system and final fabric selections can be confirmed. This system is designed to make it easier for our customers in their fabric selection process while also reducing the amount of fabric samples that are discarded during each curtain project."
SONATA FURNISHINGS
Graeme Kennish, Product Specialist & Sales Manager at Sonata Furnishings says Sonata's designers have released a special textured polyester and a unique lightly crushed finishing technique "which really does look like genuine linen."
"Our sheer, Mystique, continues as our best-selling sheer. Mystique is an ideal fabric to use on its own or in conjunction with roller blinds to enhance your décor and acoustics. The polyester construction and special finish has created a fabric which is not only very cost effective but also amazingly durable and able to take our unique Australian conditions, something pure linen sheer fabrics are unable to do."
He says the colour palette has been developed for a contemporary, yet timeless, appeal.
"Our Australian Natural Linen collection is also still incredibly popular and, being Australian made, has meant no interruptions to supply during this difficult period. More than ever consumers are looking for Australian made products to support local industry and jobs."
Sonata has also been developing a new range of matelassé designs to complement this collection, and the fabrics will be launched shortly.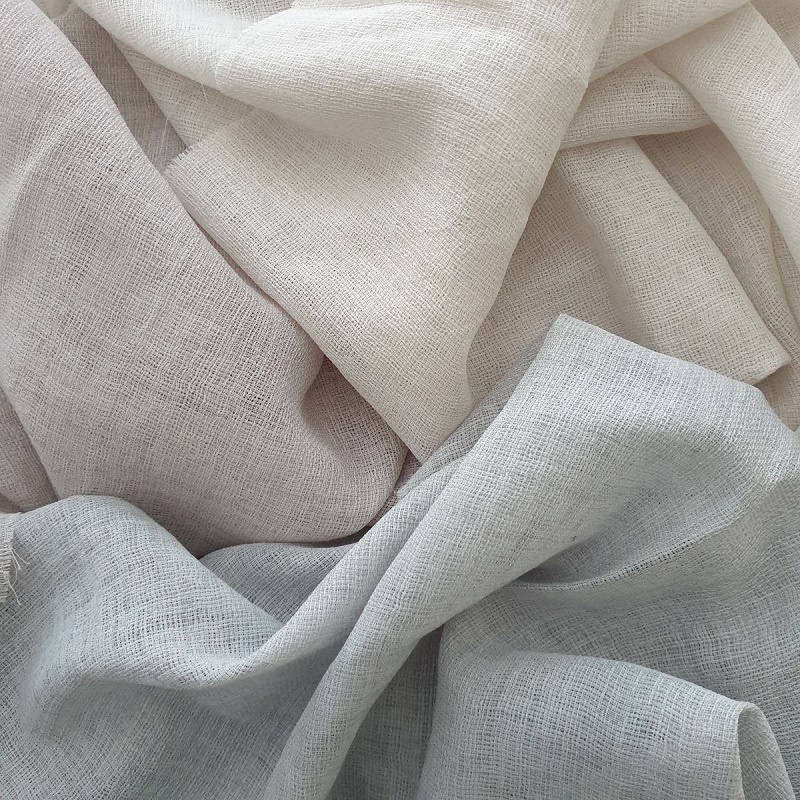 "These new 280cm wide products will be great for top of bed and upholstery as well and the natural linen is a first for this type of product being ideally suited to commercial as well as domestic use."
Kennish says being unable to travel to the main overseas trade shows has curtailed the availability of new designs, although the company's major overseas mills keep us up to date with new developments.
"Sheers remain the most dominant fabrics for domestic use although we are definitely seeing an upswing in the curtain market. With people spending so much more time at home recently there has been much more interest in updating their environments and they see the benefits that curtains bring in not only reducing heating and cooling costs but also the acoustic benefits as well."
BASFORD BRANDS
A positive industry trend towards innovative products that place greater focus on the environment is the driver behind new fabric Rejuvenate, says Maurice Kain Product Developer and Designer Maya Vivian.
"Featuring an abundance of sophisticated attributes, Rejuvenate from Maurice Kain represents 320cm of environmentally conscious luxury. Made from Recycled Polyester, each metre of Rejuvenate fabric contains 81 one litre plastic bottles that have been recycled and prevented from entering landfill."
"Being environmental does not mean you need to sacrifice on look," she says. "Rejuvenate boasts an on-trend color line of 10 warm and cool neutrals that represent the many shades that take form in our nature". Furthermore, "Rejuvenate offers beautiful subtle texture with a hint of personality for any interior aesthetic, minus the environmental footprint."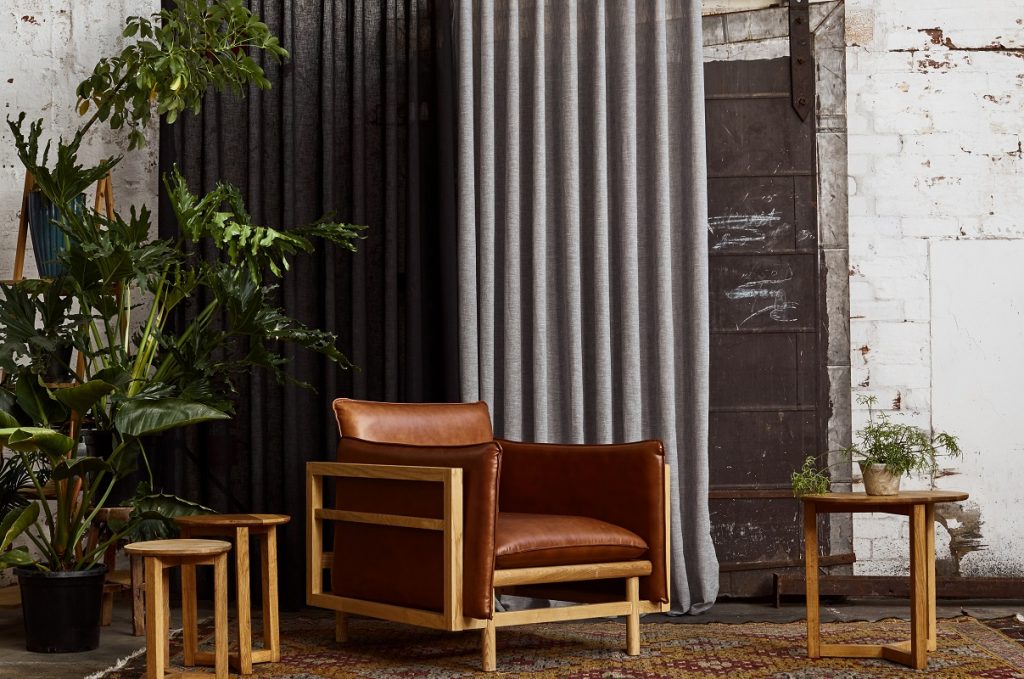 Meanwhile Basford Brands has moved towards licensed prints in response to new areas of demand, as Basford Brands Associate Director Michelle West confirms.
"There has been a massive shift in interior design, and people are putting more focus into their children's rooms," she says.
"We wanted to give our customers more design options for their little ones, and this took form in many beautiful design constructions we have recently released including our licensed deal with Hairy Maclary, and two exclusive in-house designs called Forest Friends and Fox & Badger."
"Hairy Maclary was an important milestone for us, the beloved bedtime story has sold more than five million copies worldwide and tugs at the heart strings of children (and adults) all around Australia and New Zealand and is now available as a printed curtain fabric, with its sister sheer design, Walk-Out."
"Forest Friends is another gorgeous kids' print design, which features cute hand-painted forest creatures," says Designer Maya Vivian. "These whimsical and playful fabrics are a perfect addition to your little one's space."
Basford Brands is also responding to demand for linen fabric with Artisan, a fabric influenced by the 'handmade' trend with craft at its core.
"Designers are showing a more hands-on attitude and approach in response to this cultural phenomenon. Reconnecting with the earth and encompassing raw and "from-the-earth" materials is a growing trend. Linen fabric has become a great way to embrace this and its growth is only climbing as the industry shifts."
"The authenticity of this lasting trend is now complete with Kinglsea from Sekers, our exquisite and timeless 100% linen solid. Woven in Europe with the highest quality Italian yarn, and finished with the super soft Airo Hand, Kingslea offers a superior drape and handle," says Vivian.
"The extensive, on-trend colour line allows for a multitude of decorating styles, and the 300cm continuous width allows for seamless curtains that make up beautifully. Solid and Sheer Linen curtains can be paired together to create a subdued layering look on your windows and add dimension to the appearance of flat concrete walls. If you want to achieve this layering effect, you can pair Kinglsea with Dunraven, its romantic sheer partner."
Filigree Products from Basford Brands has responded to the "market's passion for sheers," it was with a sheer readymade at an accessible price point.
"Monte Carlo Pencil Pleat curtains feature a linen look textured sheer fabric. The stunning matt fabric is stylishly simple, making this curtain a great look in any home from classic to modern. Layer over blockout roller blinds to soften your window or on their own for privacy and décor. It is available in three carefully selected neutral colours and is available as an eyelet curtain called Monaco."
"If you are looking to achieve a full and layered look on your windows, curtains are not the only way to do it. Blinds can be a great alternative if you are looking for something with less maintenance and effort. The Filigree Visio Double Roller blind is the perfect solution for any room of the home. The colour matched, sheer and blockout combination blinds give you total light and heat control. Visio Double Roller Blinds can also be cut to size, which is great to achieve a custom fitted look on the window. Visio is available in four neutral colourways."
WARWICK FABRICS
New from Warwick, the Noble & Gambier collection is described as transitional and timeless, "Gambier is a 3-pass coated drapery range that is classic, yet full of practical benefits. Achieving a osft drape and smooth touch, this collection adds a casual, tailored feel to a variety of interiors.
The 3 Pass Acrylic coating Warwick uses ensures that the rate of blockout is 100% – the highest standard for a drapery blockout product whilst maintaining a soft and pliable finish and offering superior thermal and noise insulation properties. When paired with Oeko-Tex certification, fire rating and the continuous width, Gambier and Noble become ideal options for hotels and residential spaces alike.
Cam Warwick, Joint Managing Director of Warwick Fabrics tells WFA Noble and Gambier are continuous drapery fabrics woven at 300cm wide. "Being continuous and having a three-pass coated backing offers an ideal drapery solution for end uses where blockout fabrics are required. The considered palette of neutrals and modern texture ensures a timeless look that can be seamlessly integrated into interior spaces – new and existing."
"Driven by function, features such as a continuous 300cm width, and 100% blockout, paired with a versatile and usable colour palette, are key elements that fulfill the requirements for this type of drapery application. This category of drapery is foremost about performance and giving customers options that help solve problems such as large window seams and privacy, light, and thermal concerns."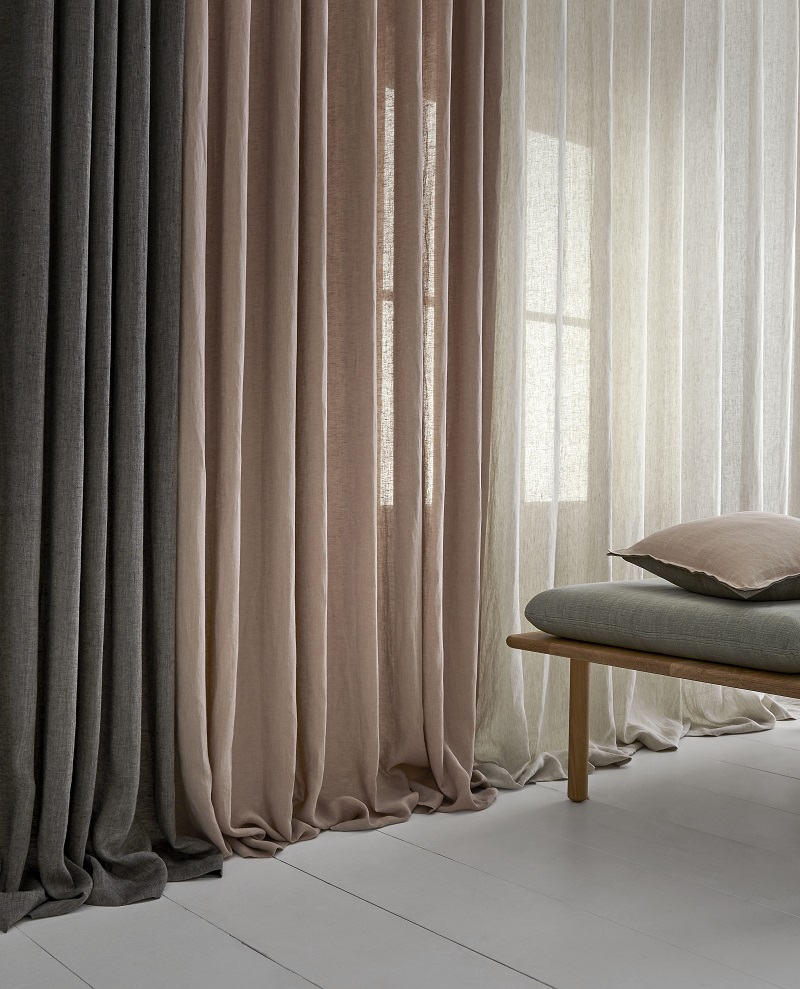 Warwick says neutrals continue to hold centre stage for this kind of fabric, due to their inherently timeless aesthetic. "Drapery is not often replaced so it is key that the colours have longevity and are not based on changing trends driven by dynamic colours. Subtle texture is a nice way to incorporate visual interest into softer, muted tones. This is not to say that our neutrals don't shift in time, with our palettes always checked against current paint, wood and interior aesthetics to make sure our current offer compliments the other materials within a room."
And he adds that sheers remain on trend as people aim to soften their spaces and achieve a level of privacy that clean window treatments don't always offer. "This trend has exploded since COVID-19 started dictating stay-at-home measures that previously were never part of our lifestyle. Customers now need their space to work harder and be a home office one minute and a relaxing space the next – sheers offer the best of both worlds for these needs. We are seeing many of our customers who were traditionally only using blinds, now expanded their business to include sheers due to the demand."
"Burano is still hugely popular with its balance of linen and polyester achieving characteristics and features that are expected from modern drapery with the tactile texture and organic feel of a natural blend."
"Sicily, Montenegro and Genoa are popular in our polyester ranges for those needing FR standards and ranges that are easier to maintain. Our Linia brand offers choices for the 100% linen aesthetic – a beautiful raw and organic look used by clients who understand linen as a quality and how it is going to perform as a drape. Portofino has recently been accompanied by different linen weights of Panay and Boracay."
"We are extremely lucky that the drapery side of our business has been buoyant despite the restrictions. I think the only exception would be clients that have retail stores without an online presence. Most of our customers have still been able to continue working, be it planning future jobs through to the manufacturing of the drapes."
"This does not mean our clients have had it easy in states that have been in an extended locked down – they still needed to find solutions to new problems including the lack of walk-through traffic on a retail level through to how to measure up a job for their clients."
"The feedback we have received is that our customers have successfully pivoted, they have embraced zoom meetings and walking a client through how to measure up (within reason) to be able to have the job quoted and started so when restrictions ease – all that needs to be done is installation."

VERI SHADES – BM BLINDS
"The perfect curtain type product that bridges the gap between blinds and soft furnishings," says BM Blinds' Jessica Irving. "With BM Blinds Veri Shades, we provide both style and functionality to deliver a blind that is extremely versatile."
"These blinds offer a variety of fabric selections with a range of colours that provide contemporary right through to more traditional styles such as our floral autumn range. All four of our available ranges have a beautifully soft mesh section followed by a room darkening panel.
"The fabric folds are soil resistant and can be easily taken down and individually washed or replaced in a matter of seconds. The fabric is UV stabilised, so it is resistant to fading. Fire retardant Veri Shades are also available. There is no PVC or filler in Veri Shades."
"With any mark being able to come out with just a wipe, the shades are easy to get dust off too!
An easy to remove hanger, means users can swap out the fabric as the seasons change, says Irving. "Veri Shades use a single track, providing more space in your rooms and having a slimmer profile to curtains to achieve the same results. Tracks are available in Belle, Cube, or decorative styles together with round or flat finials giving a real opulence to the Veri Shade."
Veri Shades can either be motorised for the luxurious feel using a battery operated motor and remote, operated with a wand or crank operated for effective child safety.
"With no weights or chains to worry about, this product allows you to walk through the shades whether they are open or closed."
"These are perfect for the smallest and largest windows of your home with the track sizes extending all the way up to 5.9 metres, and an even larger seven metres for the crank and motorised."
"With multiple fitting options, shades can be fitted within the window reveal, on the face of the window or even ceiling mounted."