BM BLINDS
Whether you see it as a Darwinian 'adapt and thrive story' or a chance to re-set, the past 12 to 18 months have seen local manufacturers revamping their operations and reaping the benefits. Michelle Macready, Sales Manager at BM Blinds, captures the mood.
"The famous quote attributed to German philosopher Friedrich Nietzsche sums up beautifully the past year in blind manufacturing here at BM Blinds," she says. "Nietzsche would never have known how his words, 'That which does not kill us, makes us stronger' could be applied throughout 2020, the year of the global pandemic, and beyond."
Macready attributes BM Blinds has indeed grown stronger over 34 years of business – sharpened by last year's challenges, thanks to its commitment to quality, service and excellence.
"This starts from the quality suppliers that we partner with for raw materials, to the service we offer our clients and the final item stems from always striving for excellence in all that we do."
"With most of our products being Australian made, keeping Australians employed while serving our customer base with quality wholesale blinds such as rollers, verticals, panel glides, Veri Shades and various venetian blinds is what keeps us getting stronger."
For smaller businesses finding that manufacturing their own blinds is becoming less cost effective, BM Blinds can supply much needed reliability and consistency of supply chain.
"In times of economic uncertainty such as the natural disasters that Australia and the world faced in 2020, it makes sense that savvy business owners are reviewing their operations and opting to cut costs wherever possible."
"When you are manufacturing, you need to have good stock holdings of fabrics and components as customers expect a quick lead time. In fact time is of the essence. It is a juggling act to ensure that you have enough stock, without being overstocked. Our retail clients look to us to fully support their business. We act as their manufacturing facility and take an active interest in helping them to have all the tools they need to be successful."
"We know that our customers are counting on our products to be the best value for money without compromising on quality or service. Retailers need partners in manufacturing that mirror their values that they also focus on."
BM Blinds' ethos is to keep up to date with advances in technology in the manufacturing sector. "The need to have the right cutting method to suit the fabric you are using can make all the difference to the finished product," she says. "We believe the retail sector should not be concerned about which fabric they are selling based on the manufacturing process; their emphasis should be on what suits their customers' wants and needs."
To meet those needs, BM Blinds has three cutting tables depending on what will give the best result for a particular fabric type. "This is where the value in the partnership between the manufacturer and retailer is highlighted, with the retailer focused on the end users' needs and the manufacturer focused on the manufacturing process."
Macready says the company continues to review its product selection, cherry-picking products that add clear value to clients' businesses. The introduction of Veri Shades is a good example of this approach, she says. "VeriShades are a huge success for our retail customers as they can now offer their clients the look of a curtain, with all the versatility of a blind."
"Manufacturing the VeriShades here at our facility in the North West of Sydney, has allowed us to distribute this wholesale made to measure product throughout Australia."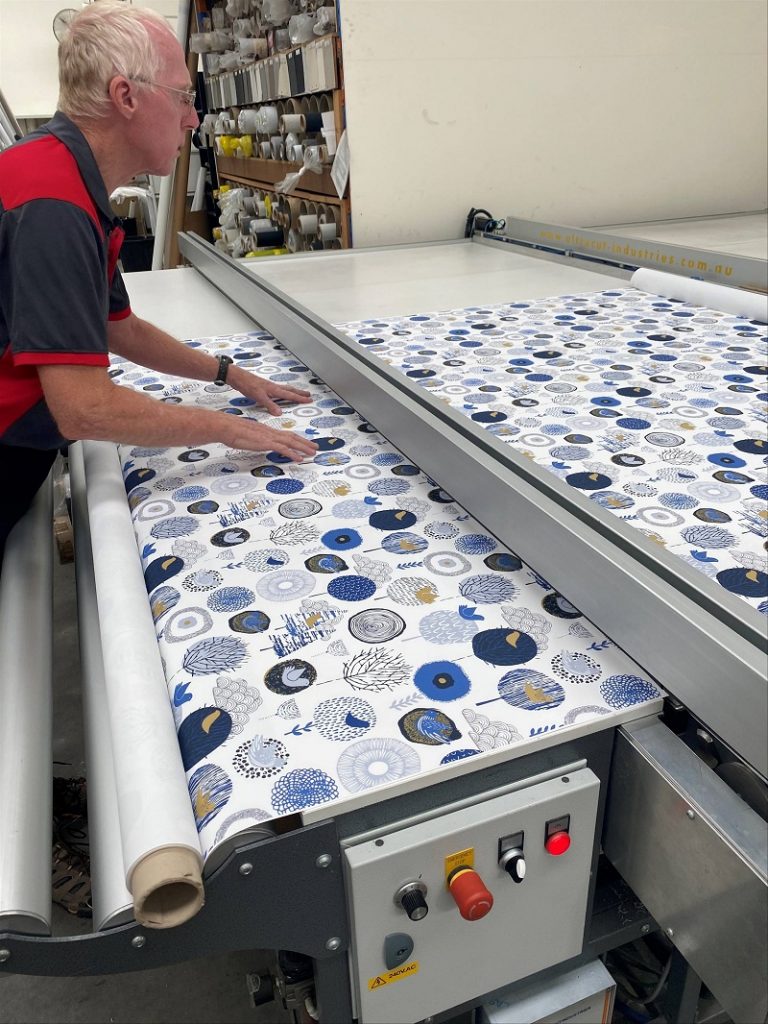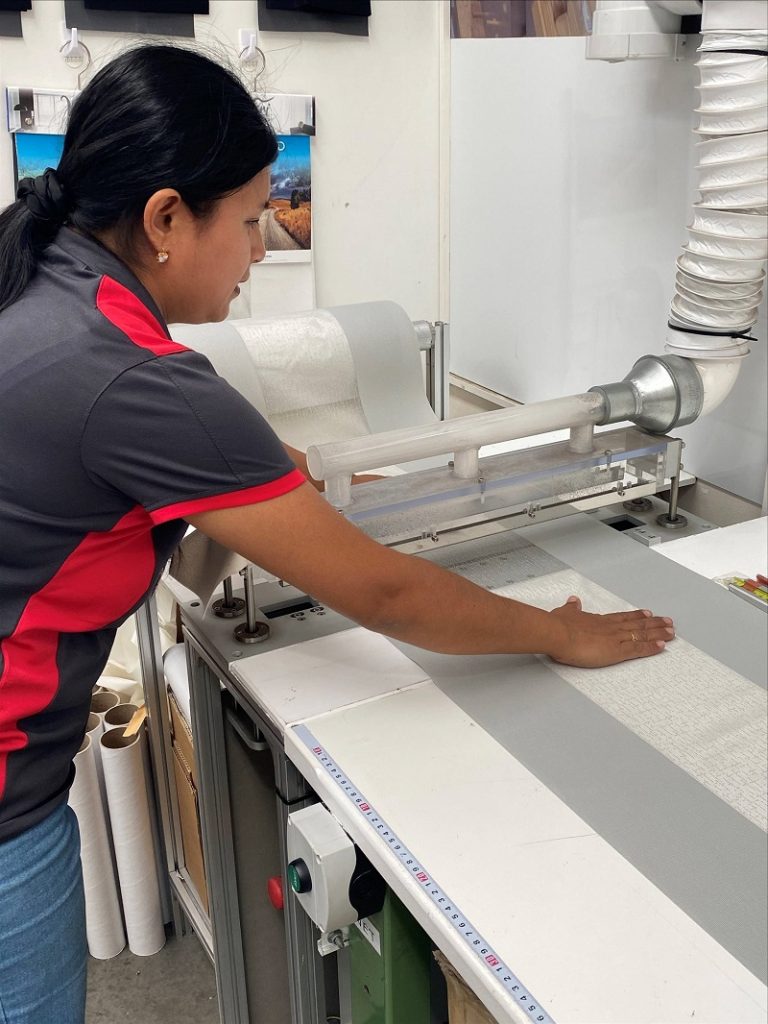 BLINDS BY PETER MEYER
Local manufacture is key Blinds by Peter Meyer, which makes the majority of its range locally at its Homebush West factory. Managing Director Simon Meyer says the company is one of the last remaining Australian manufacturers still custom painting in-house. "We offer Australia's widest range of Natural Weave blinds as well as Custom Painted, Stained and Oiled Cedar Venetians."
Having taken over the Silent Gliss Curtain Track manufacturing for the Australian market in 2019, the company has grown its product group to include new tracks, as well as soon to be offered Wintergarden Skylight systems and curtain poles.
Meyer says its representation of Weinor – German outdoor awning and retractable roofing specialist – continues to add diversity to the range, giving the company a strong point of difference in the Australian market.
"Weinor is fast becoming the leading and trusted brand of quality awning systems with innovative solutions and patented technology that set it above the rest."    
BLINDWARE
For Melbourne company Blindware, the stability and health of the Australia / New Zealand window furnishings industry relies on the strength of local blind manufacturers.
"These manufacturers produce high quality, reliable products that consumers love and sustain an industry continuously under threat from cheaper, inferior imported products," says Managing Director Grant Norton.
"For Blindware, supporting local manufacturers of window covering products is the reason for our existence…it's in our DNA," he says. "We don't just supply componentry to the industry; we work closely with our customers to understand industry needs, what keeps manufacturers awake at night and what products/services will help take them to the next level in their operations."
Norton works closely with a team of designers and suppliers to make these products a reality, and describes supporting Australian blindmakers as a "true partnership."
"It's about ensuring each and every consumer who has Blindware products in their home is happy with the quality, style and price."
"With in-depth knowledge of the local industry, Blindware knows that products designed overseas are often not suitable for the Australian market's extreme climate and larger windows. Many products designed for cooler climates like Northern USA and Europe find their way to our shores, but then fail to deliver the required operational performance."
"Whether considering interior design trends, the desire for maximum light blocking or the need for energy-efficient window blind solutions, Blindware brings these solutions to reality through extensive product knowledge borne out of experience working in the Australian market."
He says finished goods imported from Asia continue to result in quality issues "and a huge amount of complexity when trying to resolve problems."
"This frustration takes up valuable time for retailers, time that could be better spent building their businesses, innovating, investing and working to grow the industry."
"Working closely with its customers, Blindware is proud to support its local manufacturing partners across Australia and New Zealand to help drive industry growth."
HUNTER DOUGLAS
Another company flying the local flag is Hunter Douglas, with recent investments in machinery boosting its manufacturing capability. Damon Gardner, General Manager AWF Blindmaker, Hunter Douglas, confirms that in 2020 the company invested in new equipment for its fabrication area; an Asco DX CNC controlled ultrasonic cutting table.
He says the purchase was intended to achieve on three points: increase output through table efficiency; enable the ability to interface with our ERP system; and improve the accuracy of cut fabric over the conventional cutting tables previously used.
"Integrating a new cutting table during levels of increased production is never easy, however our production teams carried out the project which resulted in the achievement of the three key points. The Asco DX machine investment was critical to be able to continually increase the level of quality of products to our customers while also driving operational improvements in our fabrication areas in times of increased production in our blind making operations.
Gardner confirms that "sourcing for everything has changed due to the effects of the pandemic, be it items for everyday life or materials for the manufacture of window furnishings."
"The traditional ways of sourcing changed rapidly as Covid-19 challenged supply chain reliability with sourcing and procurement functions facing demand imbalances. The new face of demand imbalances required additional focus on the sourcing and procurement functions, along with risk management to ensure that our business adapted quickly to the changes, ensuring we would be able to meet the needs of our customers."
Going forward, increased focus on faster lead times looks set to be a key trend in the market, he says.
"The opportunity for local manufacturing is lead time and the local experience provided to consumers in terms of expertise in finding the right solution for their requirements based on a range of products that are on offer. As people are now spending more time at home entertaining, they are researching more to find what various options are available and then looking forward to how available are the end products for installation. Consumers don't want to wait, so faster turnaround times will always win their favour."