PINZ
Kate Bessell, National Sales & Marketing Manager at Pinz, describes folding arm awnings as "a staple product in the outdoor shading market," that provide practical benefits and features to the consumer, particularly in the Australian context, where outdoor living is prevalent.
"The products that Pinz imports, fabricates and distributes to our retail partners differentiate themselves through the quality and user value proposition of these features, such as LED light kits that are practical and affordable and extend the use of the awnings into the night, along with attractive and durable powder coating in a range that complements our Australian homes and lifestyles, as a couple of examples."
Not surprisingly, Bessell tells WFA an important current consideration in this category is the supply chain and origin of components and extrusions, as well as where the finished awnings are fabricated.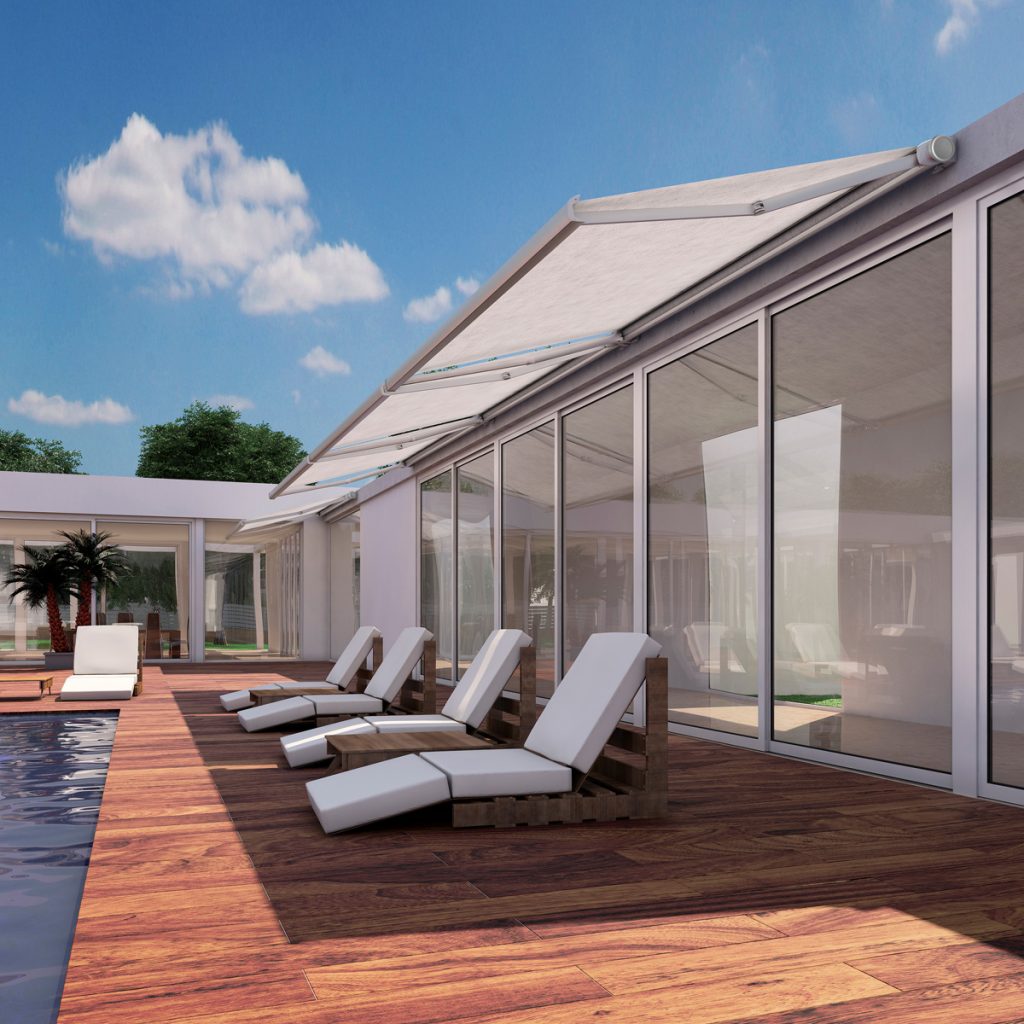 "It stands to reason that in a market that has been heavily influenced by supply chain constraints coming from shipping and offshore fabrication and supply issues, products managed and fabricated by Australian companies, in Australia, provide retailers and consumers with confidence in quality, after sales support, warranty servicing and all-important product availability and lead times.
Bessell tells WFA Pinz has worked with its European supplier to ensure continuity and confidence of supply, resulting in minimal shortages through increased stock holdings and frequency of ordering, even using air shipment to fill gaps as required.
"Our ongoing commitment to this product category has allowed us to continue to grow in this area and take advantage of increased consumer demand in recent years," she says.
"Continuation of supply and mostly consistent lead times have also seen unprecedented enquiries from retailers who have previously purchased and sold imported kit style awnings from the Asian market; they're contacting us as their supply chain challenges become too much to overcome due to manufacturing challenges and instability."
WEINOR AUSTRALIA
Weinor Australia is a specialist in folding arm awnings and has, according to Simon Meyer – Managing Director of Weinor Australia, one of the widest ranges of external blinds and awnings in Australia.
Its latest offering in the folding arm awning space – the Kubata and Kubata LED awning – has been honoured with an IF Design award and a German design award "due to its crisp, minimal cubic cassette shape providing an exceptional design element, cutting-edge technology with premium German componentry and build quality excellence."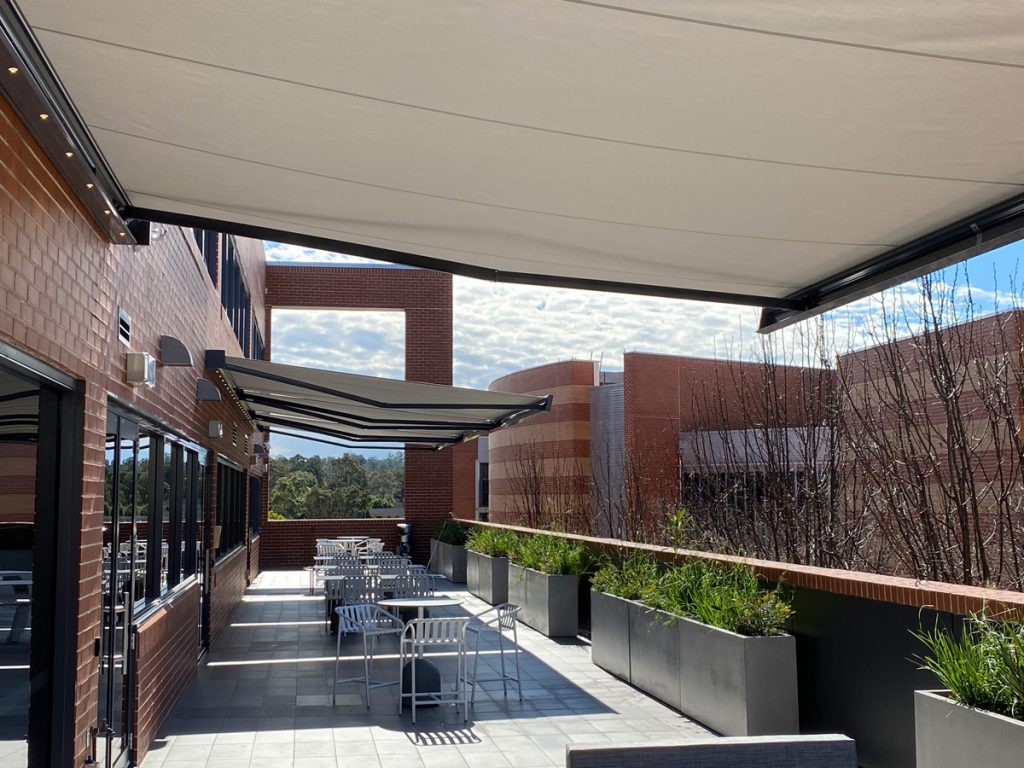 "Kubata perfectly showcases and exemplifies Weinor's newest generation of design orientated awnings with its cubic design making fixings invisible with the awning sitting flush when mounted against a wall.
"Combine this with projections up to four metres and a maximum width of seven metres, this awning will be perfect for both commercial and residential environments. The optional LED spotlights integrated into the cassette will light up evenings for 30,000 hours and has extremely low energy consumption."
Weinor also offers a range of infrared heaters that can be powder coated to integrate with the Kubata Folding Arm Awning system.
"The Weinor Tempura heating system will make any patio cosy in seconds. The angle of pitch can be adjusted at any time as required and the heater can be retrofitted to any Weinor awning or sold as a standalone product. The Tempura is available in two versions: the Tempura in classic round look and now the totally new Tempura Quadra in a modern square design."
Weinor's folding arm awnings also have an integrated water management system that helps direct water off the awnings when set at the right pitch.
"The durable and whisper quiet LongLife arm can be conveniently controlled by remote, whilst the wind lock safety device will ensure stability in high wind situations. The LongLife arms have been tested to 100,000 cycles, or 20 years' worth of life expectancy, and Weinor use aircraft construction technology to make the drop forged arms."
The Kubata is exclusive to Blinds by Peter Meyer and available in 56 Standard RAL colours or select from the 210 optional RAL colours. It can be paired with Weinor's range of fabrics in three colour ways and with 143 patterns and colours or the Modern Basic Blue range of 16 fabrics made from 85% recycled PET bottles.
Product benefits aside, Meyer does predict a shift in market sentiment as consumers' spending power is redirected.
"In the past few years, we have seen an increase in sales of folding arm awnings with customers focusing on making their homes and exteriors more enjoyable to live in. However, with the world now finally starting to open up and the cost of raw materials increasing, people are looking to travel again rather than invest in their homes."
LUKRIS
Lukris has been importing folding arm awnings from Brustor in Belgium for the past 13 years.
"In this time we have moved to four different locations to accommodate our growth," Luke Painter – Sales Manager tells WFA.
The two "hero" products of the range are the heavy duty B35 – capable of being built up to seven metres wide with a four metre projection; and the B50 – an economical full cassette awning for smaller applications.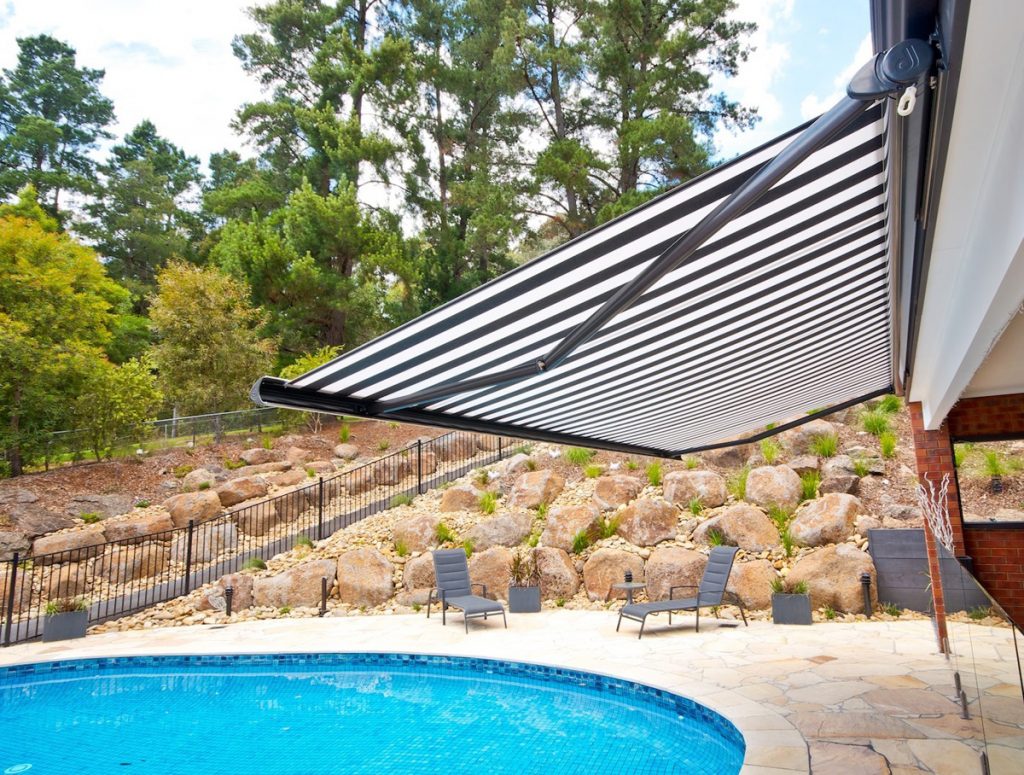 "The market for folding arm awnings has changed a lot; there is now a much broader range but demand has remained constant for many years," says Painter.
"The challenges of Covid-19 restricting travel had minimal effect on our sales; it did however affect delivery times," he says. "However, our loyal customer base has stuck with us."
THE SHANN GROUP
Meanwhile, Shann Group's Melissa Vine indicates demand is holding steady.
"Being at home, increases in spending of up to 53% in household furniture and equipment, and up to 29% in hardware, garden and building supplies are being reported as Australians spruce up their backyards," she says.
Vine says Shann's Frigerio awnings range is attracting interest as it "fits with our customers' decor and can be enjoyed without costing more."
"Durability and style have always been key features for our range of Frigerio folding arm awnings.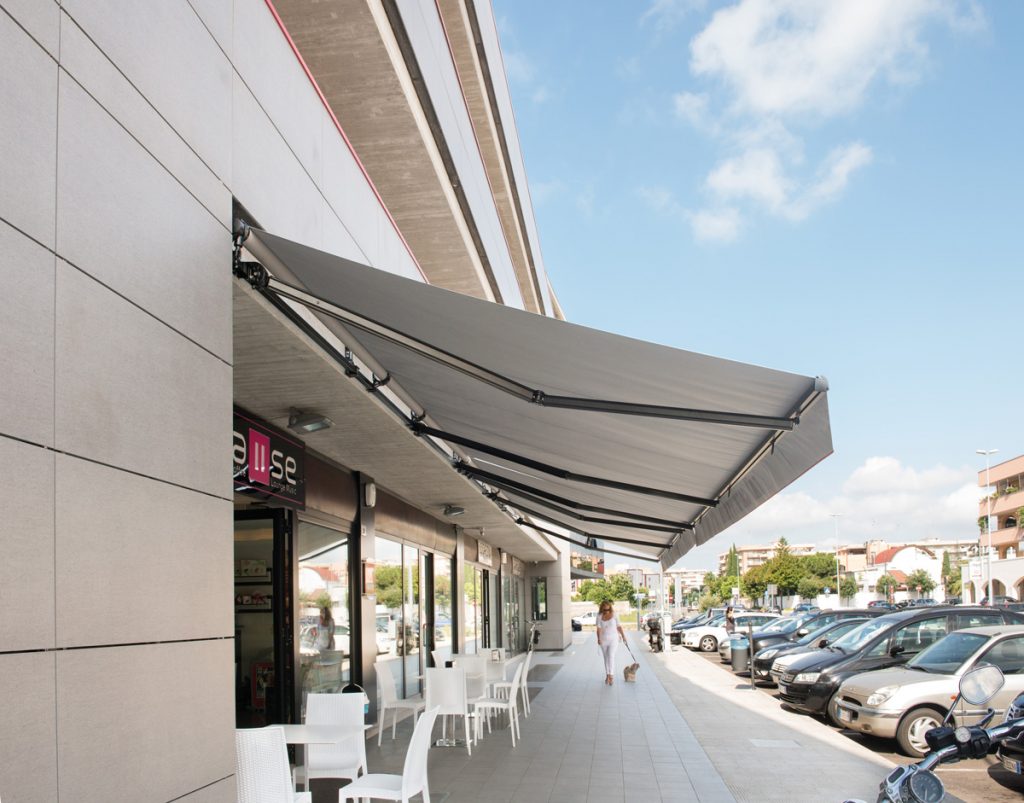 Manufactured in Italy, Frigerio awnings are also synonymous with quality and reliability. With a revered history, design is part of the culture at Frigerio, interpreting contemporary trends of living and providing synergy between fabrics, structures, and accessories.
"Frigerio features a variety of quality awnings that have been curated for the Australasian market and for more than 16 years, Frigerio awnings have been adding value to homes and commercial and retail spaces.
"They are affordable and can be expertly installed. The authentic, Italian design of Frigerio awnings add features that create a more beautiful and efficient system, including the new front profile on the Universa model."
"Using the best materials to ensure a high aesthetic value and solid construction, all Frigerio awnings are subject to stringent quality control and are fully tested prior to leaving the factory."
ROLLEASE ACMEDA
Rollease Acmeda's Feng awning is attracting demand from design-led end-users.
"Featuring a beautifully designed, rounded and enclosed aluminium cassette, our premium award-winning awning Feng perfectly suits any architectural context. The addition of integrated lighting ensures it can easily be used throughout the day and into the night at the flick of a switch."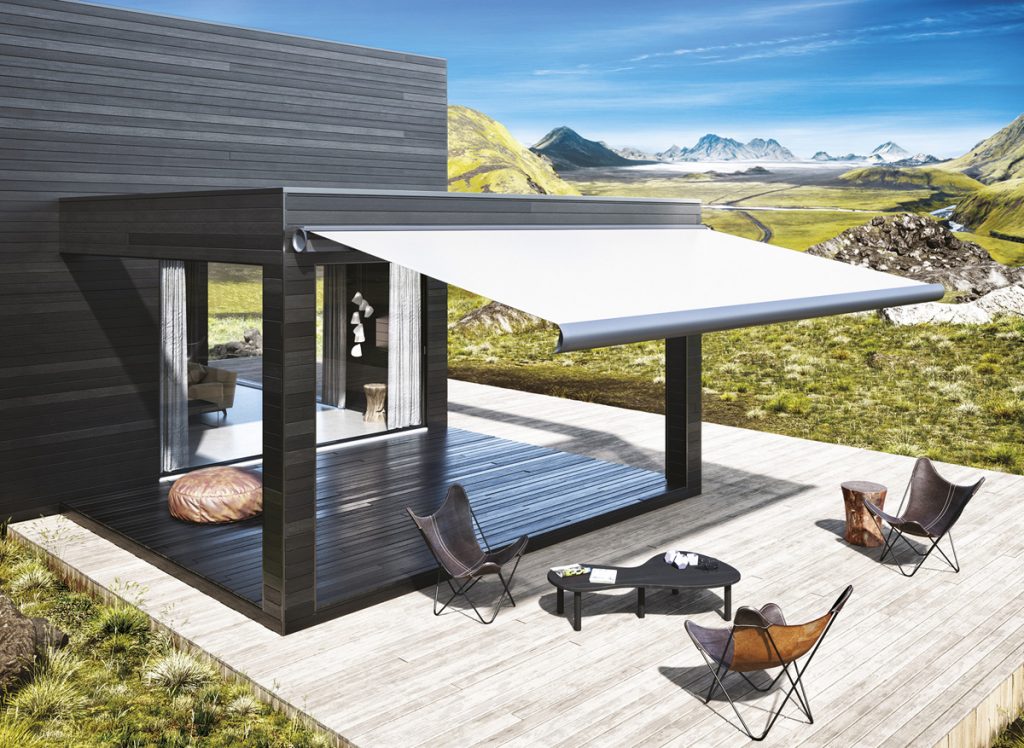 Feng is a complete LED awning solution configurable in three variations; LED integrated cassette, LED integrated awning arms or a combination of both. The lights are described as "vividly bright" and feature dimming control to create the perfect ambience in any environment.
"It forms part of a full range of folding arm awnings including Piuma, Stein, Klip and Kumo that are available in a cut to size, pre-assembled kit, taking all the manufacturing stress away." The locally made line can be produced to order within five business days, with fabric easily added and the awning simple to install.
"Rollease Acmeda awning hardware solutions are powered with either the Automate AX30 or AX50 motors. Precise limit adjustment and self-tightening technology ensure cassette awnings come to a perfectly sealed close every time.
Motorised awnings can be controlled with Automate's stylish remotes and range of sensors, or upgrade and pair with the innovative Automate Pulse 2 Hub.
"Our automation program offers a more convenient method of control using your smartphone, voice control assistant or by integrating it into an existing smart home solution."
TELECO
Teleco is bringing added value to offerings that support Australia's outdoor dining culture.
"Our open living spaces extend everywhere today, our homes more and more, and our dining experiences at restaurants and cafes. The outdoor dining experience has become more prominent with folding arm awnings or enclosed structures with Zip track style blinds, but how many times has your experience been lessened because of poor lighting or a lack of heaters on the cooler nights?"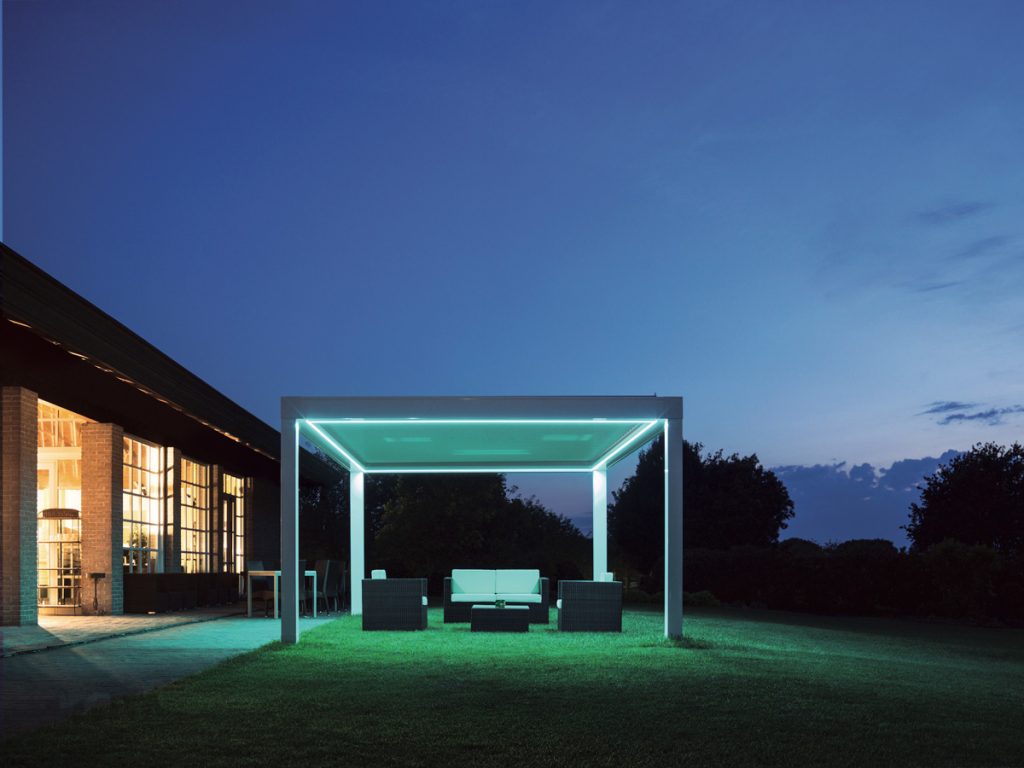 Teleco offers indoor / outdoor automation and system integration that brings "true integration" of features such as lighting, heating devices, operating the awning or roof, opening electric windows or controlling motorised blinds and screens.
"Teleco's system integration makes it all very easy – battery powered wall mounted control units, hand-held remote controls or a smart device, with simple one touch pairing within the Teleco systems, enhancing our outdoor experience with a simple integrated control system."
Teleco's offering is described as "a complete solution that encompasses the whole process of system integration."
"The simplified process of low voltage plug and play lighting and our unique wireless control system bring a package of products to heighten the outdoor dining experience for all patrons.
"Teleco offers high quality 24v LED lighting and wireless controls, encompassing technology to cater to outdoor spaces. The 24v plug and play wiring makes it safe for installation and technicians, and quick and simple for installers and technicians to implement, without needing to co-ordinate or wait for electricians."
"Versatility is the key. Teleco's solutions bring that to your next installation, enabling you to offer a complete package solution, integrated and functional all year round. Our truly versatile Tubelite for folding arm awning or retractable roof lighting uses an integrated power unit, designed to fit in the non-motorised end of the tube of an awning.
"The opportunity that this provides for any awning installation is exciting and can be used to control lighting in the arms of the awnings, within the head box or cassette, or even in the awning front bar. What was once a complicated and sometimes unsightly challenge to create a cohesive result for clients, is now a true affordable simple and elegant solution for any installation."
"Unlike with our European colleagues where lighting and heating are often incorporated in the shade structure, here in Australia, it is more typical to leave such add-ons to the end user after the installation process.
"That has now changed; alongside Tubelite, Teleco has a wide range of lighting and heating control devices – tailored plug and play lighting packages with many more options for installations such as cafés and restaurants, as well as residential and commercial projects."
"Whether it's a residential or commercial project, Teleco offers to all outdoor living space installers a complete system for peace of mind. Our wide range of transmitters includes smart control, hand-held remotes, and battery powered wall mount switches. With simple integration of automation systems, there is no need for a specialist automation system installer."
BM BLINDS
Michelle Macready, Sales Manager at BM Blinds, says the company's search for a durable, reliable, and sleek looking folding arm awning was extensive.
"We needed an awning that was suitable for the harsh Australian environment and the Sienna range of awnings fit the criteria.
"The Sienna range of folding arm awnings from BM Blinds has an 8-link, stainless steel arm chain that is engineered for peace-of-mind arm strength. Together with the heavy-duty internal arm spring, it ensures greater arm and fabric tension for a smooth, taut fabric skin."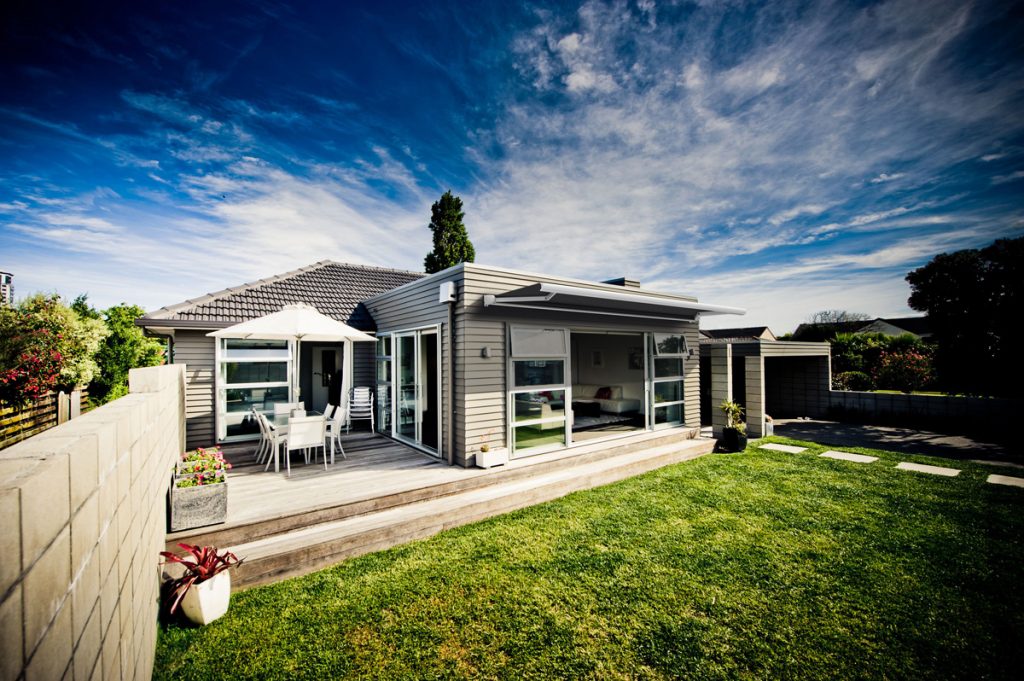 "The Sienna folding arm awning offers a standard awning, that is affordable, robust and spans up to 15 metres with projections as far as 3.5 metres. It is available in four colours with the option of powder coating the frame to any colour.
The Sienna Extreme is a solution for wide widths up to 15 metres with projections of four metres. "This makes an ideal awning for large spans perfect for under awning seating."
At BM Blinds, we have also included the Siena Semi-Cassette awning with an extruded pelmet that creates a sleek, modern look. This awning can either be crank operated or motorised, with face, fascia, roof, eave and top fit installations a breeze.
"For a fully enclosed cassette that encases the fabric roll in a slimline cassette, the Siena Cassette folding arm awning is designed for superior weather protection with an engineered front rail designed to fully retract inside the extruded head box."
SCOTT FREE (AUST)
Andrew Portolesi – Scott Free (Aust) BDM & Operation Manager, NSW, confirms the company is offering the Siena Folding Arm Awning in kit form.
"You simply don't need to setup a whole system and carry stock of components for the jobs you aren't doing yet. You can choose the simplest solution; buy a Siena Folding Arm Awning kit from Scott Free (Aust).
"There are seven styles to choose from, including a full cassette system, depending on the style of awning, sizes up to 15 metres by 4 metres are available. Colour options include popular choices of white, ivory, silver, and onyx, and we also have custom powder coating options available across the range.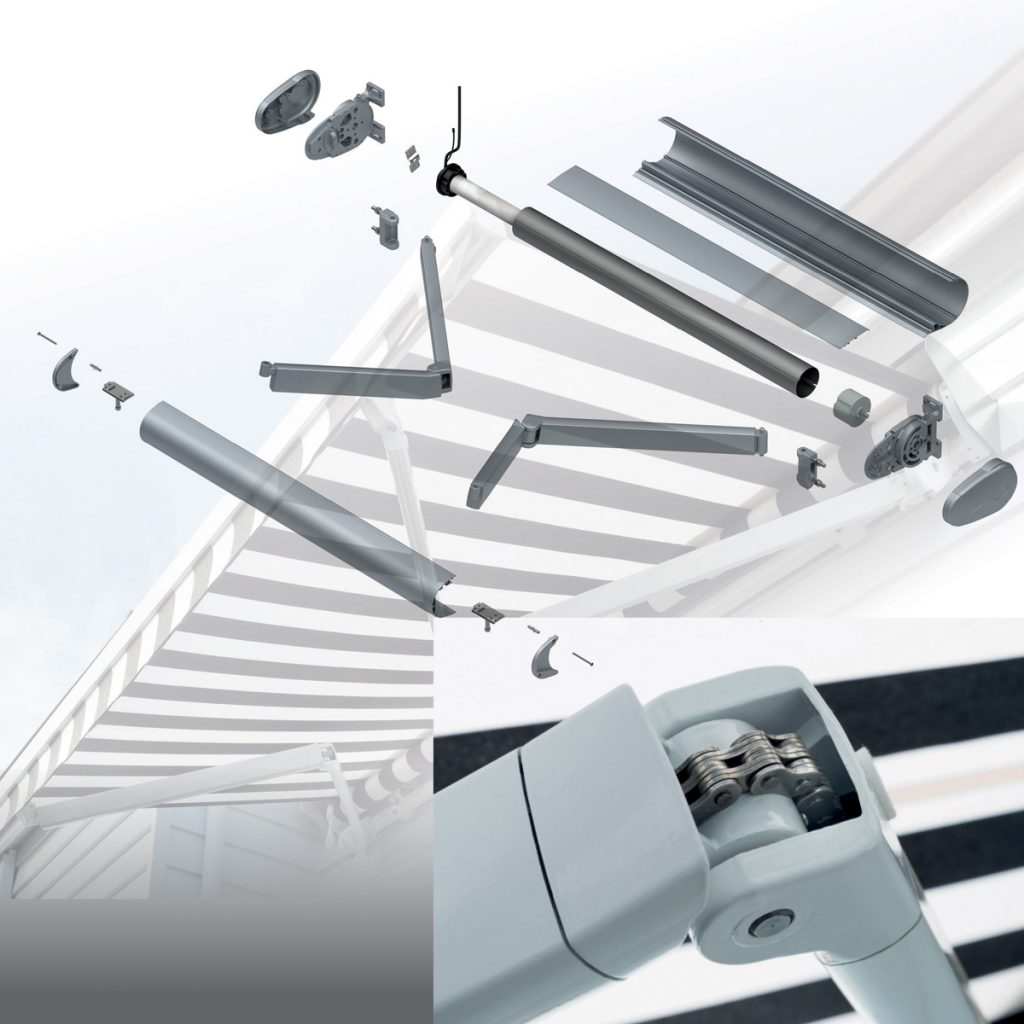 Portolesi cites the 8-link chain on every folding arm awning as a key benefit of the product, providing "lasting durability and strength."
For Queensland and Northern NSW customers, the company offers Ricky Richards fabric to the market with Docril fabric. It also offers motorisation options in stock.
"Creating that outdoor living space can be difficult sometimes, to get those extra comforts that we all so enjoy and appreciate. With the Teleco suite of tube lighting, heaters and complete automation solutions, Scott Free (Aust) has those creature comforts on display at our showroom, ready for the installation options.
"Teleco automation options put those comforts back at the touch of a button."
RICKY RICHARDS
Fabrics are an important element of folding arm awning offerings, and Ricky Richards offers two types of fabrics suited for the category, says National Sales Manager, Darren Best.

"Solterior FR and the collection of Docril solution dyed acrylic fabrics bring a range of options when you need to fit a folding arm awning with a fabric that you can rely on. Solterior FR, which is manufactured in Japan by Izumi, is a solution dyed polyester that is produced from recycled PET drink bottles.
"By using recycled bottles in the yarn, Solterior FR saves both energy resources and the environment while delivering the same high-quality features as other Ricky sun control products."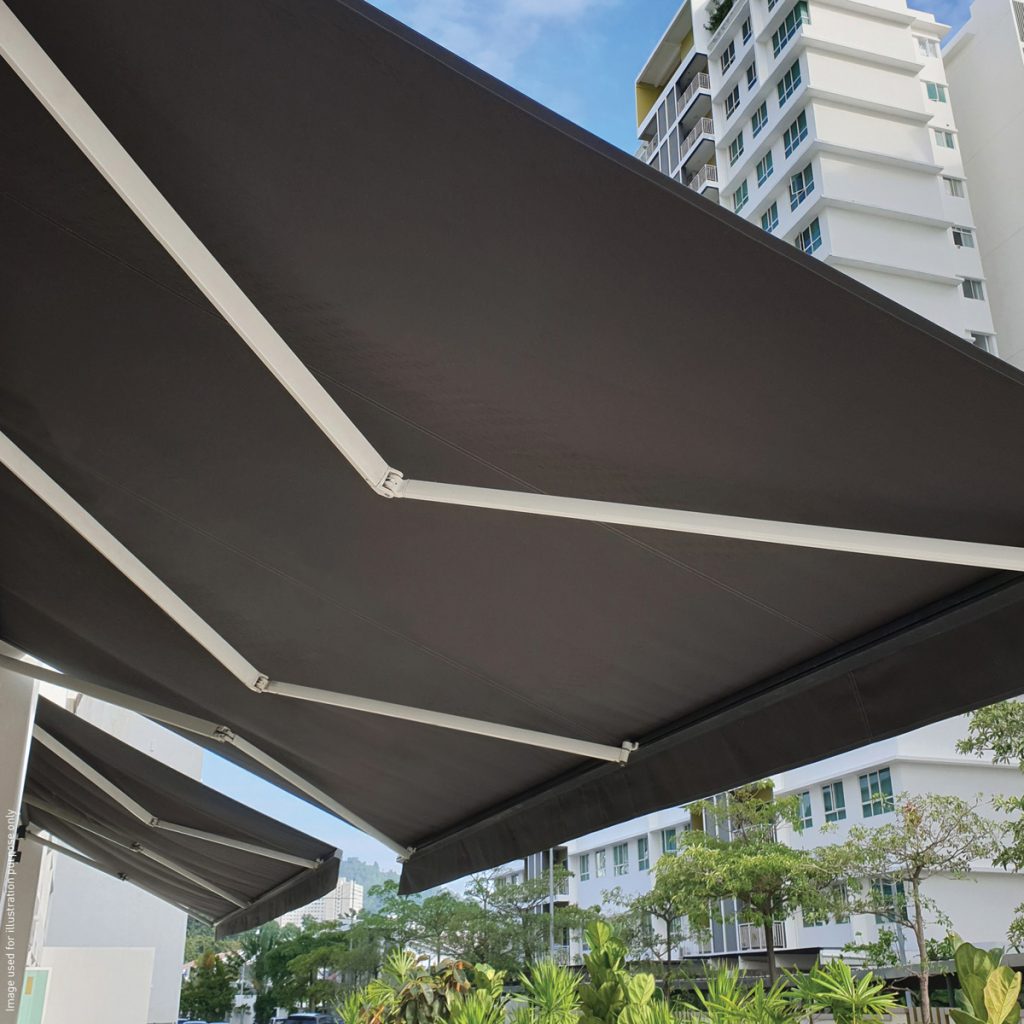 Solterior FR is ideal for commercial awnings, folding arm awnings and market umbrellas and is RoHS compliant, fire retardant, waterproof and UV stabilised.
Best confirms Docril is the other Ricky Richards fabric seen as a go-to for folding arm awnings.
"Docril fabrics are 100% solution dyed acrylic. The solution-dyed process incorporates the colours into the molecules of the fibre, which creates a stronger bond than what would be achieved by dyeing the thread or the fabric itself. The colour of a Docril fabric doesn't just sit on the surface; it goes all the way through. This means that it has an extremely high resistance to fading."
"Available in multiple widths: 120cm, 150cm, 200cm and 250cm, Docril fabrics are coated with Dupont Teflon which means that they are extremely easy to clean. The Dupont Teflon coating gives long lasting protection from dust, soil and stains and repels water by beading up liquids allowing it to just roll off the fabric.
"This collection of fabrics also has exceptional resistance to high temperatures, chemical reaction, corrosion and stress cracking. With over 90 colours and designs to choose from end users can match any outdoor theme, and all Docril fabrics are supported by a full 10-year warranty giving confidence in the integrity and longevity of the collection. "
Ricky Richards will showcase its outdoor living fabrics including Solterior FR and the Docril Collection at the STA Spectex22 expo in Sydney on 31 July 31 and 1 August.
TURNILS
New releases in the Turnils folding arms range include Sirocco and Viento.
The Sirocco range consists of six folding arm models and is based on a modular design, designed to provide a comprehensive contemporary external shading solution.
Viento is a semi-cassette awning with premium styling offering extra fabric and hardware protection. It can be mounted onto walls, under ceilings or the roof with special brackets, making it a versatile solution for large spaces.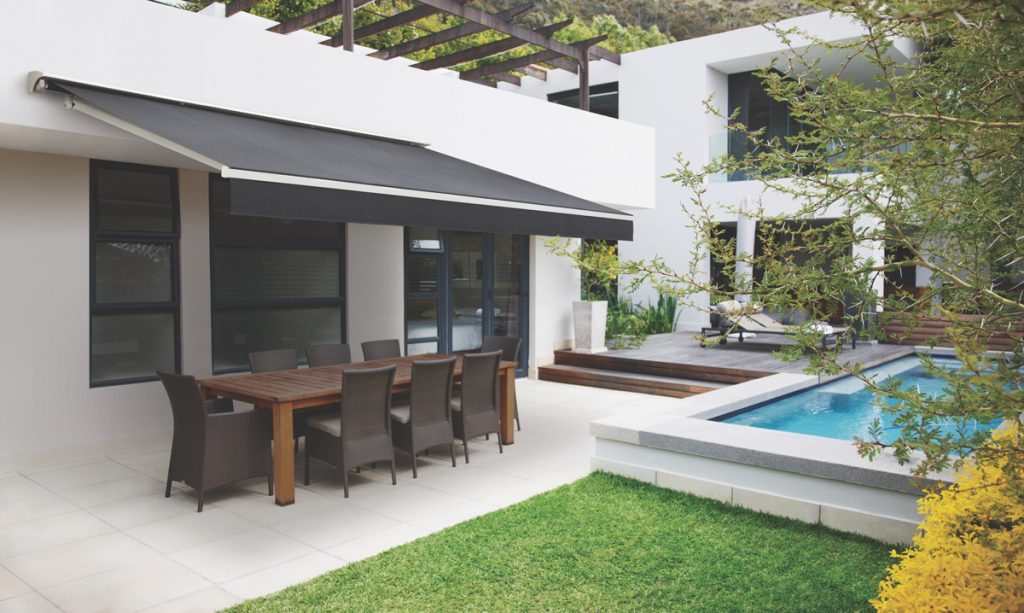 Vera Meharg, Marketing Communications Manager – Hunter Douglas, tells WFA the range's European manufacture is a key point of difference.
"The Turnils folding arm awnings range is designed and manufactured in Sweden to suit Australian conditions," she says. "Using Dyneema tape instead of metal chains in the arms gives the awning increased strength and durability – this is standard across all Turnils folding arm awnings and makes another staple product – the new Piccolo – an affordable awning that doesn't compromise on quality."
"Consumers want more choice to suit their lifestyle, space and design aesthetic, particularly in terms of a more indoor/outdoor living fluidity. This has meant, among many changes, the folding arm awning category has become more popular with both domestic and commercial applications due to its brilliant functionality in providing sun protection.
"In high density compact-style living, the Sirocco range opens up the awning category to consumers who otherwise didn't have a high-quality compact solution available to them."
"Currently the demand for folding arm awnings is high, as consumers want to create a space outside where they can enjoy the warm weather. Folding arm awnings are the perfect product for this area as they provide shade for consumers to make this space the ideal entertaining area.
And sales are continuing their Covid-19 led rebound, she confirms.
"Due to people staying at home and not travelling, they are spending more money renovating their homes, so sales for folding arm awnings have increased since the pandemic, as people convert their outdoor spaces into the perfect dining and entertaining area."