Folding arm awnings are holding their own in the Australian market, mainly due to their flexibility and design impact. Able to be stored neatly against a building, the structures are growing in popularity due to their potential for creating adaptable outdoor spaces. Suppliers confirm that evolving operation systems add to the category's allure, particularly as COVID-19 kept end-users' spending power focused on the renovation sphere.
OZSUN SHADE SYSTEMS
Ozsun Shade Systems operates in the Sydney market, offering awnings, blinds and shade systems, and specialising in German made and designed retractable awnings and external blinds.
Sales Manager Allison Weyman, Sales Manager notes that the pandemic affected sales.
"2020 was an extraordinary year for all of us. With the global pandemic impacting the way we all do business, we found many of our clients were coming across issues they wouldn't normally face due to working at home or to reduced capacity seating in commercial venues due to social distancing measures in place by local governments."
"The sale of folding arm awnings and retractable roof systems both commercially and residentially has significantly increased during the pandemic. Homeowners and businesses are relying on outdoor solutions to maximise their entertaining space by combining indoor and outdoor spaces while not compromising on safety of their patrons / friends family. Being completely retractable, the use of folding arm and retractable roof systems, allow the user to be in control of how they use their space."
Weymanconfirms the company's newest addition to its range, the Helioshade, Rubix Cassette, "offers a premium shading solution with a focus on clean lines to suit the finest architecture."
"Traditionally outdoor shading in Australia would spring to mind, striped, worn out canvas awnings, sitting on old redbrick homes in the suburbs. The awnings were an afterthought, and the range was pretty limited. The Rubix has reinvented these beliefs as it combines the functionality of providing shade, while not compromising on style."
"The Rubix Cassette arm is characterised by its elegant, eye-catching design and convincing performance. Designed to integrate seamlessly, the Rubix Full Cassette offers a streamlined architectural finish along with full protection to the system and fabric when not in use."
Featuring high quality materials including chromatised aluminum, Dulux powder coating finishes, high grade stainless steel screws, along with precision engineering and design down to the last detail, a benefits of the product include durability and functionality.
"All components have been developed to ensure smooth functioning and high durability under the most demanding of load tests. The use of high-quality aluminum profiles, in combination with high-strength cast and drop-forged components, stands for optimal safety even under extreme load."
The specially developed Multiflex power band is made up of four tear-resistant steel cables sheathed in a highly flexible plastic material protecting against corrosion.
It applies the force of spring movements in the arm sections and ensures proper tensioning of the awning, whilst still allowing flexibility during gusts of wind. Ideally suited to our harsh Australian conditions, the arm system is optimised for long lasting tautness of the fabric under extended heavy use.
Features and benefits of the new product include full protection of the fabric when not in use due to the full cassette construction and wind rating up to 39 km per hour with a four cable arm system designed to withstand wind gusts, as well as compatibility with Somfy motors and sensors to enable automation.
Weyman adds that Ozsun's premium Helioshade range of retractable folding arm awnings are the only folding arm awnings engineered to withstand winds of up to category six (49km/hr) on the Beaufort wind scale. The Helioshade folding arms are made in Austria and incorporate four cables in each arm for superior performance.
BLINDS BY PETER MEYER
Simon Meyer, Managing Director of Blinds by Peter Meyer and Weinor Australia, confirms growing demand for the company's award winning new release Full Cassette Folding Arm Awning, the Weinor Kubata and Kubata LED. In 2019 Kubata was awarded with the German Design Award and the iF Design Award.
"Kubata's crisp, minimal cubic cassette shape provides an exceptional style element for the most contemporary of facades," says Meyer. "The restrained simplicity of Kubata also ensures that it complements most architectural styles. The award winning designed Kubata incorporates cutting-edge technology with premium German componentry and build quality excellence. Kubata perfectly showcases and exemplifies Weinor's newest generation of design oriented awnings. Clean, stunningly simple, screwless, and with no visible fixings."
The Weinor Kubata Awning has optional LED spotlights, which are integrated into the cassette, and its "durable and whisper quiet" LongLife arm can be controlled by remote, whilst the wind lock safety device will ensure stability in high wind situations.
"The Kubata is available in 56 modern frame colours, or up to 200 with our RAL range. It pairs with Weinor's exclusive range of fabrics in three colour ways and with 143 patterns and colours. A new highlight for us is the Modern Basics Blue sustainable awning fabric made out of 85% recycled PET bottles."
"When open, the Kubata has a high-quality textile feel. When closed the awning cassette creates clean lines against the building facade with it's almost perfectly square shape. The fabric and other components are well protected from the elements."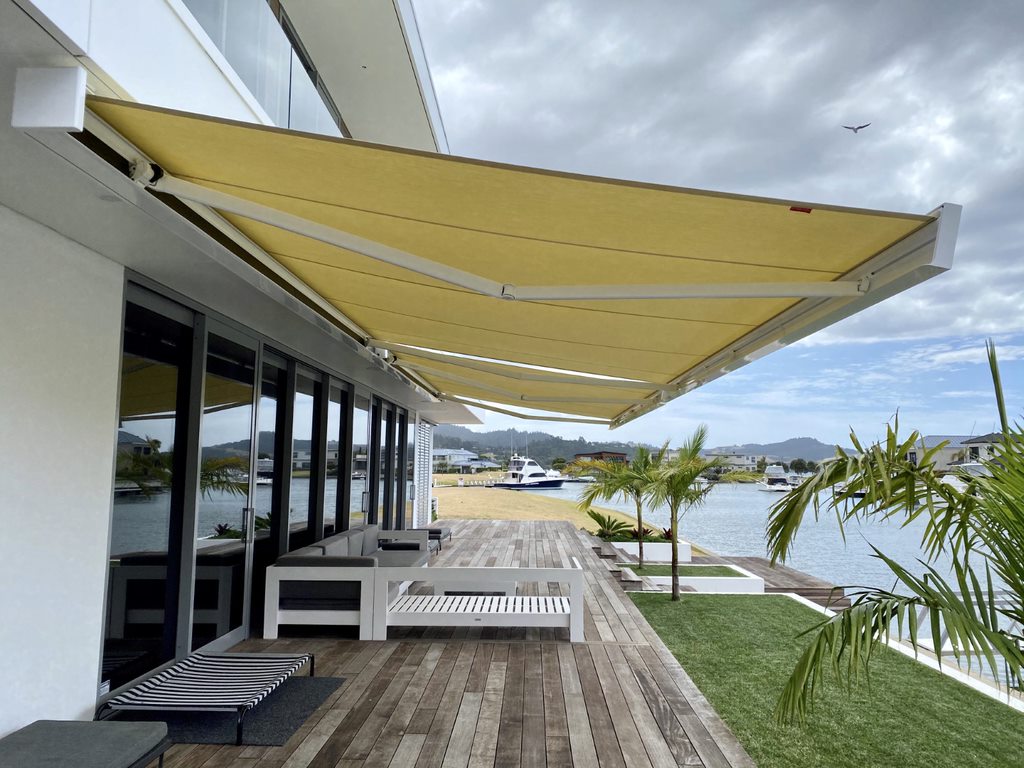 "The Kubata is simple with no visible fixings.It's clear, uniform shape is not without reason. Stemming from an overall aesthetic concept dominated by smooth surfaces, the awning cassette is enhanced by the clean appearance and no visible fixings – the result of Weinor's sophisticated technological developments."
"Well protected against the wet and dirt, the all-round enclosed and robust awning cassette keeps the fabric and other component parts just as well protected from the elements as the controlled rain drainage within the front profile. Kubata is fixed almost flush to the wall so that no rainwater or dirt makes the house wall dirty under the awning cassette."
"Optional LED spotlights and Tempura Quadra heating system offers atmospheric light and powerful warmth. The LED lights can be turned on or off at the push of a button and are integrated in the awning cassette and the heating system can be retrofitted unobtrusively to the house facade."
Meyer says that overall, the Kubata meets a need in the market for folding arm awnings that can blend in with both modern and traditional style homes.
"The new modern cubic design of the Kubata flush mounts against the wall so there is no gap behind and it doesn't look like a folding arm awning ensuring that it blends with a variety of different architectural styled homes."
"The Kubata is certainly opening up a new market. It is not cannibalising our other offerings in the category but expanding the market as a whole and bringing in new customers," says Meyer.
"The category is as popular as ever with people utilising their back gardens more since travel has been restricted. People are spending more time at home and investing more capital in improving their indoor and outdoor spaces. We have also seen a large uplift in the popularity of our retractable roof system Plaza Viva and incorporating with our VertiTex II outdoor roller blinds on all three sides to create an enclosed space."
https://www.petermeyerblinds.com.au/
ROLLEASE ACMEDA
Rollease Acmeda National Sales Manager Andrew Robson says the company's range of outdoor folding arm awning solutions offer the options of manual control via crank mechanisms or via its dedicated automation program.
He highlights growing market interest in Frame, Rollease Acmeda's first-ever retractable roofing system, built to protect from sun and rain.
"The Frame system attaches to existing conservatories and pergolas to create a sheltered area, protected from the elements, all year round. Available in our premium graphite powder coated finish or mill finish for custom-coloured applications, Frame can cover an area up to 36m². Coupled with our patented z-Lock technology, it maintains tension on the shade fabric from all four sides of the system."
The Frame high-pressure gas spring and pulley system is integrated within the channels of the system, and maintains constant tension on the roofing system's fabric throughout use and operation.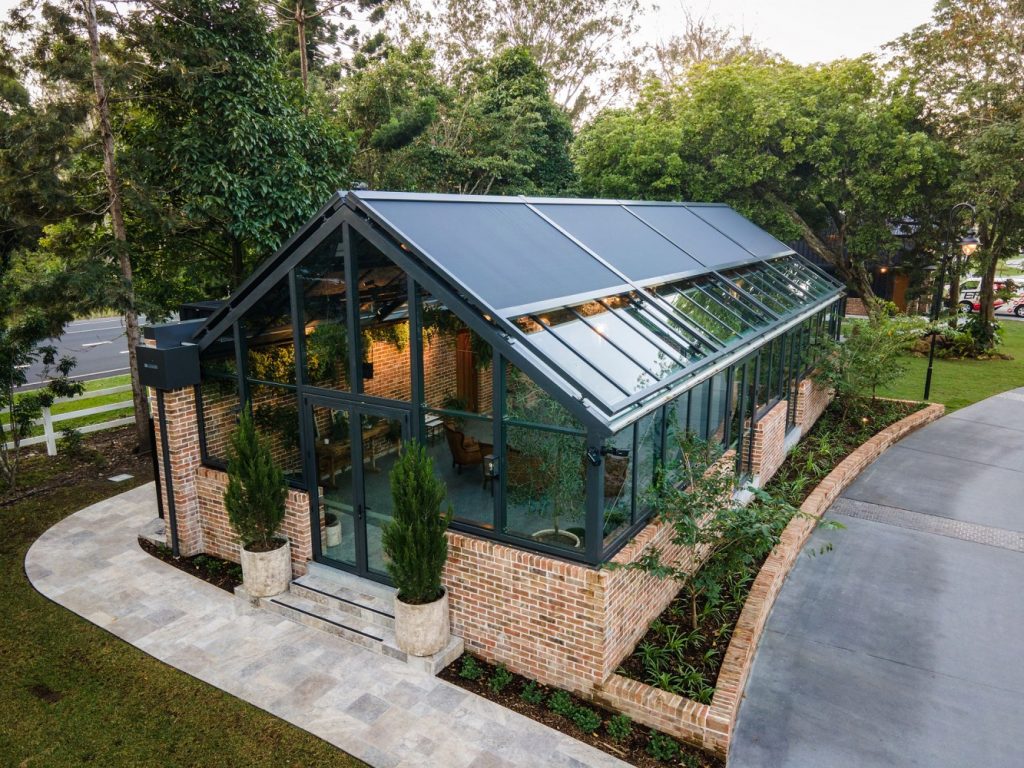 Meanwhile, "featuring a beautifully designed, rounded and enclosed aluminium cassette", the premium award-winning awning Feng perfectly is another leading product in the Rollease Acmeda range. Its integrated lighting is designed for use throughout the day and into the night.
"Feng is a complete LED awning solution configurable in three variations; LED cassette, LED awning arms or a combination of both. The lights are vividly bright and feature dimming control to create the perfect ambience in any environment."
"Our full range of folding arm awnings including Piuma, Stein, Klip, Kumo, Shan and Feng is conveniently available in a cut to size, pre-assembled kit, taking all the manufacturing stress away. Locally made to order within just five business days, simply add the fabric and install."
Robson confirms that the Rollease Acmeda awning hardware solutions is powered with the Automate AX30 or AX50 motors.
"Featuring precise limit adjustment and self-tightening technology to ensure cassette awnings come to a perfectly sealed close every time," he says. "Our automation program offers a more convenient method of control using your smartphone, popular voice control assistant or integration into the existing smart home solution."
BM BLINDS
Michelle Macready – Sales Manager at BM Blinds, says a key offering for the company is afolding arm awning that "combines the sleek look of a German designed awning together with its proven durability to withstand the harsh Australian conditions."
"The Comfort folding arm awning has widths of up to seven metres, with projections from as little as 1.5 metres for small courtyard applications through to four metre projections for café and commercial applications. This style of folding arm awning can either be operated via a crank handle or remote control."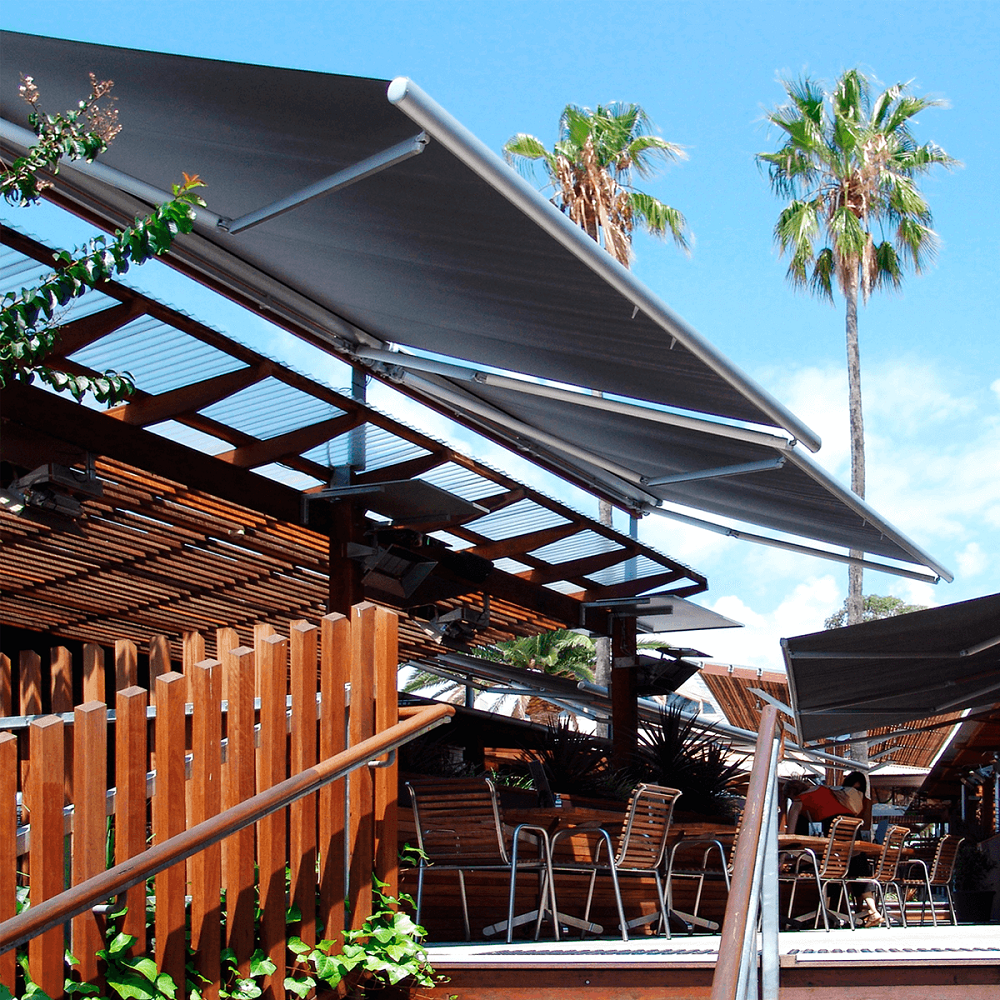 "This semi-cassette style of folding arm awning offers a compact and stylish design with a fabric tray to protect and support the top roller tube and fabric. Utilising a heavy-duty tortion bar makes installing these awnings into different fixings a breeze."
"All components used in the Comfort semi-cassette folding arm awning are constructed of marine grade stainless steel and the optional hood profile is extruded from 6061 structural grade aluminium giving you peace of mind and many years of hassle-free enjoyment."
"A Comfort folding arm awning coupled with your choice of acrylic fabric makes this the perfect awning to help extend your external outdoor living area."
SOMFY
Laurine Massiot, Product Manager at Somfy, confirms the company offers 32 motors for awnings featuring "varied technology, functionality and intelligence."
"From a small residential setting to a very large commercial project in full or semi-cassette, with operation available via switch (WT), handheld remote (RTS) or event control through smartphone (Connexoon Window RTS App Control); customers can be assured that Somfy has them covered.
The Classic Multipurpose Awning Motor (LT & Altus RTS) is Somfy's most popular awning motor range, and "can be confidently used in any WT or RTS controlled folding arm system. With 14 torque performance options available (from 25Nm to 120Nm) within this range, clients have the confidence that Somfy can support them with the right motor in any residential or commercial sized project."
For cassette awnings, Somfy's OREA 50 and OREA 60 WT & RTS range of motors "intrinsically assure customers a perfect cassette closure and fabric protection (taut and mould prevention)."
"With innovative fabric tension technology, the OREA motors are constantly adapting end limits to ensure the best results throughout the life of the awning. Ranging from 25Nm to 120Nm, the Somfy OREA high performance range has nine torque options available in either switch (WT) or handheld remote (RTS) operation."
Meanwhile the Awning Motor with Manual Override (LT CSI & Altus RTS CSI) includes nine torque options (ranging from 25Nm and 120Nm in WT & RTS) which have an innovative manual override function. This advanced technology means the awning can be retracted manually with minimal effort in the event of a power outage.
Wind sensors that automatically retract awnings during high winds are a key add-on that extends product lifecycle, says Massiot.
"Compatible with any Somfy RTS Awning motor, the Eolis 3D and Eolis RTS Wind Sensors are designed to automatically retract awnings during high winds without having to lift a finger."
"Adding any Somfy RTS wind sensor technology to a motorised awning solution, ensures it is protected against the elements whether the client is home or away; a priceless 'set and forget' value added security feature giving clients the ultimate peace of mind."
"The Eolis 3D RTS Wind Sensor is a sleek and minimal panel-like design which can be easily mounted under the awning. The Eolis 3D Sensor closely monitors the movement of the awning and will retract when the movement reaches nominated settings."
"The Eolis RTS Wind Sensor is mounted external to the awning and can be paired with multiple awning motors within a shared space. The Eolis RTS Wind Sensor uses its propelling wind cups to measure the speed of the wind and triggers the Awning to retract once the sensor reaches the nominated limit setting."
SHAW
Shaw has partnered with Italian industry leader BAT, to develop three models specifically for the Australian climate; R -90, R Pitch and Base Plus.
Features include the unique Balteus Arm technology, which the company says provides three times longer life expectancy than traditional chain mechanisms.
Designed in Europe and manufactured in Australia, these products are supplied to trade in kit form, delivered complete and ready to attach fabric. There is no need to use new packaging as the products can be repackaged in the original delivery box.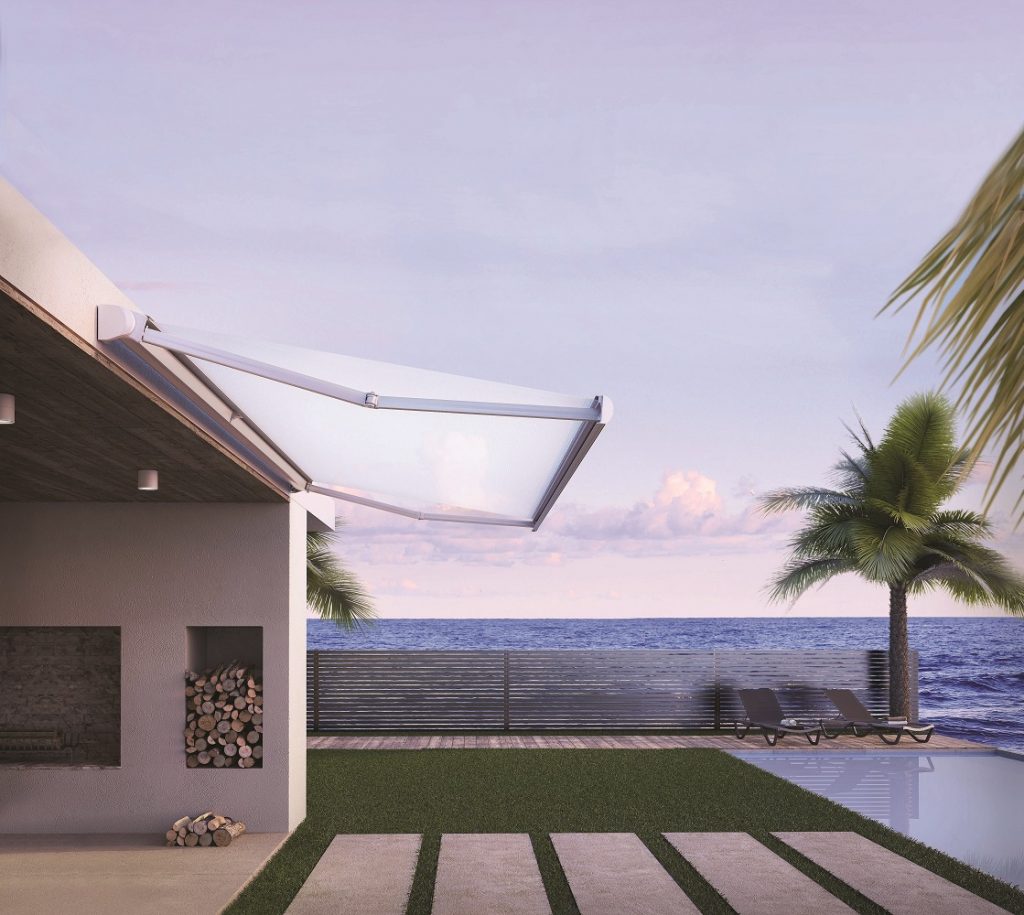 "This offering presents the manufacturer with a value-add opportunity with potential to customise," says Ben Hayek, National Product and Training Manager – Outdoor. "It also avoids the need for expensive inventory."
The R90 & R Pitch awnings have an optional colour coded aluminum weather shield. All ranges are available in 4 standard popular colours; Black, White, Grey & Ivory
Carrying a 5-year replacement warranty, they're supplied with Shaw Consistent Quality and Service Assurance via the company's nationwide distribution network, with market leading turnaround times, and servicing by Shaw National Call Centre and Technical
B.A.C WHOLESALE
Chris Reynolds the Managing Director of B.A.C Wholesale says that the current market for Folding arm awnings in Australia remains strong however increased retailer knowledge in this area and an increase in importers has seen increased competition in this space.
"The latest releases we've seen in this area is the 2020 semi cassette
from Global awnings which with its aluminium pelmet and customizable colour range has fitted nicely in its price bracket and has become a popular go to unit for a lot of our clients.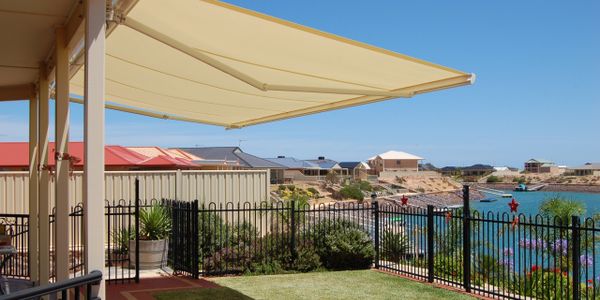 "Furthermore, the B-50 extreme from Lukris with increased size and projections is growing in popularity as well as the Klip from Acmeda as being an open style we are watching numbers with interest."
Reynolds says that the folding arm range remains relatively steady with no major design improvements of late but the old favourites like the Turnils Sirocco range remain a solid choice for higher end retailers.
"Filling the gap between a having a pergola or nothing the folding arm awning remains a solid choice for most mid-range homes to avoid permits for structures (depending on the state)."
"Higher-end folding arm awnings being installed on bigger budget builds have an aesthetical angle primarily then views to functionality and when
incorporated into the design full cassette and some better looking semi cassettes are the winners from the designers."