WARWICK FABRICS
Cameron Warwick, Joint Managing Director of Warwick Fabrics, tells WFA the pandemic and the shift to co-working and living have seen demand evolve, with consumers continuing to focus on investing money that would normally be spent on travel and other consumables on their interiors.
"These spaces need to provide a sense of comfort, which is why tactility and colour are so important."
Keeping this in mind, Warwick Fabrics has been developing a range of products that offer variety and play into "creating inspirational, emotive spaces," he tells WFA.
"Aurelius and Olympia from our first release of 2022 speak to the need to create comfortable and emotive spaces. Aurelius is a soft touch, transitional plain, utilising fine chenille yarns for a refined casual look, while Olympia plays into the continued popularity of sheers, offering a soft, lightweight, dry finish sheer that boast calm, serene moods."
Aurelius is described as a plain, lightweight fabric; piece dyed and constructed using fine chenille yarn, with a continuous 300 cm wide width. It comes in a palette of 16 colours including neutrals Snow, Vanilla, Ecru and Pumice, while Fog, Pebble, Shale and Shadow offer darker hues.
Meanwhile Olympia is a "serene" plain drapery sheer collection inspired by the coastal areas of Greece. The self-weighted, yarn dyed, woven fabric has a continuous 320 cm wide width.
The company also wanted to introduce a selection of products "that were rich in colour and more of a maximalist aesthetic," says Warwick.
"Key industry leaders and trendsetters have been longing for faux silk and velvet options lately. We saw this as an opportunity to invest further into some core programs, which led to the introduction of the Emporium and Duke collections."
Emporium and Duke have been developed to have the look of traditional velvets and silks, but with high performance attributes.
Emporium features a slubbed yarn which emulates silk. "Inspired by the beautiful, eclectic and colourful varieties of fabrics found in emporiums and marketplaces, Emporium is a plain drape that creates a rich and opulent aesthetic."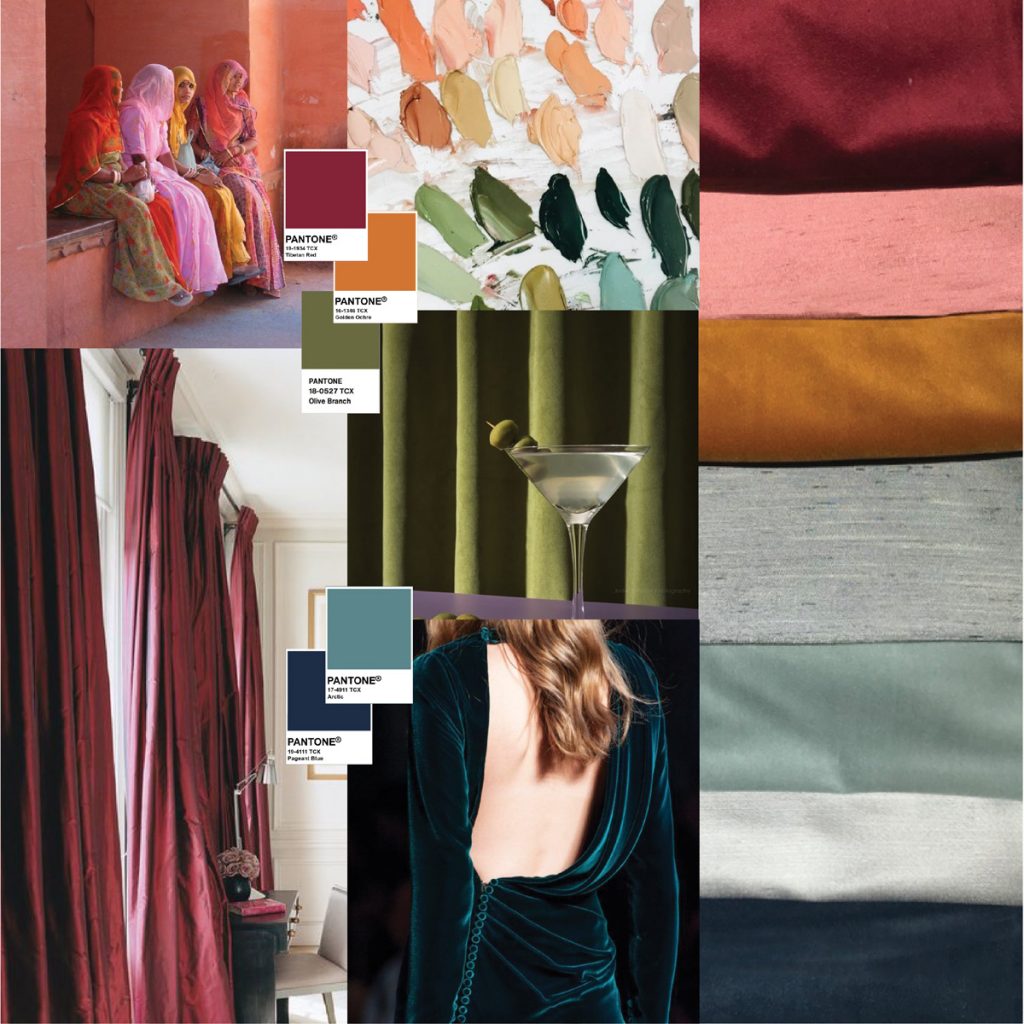 The fabric is reversible and piece dyed, the fabric has the look of silk for an exotic and high-end appearance. It comes in 32 shades including Coral, Menthol and Ochre at the bright end of the spectrum, while Cornsilk, Pearl and Zinc offer classic neutrals, along with Nectar, Oyster and Brie. It carries AS1530.2 and 3 fire rating and Oeko-Tex certification.
Meanwhile, Duke is a traditional velvet with luxe appeal. It is piece dyed with a textured filament yarn in a traditional velvet construction for drapery and upholstery and is offered in 42 shades including Ladybird, Sapphire, Emerald, Gold as well as softer hues Petal, Sesame and Eucalyptus. Meanwhile, Ecru, Pebble, Mist and Peat are key neutrals in the range.
The fabric is rated Heavy Commercial with both AS1530.2 and AS1530.3 fire rating and Halo easy-clean properties. It can be used to create drapery and Roman blinds, as well as upholstery pieces and cushions.
Warwick tells WFA that demand for drapery, particularly sheers, remains high, although the category continues to face supply challenges.
"Fortunately, we have the facility to stock our product which allows us to meet the demands of the market.
"This is a great opportunity for us as it means we can provide customers and key industry partners with a great selection of product to help them complete their projects."
WILSON FABRICS
Wilson Fabrics is launching new Australian Made drapery collections that "pay homage to our beautiful country, Australia" and iconic landscapes and destinations; Palm Cove, Ayers, Adelaide, Hotham and Hastings.
"We also have a stunning new Australian made sheer, Whitsundays that coordinates back with all colours in our blind and drapery collections," General Manager Peta Fitzgibbon tells WFA.
"Like all of our blind and blockout drapery ranges, our new collections carry all of our core features and benefits; Australian made – ensuring consistency, quality, shorter lead times whilst supporting local jobs and the economy; Greenguard accredited – low emitting and contributing to improved air-quality, our products meet some of the world's most rigorous standards for low emissions and volatile organic compounds into our environments.
The fabrics are also fade resistant – tested for colourfastness to light and protected by StainProtect, which repels stains and spills, keeping fabric looking new and fresh.
"All of Wilson Fabrics blockout blind and drapery ranges are coated with our very own superior PitchBlack Blockout coating which is made from the highest grade materials and is a total Blockout that surpasses all industry standards. Our fabrics are tested to meet FR AS1530.3 and achieve the highest UPF rating, providing excellent protection from harmful ultraviolet radiation. Our fabrics let through 0.000 of UVA and 0.000 UVB rays ensuring quality protection from the sun, protecting you and your home."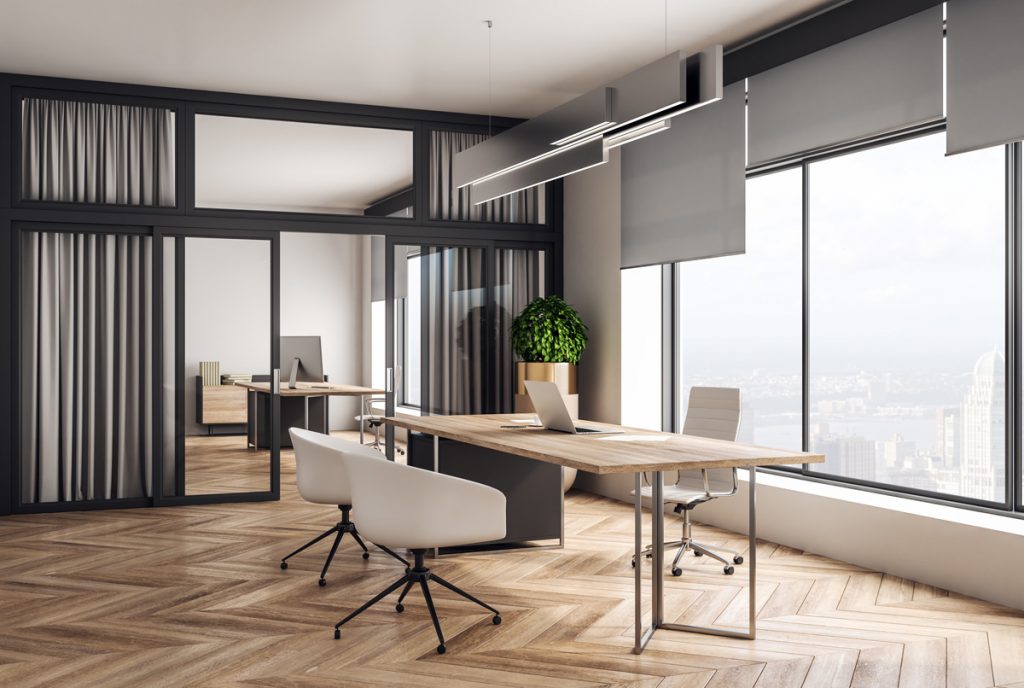 Our fabrics are also PVC and lead free. "Fabrics containing PVC and lead can not only emit carcinogens in the home, the manufacturing process is also 'dirty' as toxic and carcinogenic components are required for manufacturing. This is why we only develop PVC and Lead free fabrics – better for you, better for the environment. Our fabrics also carry a five year warranty."
FitzGibbon says the key point of difference for these fabrics is that they offer a "complete story."
"Being one of the largest soft furnishing wholesalers in Australia, it is imperative we listen to our customers to ensure what we bring to the market not only meets their requirements but also what their customer, the end-user, is looking for.
"So we asked our customers, 'What's missing?' The answer was quite simple; 'a complete story, a one stop shop.' Wilson Fabrics is in a unique position; we have the ability to deliver on this market demand – to manufacture a complete story, coordinating blind, drapery and sheer fabrics at our very own mill in Wangaratta, regional Victoria."
The new coordinating ranges will start rolling out from May.
LUXAFLEX
Luxaflex says 2022 will mark the introduction of new curtain fabrics comprising "patterns, plains, and soft textural sheers" within the Luxaflex Curtains Collection.
A total of 13 new fabric ranges have been introduced, "influenced by the themes of wellness and nurturing in the home, characterised by nature-inspired shades of eggshell nudes, ash rose and muted blues."
The brand says the new curtain fabric collection has been designed to blend fabric patterns and textures across the Luxaflex Window Coverings range.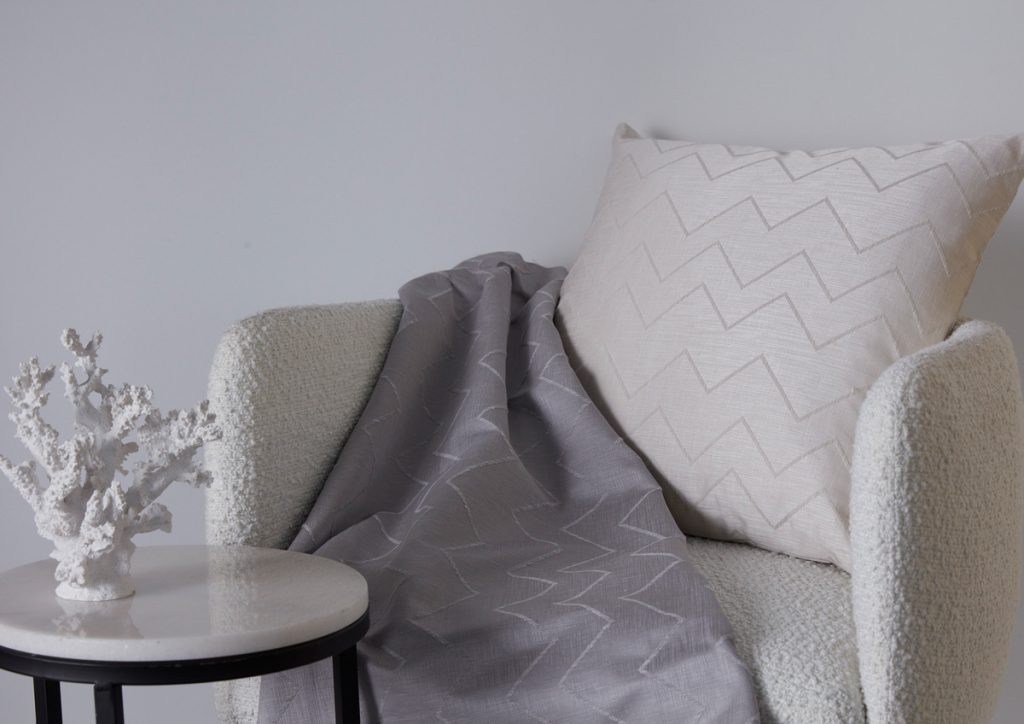 "Curtain trends in 2022 are directed towards simplicity and functionality. From modern and unstructured to formal and sophisticated, the range of fabric options fit perfectly in any style of home."
Six of the new ranges will be in the Designer range and seven will be part of the Classic Series, while three current fabrics, Kori, Amadora and Trinity, also see new colours added to the range.
The new Designer exclusive fabrics include: Jinto, a multi-dye inspired fabric; Fleur and Bloomest which feature embroidery designs; and Ortiz, Keverstone and Zaglin – described as "beautiful jacquards with original pattern play."
The new Classic Series fabrics include:
• Cirque stripes and Taiyo, fabric choices that are about being the hero at the window.
• Mersin, a Chanel inspired fabric using different yarn to create something glamorous and well crafted.
• Kassay, a sophisticated jacquard using recycled yarn to create dimensional detail on the face of the fabric.
• Oris, a classic faux silk fabric with the right amount of iridescence and irregular slub.
• Keiss features spun texturised yarn in both the warp and weft, perfectly offset by the use of melange colour.
• Naylor combines a hidden plaid pattern with a great play of neutral-toned textured yarn. The use of heavier off-white yarns in the warp beautifully complements the variation in greige coloured weft yarns.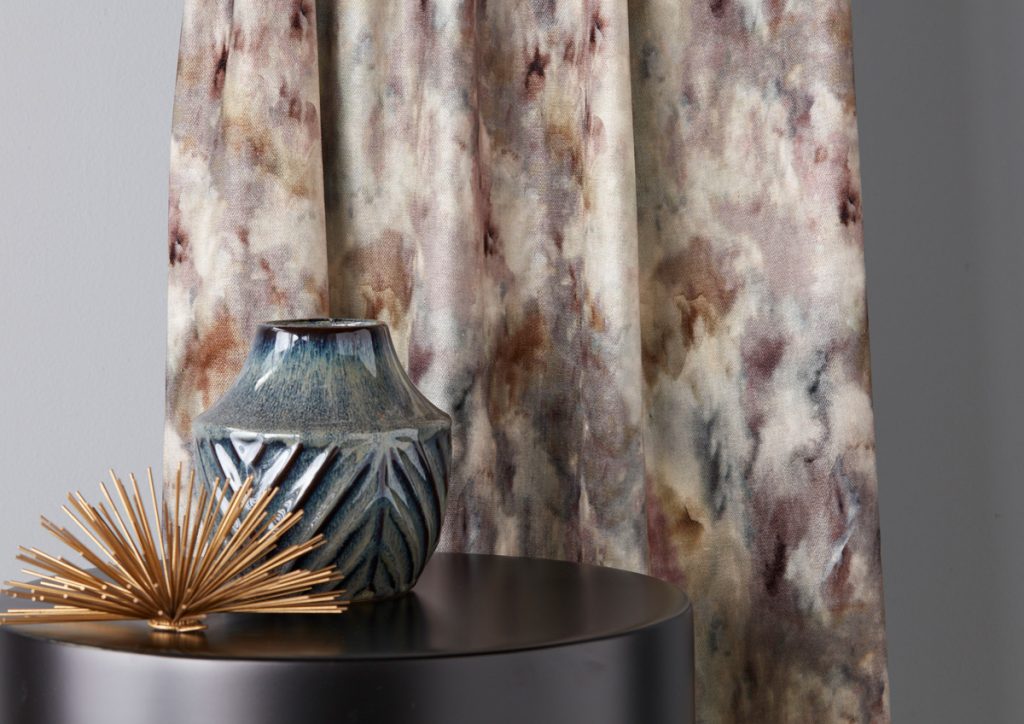 ROWE – CHARLES PARSONS
Rowe, the premium, fashion-forward brand from Charles Parsons & Co, is launching fabrics including Edo and Aspen – wide width printed sheers with continuous fabric direction and weighted hems for easy installation, but with different qualities, characteristics and benefits for different spaces and requirements.
"Edo is a beautiful textured open weave drapery fabric with a contemporary bamboo print in stunning watercolours, giving a sense of Japanese minimalism to any interior. Resembling natural fibres, Edo works in both residential and commercial spaces thanks to its 100% Polyester composition and its strong FR rating. Choose between seven cool hues with striking prints ranging from subtle to more distinctive."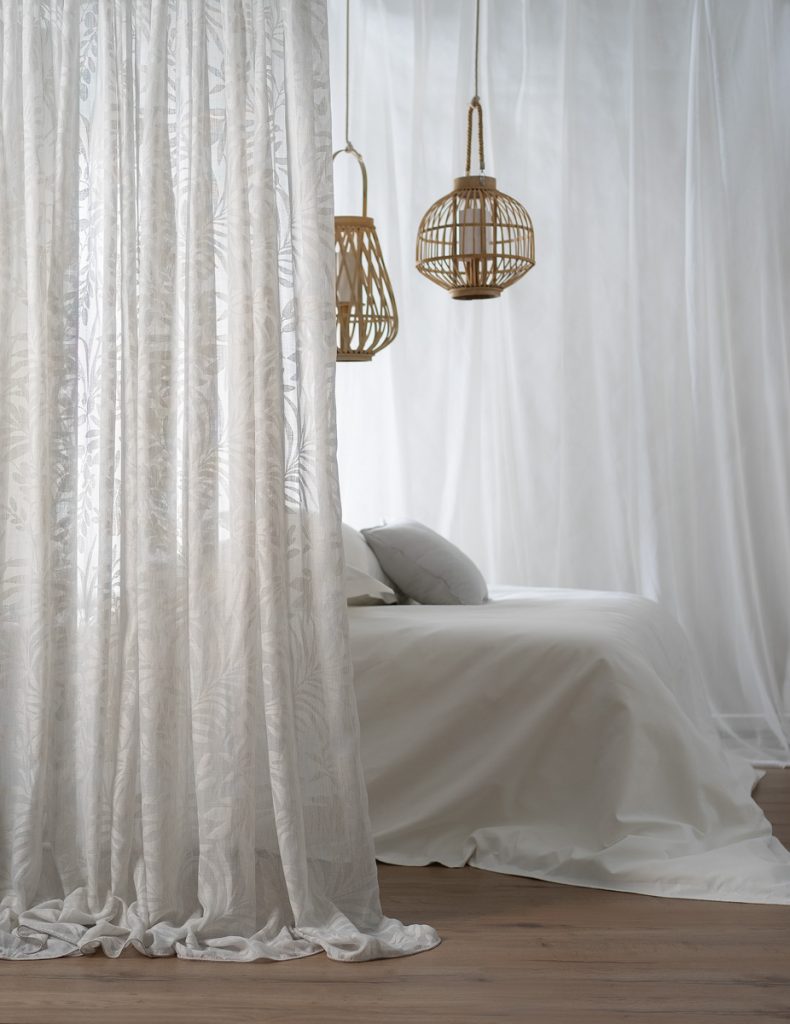 "The wonderfully soft Aspen showcases a semi-transparent and leafy burnout pattern inspired by nature, which is alluring, fresh and modern. Composed of both cotton and linen, Aspen's smooth to the touch texture drapes beautifully in any interior. Its organic look and feel are perfect for interiors where the intention is to achieve a natural aesthetic that still makes a strong statement."
"Charles Parsons & Co is proud of these outstanding products by Design and Product Manager Lisa Robinson and her creative team, and we are excited to share them as the latest high-quality printed sheers from our premium brand Rowe."
JAMES DUNLOP TEXTILES
James Dunlop Textiles has released an offering that reflects the natural world, including new releases Beech and Leila, Annie Moir, James Dunlop Design Director, tells WFA.
Inspired by the native New Zealand beech tree, James Dunlop Textiles' Beech will be released to the market in March 2022, she says.
"Reaching to the forest canopy, the branches of the evergreen New Zealand beech tree are laden with hundreds of small, toothed leaves, forming a delicate tree cover which naturally diffuses the sun's rays."
She describes the fabric as a "tactile, wide width sheer" that "combines the natural aesthetic of cotton with the durable functionality of polyester." The custom dyed yarns are woven in 15 complex colourways, offering "a versatile palette of curated neutrals and fresh spring inspired hues."
"Utilised as a drapery textile, Beech is perfectly placed within relaxed coastal schemes or urban settings that require a pretty, yet practical sheer solution to bring a touch of colour to the window without detracting from the surrounding vistas."
"Like any natural landscape, the decorative shades of Beech coordinate seamlessly with botanical prints such as Leila, a transitional favourite from James Dunlop which captures the moments between summer and autumn."
"Leila is a modern interpretation of traditional floral through the use of negative space, considered scale and modern colouration. Soft watercolour motifs are layered on background silhouettes to create a stunning drapery design with subtle dimension.
"Coloured to reflect the fresh hues of spring and printed on 100% linen base cloth with a soft tumbled finish."
SILENT GLISS – BLINDS BY PETER MEYER
Blinds by Peter Meyer has recently released a new range of fabrics for curtains and Roller blinds, Silent Gliss' most popular light filtering fabric – Colorama 2C, managing director Simon Meyer tells WFA.
"Colorama 2 is the epitome of versatility and sophistication. The Trevira CS fabric is gorgeous to touch with a uniform and stable weave. However, what is truly exciting about this fabric is that it has a width up to 3.4m – the widest available in the Australian market."
"This, along with its extensive colour range, makes Colorama 2 the perfect finish for anyone looking for a high-quality wide fabric. Colorama 2 is the most successful Silent Gliss fabric over the last 20. Antibacterial and aluminium backed versions are also available by indent."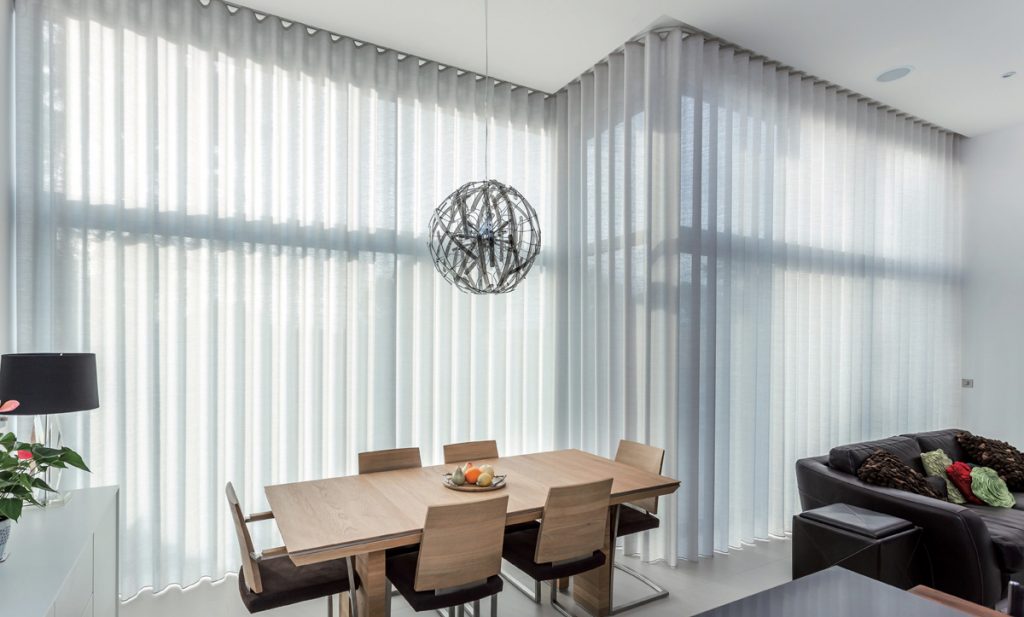 In addition to Colorama 2, in 2022 the company will be offering all Silent Gliss' technical fabrics by indent.
"The Silent Gliss collection sets itself apart by considering both the fabric's texture and technical features. We offer a wide range of fabrics, styles and colours that balance function."
"Fabrics include special functions such as acoustic performance, superior light management and antimicrobial and antibacterial properties for healthcare environments.
"All of our fabrics are flame-retardant and have been extensively tested on the Silent Gliss systems to ensure consistent hanging behaviour. With such a wide choice, you can be sure to find the perfect fabric for your needs."
RICKY RICHARDS
Ricky Richards' Albis outdoor curtain fabric forms part of the Bliss outdoor upholstery collection.
"It is an open sheer created specifically for outdoor curtains and is designed to allow filtered light through, while at the same time maintaining a level of privacy.
"Like all Bliss outdoor fabrics offered at Ricky, Albis is 100% solution dyed acrylic that combines the highest technical features and with the fineness, feel and quality of cotton, Albis is simply beautiful. The outstanding features which make it suitable for aquatic locations and the sunny Australian weather, sets this elegant outdoor curtain fabric apart."
Supported by a five-year warranty, Albis is available in five colours and 300cm wide rolls, allowing large projects to have fewer joining seems. It is also possible to sew two colours together to hide dust or sand on the bottom of the curtains while in use.
FILIGREE TEXTILES
The Filigree brand has expanded, Wayne Leslie, Director – Filigree Textiles tells WFA.
"The trend for sheers and coloured linings is still incredibly strong and we do not see it waning any time soon. Whilst we are constantly working to ensure our linings are the best quality, with the most competitive price, we saw the need for a more sophisticated colour line, across all four designs that could all marry back to co-ordinate in the home, no matter what the intended end use is.
"Lining is a commodity product, we know that, but to have the best lining that not only performs well but looks great with a decorative fabric of choice, reaches a whole different level of sophistication.
"Just recently we decided to extend the colour ranges of our four most popular Filigree Lining fabrics, giving them a 2022 refresh, which we believe will tie in nicely with 2022 trends forecasts for Australasia."
"Precision is a 3-Pass Flock coated wide width blockout drapery and coloured lining fabric by Filigree. It is available in three different widths: 150cm, 300cm and 320cm. Its tremendous popularity since its launch has led to a well-deserved colour line extension in the 300cm option, incorporating a selection of new trend orientated tones, perfect for the modern interior. Precision has also been tested to AS/NZS 1530.2 & 3. In 23 colours, and now in 320 cm for the basics and coordinating with the other linings, it is going to impress the most discerning consumers"
Filigree Simplicity lining, like Precision, is also available in three widths: 150cm, 300cm & 320cm, and the 300cm width is now available in an extended colour range, offering 23 colours.
The new formula silicone coating offers a super-soft drape, and Simplicity has also been tested to AS/NZS 1530.3 and is fully machine washable. Its available in additional colours and an increase to 320 cm for the basics," Leslie confirms.
"Meanwhile Twilight 300 cm and Nightshade 150 cm are triple weave lining fabrics also Filigree FR rated, and with the new tones on offer, make it dual perfection for the modern interior."
"Twilight is the wide width option, while Nightshade is its smaller pairing. Both have been stringently tested to AS/NZS1530.2 & 3 standard and both confidently receive an excellent FR rating in all colours."
"We see a lot of people using a coloured lining and sheer, and many using a blockout roller and sheer, often needing to co-ordinate all being in one room or very close together. Our team have done a lot of work to bring about colour co-ordination between all these products, hues that complement each other, whether one of our great new linings, one of our roller blind fabrics or one of many subtle sheers, all colour engineered to complement each other in the home."
SEKERS
Sekers, is introducing Estelle in 2022, confirms Maya Vivian, Sekers Lead Textile Designer and Product Developer.
"We will be the first to admit that it's been a while since we graced the market with a new Sekers product, however we have really spent a good 12 months refining our Sekers customer and ensuring that the product is a right fit for the market."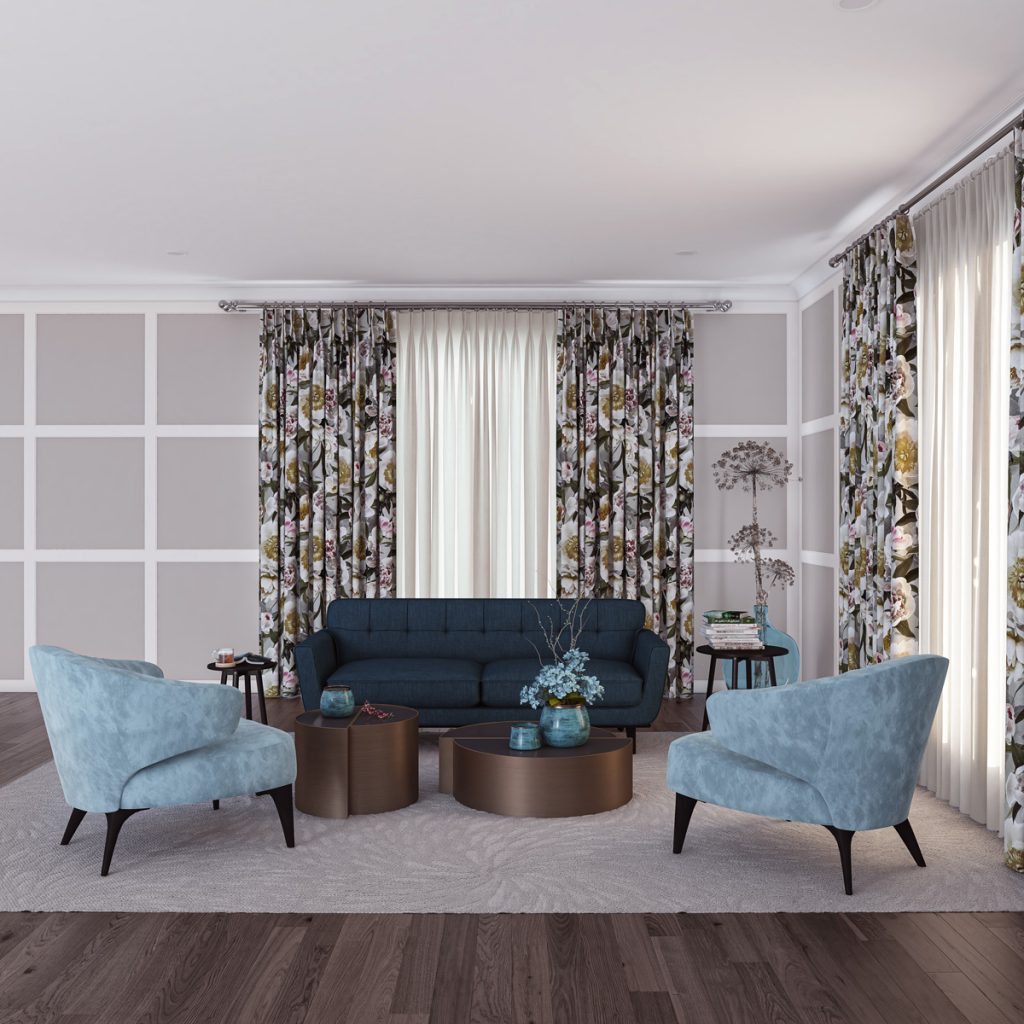 Estelle is described as "a delightful floral, designed exclusively in-house and featuring a combination of "attractive, yet calm floral illustrations".
"Housing a wonderful blend of linen and viscose, the drape is subtle and soft" and has been specifically designed to be a drapery fabric. "However, this print would look spectacular as décor cushions or table linen.
MAURICE KAIN
Maurice Kain, is responding to demand for recycled products in the soft furnishings industry with new additions.
"When we started releasing recycled content drapery collections in Maurice Kain early last year, we never knew how popular they would be – but the last few months have proven a tremendously positive return," says Michelle West, General Manager – Maurice Kain.
"Our Maurice Kain recycled collection, Rejuvenate, has been accepted easily into what may seem like a very congested market right now, and with the desire for more ranges of similar statue, we have decided to broaden our horizons and expand our recycled drapery product offering.
Maurice Kain has just launched two dual collections made from 100% Recycled Polyester called Deserts and Forests – where each metre of fabric contains 57 one litre plastic bottles that have been recycled and prevented from entering landfill."
"The dual selection of recycled drapery fabrics is scattered across four beautiful earth inspired tones. The sheer and solid pairings in each collection offer endless options for blending and sculpting in your home, to create truly unique and sustainably orientated interiors that exist outside the possible combinations available with just regular Polyester drapery."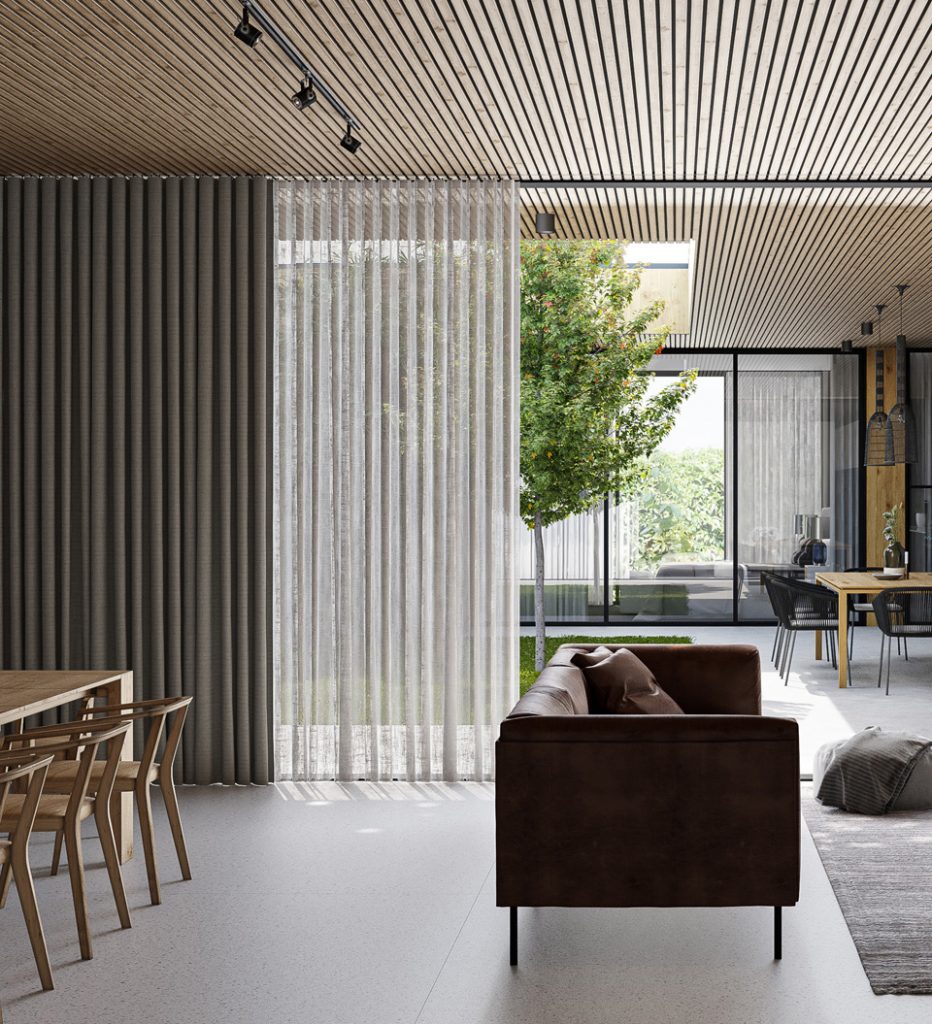 Both Recycled collections have been tested as Fire Retarded AS/NZS1530.2 && 3.
Meanwhile West also confirms the brand has released embroidery embellished fabrics.
"The Maurice Kain team has always been so in love with embroidery drapery fabrics, which if crafted well, can form an integral part of an interior's mood and energy. Earlier this year we released a beautiful Maurice Kain sheer embroidery collection called Mayflower.
"Mayflower is an exclusive – hand drawn by our talented team of artists – dandelion embroidery design featured in five neutral colourways. The fabric offers a sense of flow and movement, while adding a touch of decorative interest to a sheer without dominating the window."
Mayflower is 320cm continuous of 100% Polyester fabric and has been tested as Fire Retardant to AS/NZS1530.2 & 3.
Another key trend at Maurice Kain is inspired by the timeless qualities of linen, West tells WFA.
"Although recycled polyester has been growing rapidly over the last 12 months, we are still seeing demand for linen drapery fabrics. Linen is beautiful, and has been a blessing to soft furnishings ever since it was cultivated as a crop.
"Our Maurice Kain Outland Collection is comprised of two plain drapery fabrics called Frontier and Hinterland. Each is made up of a unique composition combination which includes polyester, cotton and linen. The Outland Collection is available in five colourways and takes inspiration from a multitude of natural urban surroundings, making it suitable for a comprehensive selection of interiors."
NUEVUE
Drapery fabrics are typically associated with interiors, but outdoor fabrics for drapes have seen marked advances in recent times, according to Michelle Begley, director at Sydney's nuevue window and soft furnishings.
"nuevue have seen customers move from the traditional use of shutters and awnings for outdoor spaces to adorning their pergolas and gazebos with gorgeous sheer fabrics in a range of natural textures and earthy tones.
"We've also seen the range of customised printed fabrics for curtains expand- an example is the trend of ombre print in customised colours. This brings an exciting, new edge to the use of curtains and their suitability in an interior setting. Another popular choice is stripes which can also be custom-coloured to incorporate accent colours within the client's interior. It really allows us to work closely with the client and achieve something unique and special."
Another key trend is the ever-popular use of printed plants "especially ferns or palms to add an extra coastal and fresh feel to the window space. We are able to bridge interiors with exteriors using these types of prints as window furnishings."
"nuevue have been able to offer our clients custom made products suitable for all window shapes, making for a seamless blind transition."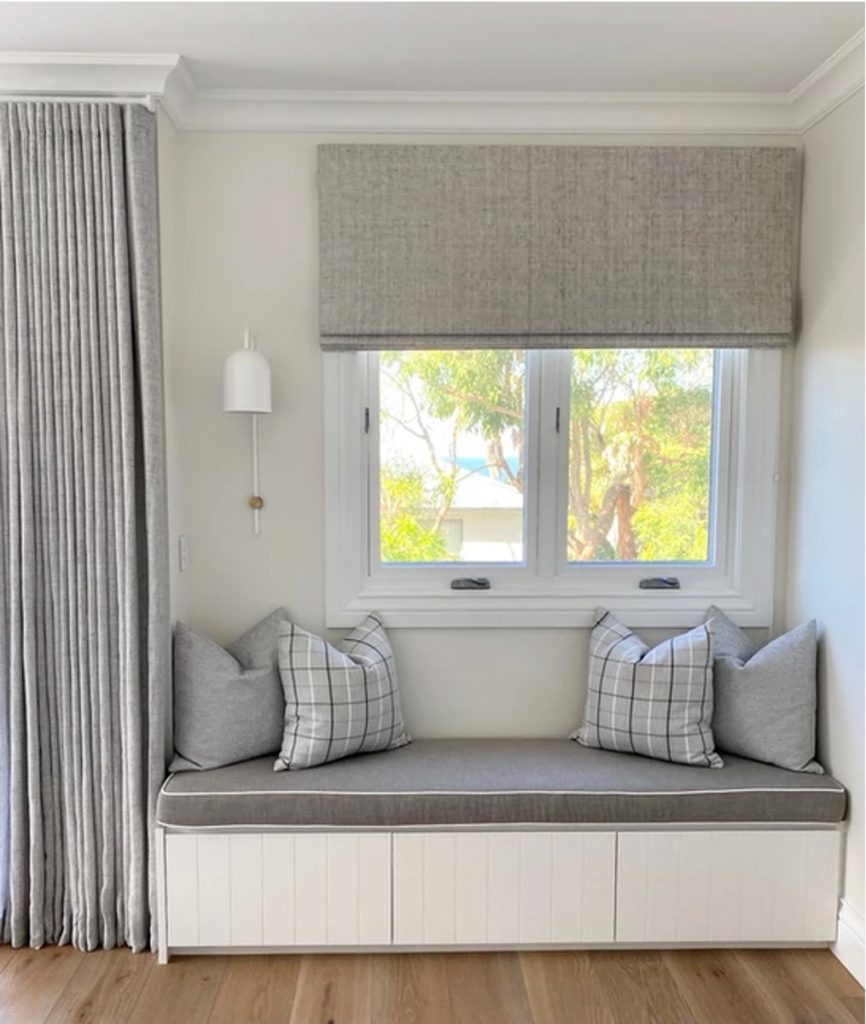 As always sheer curtains continue to grow in popularity; clients are always amazed at how much they soften and finish off a room. Sheer curtains add tremendous value for property sale.
nuevue is always on the lookout for cost effective, wide width quality linen and linen look fabrics.
"What's available ready-made is basic and can be quite a costly exercise for a 'make do' finish. Our custom cost effective products aim to cater for all budgets whilst achieving optimum aesthetics using a variety of fabrics.
"We have seen the industry really rethink fabric contents and construction; and introduce to us more sustainable and environmentally friendly fabrics. We have new fabric ranges made from 100% recycled content.
"For the first time we can present several drapery and blind collections, created using high quality recycled polyester yarns. These yarns originate from post-consumer and post-industrial recycled PET products such as plastic bottles and packaging, achieving a smaller environmental footprint."
nuevue, like many businesses, has met "serious challenges" in the last year of Covid-19 restrictions with supply of product and also manufacturing delays due to staff shortages.
"We're utilising video calls when needed and trying to keep our lovely clients informed of the extended delays."
"nuevue have also been fortunate to start producing some of our own custom made products in house. We have big plans for 2022 and aim to be less reliant on external manufacturing and non-local trades as this was our main source of hardship during the pandemic."
SHAW
Mark Lewis, Head of Division, Shaw Performance Fabrics, tells WFA the Shaw curtain fabrics offering, designed to co-ordinate with blind fabrics, is bringing value to the market.
"Shaw's entry into this segment was initiated by discussions with existing roller blind fabric customers, who requested a co-ordinated drapery and roller blind solution," he says.
"Our development team worked at length with our manufacturing partner to present a quality, value for money drapery program that co-ordinates with the design and colours of Shaw's popular quality roller blind fabrics.
"The drapery product is distributed by Shaw's established reliable network of distribution centres, across Australia and New Zealand."
"It presents Shaw manufacturing customers and retailers with a product which has contemporary design, functionality and ability to layer and control heat and light, throughout the home."
Shaw's co-ordinating range includes: Linesque drapery fabric that co-ordinates with Linesque Roller, blackout and light filtering fabrics; Orora drapery fabric that co-ordinates with Orora FR sheer roller fabric, and Iluka drapery fabric that co-ordinates with Palm Beach Blackout and Light Filtering fabrics.
The fabrics are offered with "impressive technical specification, which is practical to the manufacturer and saleable to the retailer, presented in an elegant hanger, designed to be durable in the field."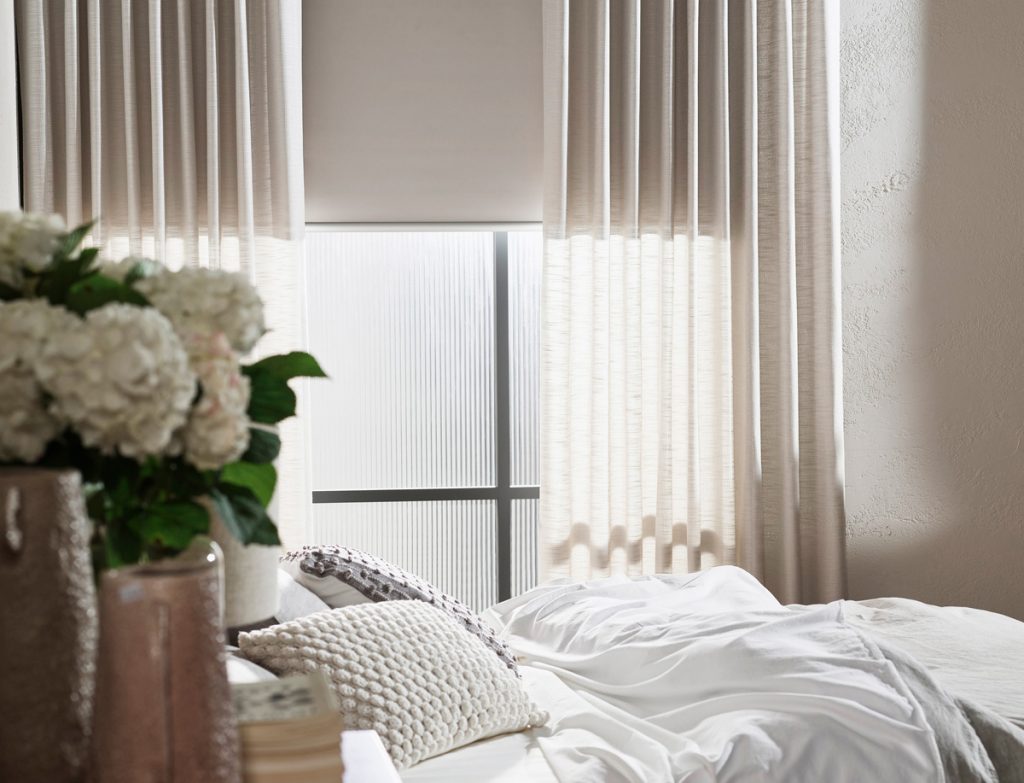 The drapery fabrics are washable, soft handle with a quality beaded / weighted hem, 3200mm wide, tested to AS1530 Part II & III, and Greenguard and Greenguard Gold Accredited.
Lewis says drapery and roller blind co-ordination is a growing sector in line with the trend for elegant layering in window dressing.
"The curtains – particularly floor-to-ceiling drops soften the window, helping provide a feeling calm and sanctuary.
"From a practical perspective, the ability to have control of heat and light while still maintain an interior theme is a very power design tool. It is also a positive for the environment, from an energy saving perspective."
In terms of colour or texture, Lewis says current trends include layering, warm neutrals and dark shades, with muted gemstone colours.
"The colours of nature are also important. We are still yearning to bring the outside in. Natural textures, with a linen-look, and organic feel can be used to co-ordinate with natural furnishing products like wood and stone. Opaque sheer finishes offer privacy while still permitting natural light to enter the space."
"Curtains used in combination with roller binds are a growth market as home owners and designers understand the role of curtains in interior design – completing the look and styling of the room – but also their functionality in controlling heat and light in a space."
"The textures and colours of Shaw's drapery program are very much in line with home furnishing trends for 2022."
Shaw's offering also reflects new pandemic-led behaviour trends, Lewis says.
"Shaw sheers are elegant designs; practical because they are washable, and in a range of colours that reflect current trends.
"Homes are currently multi-functional, busy places where practicality and appearance are important. Shaw's range of curtain fabric offers these attributes, particularly with the option to co-ordinate with roller blind fabrics in terms of colour and design."
BM BLINDS
Maggie Tieu, a sales representative for BM Blinds, says the recent neutral trend for Australian homes continues to grow.
"The stark white walls from a couple of seasons ago have been replaced with a slightly warmer tone, setting the scene for a relaxed natural environment. Serene grey and linen tones are a popular choice, with subtle self-patterns that are barely noticeable."
"We have followed this trend by introducing the versatile collections of Bayside, Quinton and Marley. These quality printed fabrics are 100% polyester, ensuring easy care, and are 100% UV Block. The wide 2700mm width makes this collection perfect for roller and panel glides."
Tieu tells WFA the Bayside range includes Pebble, Shell, Sandstone and Flint with echoes of grey and sand. Bayside has a natural looking horizontal pattern that gives a woven look.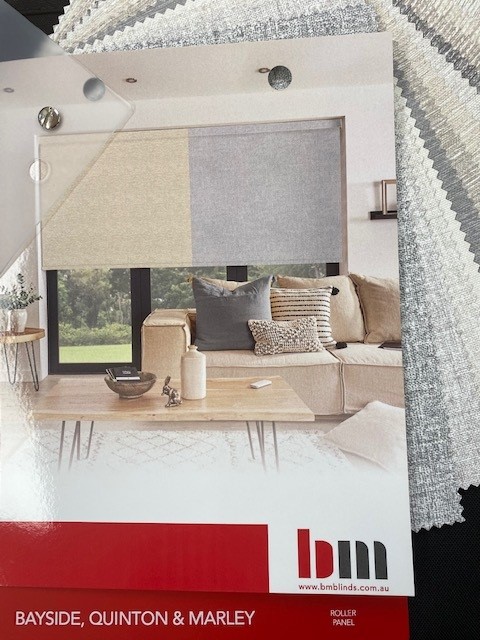 Cotton, Hemp, Marle and Flannel are the colour names for the Quinton collection.
"This collection has a printed linen pattern, giving a relaxed vibe. The look co-ordinates well with subtle or striking tones and as the pattern is multi-directional, it can be railroaded for use on wide blinds.
"The Marley range has the most unobtrusive pattern in the collection. It is barely seen and if you stand back a couple of metres, the pattern blends into its surroundings. This is perfect for a room that is already filled with various colours and textures.
"At first glance, it blends into the background. It is only when you get up close to the fabric that the pattern is revealed.
"The Marley Wool colour is a light grey whereas the remainder of the colours, Mink, Cashmere, and Angora offer warmer flax inspired tones.
BLINDWARE – CO-ORDINATION OPTIONS
Blindware's launch of a comprehensive range of fabric wrappable Cassette and Fascia profiles has "opened a whole new world of co-ordination options for interior designers and decorators," Managing Director Grant Norton tells WFA.
"No longer does the window covering have to live in isolation from the rest of the room, but the colour scheme and texture used for the blind fabric can flow and blend with the surrounding elements of the room decor.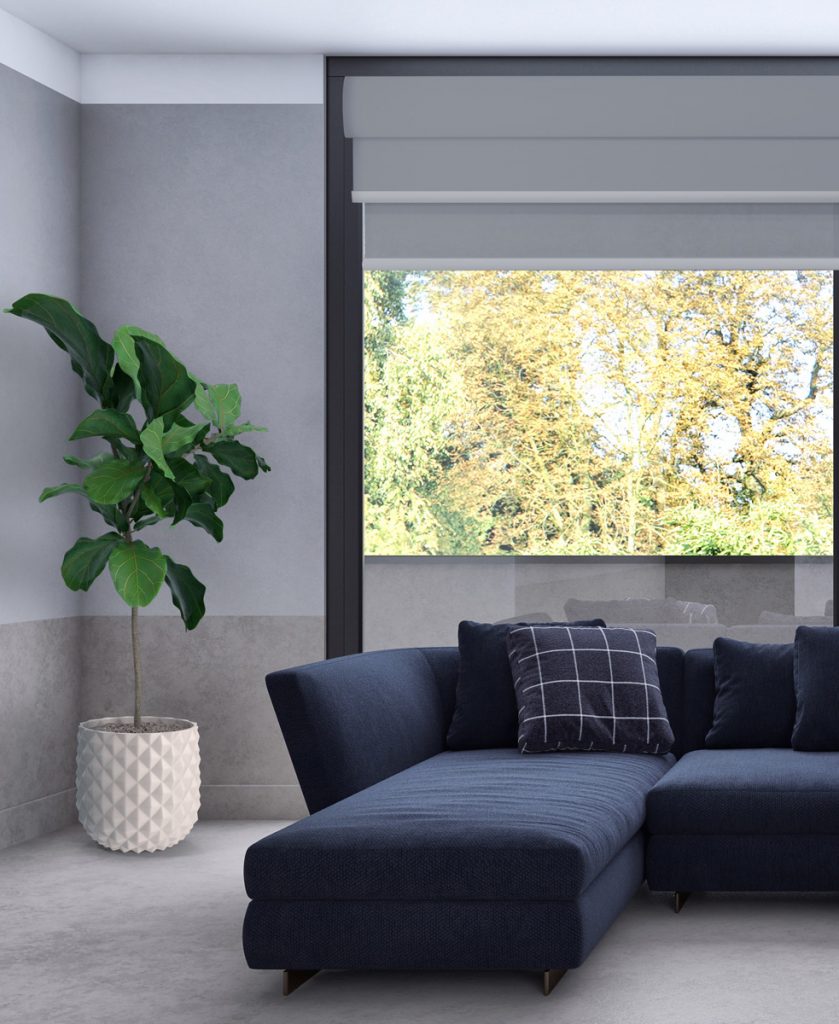 "The easily wrapped profiles use a 10mm flat spline to lock the fabric into one side of the profile, then the fabric is pulled over the front of the profile and locked into place using a simple roll-in hollow bead, just like making an insect screen."
Norton says the process is quick and easy, creating a look that is normally reserved for padded pelmets or other expensive treatments.
The profiles available for fabric wrapping include: a 100mm flat fascia; new Decora 100mm curved fascia; double fascia; C50 and C70 One-Piece cassettes and mounting rail with optional fascia