SOMFY
"With more people working from home, low interest rates and the uncertainty or anxiety around booking a holiday (plus border closures), Australians have invested their money into their homes," reveals Jodie Featherstone, Somfy Oceania's National Key Account Manager.
"On the flip side, demand continues to increase globally, which has put increased pressure on factories to produce enough motors to meet demand."
"Combined with the shortage in raw materials and chips, plus increased freight costs, meeting demand has certainly had its challenges."
With the growth in the use of technology around the home, Somfy says it has seen the impacts of voice control and home automation in the motorisation sector.
"Somfy's innovative home automation solution Connexoon Window RTS maintained its rise in popularity thanks to its convenience and compatibility with voice control assistants Google Assistant and Amazon Alexa."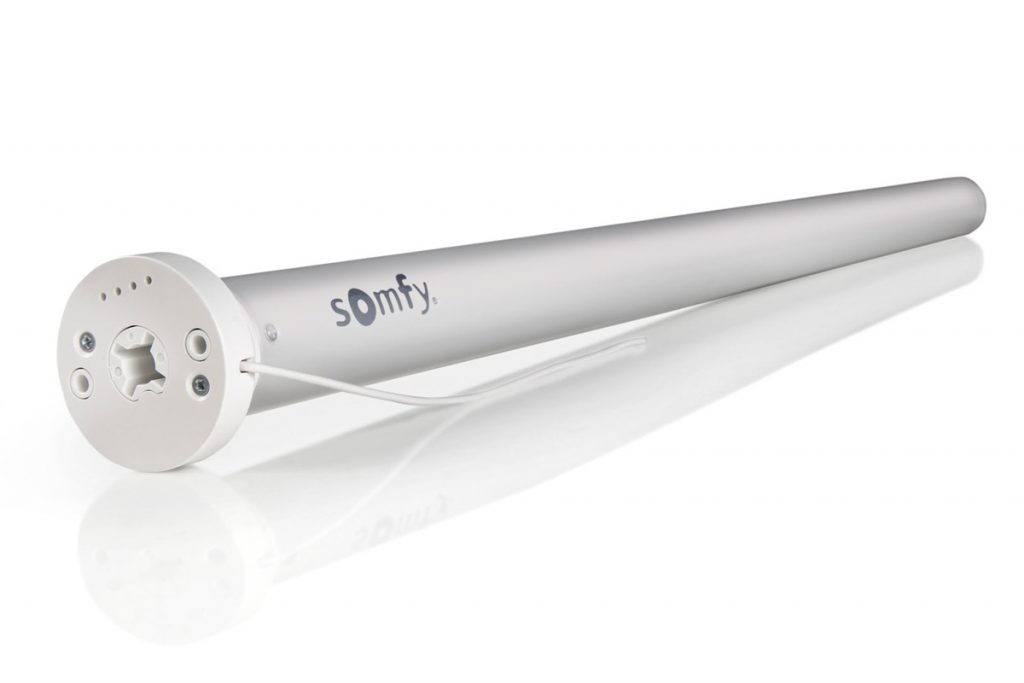 "Home automation is cheaper than it's ever been and as a result, is more popular than ever," says Featherstone.
"Google and Alexa have certainly educated the market with their clever promotions and affordable price points."
One of Somfy's biggest growing segments is their range of WireFree internal blind and curtain motors.
"Stand-alone solutions, such as battery or solar-powered motors are appreciated by end consumers as motorisation is now possible in locations where a wired installation was previously complicated or visually unappealing," said Mohamed Ourdjini, National Retail Manager for Somfy Oceania.
The wireless revolution has seen Somfy's Sonesse 30 WireFree RTS explode in popularity thanks to its ease of installation, silent operation, and superior quality.
"Sonesse 30 is certainly a hero product for us," added Featherstone.
"It's wireless so there's no electrician required, it's super quiet with a soft start and stop and it's RTS, which means it's compatible with all existing Somfy RTS controls including Connexoon Window RTS.
"It certainly is the best product you can get in the battery space."
Regarding an industry switch to completely wireless systems, Somfy sees value and space in the market for both wireless and hardwired solutions.
"It's all about giving the end user a great experience."
"Retailers are trusted advisors in a consumer's home and the product selection needs to be fit for purpose.
"240v motors can be set and forget; once the motor is installed, there is no need for maintenance for the life of the motor."
"Wirefree systems will keep growing," continued Ourdjini.
"They are reliable systems and are perfect solutions for retrofitting or providing convenience to tricky installations.
"Nevertheless, I don't see them replacing our traditional systems, especially in commercial or high residential projects."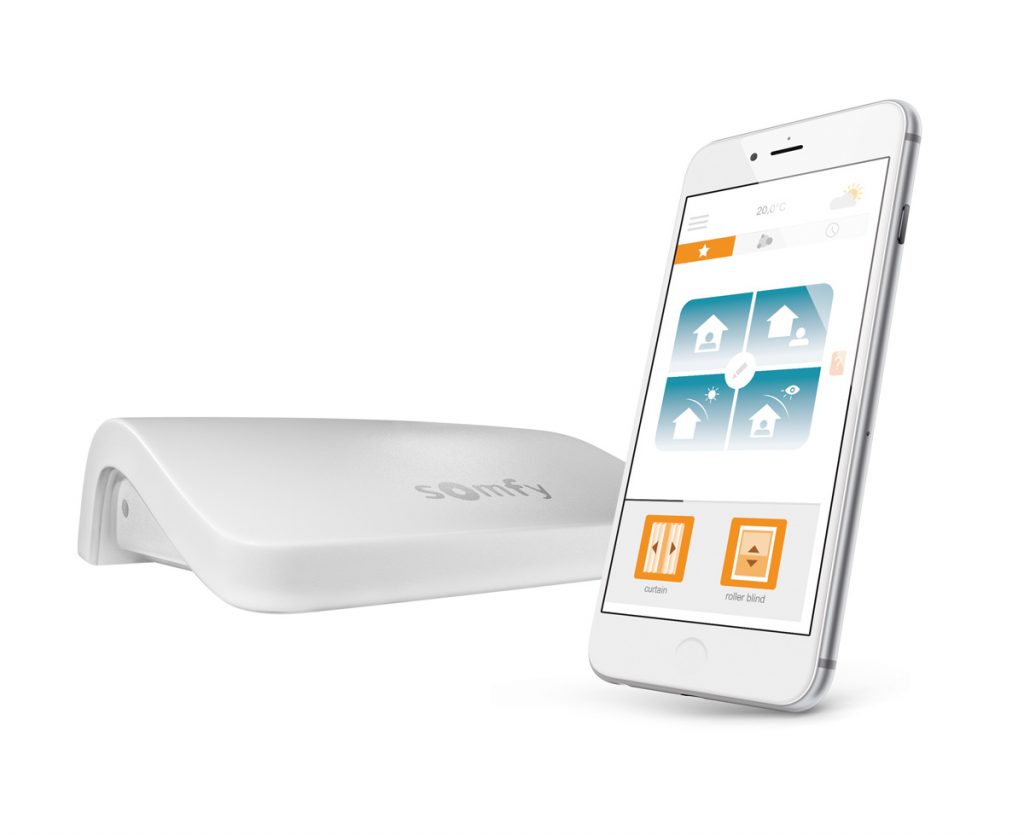 HUNTER DOUGLAS AUSTRALIA
"We've seen motorisation grow in recent years as people have spent more time at home either in a working-from-home or social setting, and have been investing in added convenience of home automation" says Vera Meharg, Marketing Communications Manager.
"With the growing popularity of smart connectivity within homes, having a system that can connect to and be controlled by smart devices has become an important checklist item when considering motorisation," says Meharg.
"The Merger Solar Motor integrates with the NeoSmart Box for controlling through your Smart Phone and Device including Google Assistant, Amazon Alexa and Siri from Apple.
Featuring the latest single cell longer-lasting battery technology, Merger delivers a solar battery solution that has been designed to be easily self-serviced without the need to remove the motor or dismantle the external awning. Engineered with a heat shield enclosure, the in-built battery is protected from extreme exposure to the Australian sun ensuring its durability for years to come.
"Wirefree systems present an excellent opportunity to enter the market with ease and minimal cost" adds Meharg.
"The Merger Solar Powered motor from Hunter Douglas offers a superior and sustainable motorisation solution for the Turnils Alpha Awning series. Designed with a slim solar panel pack, the solar powered motor combines aesthetics and intelligent features for efficient performance".
"As the motor is completely solar powered with no hardwiring of electricity required, the need for a certified electrician is eliminated."
"Flexible mounting options allow for maximum solar energy collection. For awnings positioned out of direct sunlight, extension cables are included. An LED indicator highlights if repositioning of the solar panel is required for more sunlight."
"An advanced 'fabric tensioning' feature allows for lock-down bolts or straps to be applied and the awning to be operated without causing damage to the awning."
Meharg says that the Luxaflex Motorisation range added solar motorised control for external straight drop awnings, with complete integration to the PowerView technology in early 2021.
"Homeowners can enjoy the beauty and convenience of the solar powered motorised awnings with the touch of a button, tap on a smartphone device or voice command. There are no signs of abating when it comes to motorisation and adding this to our range reinforces that."
"PowerView is our hero motorisation product, It's an innovative wireless system that controls numerous blinds such as our patented Luxaflex Softshades, roller blinds or Evo awnings in the home and works with other smart home and voice-activated systems such as Apple HomeKit technology, Amazon Alexa or the Google Assistant. The system is operated via PowerView App or via one of our stylish Pebble remotes. Simply put, it's a product that seamlessly integrates into your life and schedule making it more convenient to operate your blinds automatically."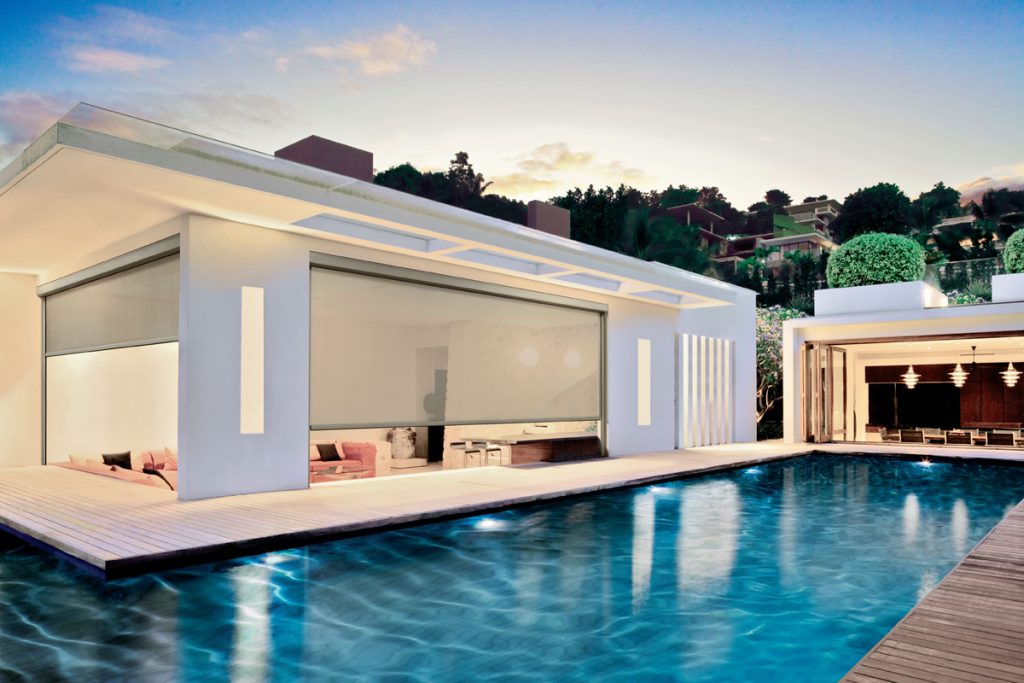 BLINDS BY PETER MEYER
Simon Meyer, Managing Director Blinds by Peter Meyer, says that the past 12 months have clearly seen an upward trend in motorisation, especially with the increased availability of wirefree battery-operated motors and home automation systems.
"Wirefree motors are particularly good when getting power to windows is not easy. With that said, some people are deterred by the effort or the risk involved for the less abled, to charge the battery when needed," Meyer says.
"As for hard-wired motors, they do have the edge in regards to quietness in operation and lifting capacity. For example, we have battery-operated internal motors that have a lifting capacity of up to 3NM, however, our wired options can lift up to 40-50NM when you have 240v connected. We predict that the battery-operated solutions will progress in the coming years and become quieter, more powerful and shorter, however, the hard-wired solutions will definitely be around for years to come."
Blinds by Peter Meyer recently released the Silent Gliss motorised roller blind SG4970 system into the Australian market. Meyer says it features virtually silent operation and programmable intermediate stops.
"It can be controlled by a mains switch or radio remote control or can be integrated with home automation systems. The Silent Gliss series 20 motor also has an obstacle detection function to prevent damage to your blinds. The series five entry-level Silent Gliss motor is perfect for the more price-conscious customer."
Meyer also says the demand for skylights and wintergarden systems continues to increase as modern architecture uses larger expanses of glass to maximise natural daylight and views in both domestic and commercial buildings.
"Silent Gliss by Peter Meyer is meeting those demands with the introduction of the motorised SG2195 Wintergarden system. The parallel fabric panels can be moved to provide an innovative and extremely elegant way of shading with a single bay system that can cover up to 3m x 6m if motorised. If you increase the number of bays, you can easily achieve greater coverage. Up to three adjacent systems can be operated by a single motor."
"We are generally seeing our motorisation of Skylight blinds being somewhere in the vicinity of 50% due to difficult access with the balance being made up of wand operation and our very popular crank solution. In regards to our Freehang blinds, Rollers and Romans, we are seeing about 30% being motorised."
"We also have a number of exterior motorisation options with wind and solar sensors that can automatically extend a sunscreen, awning, roof or blind based on a preset amount of sunlight or wind speed."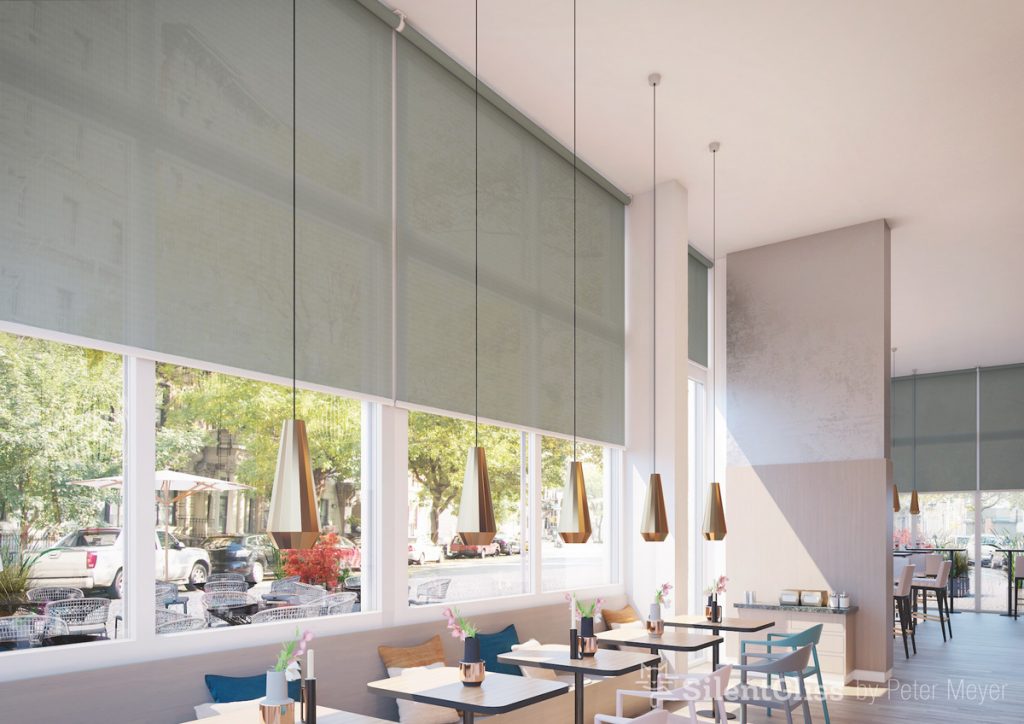 ROLLEASE ACMEDA
Rollease Acmeda has three main motorisation products they consider as their "hero products", their Zero battery motors, the Pulse 2 App and their Push series remote controls.
"The revolutionary Zero Li-ion Wire-Free series effectively hides the once visible antenna, by cradling the cable around the circumference of the slim motor head, a patent pending design by Rollease Acmeda," explains Andrew Robson, National Sales Manager, Rollease Acmeda.
"The motors have an unobtrusive motor cap, designed to cover the motor head and match the shade bracket in colour, enabling a minimal aesthetic and a completely concealed motor."
"The dimensions of the motor heads mirror those of a manual chain operated shade, so now retrofitting a motor into an existing shade is extremely simple and efficient, allowing users to upgrade their shades more easily than ever, without the need of an electrician."
"They also have 'soft close' technology. Soft close slows the motion of the shade resulting in a quiet, gliding finish at the end of the shade's movement."
Robson adds that the Zero battery motors are noticeably quieter and slimmer than other motors, have convenient 5V micro-USB charging, and can be upgraded to a solar panel for a continuous trickle charge solution you can set and forget.
"Since the launch of the Automate Pulse2 hub back in June 2019, there have been several enhancements made to guarantee an improved user experience. You have the power to control your shades to suit your individual lifestyle, by taking advantage of scenes and timers which when set up initially, can offer autonomous operation.," Robson says.
"This includes an integrated sunrise and sunset function, which can detect your exact geographic location and use this data to automatically open your shades at sunrise and close them at sunset. This advanced technology aids our daily routines by providing autonomous shading movement with no human intervention."
"If you have a large living space with several shades all at different ideal favourite positions, you can quickly capture all devices and save this scene, available for you to use at any time.
"For example, a large downstairs living area can comprise of up to 10 or more shades all facing different directions and therefore positioned at different heights to offer the optimal level of privacy and light control your home requires. The Automate Pulse 2 App can quickly convert this into a scene for use on any required day, bringing new light to favourite positioning."
Over the years Robson says Rollease Acmeda has grown the number of smart home integrations available via the Pulse 2 hub to include Control 4, Savant, Elan, AMX, HomeSeer, URC, Crestron, RTI and Lutron.
"To support installers to set up and trouble-shoot these integrations, we designed the Pulse 2 Linq tool. This allows the installer greater flexibility to test the hub and motors prior to connecting with your preferred third-party home automate solution."
"We are seeing that 60-70% of shade activations are triggered by voice commands. If you prefer to use Siri, there is no need to set up, as the Siri integration is built into the Pulse2 app. The advantage of apple HomeKit integration means you can control the shades using either an iPhone, iPad or apple watch, eliminating the need to purchase a voice-assisted device if you did not already have one.
Robson says the Automate series now features Push 5 and 15 remote control options featuring a cutting-edge design which is modern, simple and functional.
"The latest Push15's durable and modern exterior, has been enhanced to include an advanced metal backing, which has added significant weight and substance to this remote when being held."
"Activated with a simple double tap of the stop button, you can move individual or a group of shades to a precise desired position using the visual aid levelling bar functionality. The levelling bar and other features can be viewed via a large LCD screen with improved viewing angles, displaying channel and group selections for quick and easy reference."
"While featuring 15 individual channels, Push15 also offers and additional five dedicated group channels to pair rooms, block-outs, light filtering, or alfresco shades together onto one channel."
Based in Melbourne, Australia, the Rollease Acmeda Innovation and Design Centre is home to state-of-the-art testing machinery and over 25 dedicated engineers, designers and technicians, all focused on delivering market-leading window furnishing solutions according to Andrew Kendrick – Lead Engineer (Automate).
"We expanded our team to include a number of software developers solely focused on the automation program to ensure we continually innovate and stay at the forefront of smart technology," he says.
"In addition, the team added firmware and project engineering roles to the Automate group, further expanding the in-house design and project management capability."
"The Automate Push series remotes and the Zero Li-ion wirefree motors were designed in house by our team of experts."
"The design process sees us cover consumer needs and compliance requirements to meet stringent US, EU and Australian safety standards."
"We have heavily invested in our Innovation and Design Centre with the purchasing of state-of-the-art test equipment which has further expanded our capability. A full suite of power supply and radio frequency testing is now at our fingertips within our Melbourne design house," Kendrick adds.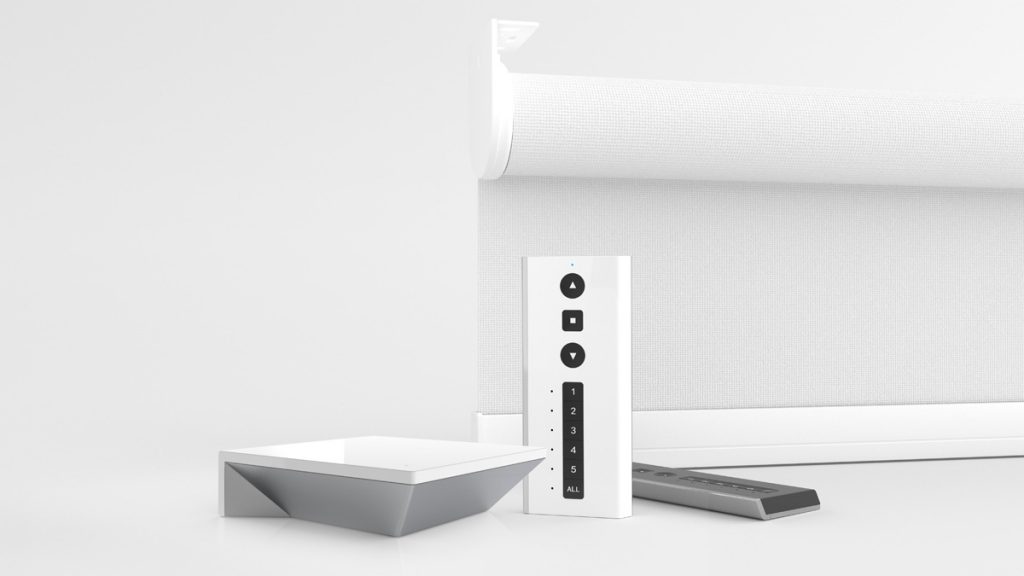 BLINDWARE
Grant Norton, Managing Director of Blindware says that the company's motorisation sales have continued to grow strongly over the past 12 months, as they have over the past five years.
"There is no doubt the accessibility of motorisation through reduced wholesale and retail pricing, plus the addition of key features such as Hubs and smart apps has assisted to grow consumer interest and demand," Norton says.
"There is little doubt that consumers are loving the accessibility of voice control and home automation technology. Acquisition cost for this level of technology has probably dropped 90% from just a few years ago, which is driving a huge spike in consumer interest and consumer demand. We are seeing even the smallest installs now adding a Hub and integrating to Google, Alexa or other voice control platforms."
Blindware's major releases over the past 12 months have mainly related to DC motorisation including a range of DC curtain motors.
"The ability for consumers to buy and install motorised roller blinds and curtains without the added cost burden of an electrician has been key to drive exponential growth for this product category."
"We have also added a small range of exterior motors, i.e. 45mm 240V AC electronic limit motors, in 20Nm and 50Nm sizes, which we will further develop over the next few months. There has been strong demand from our customers for us to extend our offering to include 45mm motors."
Norton says that Blindware's motorisation growth has been assisted by the launch of its 28mm DC motor.
"Since we introduced it, we have seen perhaps a doubling of total number of motors sold, while AC motor sales have remained flat for the same period, surprisingly without any signs of volume drop."
"The Motolux 28mm DC motor offers many great advantages for the user, including same deductions as chain operated systems and the benefit that a single motor has enough torque to lift almost any size interior roller blind. Plus, no electrician is required for the installation."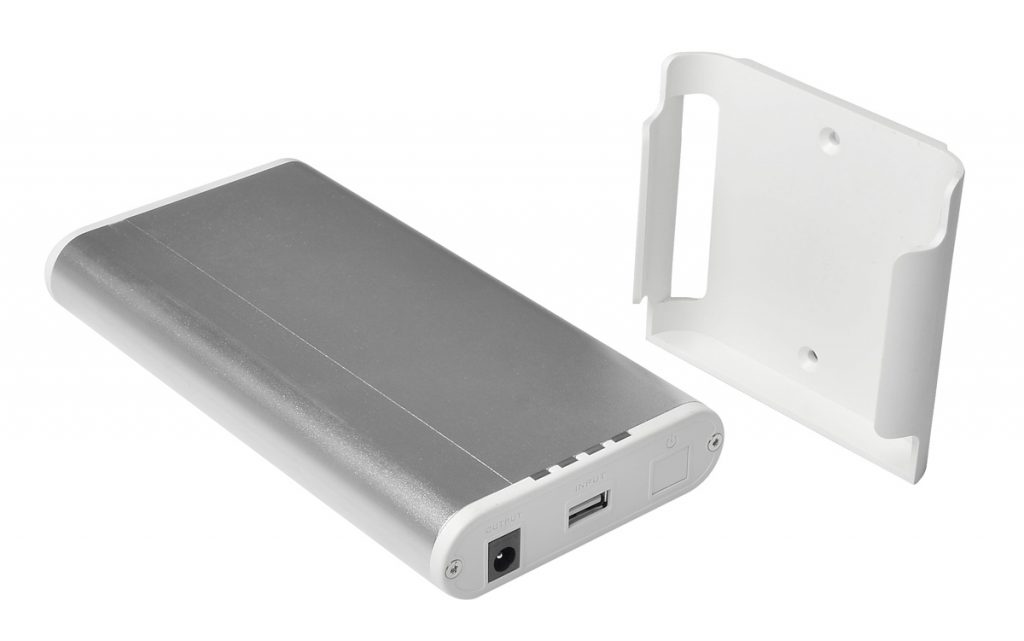 "We have also introduced a range of DC curtain motors to complement our 240V curtain motor program. Like tubular motors, sales growth has been very strong with solid support for this program. The battery life is exceptional and the battery operated motor can work with any size track that can be built using an AC motor. Motors can be installed in duplex configuration and work with our UFO Hub for voice control and integration into Home Automation."
Norton says that despite the growth in DC motors, he doesn't see AC disappearing anytime soon.
"I feel there will be very strong further switch to wirefree as the next generation of quiet DC motors start to hit the market."
"From what I have seen, manufacturers can produce DC motors with noise levels much less than AC motors, i.e. noise levels that can be barely heard during operation."
"The cost is reasonable and I am sure this added benefit will drive further switching to DC. However, the need to recharge batteries and overall higher maintenance required for DC motors will probably see their volumes capped, maybe reaching 70-80% market share for residential installs."
"There will always be a place for hard-wired AC motors, especially in new builds where the cost of cabling is much less than retro-fit. There is currently little sign that commercial projects will broadly adopt DC motor technology, mainly because of the battery maintenance issues."
Norton says that retailers should be wary of wirefree battery life and recharge frequency.
"The bigger the blind, the more often you will need to recharge the battery. In some cases, getting access to the motor head to recharge is difficult, such as for the elderly and infirm."
"In many premium homes these days, ceiling heights are 3000mm and blinds are installed into concealed pockets even higher up, making access difficult even for able bodied people. In the end, the product must be matched to the customer. Many times, DC wirefree will be a great option, but not every time."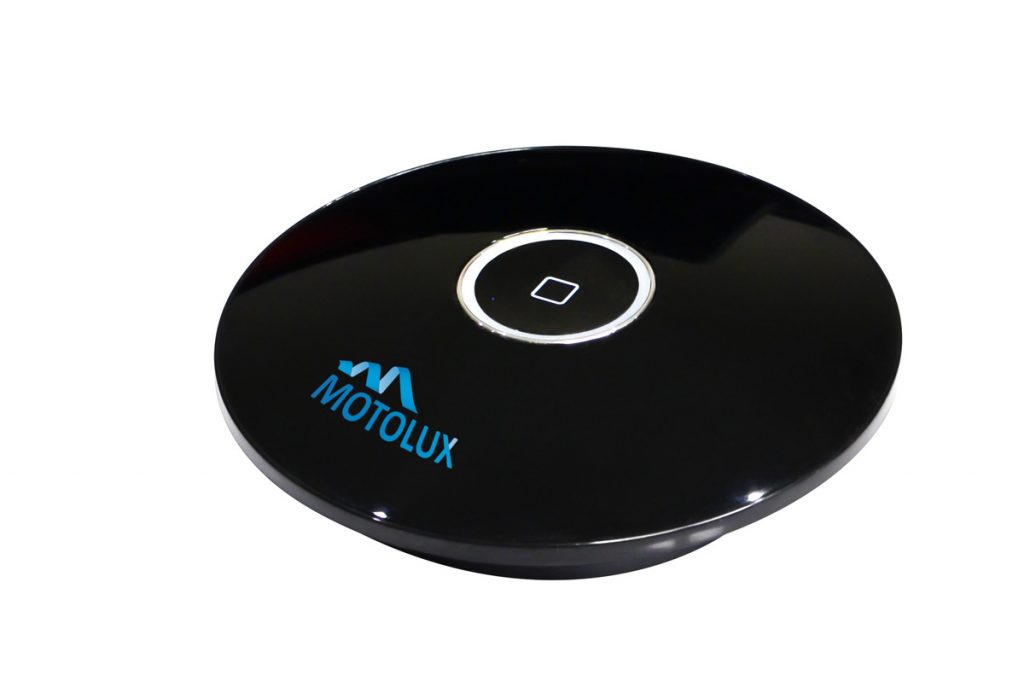 A-OK AUSTRALIA
Peter Monkhouse, Managing Director of ICL SA and A-OK Australia tells WFA that leading into Christmas and upon return A-OK Australia has experienced unprecedented demand for its motors, particularly in the exterior blinds and roller shutter markets.
"Unfortunately, like many other industries in Australia we are being affected by increased production times, slower shipping and rapidly rising costs," Monkhouse says.
"To minimise interruptions to our customers and backed up by our belief and forecast in the future of motorisation market our stock holdings are growing exponentially."
"Through our website there is an increasing number of enquiries for Smart Home systems and the adaptability or suitability of the A-OK products to work with the various system, but we are not getting the same interest in the rechargeable battery powered systems that can be charged using an appropriate A-OK Solar Panel."
Monkhouse says anecdotal evidence suggests this is because the homeowner, if already environmentally conscious, have a full rooftop solar panel array and recharge their motors through the household power outlets.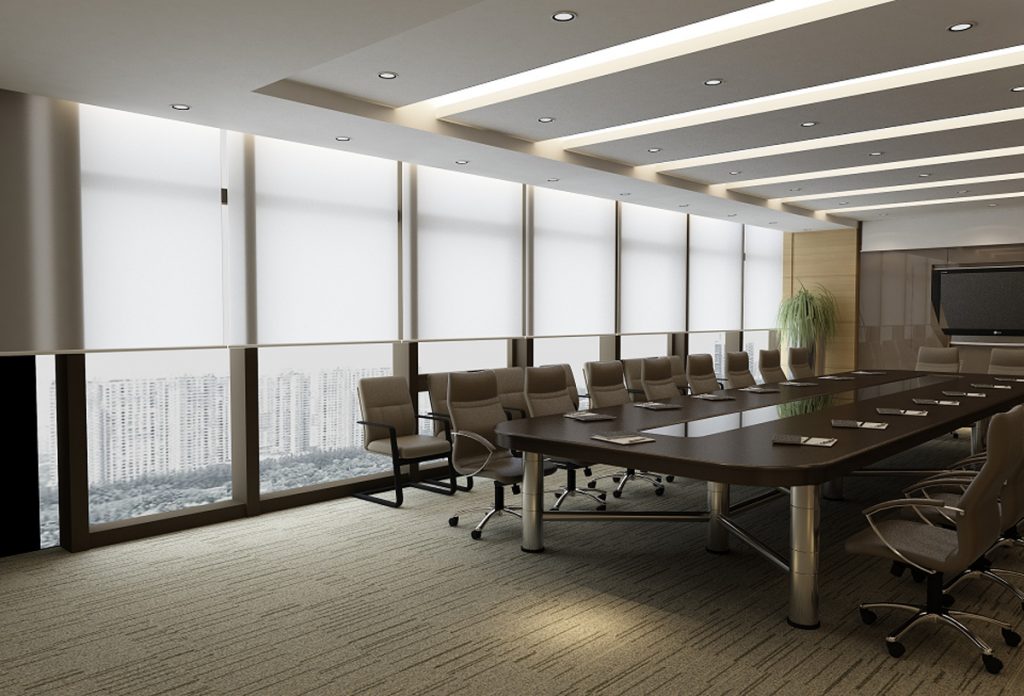 "The additional reluctance can be attributed to the issues of having multiple small solar panels located around the home and how best to position them to get effective sun exposure time. We have been witness to many examples of solar powered roller shutters mounted under the eaves and the batteries gradually running flat due to inadequate exposure to the sun."
Monkhouse says that Amazon Alex, HomeKit, Google Home, Phillips Hue and Z Wave are just some of the big brands now in the driving the move to making both homes and commercial premises 'Smart' and that the industry is on notice.
"This development will need retailers, fabricator's and installers to review how they work with their products because the end user will now want all the bells and whistles."
"Gone are the days when we could blithely believe 'my customers wouldn't pay for that'. They already have the large screen smart TV, the smart refrigerator, smart sound system, smart security so the industry will need to cater for this."
"At the same time there is going to be some pitfalls that are not insurmountable but will need to be worked with. Before it was a stuck runner or a creased fabric that created a service call, but now it will be, 'I need help to reprogram, or I have forgotten my password, or the limits have gone'."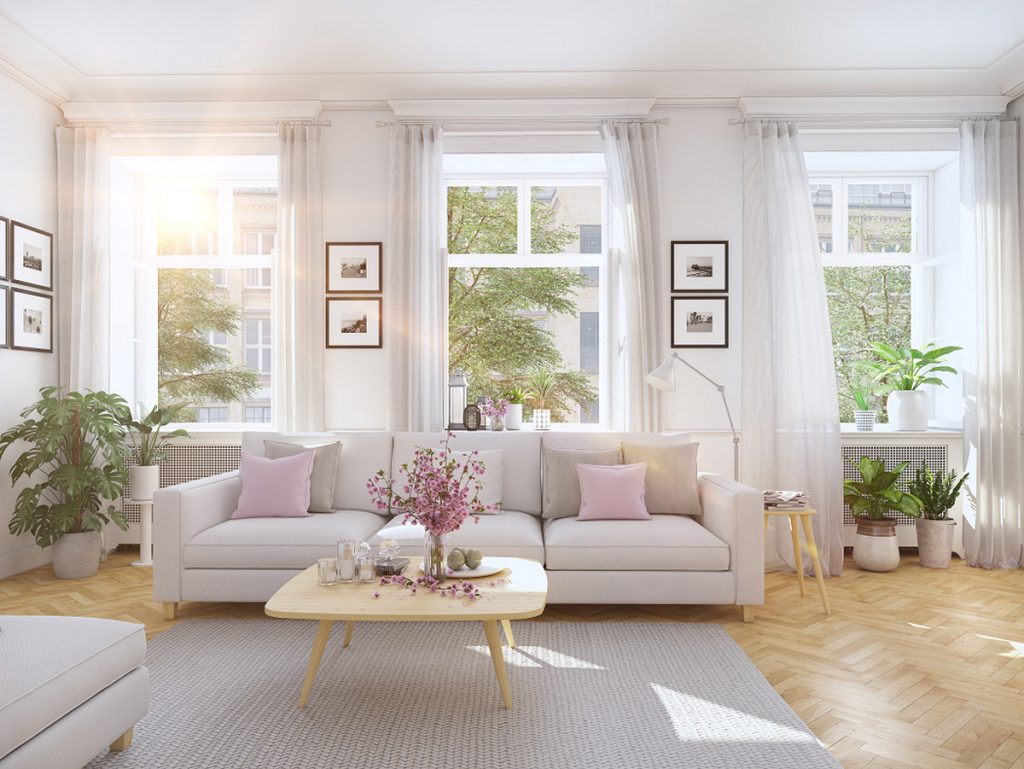 ESR BLINDS
Once a niche market, motorised venetians have really grown in popularity in the past few years thanks to technology and cost improvements.
Michael Shaw, Director ESR Blinds says that the company has been known as the cedar blind specialist since 1987, but over the last five years, ESR has also become known as the motorised cedar blind specialist.
"With a firm focus on quality and using Somfy motors and controllers, we can motorise your cedar venetian blind," Shaw says.
"You can tilt and lift the blind all using a remote control. The unique toggle function on the remote means you can tilt the slats to either capture the light or close them for privacy."
"Motorising a cedar venetian blind requires pinpoint accuracy and at ESR Blinds, we have a dedicated motorised cedar blind specialist. Our specialist has a keen eye for detail and understands the intricate workings of the system and only settles for perfection."
ESR's Plantation Western Red Cedar venetians come in 46 and 60mm slat widths with the choice of finishes including oiled, lacquered, standard paint.
"Or we can custom paint to any specific paint colour whatsoever, we have our own dedicated spray paint booth, especially modified to be able to cater to any paint, stain or wash finish that you desire," Shaw adds.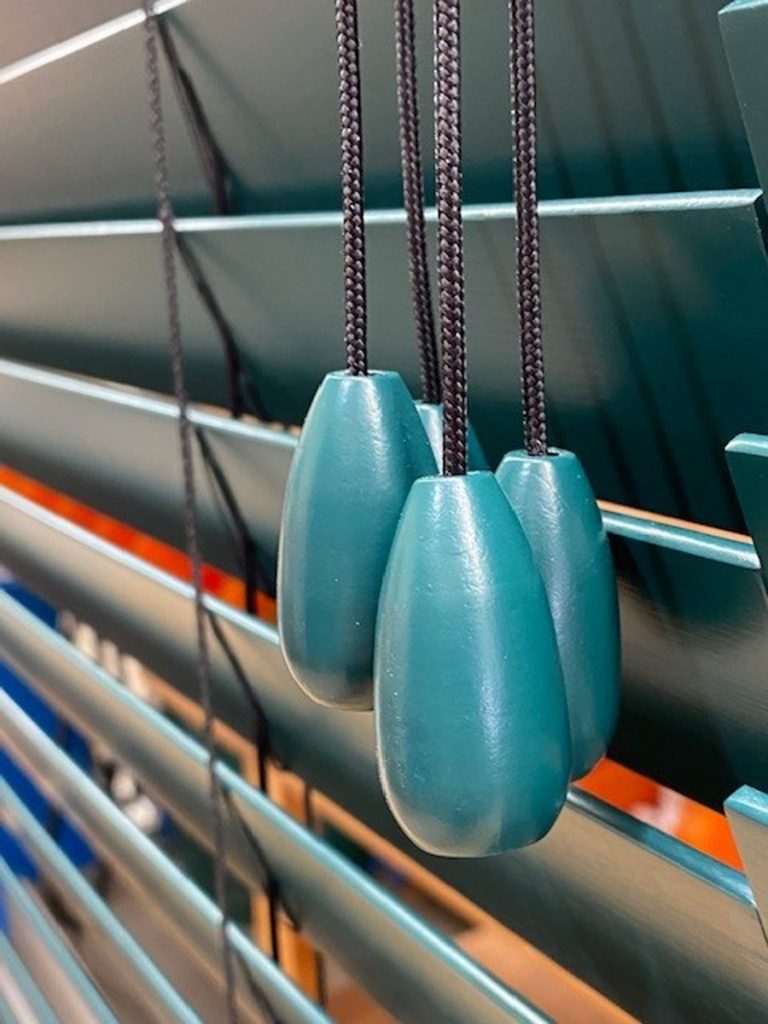 NORMAN SHUTTERS
Norman Shutters also confirms that motorised shutters are going from strength to strength.
"The motorisation of window coverings has been a big thing for a few years now and our products have been well received and quickly adopted by our customers," says Peter Boyle – Product Development Manager at Norman Shutters.
"Our G4 PerfectTilt boasts the title of one of the best motorisation options available. Not only can you motorise every shutter in your home, you can also control them all at the same time."
"This time saving feature makes it an easy upsell but more importantly, builds in immediate value for the customer."
Peter says that a major focus for Norman is continual improvement.
"We are always monitoring performance of all our products but in particular our motorisation to ensure it's the best it can possibly be."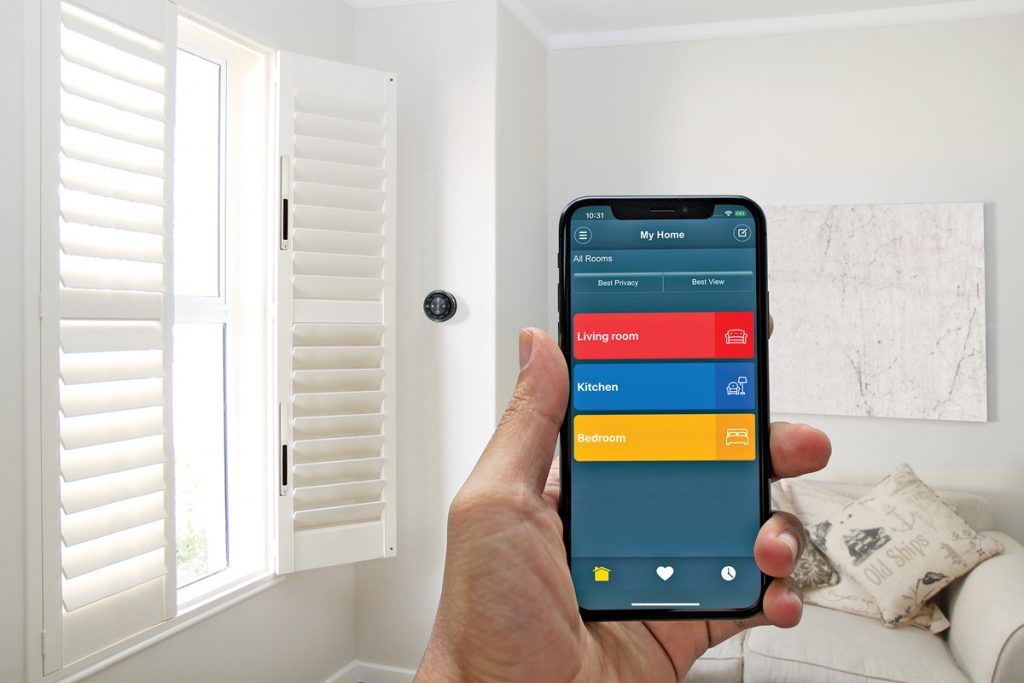 "A few neat features we added this year was a security mode function. This allows you to easily enable an option that will open and close the louvers of your shutters at differing times of the day and evening to give the impression someone is at home."
"We also included a 'showtime' function which can really show off your Norman motorised shutters be it in a showroom setting or even in your own home."
Peter lists the many benefits of Norman's hero motorisation product – G4 PerfectTilt.
"With an integrated, high-quality, li-Ion battery system, and an efficient solar panel, these motors go many months without needing charge from another power source. Better yet, these features are included as standard, so there is no additional cost to the customer."
"The G4 PerfectTilt motor is operated by our SmartDial remote control which allows for easy and precise control of louver position and comes pre-programmed from our factory. When access to the SmartDial remote is inconvenient, customers can operate the louvers by hand without damaging the system and with the additional safety feature of detecting obstructions, your little one's hands are safe as the tension is released upon recognition."
"Additionally, you can have the simplicity of using your phone to control every motorised shutter in your home. This option allows you to easily check battery levels of each motor and also set timers for when your shutters open and close! Get the benefit of air flow during the night and set the timer to close the louvers before the sun comes up."
"The motor module comes colour matched to the shutter to blend in, and the motor operation is extremely quiet so not to disrupt you during its manoeuvre. Finally, the G4 PerfectTilt is available across multiple shutter programs, so it's not limited to one product type. It's even able to be used in our speciality shaped shutters."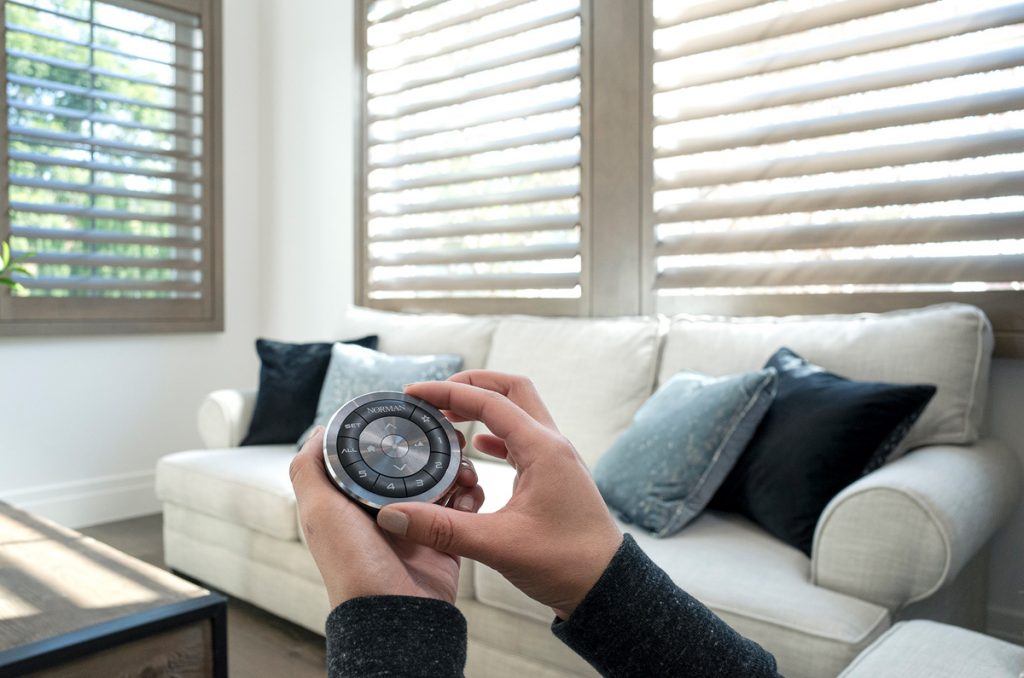 LOUVOLITE
It was the release of their One touch programme back in 2015, that Louvolite says brought motorisation within reach of the typical consumer. At this time, they were new kids on the block and the steps they took were simple ones.
"The UK operation was first of the block and we used our team of engineers and blind technicians to monitor performance and deal with customer queries, Louvolite were learning all the time and communicating with partners to initiate improvements," says David Kennedy
Technical Sales Manager for Louvolite.
"That said in no time at all Louvolite operations outside the UK were demanding the programme – and when Australia asks Louvolite try to listen."
"Our first motor being the 1100 series motor, was a super motor easy to program and very reliable. Coupled with the additions of the magic wand motors this allowed Louvolite to offer great products at great prices which they encouraged manufacturers to pass on to their consumers, thereby creating a whole new audience for motorised shades."
Louvolite followed this with progression to their 1200 and 1800 series, these later motors Kennedy says are better equipped to handle larger blinds and heavier fabrics.
"The introduction of these new motors has allowed Louvolite to satisfy many of the questions Louvolite customers had been asking whilst retaining all of the great features of the 1100 series."
The new motors are quieter at only 30db, they have a soft start and soft stop facility.
"Another major advantage, that is often over looked, is that you can retro fit either of the motors in to our system, as all the deductions are the same."
"As we know time doesn't stand still and products evolve to satisfy demands – known and sometimes unknown."
Kennedy says Louvolite's 1200 and 1800 series Lithium motors have received updates to enable a variety of bracketing systems to integrate and operate with the motor.
"This is, of course, in addition to the motors being fully integrated with Louvolite's own system 40, 40 Heavy Duty and 45mm programmes. The combination of this along with the additional new crown and drive wheels for 38, 43 & 49mm roller tube makes the Louvolite systems more attractive to companies which have yet to enjoy the benefits of the Louvolite One Touch Program."
"The addition of the Louvolite One Touch Hub for home automation certainly adds to fact that the time of the 'Smart Home' way of thinking is really here, there really is a growing demand for easier and smarter ways to operate window furnishings.
"This is reflected in significantly increased use of Louvolite's One Touch Hub with more and more consumers and businesses wanting automation of operation or to set a scene to open and close with either sunrise or sunset or at specific times of the day."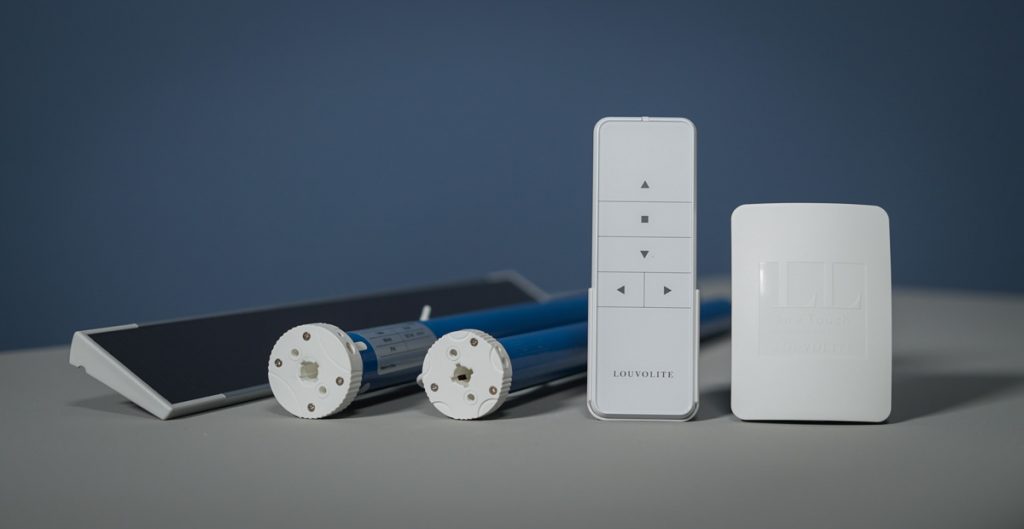 RICKY RICHARDS
Ricky Richards' type 0 tensile structure fabric Bochini is a waterproof PVC that has a weldable PVDF lacquer finish on both sides. Including four colours inspired by Colorbond and supported by a 10-year warranty, Ricky Richards describes Bochini fabric as a tailored choice for motorised retractable roofing systems.
With fire retardant results that support both Australian and European standards, it is of no surprise that this textile has quickly gained market position within the awning industry, according to Darren Best, National Sales Manager – Textiles at Ricky.
"Bochini is ideal for motorised and solar controlled retractable roofing systems as well as lightweight tensile structures, marquees and tents. This product really fits in to both textiles divisions at Ricky, so we have all the sales team behind it," he says.
Available in 11 colours, with four inspired by Colorbond, there is an option to suit every theme at any location. "Not only supported by a 10-year warranty, which gives our customers confidence in the product." Best says "Bochini is available in three-metre-wide rolls, a block out version and is very low maintenance once installed."
"Like other sun control products offered by Ricky, a percentage of sales from Bochini is donated to Melanoma Institute Australia (MIA). These funds support vital research and helps MIA reach their goal of zero deaths from melanoma."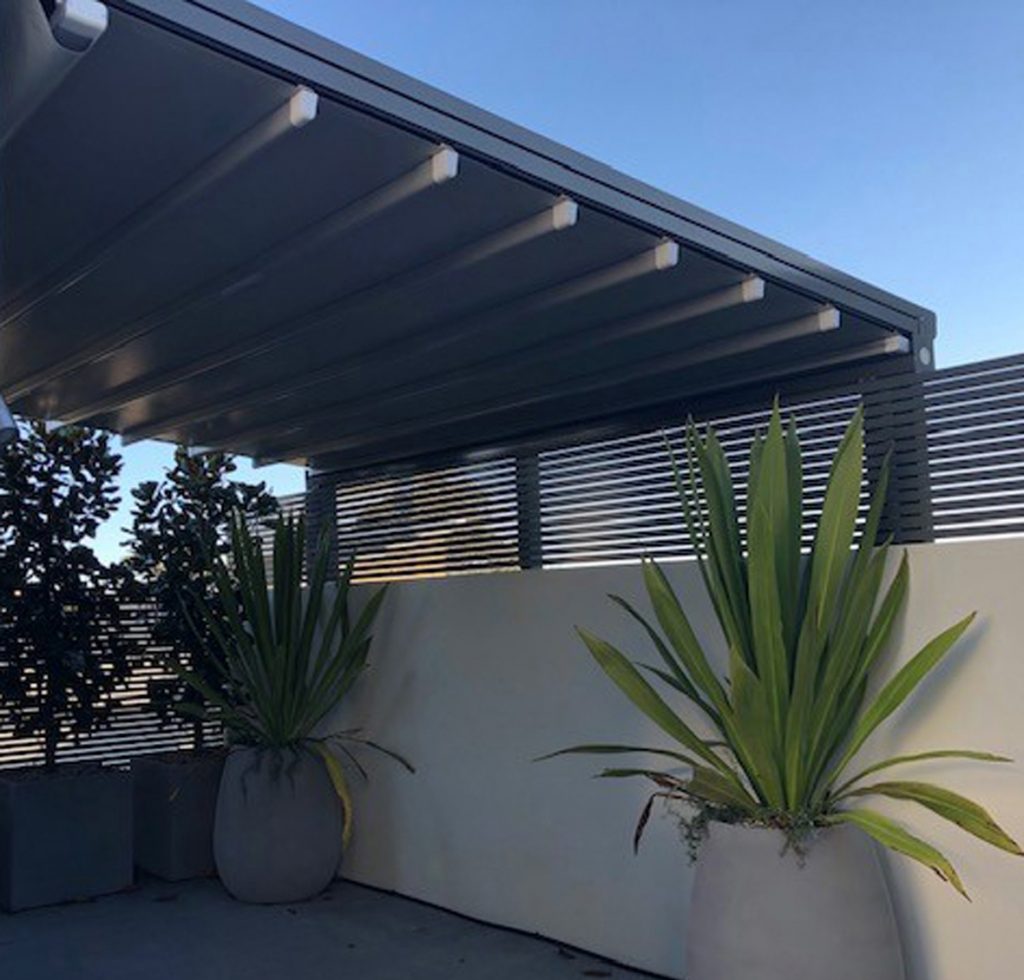 COULISSE
Rogier Krabbe, Managing Director Asia Pacific – Coulisse, tells WFA the smart home trend has been energised over the past year.
"At Coulisse, we are experiencing a strong increase in the global demand for motorisation. MotionBlinds, our smart technology concept for window coverings, is among our fastest growing product groups.
"We see the smart home trend reshaping the blinds industry. The global smart home market is expected to triple towards 2025. Nearly one-third of all households will be smart to some extent within a few years. This offers enormous potential for our industry.
"Window coverings make a fundamental contribution to smart homes. After all, a smart home without smart blinds is not perfectly smart. Blinds regulate the incoming natural daylight and sunlight. No other device in the home can do this.
"As a result, smart blinds contribute to energy savings, safety, and comfort, which are the major growth segments in the smart home market and for consumers, the main drivers for investing in their smart homes.
Coulisse predicts 2022 will be the year of the "definitive smart home breakthrough."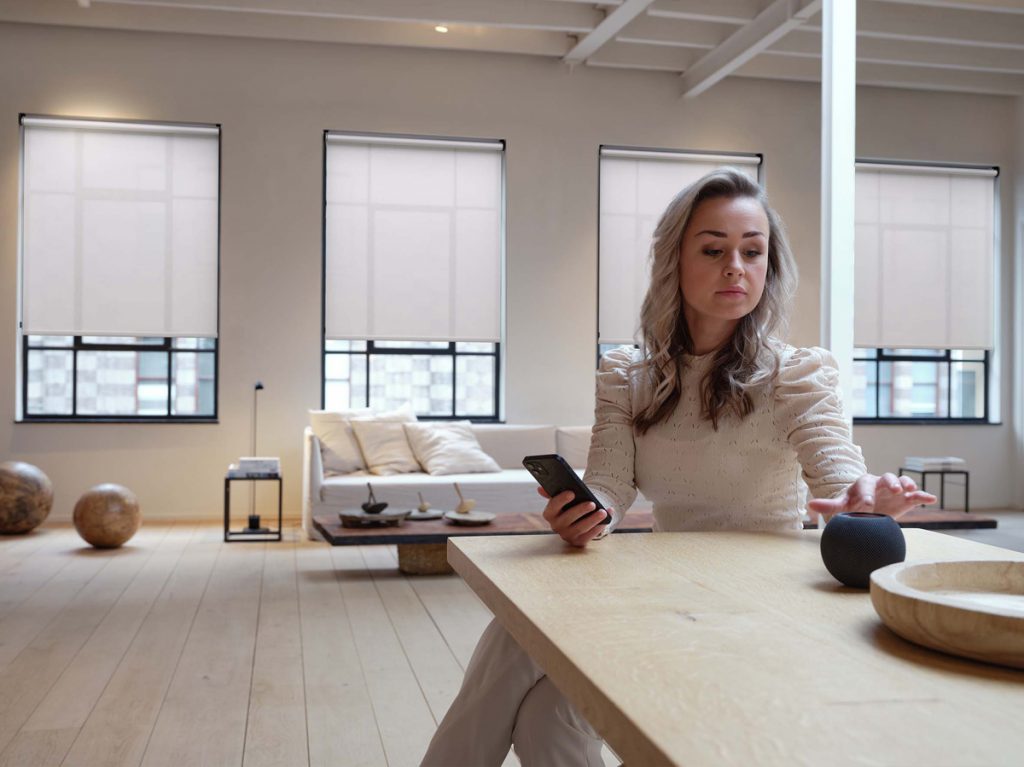 "We expect the share of motorisation in the market for made-to-measure window coverings to rise to 20 percent within five years. Therefore, we are fully committed to motorisation with the development of future-oriented innovations."
"With our MotionBlinds smart technology, we expect to be more than a year and a half ahead of the market," he says.
Part of MotionBlinds is Eve MotionBlinds, a series of battery powered motors with Apple HomeKit technology, created in collaboration with smart home specialist Eve Systems from Munich (Germany), a leader in the development of accessories for the Apple HomeKit ecosystem. Eve MotionBlinds was launched at the CES electronics show in Las Vegas in January.
"Our smart window covering motor received overwhelming attention from international tech media and influencers, in addition to the 'Best of CES' award from leading tech blogs How-To Geek and iMore, reaching an audience of millions. Eve MotionBlinds was especially praised by the media for its simplicity, innovative technology and data privacy.
"Eve MotionBlinds work with Apple HomeKit directly from the iPhone, without the need for a proprietary bridge, registration, or any cloud dependency. Simply scan the HomeKit setup code hanging on the blind with your iPhone, and the blind will join the HomeKit ecosystem automatically, making them part of the smart home. That is what we call 'smart in a minute'."
The first Eve MotionBlinds motor for roller blinds is available now. Eve MotionBlinds motors for Venetian blinds, honeycomb shades and curtains will follow later this year.
Coulisse has also recently expanded the MotionBlinds range with a series of battery powered Bluetooth motors for all types and sizes of window coverings (roller, double roller, roman, honeycomb, pleated, venetian, vertical and curtain).
"The new MotionBlinds Bluetooth motors are cable-free to install, rechargeable with a USB-C cable, and therefore very easy to add to the home."
Thanks to their support for Bluetooth, the motors can be set up in a minute by smartphone by scanning the setup code using the MotionBlinds Bluetooth app.
This does not require any additional remote control, bridge or registration. Once set up, the blinds can be controlled by smartphone within Bluetooth range (about 10 metres) and put on autopilot with pre-set timers, which are saved directly into the motor from the app. The timers make the blinds automatically move to the desired positions at scheduled times.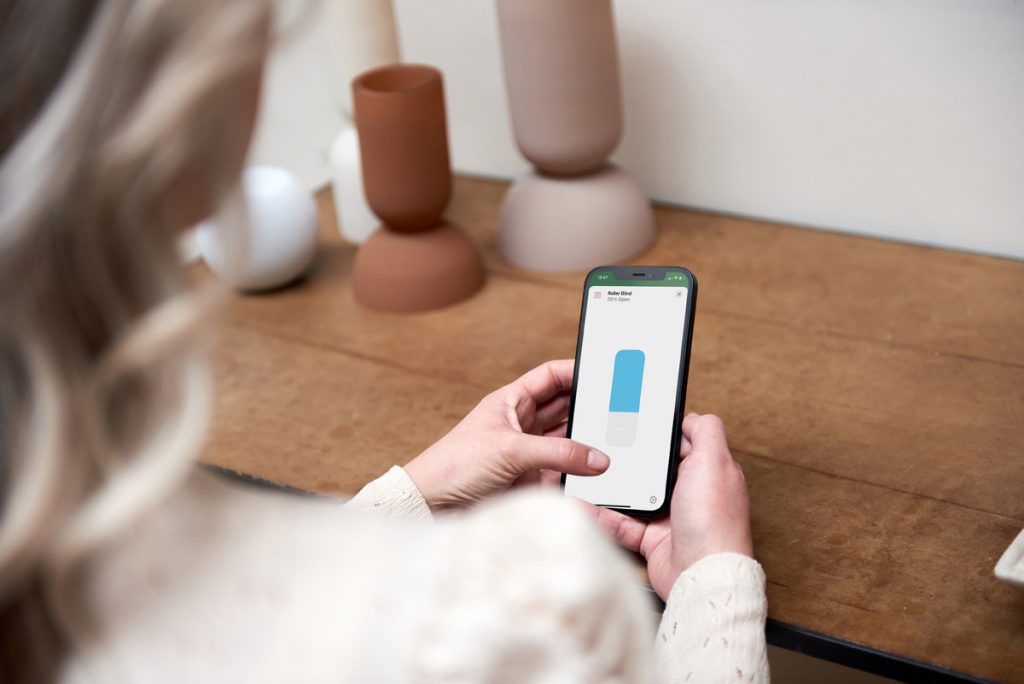 Controlling MotionBlinds away from home by smartphone as well as integration with smart home systems such as Google, Alexa, and SmartThings requires installation of the MotionBlinds Wi-Fi bridge.
Overall, Krabbe says Coulisse motorisation's key point of difference is simple, user friendly operation.
"Motorised blinds have never really made it to the masses because solutions were too complex, too expensive or difficult to integrate into smart homes. MotionBlinds technology is changing that. In fact, our future-proof Eve MotionBlinds motors today already feature the smart home technology of tomorrow. As the first in the market, Eve Motionblinds motors work with the Thread protocol, designed specifically for smart home solutions, drastically simplifying installation, automation and control of motorized blinds."
"Any lay person can program and control the motor in a snap from an app and connect it to other smart home devices in the home, such as smart lighting, thermostats, and cameras. All without the need for a proprietary bridge, registration, or any cloud dependency. Data is not stored in the cloud, but securely locally on the motor, safeguarding user privacy."
"What's more, Eve MotionBlinds will support Matter, the upcoming smart home standard developed by Apple, Google, Amazon, Samsung, among others. Matter finally delivers full interoperability of smart home devices. It makes devices work with each other, no matter which smart home system is being used. Once Matter is being rolled out, expected to be in the course of this year, Eve MotionBlinds will not only support Apple HomeKit, but also Alexa, Google, SmartThings, and others, without the need for a bridge."
"One of the reasons people stay away from installing smart home technology is that they find installation, setup and use complex. Making the devices plug-and-play, allowing them to be easily added to the home without any technical knowledge, is a very important condition for adoption by the masses."
"Wireless battery motors greatly increase the ease-of-use of motorised blinds. And therefore, the accessibility and the adoption of smart window coverings. This is the same way that things recently have developed with smart light bulbs, for example."
"What's more, batteries are becoming more durable and smart home networks more energy efficient. This makes that our MotionBlinds battery motors need to be recharged only once or twice a year on average, depending on use and size of the blinds. Eve MotionBlinds motors double down on this, being part of the extremely low power Thread smart home network. They are super energy-efficient, which is a key benefit for homeowners."
"Nevertheless, there will always be a demand for hard-wired window coverings as well, not only in buildings, but also in the residential market. Therefore, our MotionBlinds range also includes wired motors for all product groups."
"For retailers, there are a number of factors to consider in product selection. More and more consumers want to integrate motorised window coverings into their smart homes. Connectivity with leading smart home systems is therefore a first key requirement." Krabbe says.
"Then there are major differences between wireless window covering solutions. Not only between the type of batteries being used, single-use or rechargeable, but especially in the way motors and batteries are – or are not – integrated into the systems. This has a major impact on ease of installation and use."
"With many years of experience in creating total solutions for the window covering industry, Coulisse is developing its smart MotionBlinds technology from a system approach. Our motors and batteries are designed to integrate seamlessly with hardware systems. This provides ultimate convenience when assembling, installing, and operating window coverings powered by MotionBlinds. From this approach, MotionBlinds motors are designed to be very easy to charge by end users."
"Then there is manual pull control in addition to all smart control options, a unique feature that characterises the simplicity of MotionBlinds motors. A simple manual pull on the wand, cord or chain makes the blinds automatically move to their pre-set positions. Pull operation is a valuable add-on to smart control options because it requires nothing: no connectivity, no smartphone, no remote control."
"Furthermore, it is important that technology meets the latest industry standards. Not just the batteries themselves, for example, but also its charging technology. MotionBlinds motors are USB-C rechargeable. USB-C is becoming the global standard for device charging. It has specific technical benefits. And for users, this means that they can charge numerous devices with one and the same cable. So, USB-C is a future-proof choice."
"Another example is the LED light on the motors which lights up red when the battery is about to run out of power and needs to be recharged. This is very convenient and user friendly. And it prevents unnecessary questions from end users who would otherwise not recognize that the battery is empty when their blinds stop working and possibly think something is wrong with their window coverings."
"Besides this, the actual battery status of the motors can also be seen in the app. This is possible because MotionBlinds works with a two-way communication protocol. The motor and the app send feedback to each other."