THE SHANN GROUP
Blockout internal blinds continue to be a strong category for The Shann Group, says National Product Manager Melissa Vine who notes the company has maintained its point of difference in an increasingly saturated market.
"With a plethora of choice available in the market, choosing established brands supported by dedicated sales teams and offering quality product that is available nationally is critical."
Shann's Castille fabric, along with the Australian made Laurent, are the flagship products in group's internal block out offering.
"The subtle texture of Castille provides a warmth and richness that are really driving its popularity with our customers.
"The stunning colour range features Ghost and Battleship, which play on the on-trend grey and neutral palette while also giving customers a product they will love for its beauty and its functionality."
"Castille's blockout properties and PVC free construction assist in the creation of a healthy home or work environment, maintaining pleasant lighting conditions, natural temperature levels, and non-toxic materials in the fabric."
The range features 12 colours that are increasingly being teamed with N-Vision mesh or sheer blinds "to take advantage of the ambient conditions, offering dynamic shading on windows of all sizes."
Also offering these product advantages is the recently launched Australian made Laurent fabric.
"Laurent is a contemporary interior blind fabric, ideal for distinguished window treatments. The spectacular variegated colours in the beautiful jacquard weave of Laurent make this fabric ideal for all block out blind applications and the brilliant colour range is manufactured right here in Australia.
WILSON FABRICS
"We are excited to announce the release of our new Australian Made wide width blockout drapery ranges – Ayers, Palm Cove and Hayman," Peta Fitzgibbon, General Manager – Sales & Marketing, tells WFA.
"In addition to our new collections, we have also just re-launched two favourites – Broome and Boston – in wide width. The response to the wide width has been extremely positive and we are thrilled to have made the switch."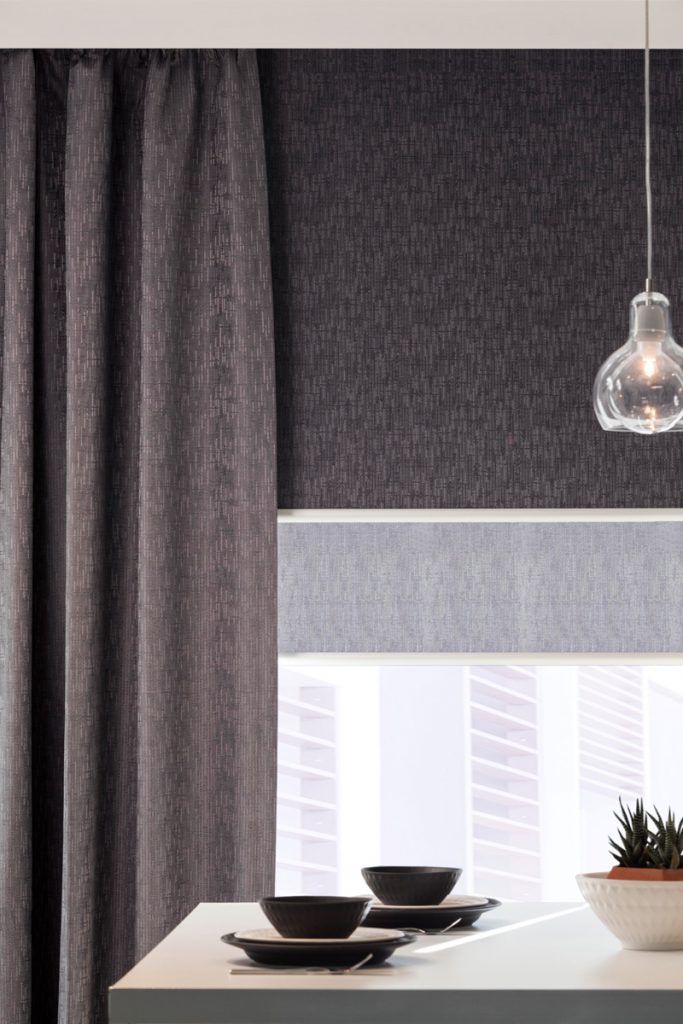 Our new blockout drapery collections represent our same core features; Australian Made, Premium Pitch Black, UPF50+ and PVC & Lead Free, all qualities our customers have come to rely on and expect.
Fitzgibbon notes the shift towards blockout drapery paired with either sheer blinds or sheer curtains continues apace.
"Wilson Fabrics is in a unique position that we are able to offer the complete window solution with coordinating blind, drapery and sheers all proudly made at our very own mill in Wangaratta, Victoria."
RICKY RICHARDS
Outlook Mode Zero by Ricky Richards is a mesh with a zero per cent openness and cannot be seen through from either side. This is not to be confused with internal fabrics that offer full block out from the light; the mesh creates complete privacy by providing a visual block when used in any external blind or awning."
"Mode Zero is a part of the Outlook mesh Collection which has been sold exclusively in Australia by the company for 20 years.
"With Mode Zero there are three other mesh fabrics in the Outlook range and each one offers a different percentage of openness: 1%, 5% and 12%. While all have the same high quality features, the openness sets the options apart."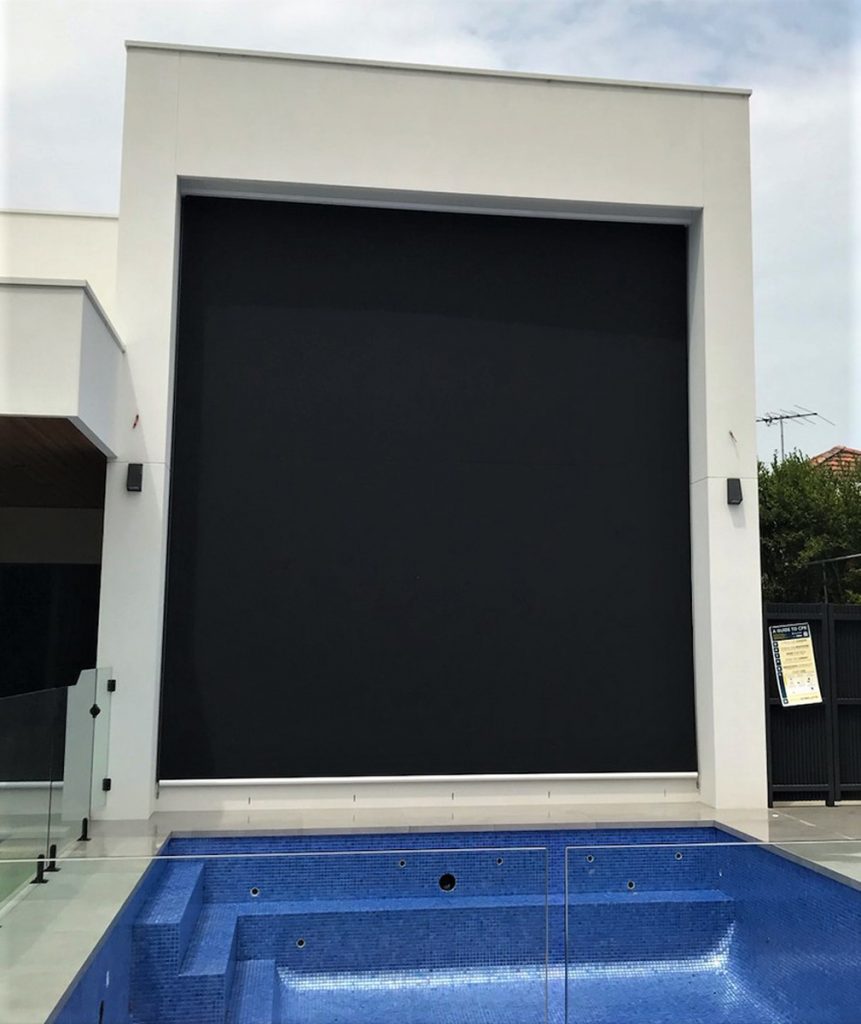 "Like all mesh fabrics in the Outlook Collection, Mode Zero is a cleaner mesh option that contributes to making this world a better place for our children. With 98% of the plasticisers used in this fabric being derived from non-fossil fuel feed stock, it means around one litre of petroleum is saved each time you use Outlook mesh for a blind of approximately ten square metres."
Mode Zero colours include a selection inspired by Colorbond which means end-users can match any existing outdoor theme and is supported by a full 10-year warranty.
SCOTT FREE (AUST)
Scott Free's Australian fabric collection is growing in response to market demand, says Andrew Fry, Scott Free (Aust) BDM NSW & Victoria.
"We have developed a progressive roll out of ranges that are Australian made. Traditionally due to market forces, Australian made fabrics have been in the upper pricing categories, maintaining a high quality and a different feel and look.
"The response from the market so far has been outstanding, with a real willingness to promote high end fabrics and the acceptance and demand from the end user for these fabrics. We have embarked on developing our own fabric collection and our Australian designed fabrics are a prominent part of the development of this area at Scott Free."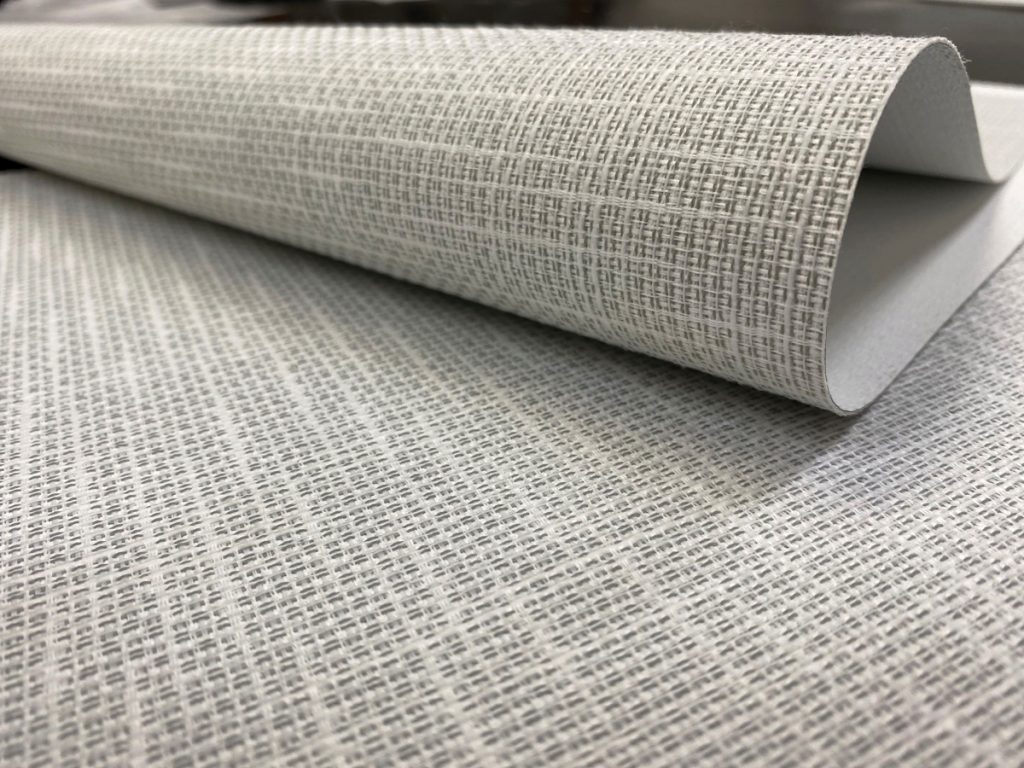 Mondah is described as a "striking lineal woven design that creates sensory openness in interior spaces."
"Mondah offers a contrasting solution with is design, subtle but attractive colour choices, allowing a soothing effect with its tones across window furnishings."
Meanwhile Delungra offers a soft and supply blockout fabric with a broadened colour offering. "The choice of Delungra's fabric and colour palette captures the softened look window furnishings are developing, adding warmth and humanity to an interior space."
Another fabric, Tideline offers a "unique textural design that creates the feel and look of open spaces, of our land meeting the sea. A vista of the ocean, a view of open plains, Tideline complements a wide variety of window styles."
NORMAN
Norman has made new releases in its internal blockout fabric range, says Peter Boyle, Product Development Manager.
The Garden range has added six new modern colours, while the new Summerland Block Out range boast three new colours, with Sterling an on-trend grey colour. The textured fabrics offer a 90% Polyester / 10% Linen mix for softness.
Peter tells WFA the Soluna range offers a unique selling point in the form of refit kits comprising new fabric, designed packs supplied with high-quality sample bags and instructions.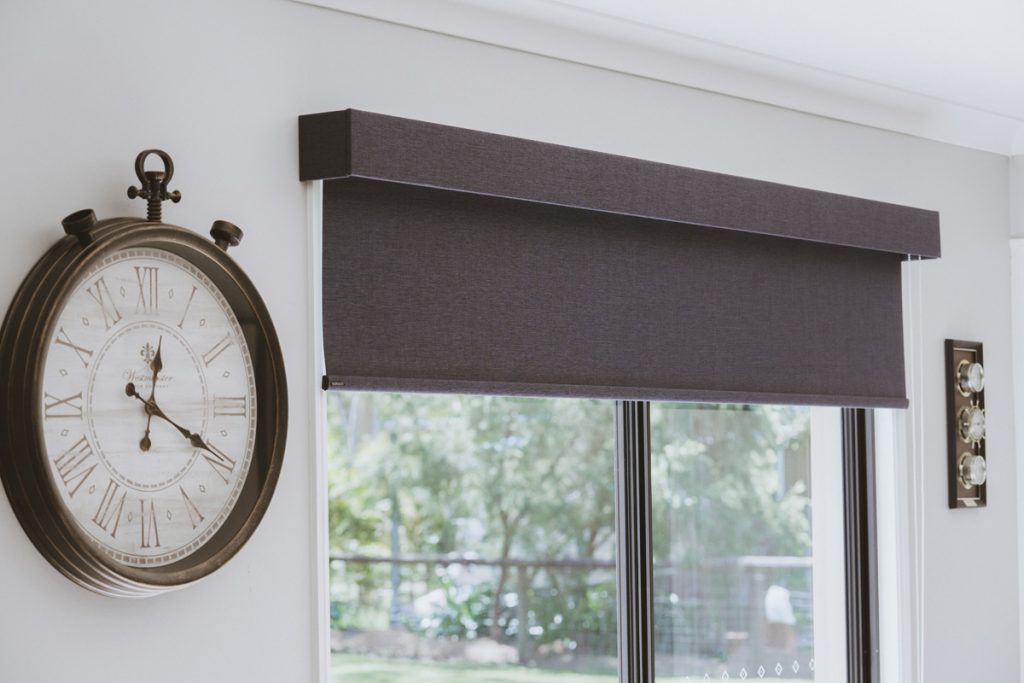 "Overall Soluna is designed to offer a roller shade that can be high-end with numerous options or a simple roller blind."
"The current market for blinds is saturated – so many retailers and dealers sell blinds, but that is where our unique selling points offer great strength. Shades and blinds, in general, have been very strong during the pandemic, especially for those with a great product range, and our Norman retail partners are reaping the additional benefits."
Peter also notes the growing trend for blockout or room darkening fabrics to be paired with Norman's 100% Polyester Screen range. Consumers are increasingly aware of harmful PVC materials and cheap fabrics. "People want a point of difference and they're dropping their focus on price in place of maximising value," he says.
TEXSTYLE
Texstyle's Balmoral Collection comprises matching light filtering and blockout fabrics.
Available in over 10 countries, Balmoral is fully stocked in five Texstyle warehouses across Australia and New Zealand – Melbourne, Adelaide, Perth, Gold Coast and Auckland.
Said to be one of the leading blackout collections in the US market, Balmoral features a "timeless design with a premium textured woven finish."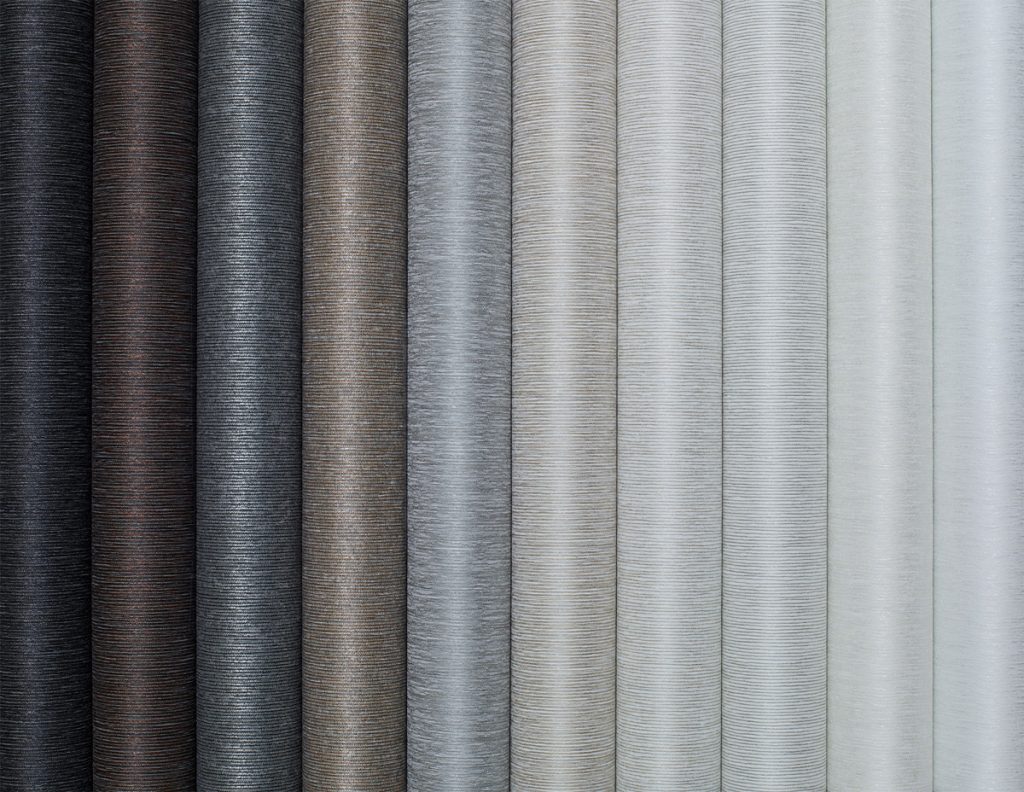 It has a modern colour palette of "13 perfectly matched light filtering and blockout fabrics" ensuring that customers can achieve the privacy levels needed in any location or application. The fabric collection is also eco-friendly and PVC free.
Mark Cuddy, General Manager of Texstyle, outlines the fabric collection's other points of difference. "Balmoral can be produced to international FR standards so is suitable for both residential and commercial applications.
"So many fabric designs are subtle variations of other collections already available in the market. Balmoral is unique and original in every sense and has raised the bar in terms of quality with its premium shading solution aesthetic."
Balmoral is intentionally bringing something new to the market, he adds.
"In many areas, we are seeing a lack of innovation and a saturation of low-cost blockout fabrics entering the market. Texstyle strives to produce fabrics with a focus on innovation, assisting our clients in moving away from purchase decisions based on pricing alone."
This offering is particularly relevant given that blockout fabrics have seen an uplift in demand during the pandemic, says Cuddy.
"Work focus is shifting with more hours being spent at home. The requirement for light control continues to increase and we have seen notable growth across our blockout ranges."
SHAW
Shaw's latest release is Chatsworth; targeted at the residential market, it is described as "an elegant jacquard design with a slight sheen finish" supported by a white foamed acrylic backing.
"The carefully developed blackout foamed acrylic backing handles well on the manufacturing table and gives great performance as a finished blind, whether Roller or Roman blind," Sarah Harris, Marketing Manager tells WFA.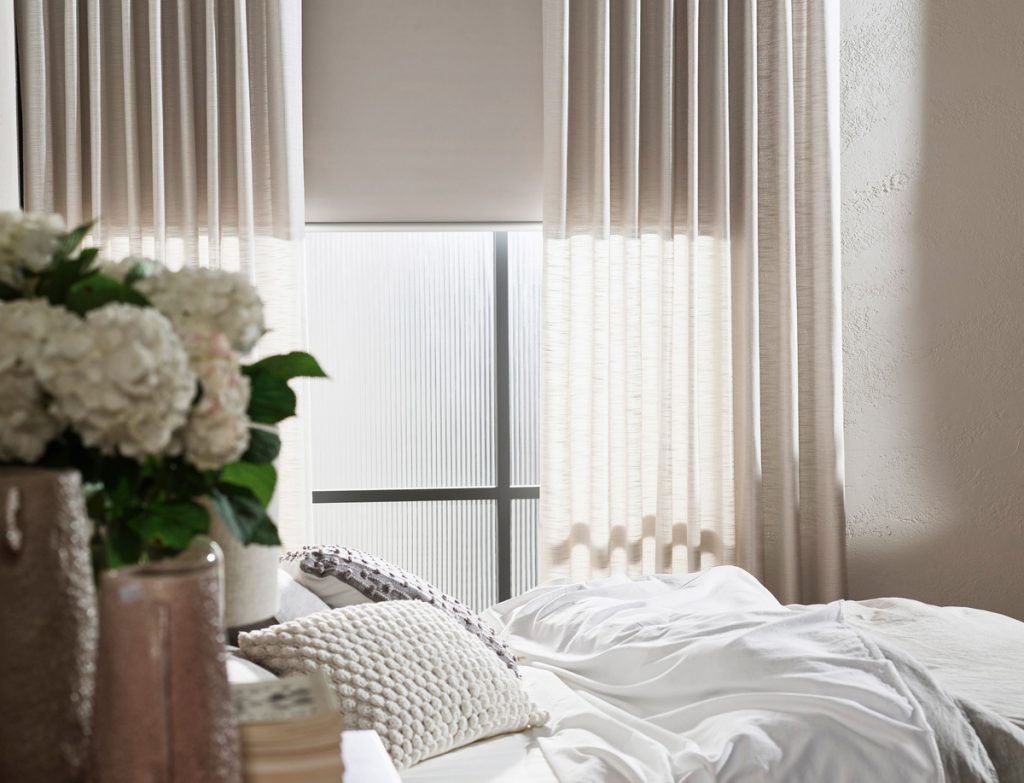 "This fabric's colour palette was curated to reflect the trends of 2022, and beyond. There is warmth in the neutrals, which move away from cool greys, and in the mid-tones there are clay and terracotta undertones, which became prominent in the post-Covid period. The darker shades include a warm charcoal and intense royal blue, giving a striking window finish as an accent or part of a monochrome interior scheme.
Harris adds that Shaw has developed Icon FR as an offering primarily for the commercial market, which presents specifiers with a 3200mm flame retardant fabric.
"This PVC free blackout fabric has an acrylic backing in white and charcoal option, in three of the 12 colours in the range, making it easier to co-ordinate with façade colours or comply with strata requirements.
"The colour range co-ordinates with Shaw's Sheerweave 4500, a 5% 2×2 basketweave screen, manufactured with Ecolibrium, it is also 3200mm wide and has the same FR attributes, so presents an opportunity for a dual roller blind installation."
All Shaw's fabrics are Greenguard and Greenguard Gold accredited, so safe for installation is areas of sensitivity, like healthcare environments; and Shaw's blackout fabrics are PVC free and lead free.
"At Shaw we continue to build our core blackout fabric range in response to discussion with our customers, and forecasting future interior trends, domestic and international."
"Each additional range has a different attribute to differentiate from existing ranges. We look forward to presenting new ranges at SuperExpo23," says Harris.
Harris describes the overall market for blackout fabrics as buoyant, and one that remains at the core of Australasian roller blind programs.
"Shaw has responded to customer requests by adding drapery fabrics which co-ordinate with Palm Beach and Linesque fabrics, allowing retailers to create a layered look in the same colour. All colours are replicated across both the blackout and drapery qualities."
"Traditional dual blinds remain popular in the commercial market, where a screen and block out pairing provide solar control demanded by modern architects and builders from an environmental and ergonomic perspective."