RICKY RICHARDS
Ricky Richards is announcing the release of a new range in line with the rebranding of the Docril Garden range. "Bliss fabrics have been designed by Citel, the manufacturers of the hugely popular awning fabric, Docril. Currently the Bliss range is being sold in the Australian market by Ricky Richards as Docril Garden, but at the beginning of this year Citel made a worldwide decision to relaunch the Docril Garden range as Bliss."
"After more than a century in the home decor textile industry, Citel wanted to create a range that not only demonstrated their technical know-how regarding 100% solution-dyed acrylic fabrics, but also expressed their philosophy of life. The result was the inception of Bliss. The purpose of Bliss is to provide fabrics for other professionals who are looking to embody their own refined products. Bliss fabrics will allow customers to design creative and unique outdoor living spaces."
"The team at Ricky are very excited to present this new and exclusive range to the market over the coming months."
"During the last two years Ricky has been very fortunate to have tried and tested Bliss in the Australian market as Docril Garden, which has created demand for fabrics such as those you'll find in the Bliss range." Says Darren Best, Ricky Richards National Sales Manager of Textiles.
Curtain fabric Albis is a highlight of the Bliss range, due to its elegant texture, he says. "Albis is suitable to make light outdoor curtains or sheers in open spaces, such as pergolas, bungalows, garden gazebos, or Balinese beds. It combines the highest technical features with the fineness, feel and quality of linen."
The Bliss collection of fabrics is positioned for outdoor upholstery such as lounges, cushions, day beds and curtains. With an extensive range of colours, textures and patterns, Bliss fabrics are 100% solution dyed acrylic, which ensures long lasting colour. The entire range is supported by a 5-year warranty.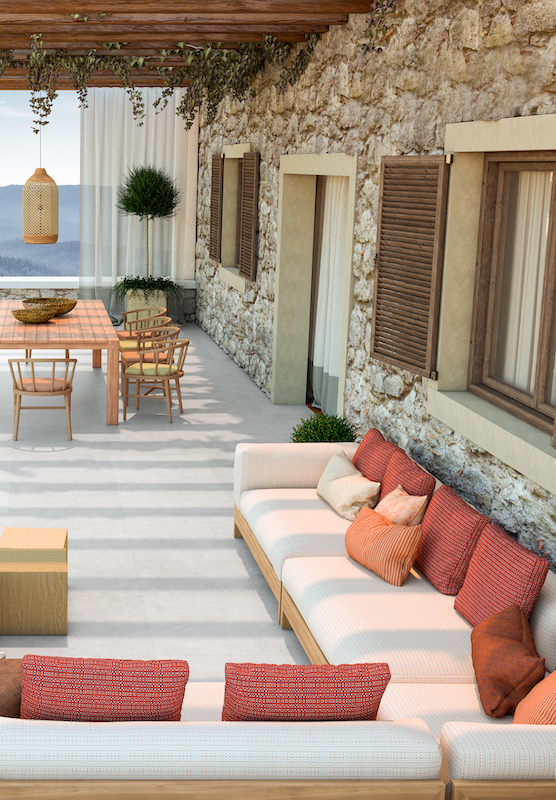 LUXAFLEX
"With the warmer weather settling in, it's important to keep the home cool but also create substantial savings on electricity bills. 87% of a home's heat gain occurs through uncovered windows and awnings can offer a sustainable solution and enhance the performance of existing windows. It is ideal for providing air flow control and sun protection for enjoyable entertaining while maintaining your home's internal temperature. Luxaflex Spectra Sunscreen has been introduced to the Luxaflex Window Fashions range. Spectra Sunscreen has a premium fibreglass range across its external fabric collection, perfect for those after a little luxe in their lifestyle."
"Unpredictable climates throughout the year mean it's important to factor in both strength and stability with external awnings. Australia is renowned for its extreme weather conditions, meaning outdoor fabrics need to withstand the heat and sun, whilst also fending off the rain and wind. The combination of superior quality coatings, Enduris Glass Core Technology and innovative weaving techniques, make the all-new Luxaflex Spectra Sunscreen unparalleled in strength and durability."
"The use of a quality awning screen, such as Luxaflex Spectra Sunscreen along with the Luxaflex Evo MagnaTrack Awning, can eliminate up to 95% of solar heat penetration, making it ideal for improving a home's sustainability and energy consumption. The Luxaflex Spectra Sunscreen is exceptionally fade resistant, inherently flame resistant, rot resilient and offers excellent UV protection from the harsh Australian sun for years to come."
"Aesthetically pleasing and suited to every home, Luxaflex Spectra Sunscreen features a sophisticated twill weave with subtle elegant diagonal patterns, and is available in a range of contemporary colours. For a stylish look, homeowners can opt for a melange mixed colour weave to make the home unique."
"With its unique production process and the inherent characteristics of fibreglass fabrics, Luxaflex Spectra Sunscreen hangs beautifully straight and unrolls smooth and flat even after being left up for an extended amount of time."
"As homeowners move towards sustainable products to lessen their contribution towards global warming, we acknowledge the need for natural and renewable mineral elements for the Luxaflex fabric range. As such, Luxaflex Spectra Sunscreen is recyclable, making it the best choice for your home and the environment."
"In time for the warmer months, we are introducing a new colour for the Evo MagnaTrack Awning – Nocturnal, as inspired by the Colorbond colour Monument . The Luxaflex Evo MagnaTrack Awning is an innovative straight drop awning designed to provide comfort and style to the home. Distinctive to the market, it harnesses the power of Rare Earth Neodymium Magnets within the side channels to hold the fabric in place, providing a smooth flat finish with unparalleled strength allowing it to be left down in windy conditions and suitable for summer."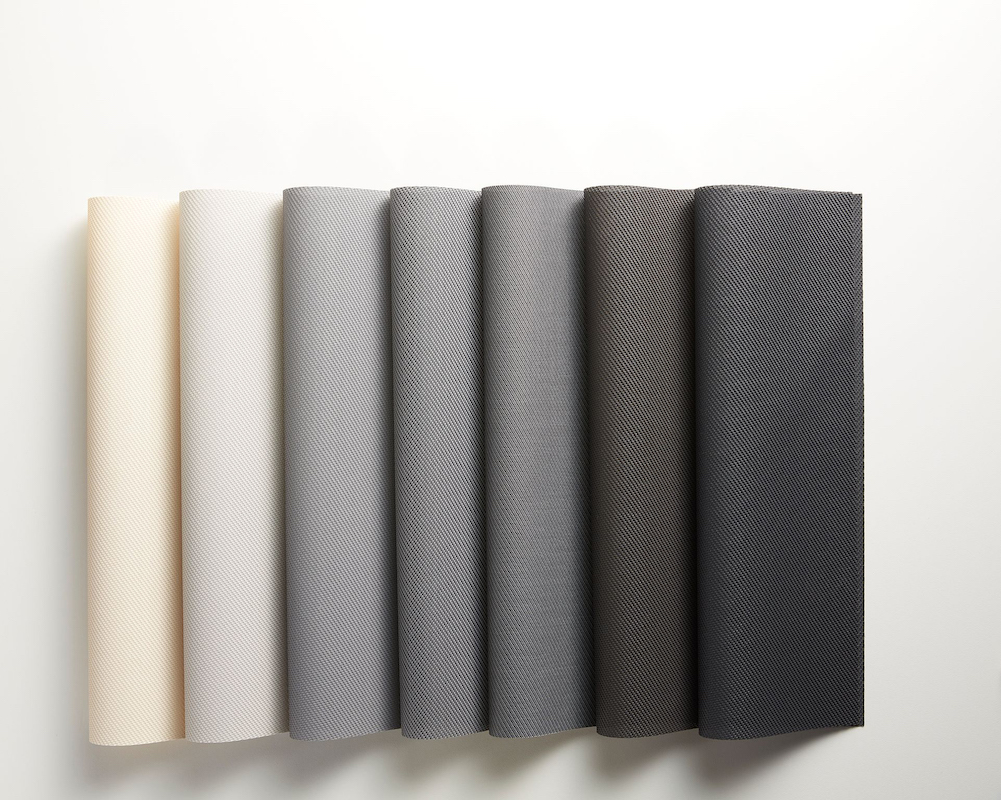 BLINDWARE
Continued consumer demand for high quality outdoor sunscreen fabrics in Australia, both for commercial and residential installations is in evidence, with construction industry growth in non-residential building, expected to grow from $36 billion in 2016-17 to $39 billion in 2019-20 (Australian Construction Industry Forum), offsetting the continued downturn of the residential cycle.
"This growth in commercial construction means there is a real need for premium fabric for awnings for quality commercial construction," says Blindware Managing Director Grant Norton. "In addition, stronger broad demand for straight drop awnings in residential applications means demand has also grown in this sector, especially for use of wider width and more stable screen fabrics to match the growing trend of wider windows and wider opening sizes in general."
Norton says there is a gap in the market where supplies are limited for wide width, high quality, premium awning fabric. "With the Australian market somewhat fragmented and dominated by cheaper imports, Serge 600 Screen Fabric, manufactured by Copaco in Belgium and now distributed across Australia by My Sun Shades of Sydney, has been designed to be an extremely durable, effective collection of exterior screens. The fabric is woven with PVC coated fibreglass yarns, making them perfect for outdoor use in our tough Australian climate where high temperatures are the norm. Being fibreglass based, Serge 600 is more temperature stable and will retain its appearance for many years in the harsh Australian sun."
Serge 600 is stocked in Australia in eight colour options and is positioned for both premium outdoor commercial and residential projects. Norton told WFA that Blindware Copaco NV of Belgium have taken the decision to partner with My Sun Shades for distribution of Serge 600 screen fabric in Australia to leverage from their existing strong market position in exterior products.
Belgium-based Copaco N.V. is a market-leading European producer of interior and exterior sunscreen fabrics, using the very latest technology in their production. Both Blindware and Copaco became part of the global Hunter Douglas family of companies during 2019.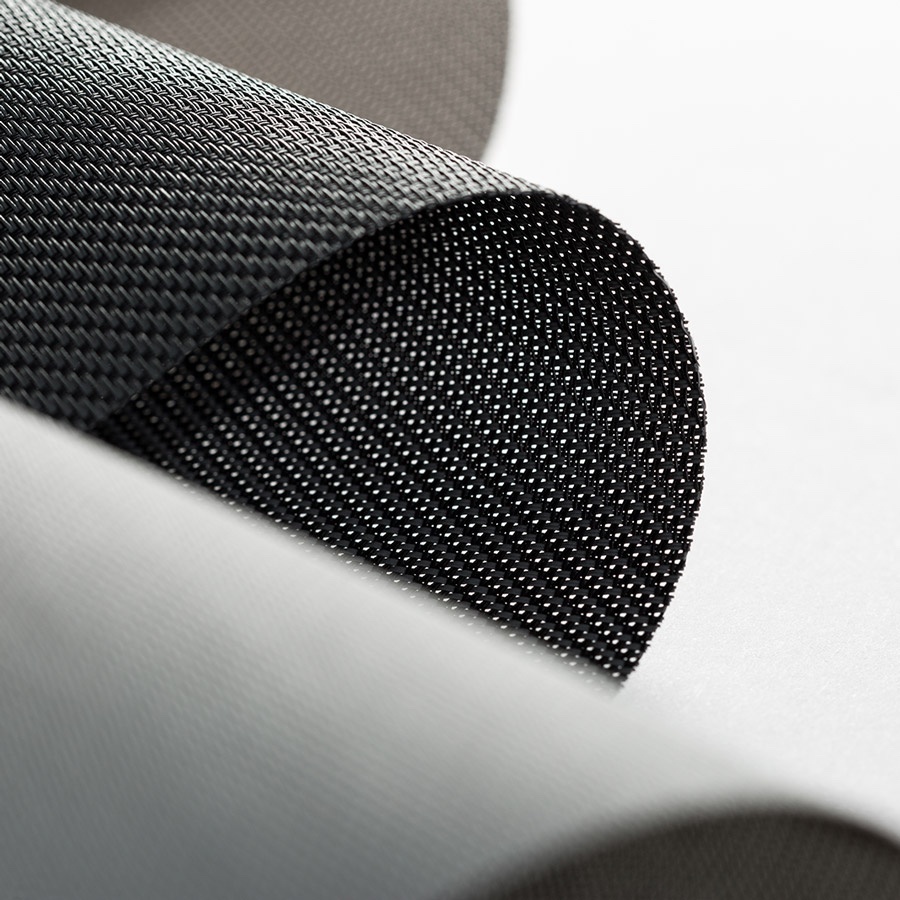 BLINDS BY PETER MEYER
"Weinor has one of the most extensive range of exclusive fabrics to cover their outdoor awnings," says Blinds by Peter Meyer Managing Director Simon Meyer. "From solution dyed acrylics to polyester in the fabric awning range, to fibreglass screens and polyester mesh designs suitable for the outdoor roller blind range that can easily span 6000mm widths in a 75mm cassette. All Weinor awning fabrics have high quality components for maximum operating life so you can enjoy your fabric for a long time. Thanks to Teflon fabric coating and state of-the-art nanotechnology, the surface is resistant to oil, water, dirt and prevents rot. UV and environmental protection; Weinor fabrics achieve an excellent sun protection factor and filter up to 99.9 % of UV radiation. They are also impressive in terms of environmental compatibility. The fabrics do not contain any substances harmful to health and they meet all the required environmental standards."
"In the acrylic category, Weinor has been using high quality acrylic fabrics for more than 40 years. Thanks to the solution dyeing applied during the manufacturing process, they guarantee outstanding durability, consistently radiant colours and great UV resistance."
"Meanwhile, the solution dyed polyester fabrics are highly elastic and have good rebound behaviour – the Weinor Memoryeffekt means they return to their original state under the influence of heat. This prevents creases from forming."
"Weinor uses the Carrot and Radish analogy for colour fastness and quality. The manufacturing process determines whether a fabric keeps its brilliant colour for many years to come. Weinor's fabrics are solution dyed. This means that the colour pigment is stored in the fibres during the spinning process. They are then spun into a yarn. The finished yarn is therefore fully saturated with dye (carrot). Weinor's acrylic fabrics have been on the market for decades and are the best possible proof that colours can remain brilliant for a very long time. The traditional method is to spin the yarn first and then dye it. This is referred to as yarn/piece dyeing (radishes). With this process, bleaching of the colour cannot be ruled out."
"Australia already has some very good fabrics from European manufacturers, but what Weinor offers is an exclusive range of acrylics and polyester fabrics that will provide a unique selling point in combination with the German Made, quality Awnings and retractable roof systems."
"The fabric market is heading towards more interesting bright texture fabrics," says Meyer. "People are starting to have a little more fun with bold fabric designs and colours in their awnings. They are using retractable awning fabrics as a style and design factory that adds to the dimensions of their homes. There is nothing better than a bold bright pop of colour on an awning."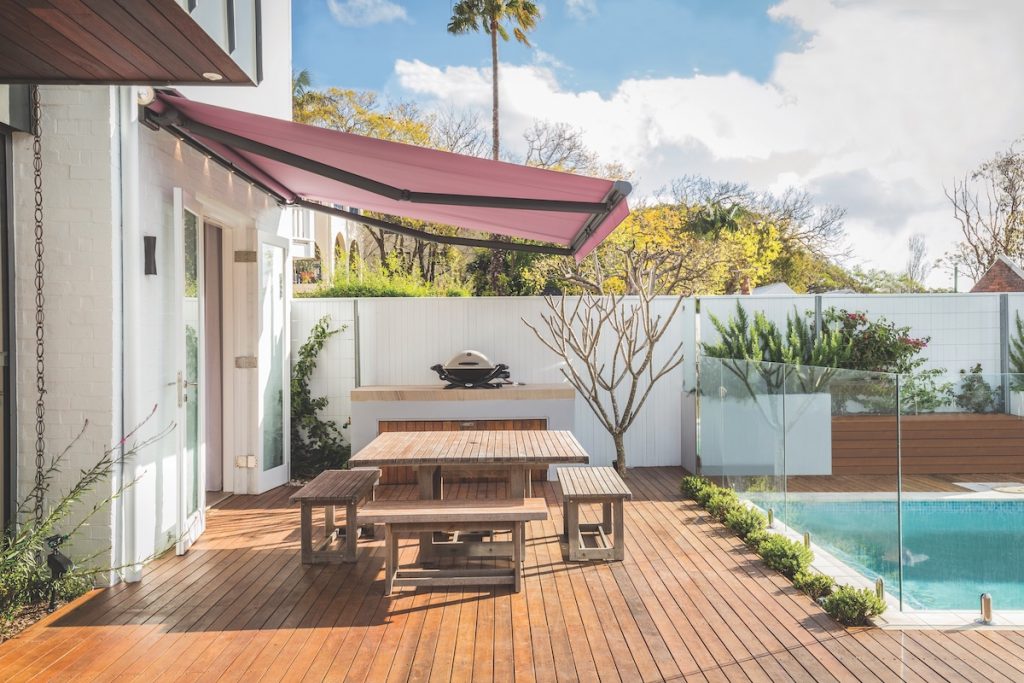 SHANN GROUP
Shann's Atmosphere range has been designed for outdoor living, with a 1% openness option creating more privacy and 5% openness providing visibility. A popular fabric choice for straight drop awnings, Atmosphere provides protection from the elements by creating shade or making the most of the winter sun.
Colour continues to be a key consideration for most consumers when choosing external screen fabrics for their awnings, says Melissa Vine, National Product Manager – Window and Industrial Fabrics. "It has to match their décor and express their design and style. Atmosphere has always featured a curated and on-trend colour palette to work with the majority of colour schemes and external finishes, and the new colours recently added to the range have proven incredibly popular with our customers and theirs, so much so that new colour Icon is now available in our popular 1% range."
"And while colour is important to consumers, performance is equally important to us and our customers. Atmosphere external screen mesh fabric has always been a market leader in terms of quality and performance. Atmosphere is dimensionally stable, it's overall weight and thickness means that it hangs, fabricates and rolls beautifully, without excess bulk. And we're always looking for ways to improve the product. The introduction of superior UV resistant fibre in the whites and lights means Atmosphere will look good and perform for years to come and with the new widths being rolled out over the coming months, working with Atmosphere will be more convenient."
"The Atmosphere external mesh range is perfect for use in a wide range of external applications including drop blinds and awnings. External track guided blind systems like the Urban Track and straight drop awnings are really forging ahead in terms of popularity and accessibility and that's driving a significant increase in sales of Atmosphere external mesh. The upsurge in COVID home improvements has elevated both of those categories during the lockdown period, as consumers update their external spaces and embark on new projects designed to enjoy their outdoor living spaces."
"With its superior performance characteristics, lay flat properties and quality features, Atmosphere external screen mesh is the smartest choice for external screen mesh fabrics."