While it has existed for a number of years, the metaverse came to the attention of marketers after Facebook changed its parent company's name to Meta in October 2021.
The move, according to Facebook's CEO, Mark Zuckerberg came about because "the metaverse is the next frontier in connecting people, just like social networking was when we got started. Over time, I hope we are seen as a metaverse company, and I want to anchor our work and our identity on what we're building towards."
So what is the metaverse? Put simply, it's a network of virtual worlds in 3D that people can connect through Augmented Reality (AR) and Virtual Reality (VR). Well-known gaming platforms that operate in this area already are Minecraft, Roblox, Pokemon, and Fortnite, many of which are familiar to the youngest demographic of all – Generation Alpha.
As a digital channel, the metaverse is relatively new for marketing, but recent campaigns have seen brands embrace its immersive nature to advertise. For example, Roblox hosted Gucci Garden, a place where visitors could try on and buy digital Gucci products to dress their avatars. Its aim was to raise brand awareness amongst younger consumers.
So why should marketers tap into the metaverse as one of the digital marketing trends of 2022? According to eMarketer research, there will be 65 million people that use VR and 110 million using AR every month in 2023. That's a lot of potential young customers to have in one space.
The cosmetics industry has also been enthusiastic about embracing augmented reality in recent times. Brands like Sephora, L'Oreal, and Perfect Corp have created partnerships to allow their customers to see how the makeup would look on them digitally. Augmented reality is particularly valuable for online sales strategies involving cosmetics, as consumers almost always need to judge a given makeup item by modeling it on themselves.
Another area where AR has the potential to shine is in creating a virtual fitting room or dressing room. When it comes to purchasing clothing, dressing rooms are a necessary evil. Customers are required to lug stacks of clothing items to the dressing room and then employees are constantly needed to restore discarded items. In addition to this, a store is limited by the inventory on hand when it comes to offering clothing for customers to try on.
The augmented reality changing room dispenses with much of that hassle, allowing customers to tap into a digital library of clothing items at the tap of a finger. Brands like Topshop and Timberland have been at the forefront of developing AR fitting and changing rooms to give their customers a virtual experience in helping them select clothing items.
Industry embraces digital visualisation tools
James Dunlop Group (JD Group) has invested in high quality digital twins of its textiles. By turning physical examples of soft furnishings into 3D renders made up in digital fabrics and other textures, the company has created high resolution images of furniture and curtains in every imaginable colour.
"Digital visualisation instils customers and clients with confidence in their initial selection without committing to producing or sourcing an expensive physical sample, spending time manipulating the colours of previous photoshoots, or imagining window dressings from a 20cm fabric swatch," says Meredith Weedon, Digital Marketing Developer, James Dunlop Group (JD Group).
"Our product pages are populated with a collection of standard window settings draped with curtains in our fabrics, helping customers envisage fabrics to scale, as well as allowing them to zoom in and experience the fabric's texture up close."
"Our Visualiser tools enable designers and customers to select furniture, curtains, and wallpapers from a wide range of realistically rendered designer pieces. Additionally, our trade customers can utilise our Visualiser on their own website to provide a virtual storefront for their products."
Weedon says James Dunlop's Digital Visualisation Services are not limited to product imagery, but can be used to create photorealistic room scenes – digital "photoshoots" – using high quality models of furniture products including sofas, chairs and beds.
"Imagine that specific room in a specific setting with specific furniture upholstered in a specific design and colourway, all at your fingertips."
"Consumers need to be supported to make colour decisions on furniture and drapery. Digital visualisation is a great way to present products across a wide range of fabrics, providing clients and consumers' confidence in their purchase."
Weedon says James Dunlop Group's photorealistic rendering solution provides a cost-effective way to visualise a range of furniture and drapery across various fabric ranges and all colour options.
"The digital imagery can be used across all online and print media channels and provides retail partners with a huge virtual showroom of their products."
Ziptrak unveils "Design your Blind"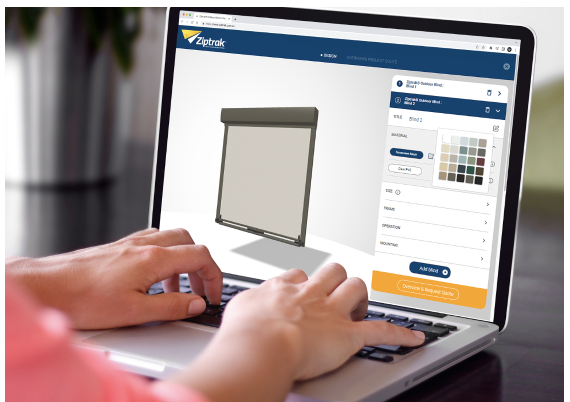 Laura Osorio from Ziptrak says that as part of Ziptrak lead generation programme, the company has launched a new feature called Design Your Blind.
"This is a fantastic online sales tool that allows customers to create their new outdoor blinds and send the exact details to a Ziptrak retailer."
"We understand customers do research online before making their purchase. This great new tool helps in the decision-making process by visualising the exact appearance and sending those high-quality leads directly to retailers."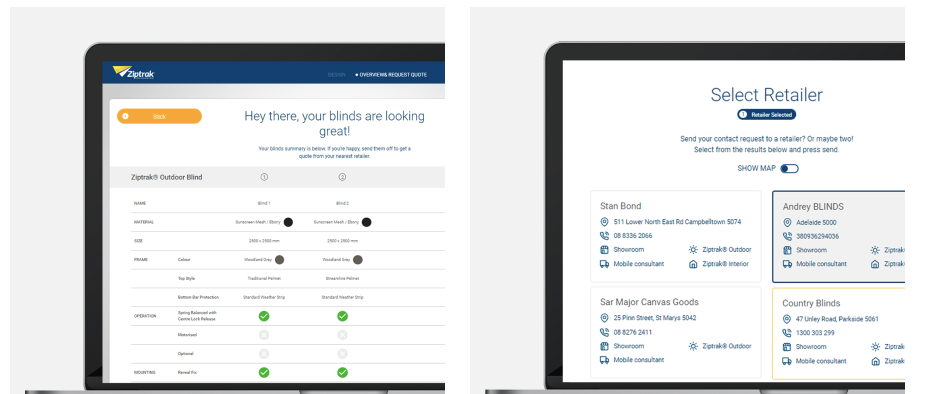 "Customers will love creating and customising their Ziptrak outdoor blinds. Whether for their homes or businesses, the intuitive, easy-to-use interface makes designing their blinds simple."
Design Your Blind displays a variety of styles, sizes, features, and colour options for users to create their own Ziptrak outdoor blinds.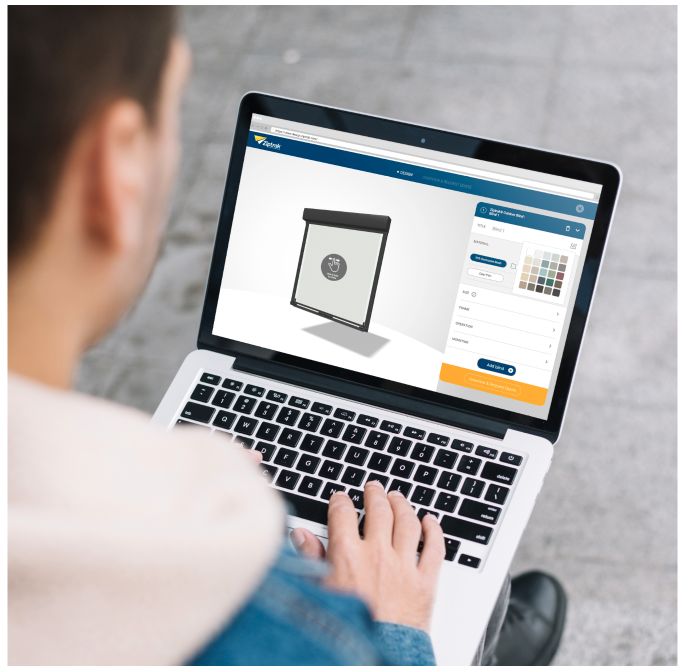 "Retailers can use this free online tool on-site or in store to help visualise what their blinds will look like. Customers will enjoy the ability to create real-time renders and Retailers will receive exact details via email for quoting," Osorio says.