Bliss was created by people who have been in the textile industry for a very long time. Inheriting the technical knowledge and resources of Citel – the outdoor fabrics manufacturer founded in 1875 in Sabadell, Barcelona – Bliss creators added their own sensitivity and aesthetic perspective to what would become this luxurious collection.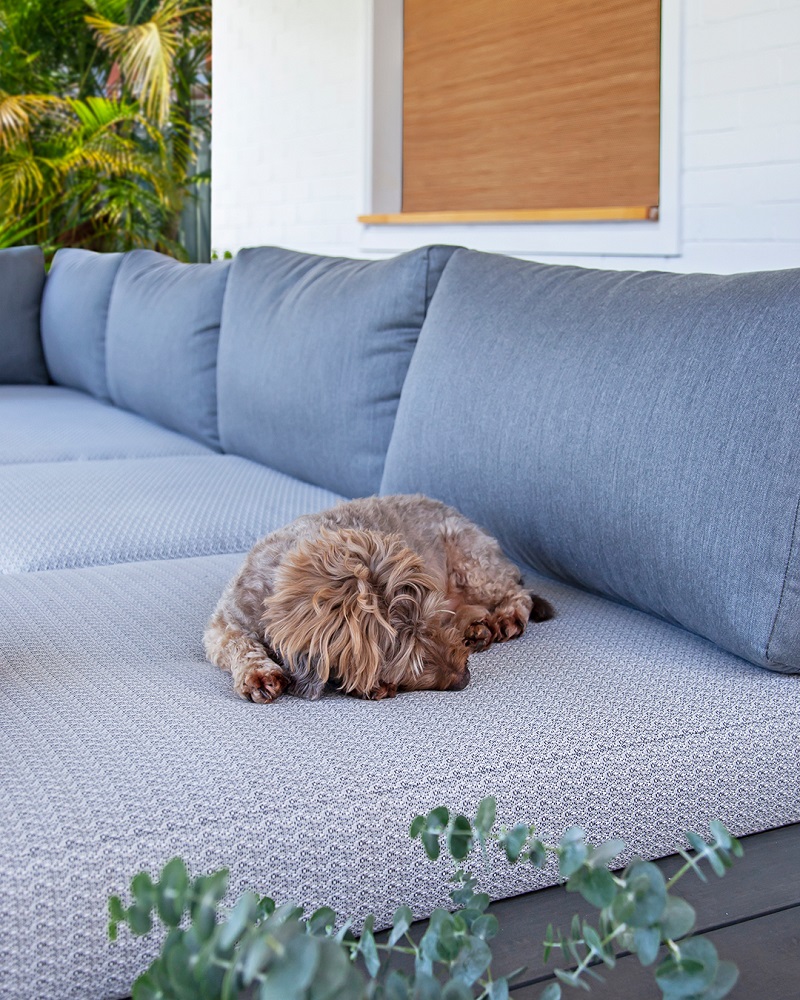 Darren Best, National Sales Manager at Ricky Richards says it was a logical step that Ricky Richards was chosen to become the exclusive supplier of Bliss in Australia.
"The partnership between Ricky and Citel has been in place for over 20 years. For those that do not know, Citel are behind the worldwide popular awning brand, Docril."
"The creators of this brand sit within Citel," Best says.
"We had known for a very long time that this collection was coming, and that it would be our opportunity to extend into a new market."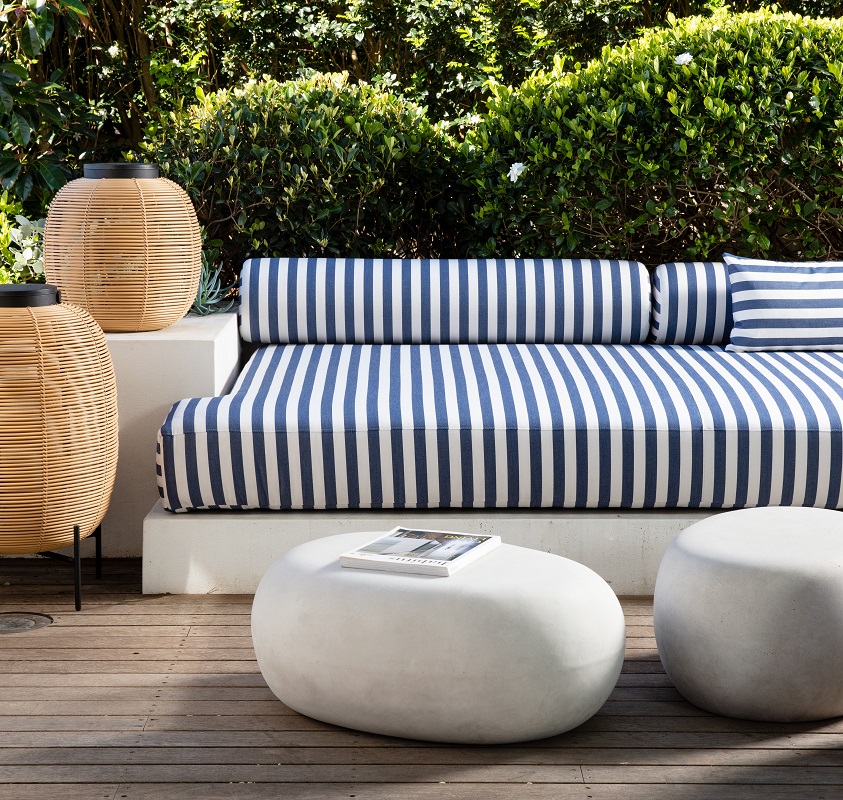 Bliss fabrics are 100% solution dyed acrylic and are suitable for use indoors and outdoors on applications such as lounges, cushions, day beds and curtains.
"Bliss fabrics offer a range of premium features that include colour fastness, water repellency and weather resistance."
"The solution-dyeing process infuses pigments directly into the fibre molecules, thereby creating far stronger bonds than those obtained by simply dyeing the thread. This will ensure long lasting colour."
"We love to supply fabrics to our customers that we can really get behind and believe in the quality, and with this collection, it is not just about the technical side and 5-year warranty we offer, it is about bringing Bliss into the lives of their customers, yes, in more ways than one," Best jokes.
Best says the fundamental approach to sustainability for Bliss is that there is no better way to protect the environment than by consuming less.
"To this end, the team has created long-lasting fabrics that will serve as decorative items for our customers for a very long time. This gives Bliss a real organic feel, and at Ricky, we believe that products that truly stand out are those that are made to last."
"Bliss fabrics are suitable for creating items for the kids and pets, not only because they are made to last, but there are no harmful chemicals in the makeup of this collection."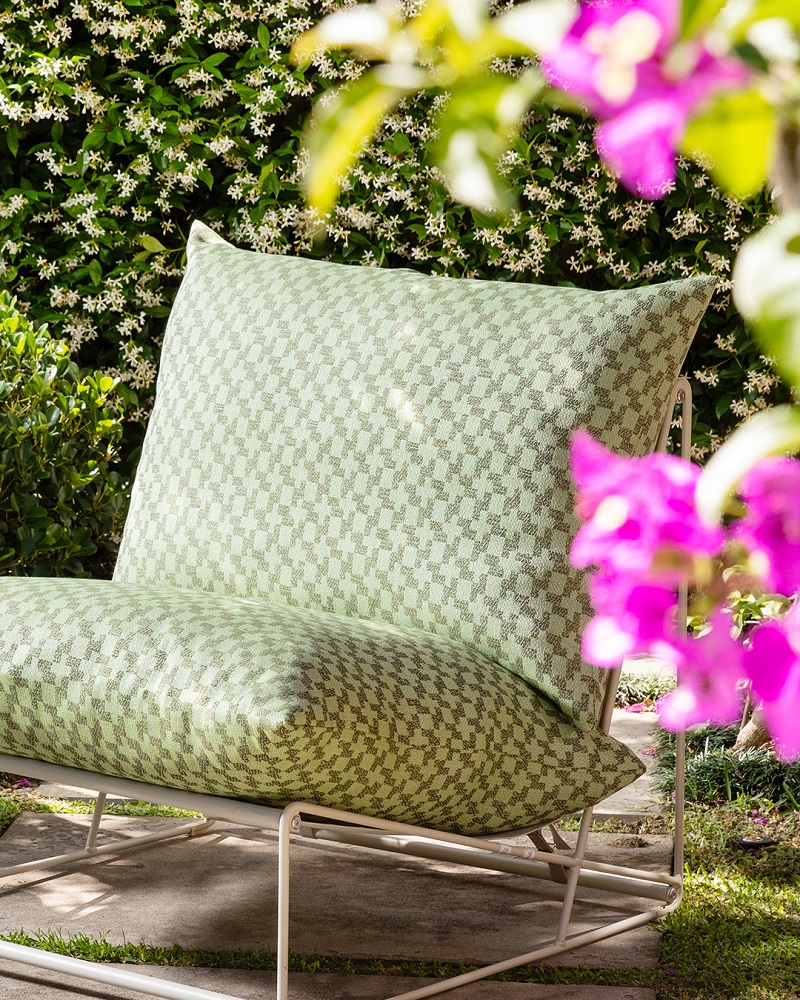 In addition, Best says the Bliss creators paid special attention to waste treatment – the water used in the manufacturing process is no longer suitable for use, as it may contain contaminants, including bacteria, chemicals and other toxins. To this end, the factory features its own biological treatment plant, the purpose of which is to reduce contaminants to acceptable levels and make the water safe for discharge back into the environment.
"The Bliss mission is to manufacture performance and decorative fabrics made by and for the senses. The team wanted to create a brand that not only demonstrated their technical know-how regarding solution-dyed acrylic fabrics, but also expressed their philosophy of life. Bliss is built on passion, new ideas, effort and an ongoing desire for improvement."
"Hearing the mission of the Bliss creators and reasons behind why Bliss has been created gives us a fresh look into the way we can deliver this collection and promote this to numerous industries." Best says.
"The story, the feelings, the features and the fabric itself all come together so perfectly, and we want everyone to have Bliss. Looking down the track, we would love nothing more than to see every beautiful piece of upholstery these fabrics are turned into, but we know that is probably a little out of reach."
Best says that Ricky Richards has been very thankful during the past 15 months.
"During COVID-19 times it was a tough run for most and what got the Ricky team through was the fact they could rely on their partners and keep the stock up high for customers when they needed it."
"Our internal team came closer together in 2020 and no matter what was thrown at them, they didn't complain and found a way to do their jobs that was out of the normal routine – this is what we call the Ricky way" Best proudly says.
"This also extended to the partnerships we had with our suppliers. Having such long-term partnerships you trust means you are more than business associates; you become each other's confidant and in that it creates a confidence in your decisions as you have a very large (extended) team to help."
If you would like to know more about BLISS or any of the Ricky textiles, be sure to get in touch. Ricky has a sales team member dedicated to every location around Australia including their sales agents; Waypoint Distribution SA and WA and Scott Free in QLD that hold that hold the range in stock and are an extension of the team.