SILENT GLISS BY PETER MEYER – AN AUSTRALIAN STORY
Driven by customer needs, Silent Gliss has been offering functional and durable products since 1952. Regarded as a leading global supplier of premium interior window treatments, Silent Gliss stands for innovative, sustainable, tailor made solutions, exceptional design and first-class quality.
Carrying on the commitment to develop the world's smoothest, quietest systems using state of the art technology, Blinds by Peter Meyer is now proudly the wholesale manufacturing partner for Silent Gliss in Australia and has a range of new releases to promote, says Meyer.
TOP OF THE TREE NOW IN REACH
Known for its comprehensive, high quality and technically advanced roller blind systems, Blinds by Peter Meyer is excited to announce that now these 'top of the tree' Silent Gliss roller blind systems are within reach for the Australian market with the launch of two new sleek, elegant systems – SG 4930 (chain operated) and SG 4970 (motorised).
"These two powerful systems are not only within reach because they are now manufactured here in Australia by wholesale blinds manufacturer Blinds by Peter Meyer but also thanks to their attainable price point."
DISCREET YET EFFECTIVE
The clean lines and modern design of the roller blinds systems complement any style, whilst providing discreet but effective shading. With various operating possibilities and popular on trend hardware colours, these blinds offer the right solution for any room.
Silent Gliss' Swiss engineered systems only feature parts, some of them patented, of the highest quality that have been extensively tested. Every system is made to measure by a team of experienced specialists to guarantee perfect functionality, day after day.
Using only the highest quality components, these medium sized roller blinds can be supplied at up to a massive 3.4m wide and five metre drop and are designed to be powerful with a super smooth, planetary geared chain operation. Furthermore, you can link up to two 3.4m wide systems to achieve an overall width of 6.8 metres.
The componentry is available in black and white, with the bottom rails available in various colours. The sleek design of the brackets incorporate bracket end covers as well as unique bracket feet covers that ensure no visible installation screws.
MOTORISED ROLLER BLIND SYSTEM
Efficient and quiet, the Silent Gliss SG4970 motorised roller blind features virtually silent operation and programmable intermediate stops. It can be controlled by mains switch or radio remote control, or can be integrated with home automation systems. The Silent Gliss series 20 motor also has an obstacle detection function to prevent damage to your blinds. The series 5 entry level Silent Gliss motor is perfect for the more price conscious customer.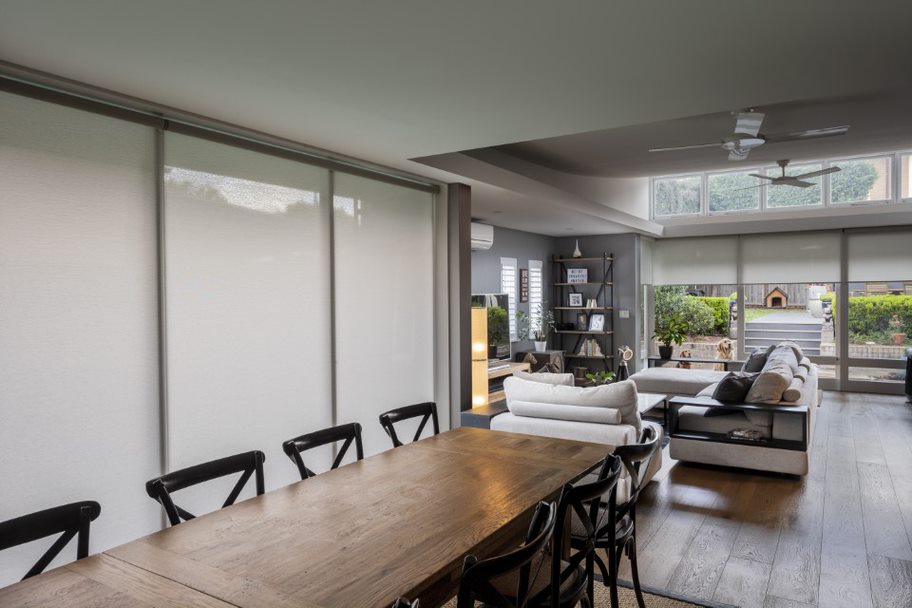 CHAIN OPERATED ROLLER BLIND SYSTEM
"Simple sophistication, timeless quality — our chain-operated SG4930 roller blind system is designed to offer a smooth operation so it works effortlessly, even at maximum dimensions."
THE WIDEST FABRIC AVAILABLE IN AUSTRALIA – COLORAMA 2
Meyer confirms the two heavy duty systems can be paired with Blinds by Peter Meyer's Signature Collection fabrics as well as a range of Silent Gliss' most popular light filtering fabric – Colorama 2. "Colorama 2 is the epitome of versatility and sophistication. The Trevira CS fabric is gorgeous to touch with a uniform and stable weave."
"However, what is truly exciting about this fabric is that it has a width up to 3.4 metres – the widest available in the Australian market. This, along with its extensive colour range makes Colorama 2 the perfect finish for anyone looking for a high quality wide fabric. Colorama 2 is the most successful Silent Gliss fabric over the last 20 years and is also available as a curtain fabric. Antibacterial and aluminium backed versions are available by indent."
NEW CURTAIN POLE RANGE: THE METROPOLE
Silent Gliss by Peter Meyer is offering a new range of 30mm curtain poles to be released mid- September. It is the first curtain pole range added since taking over manufacturing of Silent Gliss in Australia.
"The Metropole range does not use rings, with the curtains hanging directly on nylon gliders contained in a channel inside the pole. Unlike traditional curtain poles, the brackets attach to the top of the pole allowing the curtain to move smoothly throughout the complete length of the pole – no need for passing brackets, making it perfect for wide windows and large expanses of glass."
"These specifically designed curtain poles combine whisper quiet specially coated curtain poles with unique two-component patented 2C technology gliders and rollers, allowing the curtain to move smoothly and silently, providing unprecedented silence."
The range will come in five popular colours including matte white, matte black, bronze, silver and gunmetal. Custom powder coats are also available on request.
It will come with the choice of a flush end cap or stud end cap. Customers will also be able to enhance their curtain pole by adding a range of decorative finials. Even if your pole is fixed to the ceiling, the top fix brackets will accommodate all finial options.
The Metropole range has the ability to be top or face fitted using the Silent Gliss smart fix brackets or concealed top fix brackets and can also be bent in a continuous curve or angle radius, bent to fit perfectly to bay windows or other curved applications.
SKY HIGH WINTERGARDEN
With renewed focus on the comforts of home thanks to COVID-19, Meyer says key products are gaining prominence. One of these has emerged specifically in response to demand for skylights.
"Wintergarden systems continues to increase as modern architecture uses larger expanses of glass to maximise natural daylight and views in both domestic and commercial buildings. Silent Gliss by Peter Meyer is meeting those demands with the introduction of the SG2190 (crank operated) and SG2195 (motorised) wintergarden system."
The Silent Gliss wintergarden system is a unique solution to glazing large areas, with the combination of side profiles and soft-folding fabric panels achieving an elegant 'Roman blind' style window treatment suitable for commercial or residential use. Operated independently or simultaneously by crank, fixed switch or radio remote control, the parallel fabric panels can be moved to provide an innovative and extremely elegant way of shading.
The Roman blind style folds are created by lateral metal rods sewn into the fabric that round inside channels. These side channels can be bent to follow the contour of the glazing. Maximum light and glare management is guaranteed through gradual tilting of fabric panels, with the system maximising daylight on a dull day and reducing heat and glare on sunny days.
A single bay system can cover up to 2.5m x 6m (crank operated) or three metres by six metres (motorised). If you increase the number of bays, you can easily achieve greater coverage. Up to three adjacent systems can be operated by a single motor.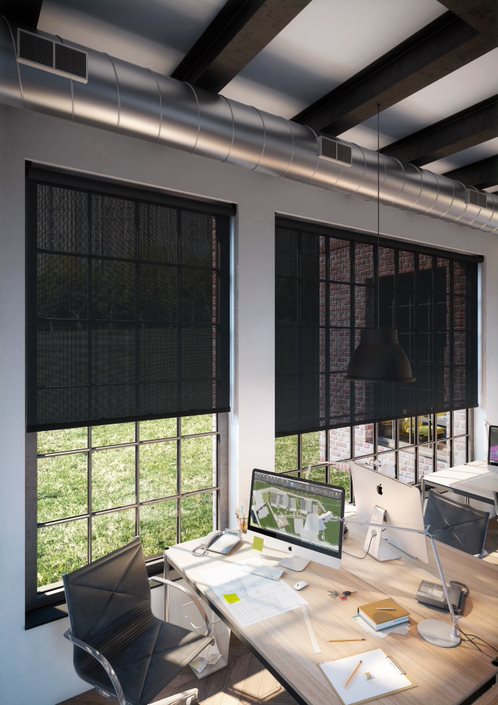 ALL ACCESS PASS
Blinds by Peter Meyer offers an all access pass to Silent Gliss products and are able to acquire the entire range of Silent Gliss products and bring these over on their regular airfreight shipments from Europe. The Blinds by Peter Meyer five-year warranty applies to all Silent Gliss products.
BBPM NEW PRODUCT BLITZ
Silent Gliss' exciting new product launches are not the only good news story for Blinds by Peter Meyer. The Meyer family has a plethora of new products that have recently hit the local market.
Blinds by Peter Meyer's Basics range has always been a carefully curated selection of fabrics for the installations where cost saving is a prime objective. The Basics 3 Collection is a new and expanded range of high quality Roller fabrics with even more competitive pricing. Offering the renowned Peter Meyer quality with RRP's up to 30% less than their previous BASICS 2.0, this is the most competitive Roller blind offer to ever hit the market from Blinds by Peter Meyer and is very affordable.
Previously the range was split into one price category. Now, the range is split into five competitive price points with 94 new Roller fabrics in a range made up of plains and textured fabrics in blockout, light filtering and screens. An exciting new addition to the range is the new antimicrobial screen fabric Nuescreen. Nuescreen with sanitised protection inhibits the growth of bacteria, mould and mildew on your fabric. This unique antimicrobial hygiene function enhances the performance of your blinds for comfort and peace of mind. It features 11 on trend colours, is available in three metre width, and has been manufactured with the health and safety of customers in mind – making it suitable for all residential and commercial settings. Although everything is designed as a Roller blind product, a number of the fabrics are also suitable for Panel and Roman blinds.
170 PLUS NEW CELLULAR FABRICS
Blinds by Peter Meyer has also introduced a brand new Honeycomb range of fabrics into the Simply Cell and Pleat collection. Described as the most comprehensive range of honeycomb fabrics available in the Australian market, the new Simply Cell collection has 170 new fabrics and comes in a wide range of colours and textures alongside stunning patterns and designs. The range includes florals and textures that are rarely seen in the Australian market and are a game changer with bright colours, textures, ombre designs and nature orientated designs.
"The main range includes a beautiful array of colours with matching translucent and block outs and coordinated printed designs," says Meyer. "The team at Blinds by Peter Metyer is very proud to bring this exciting new range to the market. Available on all the systems including shaped, skylight, free hanging and pre-tension blinds, crank operate and motorised solutions."
"Blinds by Peter Meyer are also very excited to announce that in the not too distant future, they will be releasing Version 2 operating system to accommodate the 170 plus new fabrics. The overhauled system will receive a complete facelift and will include additional operating systems, new technology, an improved cord lock, battery operated wirefree blinds, new skylight solutions and a full overhaul on the rail systems including new rail colours."
HABITUS PLUS
Blinds by Peter Meyer's Habitus range of Polystyrene Venetian blinds is transforming into the new Habitus Plus collection and combining the best-selling Poly colours (Pure and Ivory) with brand new sustainably grown Basswood Habitus Timber colours.
"Available in eight beautiful on-trend colours, the Timber has been carefully selected to perfectly complement today's interior décor needs. All ten colours including the Poly, are available in both 50mm and 63mm slat widths, plus there is a 80mm wide flat valance for modern styling. The 3000mm slat width means even the widest windows can be covered using this natural, light weight traditional Venetian alternative."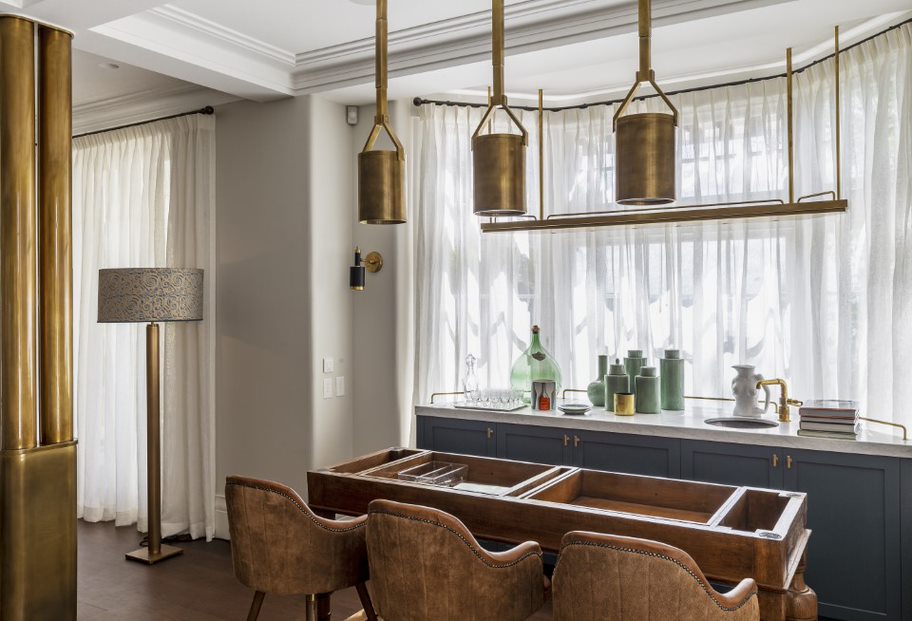 SIMPLY RANGE WELCOMES OLD FRIEND
Blinds by Peter Meyer is also rebranded one of its longest standing Venetian blind products, Le Blinde. The new branding 'Simply Cedar' will bring the range in line with the broader 'Simply' collections – Simply Cell, Simply Pleat, Simply Naturals and Simply Pelmet while leaving the LeBlind name for their foundation range of French Woven Timbers.
"The Simply Cedar range is Australia's finest custom made natural timber venetian blinds and are available in 46mm, 60mm and 85mm slat widths. Blinds by Peter Meyer use only specially selected 4.2mm thick blades and custom paint / stain in their very own paint booths, giving them complete control over every stage of production to guarantee the best possible end product. Assembly is by hand, with every slat being meticulously checked at every stage of the process."
"The cedar used has full PEFC certification, is completely sustainable and sourced from Canadian government regulated forests with three new trees planted for every one that is removed. The cedar is old growth sustainable, ensuring the fine grain and consistent finish designers, architects and decorators have come to expect from Blinds by Peter Meyer. A recent addition to the range is also the introduction of light/medium and medium/dark oiled finishes."
MORE FROM PLAZA VIVA: VERTITEX II
"The new combination of the Weinor Plaza Viva pergola and VertiTex II vertical awning gives you clear added value. As now you can offer your customers additional glare, privacy, wind and sun protection – from the front and sides. Two tried and tested Weinor products are therefore combined to form a reliable complete system with seamless integration."
"Plaza Viva provides very reliable weather protection for your favourite outdoor space. It is Incredibly wind-resistant, it integrates subtly into the overall look of the building and provides Width x Projection to a (max.): 6 m x 5 m. It offers a highly practical feature for facades without enough load-bearing capacity to mount a folding arm awning."
"Technical innovations such as the optional adjustable telescopic post (not available when combined with the VertiTex II), the OptiStretch version, integrated LED lighting and gear handle operated Valance Plus leave almost nothing to be desired."
"The VerrtiTex II comes with tiny 75mm and 92mm cassettes that enable blinds to span up to a massive 6m width and a 112mm cassette for longer drops. It is available in two sleek architectural profiles, square + round, adapting unobtrusively to all building facades. The patented Weinor Opti-Flow System ensures the fabric position is always perfect. VertiTex ll avoids bulky cassette housings on patios, windows and balconies. A unique cantilever guide rail mounts allow blinds up to 2.5m wide to be installed without cassette brackets."
"Plaza Viva is the slimline design weather all-rounder, which allows you to enjoy the patio for a long time, VertiTex II shines as a universal vertical awning for elegant privacy and sun protection. Combining the two gives you a complete system with a seamless look."
MODERN BASICS BLUE
Weinor has also recently released the Modern Basics Blue collection exclusive to Blinds by Peter Meyer and consisting of 16 luxury awning fabrics. The modern basics blue collection consists of a sun protection fabric certified according to the Global Recycled Standard (GRS) made with 85 % recycled PET – for a better environmental balance in terms of water, energy and CO2. A unique combination of stylistic trends, innovative material and process expertise has resulted in this ground-breaking collection. Aesthetically up to date, highly durable and responsible with regard to sustainability.
The Modern Basics Blue collection has recently won a plethora of awards for this fabric. In addition to the iF Design Award 2021, the Green Good Design Award 2021, the R+T Innovation Award 2021, the R+T Sustainability Award 202, it was selected by a jury of experts of a particularly prestigious design competition. The collection received the Red Dot winner 2021 award in the Red Dot Award: Product Design category. The award enjoys a high level of recognition among end users and significantly builds confidence and trust in the range.
INDUSTRY RESOURCES
With significant growth of its product ranges and new brands in recent years, the differentiation of each brand has required a re-think, says Meyer.
"As the company has expanded, we've been focused on how to best manage and offer both Blinds by Peter Meyer, and its partner brands' material to dealers and industry professionals.
The result is the launch of a new online Trade Resource Centre.
"Everything you need to assist you with technical, sales and ordering for Blinds by Peter Meyer, Weinor and Silent Gliss, can now be found and downloaded quickly from their Trade Resource Centre Selector page."
"This is just one of the ways in which we continue to support our customers both now and into the future. With a comprehensive range of partner brands and products, we're confident that Blinds by Peter Meyer has all the bases covered."