1 William Street, located in Brisbane's parliamentary precinct, is one of the Queensland capital's landmark office addresses. It's also one of only 16 buildings in Australia and one of three in Queensland to receive 6-star Green Star certification.
As a building of note, 1 William Street attracted high level expertise in fitout and execution. Interior spaces were designed to stimulate engagement with occupants through modulated texture and colour and the use of biophilic design, demonstrated in the subtle palettes, organic materials and views showcasing the beauty of the local environs. The interior design encourages a continuous circulation flow, offering both discrete workspaces and shared areas to promote interpersonal engagement and collaboration between teams.
Vertilux's solutions aligned with this ethos and made the most of standout features such as the double-vaulted, full-height atrium. Vertilux National & International Marketing Manager Debbie Hessenberger told WFA that, along with enhancing the building's green credentials, the project's window coverings and shading solutions brief was to enable a sense of connectivity in the building, both "inside-out" and between floors. "This entailed the supply of blinds up to 12.5 metres in height, made from efficient solar fabric to reduce the strain on air-conditioning, as well as the incorporation of new solar technologies into the blind motorisation."
The project necessitated a combination of manual chain operated and solar controlled motorised roller blinds using Euroscreen Transparent screen and Eurobloc Room Darkening fabric. Vertilux-manufactured solar controlled motorised blinds were installed from the ground floor up to Level 41, Hessenberger confirms, adding that the project also required unique and ingenious solutions.
"Our distributor, KWA Blinds, had to organise the installation of a weather station, which was used to control the blinds, on the building's spire. Careful consideration was critical to this installation, given the drop of over 12 metres on some of the blinds."
The result has been a reduction in greenhouse emissions due to custom manufactured window coverings that also play a vital role in reducing the strain on air conditioning through the use of new solar technologies.
"A flow-on effect of using these blind technologies is a noticeable reduction in electricity consumption," says Hessenberger. "The choice of window coverings can have a significant impact on the energy efficiency and improvements of a building, whether commercial or residential. The fabrics used in this project met the Green Star requirements for daylight glare control, indoor environment quality and energy and thereby the assessments and ratings in monitoring the energy efficiency and environmental impact of the building."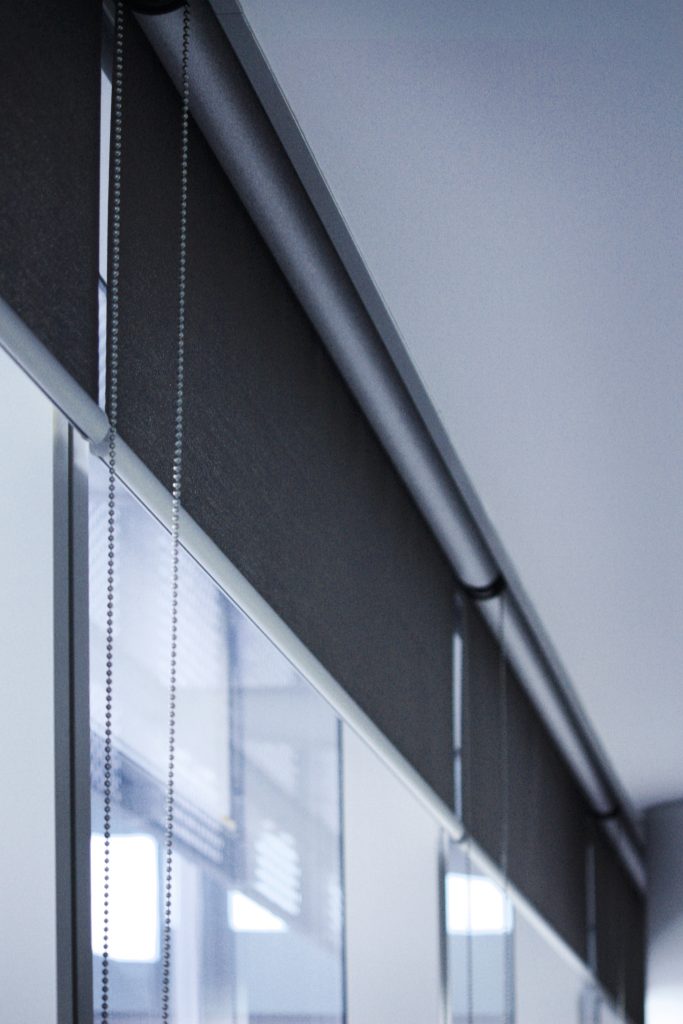 At the time of its 6-star Green Star certification in 2018, Green Building Council of Australia's Chief Executive Officer, Romilly Madew, reportedly described 1 William Street, Brisbane as "a stand-out example of the world-leading sustainability outcomes" achievable through collaboration. Industry and government had worked together in a commitment to the benefits of green buildings. Since the project's completion, 1 William Street Brisbane has continued to draw plaudits for exemplary sustainable features including facade sunshades and automatic blinds. Other standout attributes include LED lighting, rainwater irrigation and energy regeneration. The building's north facing orientation also optimised the potential for greater passive sunlight penetration to reduce the need for air conditioning or central heating.
Raising the performance benchmark further than any previous comparable project in the city, 1 William Street has garnered several certifications overall, including a 5-Star NABERS (National Australian Built Environment Rating System) Office Energy Saving Rating and a 3-Star NABERS rating for Office Water, Waste, and Indoor Environment Rating.
For Vertilux, the building represents a high level showcase for premium product and service delivered by a veteran of the window coverings industry and an early adopter of sustainability principles.
"It is always rewarding to collaborate on projects with a vision to meet Green Star requirements because we are confident in the quality and sustainability of the products we manufacture," says Hessenberger. "The partnership approach adopted throughout this project resulted in excellent outcomes for the Queensland Government and the building's 5000 public servants."