Tony: Steve welcome and thank you for being part of the WFA Ask the Expert series.
Steve: Pleasure Tony I feel I'm in very esteemed company.
Tony: Steve when and how did you enter the window covering industry?
Steve: I came into the industry around 1991, with Hunter Douglas who at that stage were promoting a direct-sale brand called Starlight. I was brought in to manage a few companies that Hunter Douglas had acquired; some quite famous names at that time, Osborne Blinds in the western suburbs of Sydney, Roberts Brothers which was an eastern suburbs retail brand and Riches and McCann which was a northern beaches/north shore brand.
Tony: And what was your role there?
Steve: I was the sales manager. I had worked with Tony Politis in the home improvements section of Alcan and Tony had moved to Hunter Douglas. When a role came up, he invited me to apply and I was fortunate enough to get the role of sales manager
Tony: And Steve I see you commenced with Norman Australia in January 2020? What a time to join!
Steve: It's very clichéd isn't it? But it is unprecedented. I think we'll look back at this time as a very historical year.
Tony: And how did you feel when you got on board and then pandemonium hit?
Steve: It was quite unexpected for a start. January and February passed without too much incident. A colleague and I were due to go to China and America around February and I think at that stage we started to hear about cases of the virus in China and people were saying 'maybe you should reconsider travel'. As of early March we were still contemplating going. A week or two later, travel was banned in terms of people coming into Australia, which I thought was quite a bold move from the government at the time, but in hindsight it was a fantastic one. From there it went from being a very busy time of the year to the bottom falling out of the world for us and for most companies we spoke to, as sales crashed through the floor in March and April and then rebounded unbelievably in May.
Tony: Did you have a particular strategy especially in May for that to rebound or do you think it happened organically?
Steve: I think it was an organic thing. People got used to the restrictions. At the time I was thinking the government saying, 'There won't be any overseas travel until 2021' was ridiculous. But as the reality set in, more and more people were working at home and with higher discretionary income, people weren't spending money going overseas, they weren't spending money going out to restaurants, and they started spending a lot of money on things that might have been put off, such as window furnishings. I think we are a significant beneficiary of the lockdowns.
Tony: I think you're probably being modest in saying it was an entirely organic uplift. What strategies did you put into place during this period?
Steve: Well we had to make some fairly harsh decisions going into the lockdown because it did look like that was going to be a prolonged period of time. What we did do that I'm really proud of is we rallied around whilst working from home. We started online training initially with the staff and we were doing that daily. One of the benefits of the training was that we would get in social contact with everyone within the organisation. It became a bit of a daily ritual, you might go for a morning walk, come back and then you have an hour interaction with the team. It was very good in terms of bonding and also in terms of education. I personally took upon myself to do some online courses which I had put off for years, and there was no reason to put it off any longer.
Tony: So the team prospered by having these regular meetings?
Steve: We certainly upskilled, we've got a product development team who put together the training sessions each day. I think people were craving not only that sort of social contact but also, you get so consumed by business often you put things off, I'll do it later, I'll go to that training session next time. There was no reason not to do the training, so it was very beneficial.
Tony: Norman has 11,000 employees throughout the world. How many employees do you have in Australia?
Steve: When I started I was probably number ten or eleven and we are now up to about 17.
Tony: Are they all from the industry?
Steve: Yes, mostly. Everyone bar maybe one or two has an industry background.
Tony: What would be Norman's largest selling product?
Steve: Without question the Woodlore shutter. It's the largest selling shutter in the world, Norman's factory is the largest shutter manufacturer in the world. The great thing about the Woodlore product is it's got Australian content, it's 80% Australian wood. The wood is grown in Queensland, it's processed by Laminex Industries and then sent offshore, manufactured into shutters and sent back to us.
Tony: Norman has always been a leader in the plantation shutter area. Are there any other new developments in the area?
Steve: I guess that the newest innovation which the market is still probably yet to catch up on is motorisation. I know it was available probably 10 or more years ago but in fairness wasn't a great system; it was a bunch of AAA batteries which had to be replaced at regular intervals. That's evolved into a solar charged motor system which is second to none. Other great innovations from Norman include self-closing louvres, 180 degree bi-folds and the easy-tilt or the hidden-tilt mechanism. In terms of innovation in the shutter world I think Norman would be leading the pack
Tony: Who have been your greatest influencers? 
Steve: Well I'll be very clichéd and say my parents.  I had in hindsight quite a privileged upbringing, a fairly middle-class family.  But when you hear about the challenges some kids have growing up these days, I do feel blessed that I had very caring, loving parents who supported my sporting career and then were always around for the grandkids.  I have had some great mentors in the industry. The one who jumps to mind is Tony Politis who has always been a very progressive leader, not afraid to make hard decisions, but also able to articulate a vision.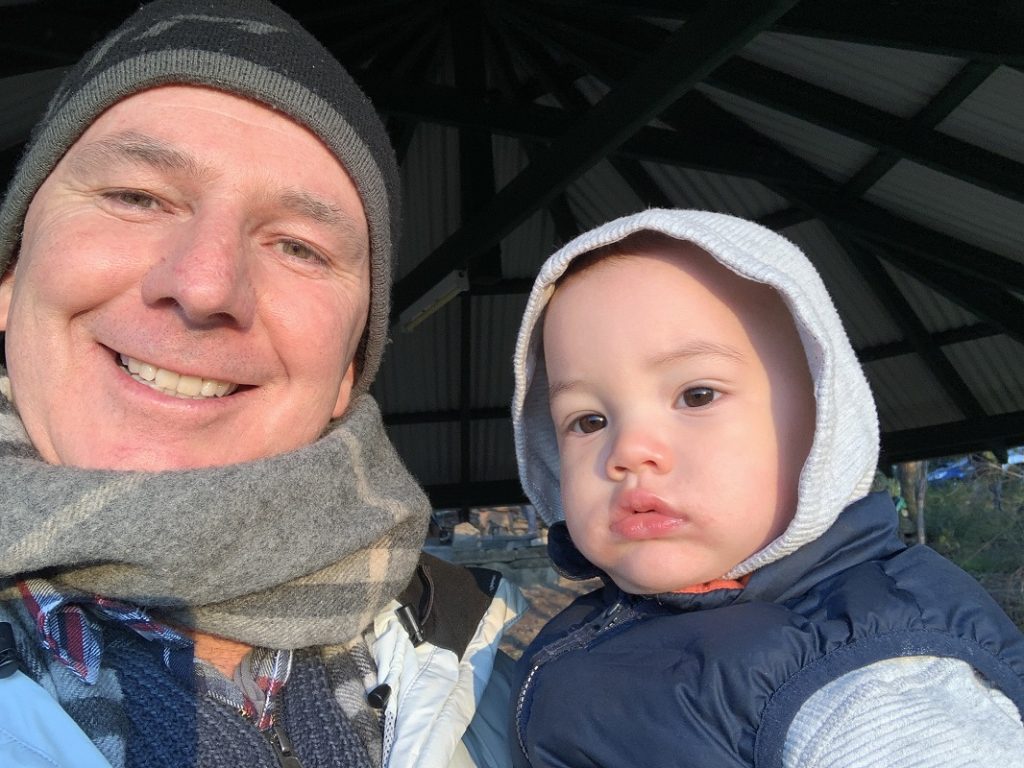 Tony: You mention your parents supported you with your sport, what kind of sport were you into?
Steve: I raced speedway, which is the dirt oval-style of motorbike racing and I was fortunate enough to get a contract to race in the UK. I did that for about six years and got to a fairly good level. But a significant accident curtailed any further progress and I guess when you look back, you can be philosophical and think, that was really a sliding doors moment in my life.
Tony: Do you still ride a bike now?
Steve: I sold my last trail bike about two years ago. It is surprising how many guys in the industry ride, but I'm sure there are many women too, who are into motor bikes. I've always particularly liked off-road riding, the challenge and the exhilaration. It's a form of enforced mindfulness, I never thought about that when I was younger, but when you're on a bike, all you're concerned about is the bit of ground in front of you and not falling off.
Tony: What are your other passions outside of business?
Steve: It's a bit sad Tony but I actually really enjoy business! I read lots of business books, magazines, journals, articles. I travel a lot (or used to) and I keep myself fit. I used to play soccer until a few years ago but I think when you start to have kids and responsibilities with your career, that takes a back seat. But I go to the beach fairly regularly, I swim and pretend to surf.
Tony: Whereabouts do you surf?
Steve: I live at Freshwater so just down the hill at Freshwater.
Tony: You mentioned that you enjoy reading, is there anything that you're reading in particular that you can share with us or?
Steve: I'm reading Tribes by Seth Godin. He's quite an innovative thinker, with a slightly quirky way of looking at marketing. I wouldn't say I subscribe to all his theories, but it's good to get exposed to radical ideas because it does then stretch your own thinking.
Tony: There is a lot of truth to what he professes though isn't there?
Steve: Absolutely. He's been a trendsetter, so I guess you have to admire the fact that he's an author, he's been going for 20/30 years and he's still churning out material. And he's still pushing the boundaries. He has what he calls an ALT MBA you can do online because his sort of thinking is that an MBA is a wonderful piece of paper to have, but he didn't feel it was real life, it can be very theoretical.
Tony: A little like people getting their car licences, they're taught to get their car licenses, but they're not really taught a great deal on how to drive?
Steve: Yes. And unfortunately if you look at the statistics I think the incidents of accidents with young people would be disproportionately high compared to people with experience. And I guess it's like riding a motorbike, once you learn an element of fear you start to become hyper vigilant. I guess your peripheral view changes.
If you bring that sort of thinking into our industry, it never ceases to amaze me how much you learn by going on site: "Oh the poor fitter had to stand on a ladder and reach up in between a head box and how was he supposed to get a drill in there." So I'm a big advocate of on-site learning.
Tony: Do you think that more people should go out on installations to gain a better understanding?
Steve: I would absolutely encourage anyone who is in the industry that hasn't done it to do it, from customer service right through to sales people. A lot of sales people would sell a job and then may never see the job installed. If you're not seeing it installed, you're not seeing the delight on the customer's face. You're not getting that firsthand feedback.
Tony: The window covering industry has changed over the years, what do you think were the major changes in the last five years? And where do you think the changes are heading?
Steve: I'd probably go back a little further a bit to the digital revolution. I had my own business several years back and I remember negotiating with the Yellow Pages rep asking "How on earth could you charge $80,000 for a full page in Yellow Pages?" and the thinking was you had to be there otherwise it would be your competition and you'd be left out. That died within the space of five years. So the digital revolution in terms of marketing and getting message to market is the biggest change for me. The other significant change is motorisation. I'll show my age, but it used to be about $1000 to motorise a roller blind and now you can do that for a couple of hundred dollars, without needing an electrician.
Tony: What does the future look like for you and for Norman Australia?
Steve: I'm very optimistic about the market. I believe we're going to have a pretty good 2021 but as overseas travel opens up, I think that's going to put the brakes on. I think with discretionary income, there's going to be a pent up demand to travel so I can see that sort of tailing off probably towards the end of 2021. For myself, I'll keep doing what I'm doing. I'm really enjoying the role, and working with one of the leading window furnishing manufacturers is exciting.
Tony: Steve, what were your greatest achievements both personally and in business?
Steve: Personally, it doesn't sound like much but I was a reserve at a World Final for speedway when it was held in Australia. That was quite an achievement. I was also chosen to race for Australia on a couple of occasions. In business I've been fortunate to have good mentors in just about every company I've been with and it's good to learn from others. We are all ultimately egocentric, we all think we know best. But learning other view points and how they play out is really what interests me now. So I just like to be really good at my job and continue the growth that Norman and its direct distribution strategy has started from last year.
Tony: You have mentioned how you've had some great mentors. Can you tell me about how you have mentored others?
Steve: Learning from leaders I've taken on board the ability to have the courage of a conviction and be able to articulate that. One thing that probably annoyed me in my time is how many people wise up after the event. I remember a sales trainer once had a great saying, he said you very rarely see opportunities walk towards you, but you always see the back end of them. I guess it's having the foresight to see the opportunities and grab them and run with them rather than go "Oh I knew that was going to happen".
Tony: So your focus is training people to have an open mind?
Steve: Anopen mind and accepting that if you don't agree you're going to challenge. If a person has a strong enough conviction and they've been able to think through all of the consequences of their decision, you know they can convince others.
Tony: You're an supporter of Window Furnishing Australia magazine, can you tell me a little bit about that please Steve?
Steve: Prior to 2013, Norman was distributed through a third party as a lot of factories are from China. That was changed in 2019 to a direct distribution model. So even though the Norman brand is probably known in the shutter side of the industry, it's maybe not as well known in other segments of the industry like honeycomb shades and roller shades. So it's important for us to be able to showcase what we do to a captive audience in our industry. We are all very busy, but something in WFA will catch your eye and we rely on that, people reading an article, seeing an ad and we've had success with that through the magazine. If you want to be serious in the industry and you want to elevate your brand, then you absolutely need to be in the magazine.
Tony: Before we go, how do you see Norman growing over the next five years? The Norman brand is very well known in the USA and Europe, will Norman Australia grow to those heights?
Steve: I would see us as being one of the leading brands; that is one of three or four brands that would probably spring to mind if you did a straw poll of the industry. Norman will be one of those brands within the next five to ten years. We've set in place some really good fundamentals. We've invested fairly heavily in technology so that's scalable. We don't have to worry about the fitting side of things – there are a number of companies who have appeared in the market that can cater for that part of process. We are on a growth curve, a fairly significant growth curve. I appreciate that will top out at some point, but I would see us as being one of the leaders in the industry and that's certainly the experience in Europe and America.