TONY: Joe Turner, welcome and thank you for your involvement in the Window Furnishing Australia magazine Ask The Expert series.
JOE: Thank you very much, Tony, it's great to be here. And it's such a beautiful day here on the Gold Coast, so I would like to say, thank you for having me.
TONY: We're very pleased to have you. Why don't we start from the beginning? How did you enter the window furnishings industry, Joe?
JOE: Well, it's really strange how we actually started. My family owned property, cattle property, which was going through terrible times with the drought. And we came to the city and I decided to go into the building industry. So I served my time as a carpenter but I also attended night school. I developed a building trade as well; I gained knowledge about the building code. So when I qualified for my apprenticeship,
I received not only a carpentry builder's license but a builder's license, so I could build high rise buildings and things like that. But actually, I disliked building and one thing I always wanted to do was selling. There was an ad in the paper with Luxaflex! So I phoned them up and said, look, you know, I've no experience. I've got a building license but I believe I could be a good salesman for you. So they said, come on in and you'll be meeting the managing director. And so I had the meeting and he said, look, you're far too young to be a salesman but we'll make you an installer.
TONY: How old were you?
JOE: I was 21. So I became an installer. And that probably lasted 18 months. And because of the carpentry building background and the installation, everyone wanted Joe Turner to fit their product because they knew it would go in well. I know that I've been given a gift and I'm very grateful for that. I'm not a proud person at all; I'm so grateful to everyone who has been a help to me over the years. As it turned out, I succeeded in sales eventually, because one of the salesmen broke his leg through a fall. He was unfortunately off work for six months. So they made me a sales rep but they gave me the hardest area in Brisbane to sell in to try and prove me wrong. That's how the management worked in those days. And what happened was sales just went really berserk; they were just amazed at this success I had. Even after six months, when the person who'd broken his leg came back, I stayed in the sales rep position and stayed in that role for many years. I won salesman of the year for 12 years.
After a time, they promoted me to Sales Manager of Queensland, and then from that time on I worked very closely with the GM. I progressed quickly through the ranks to general manager level. I was offered moves to both Sydney and Adelaide and Melbourne, but my wife was just having our first child, so I didn't take those promotions for family reasons.
The miracle was that I was flying to Sydney for a general managers' meeting, which we had every quarter, we had to report on our sales, profit and loss and so forth. And our policy was with could only fly economy, but I had really good mates in Qantas, which a lot of us did in those days, and you had the chance of getting upgraded. And of course, my mate was on and I got upgraded to business class. I sat next to a guy called David Delaney and David owned an advertising agency. We had a wonderful time coming down to Sydney, we'd been talking so much, we didn't know we had landed. So he said, look, I'd love to catch up for coffee with you, we might catch up coming home. And sure enough coming home my ticket was business class coming out of Sydney. And they put me next to David Delaney again.
TONY: That's really inspiring Joe.
JOE: It was just a miracle. And so David said, look, I've been thinking all day, I have rung my wife. He said "I want to sort of semi step back from what I'm doing and retire out of the advertising business, we've got a very good business, we've got good accounts. And we're looking for a really honest and good general manager." In that period of studying I had received a marketing degree. So he said "We'd like to offer you a job as a general manager" and it was a very good salary and a car and so forth. And it wasn't that Luxaflex was letting me down; it was the hours that we had to put in, in the blind industry and so forth. So I thought the advertising industry could be really good for me. So I resigned from Luxaflex and joined Delaney DD&A.
TONY: And how long were you at Luxaflex?
JOE: I was at Luxaflex for 21 years. And I have received the gold pin and the gold watch from Hunter Douglas for 20 years' service.
TONY: Do you still have them?
JOE: I still have them.
TONY: Wonderful.
JOE: They're wonderful people to work for. Anyway, I worked for DD&A and we had a wonderful time there because I had a lot of friends, had a lot of contacts. Advertising is about who you know. But just because you know them and you're in advertising doesn't mean they're going to change their account to you. And that applies basically to any company today. If they know you, Joe Turner, yeah he's a good guy, yeah I'll keep give you my line, they're not unhappy with the people they use. And it's the same in the blind industry. In any case, basically they were happy with what they were doing so they wouldn't change to us at that time. But we just hung in there to let them know every month, oh, you know, give them a call and let them know we're still keen.
So for the first six months I got no accounts at all and I thought "I'm really useless, it's really bad." And then all of a sudden, they started rolling in and they were really big accounts. So by the time I left, after two and a half years, at DD&A, we built the agency up to 28 million dollars in billings. And they were extremely pleased, but very sad that I was leaving. What had actually happened, was that one of our clients who I did bring over was Uniline
Australia, who is exhibiting at our Expo this year, and at that time it was headed up by very good friends of mine. And when they knew that I was in advertising they had no hesitation in changing over to us. Well they came into the boardroom and we had our advertising meeting and then they said they had a great proposition for me. "We think you're wasted here in advertising, you're needed back in the blind industry and we've got a company called Finn Blinds that we've let run down we haven't done any advertising with it for three years. We've lost the desire to get it going because we're offending our own customers; selling retail against our own customers who we're selling componentry to."
TONY: So this is what prompted you to come back into the industry?
JOE: That's right. So to eliminate the potential conflict with customers, they offered to sell to us, Finn Blinds Northside, while they retained the south side business. And because it was so run down it was at a very reasonable price. We had a look at the books, we met the people, and we said yes. So I left DD&A to bought Finn Blinds, Northside. Because I was still running the agency, I was able to put the creative team to work. They looked at the name Finn Blinds and although it was very good because of the founders' Finnish heritage, to the average customer it didn't represent a blind company. We were having dinner that night and my daughter came up with a name; "Dad why don't we call it Image Blinds?" So we tried it for about six months as Image Blinds (formerly Finn Blinds) and then we dropped Finn Blinds. We always had the Uniline logo which we used on products but it was Image Blinds as a company. That that was in 1986 and when we sold the business three years ago, we had built the business to a very sizable level, with 50 staff – a very strong team and a strong range of products, Australian made where possible and manufacturing our own products.
TONY: That's an excellent brand strategy.
JOE: One of the things I found was that if you don't manufacture yourself, customers don't have faith in a product that you're buying in.
TONY: Would you agree that we're in control of our own destiny?
JOE: Yes you are in control, because a rep could phone you up and say, look Joe, I'm here at Mrs. Jones house, and we've got this folding arm awning needed by Saturday. Any chance of you might be able to cut the three weeks' delivery? And you can say yeah I can do it. And you just move things around and work some overtime and you can do the job.
So for the first six months I got no accounts at all and I thought "I'm really useless, it's really bad." And then all of a sudden, they started rolling in and they were really big accounts.

Joe Turner
President of the Blind Manufacturers'
Association of Australia
So there is a great advantage in manufacturing yourself.
TONY: After 30 years of owning and running a successful business Image Blinds, can you share with us, what made you recently decide to part ways permanently with the company?
JOE: Yes. My health hasn't been good in recent years so the doctor suggested that I needed to get some distance. I'm a bit of a worrywart; I worry about, this and that and so forth. You know, running your own business, there are lots of variables you've got to watch out for. And so they thought at 70 years of age, I should take a back seat. So I put it on the market and we got a buyer almost straightaway and it sold and it was quite pleasant. They kept me involved for two years and they wanted me to stay on longer. But I was feeling the pinch.So I decided to cut the cords and retire.
TONY: And how many family members did you have working in the business, Joe?
JOE: Look, I mean, even though my family loved the business, my daughter, Jodie decided to study law and became a lawyer, that's my oldest daughter. She actually played a part in the business by posing for our ads but that's the only part Jodie would play in the business. Sheridan would look after the office and so forth but she wasn't interested in running it. She got a marketing degree and other qualifications and wanted to go into marketing and advertising, she wanted to work for an agency. So in actual fact, my two daughters didn't want the business. Jodie got out of law because she was keen on travel. And so she started a travel agency specialising in the Maldives, if you're going on a honeymoon, or a wedding, or a special birthday, she runs the whole event and does all the details. She now operates out of Whistler in Canada.
TONY: Joe, what are some of the biggest changes you've seen in our industry, over the years?
JOE: I think the biggest change has been motorisation. Motors were always in the early days 240 volts and hardwired and you could get a wind sensor and a sun sensor and so gradually they started to improve. But nowadays you've got a wonderful range in motorisation; it can be battery operated and with the use of your phone, you can operate your blinds and awnings. You can set them to times and they also have heat levels, sun and heat levels and you name it, they've got it. It's a bit like Google Home. I don't know whether you have experienced that or not.
TONY: What do you think the future holds for our industry Joe?
JOE: A customer asked me that the other day; actually a customer who just started his own company in the blind industry. And I said, look, I think the future is great. I think all this talk about there being no blinds needed because glass can be tinted now with this magic electronic button and it'll go black and people can't see in but you can see out, but people will still want to decorate their windows. They won't want bare glass sitting there because it looks ugly. So they'll still want a blind on the window. And so there's so much opportunity that I think it will advance a lot more.
TONY: It is an essential requirement, in every home to have window coverings, as a window would be bare without window coverings. What are your thoughts Joe, on climate change and the energy usage?
JOE: Yes, climate change and energy. I think as you know, we have an energy rating program being developed for BMAA and it really is coming into the big time now, because it will help every customer understand what power they're going to save or what energy level they're going to put.
TONY: Very true. Please tell us about your involvement with BMAA and how you started with that Joe?
JOE: The BMAA is a very interesting story. It started as the Venetian Blind Manufacturers Association, then became the Blind Manufacturers Association of Australia. So we had a federal office in Canberra. We also had state offices in Queensland and each state. When I became General Manager of Luxaflex, I became the nomination for Queensland, to represent Luxaflex. So I was put on the committee. I wasn't long on the committee before I was made president of the BMAA. And the rules in those days were that you'd change president every two years, which always leaves a bit of a mess because there are always things left over and things not done but that's how we want it.
They made me President of BMAA and I served my two years and then another president followed me and we carried on like that. Queensland was a very strong and vibrant branch and the blind industry in Queensland was very strong. However, the BMAA started to fall apart in other states and
Western Australia was the first to fall, then Victoria, then South Australia and Tasmania fell and New South Wales hung on. And so New South Wales started this idea that we'd all get together for a convention and we had a big convention with displays. In those days it wasn't called 'Expo' but it was similar to what we do now. It was quite successful; it was at the Sydney showgrounds.
We then suggested that Queensland put the next one on. So we put it on at the Sheraton and we changed the name to Super Expo. And the total movement changed and I'm not putting states down or anything like that, but there's something about Queensland in winter that the southern states like to come to. And of course, it was always held in in June because it's the quiet time of the industry and people have time to get away.
TONY: That's a very wise strategic move.
JOE: Yeah. So we had the expo in Queensland and it was very successful. At the same time, the only association left in the blind industry was Queensland, but we thought, we can't have this. So we then formed BMAA Australia, and we invited each state operation to join us and without fail they all did.
That's how BMAA was formed and we now have 176 members across Australia and I think without fail we've got every key player in our industry in as a member. We certainly would like a lot more and we would like a lot more retailers to come on board. But there's something about the people that we have, they all share the same vision that we have. They're not looking at themselves; they're looking at the future of making BMAA better, which is a very good attitude.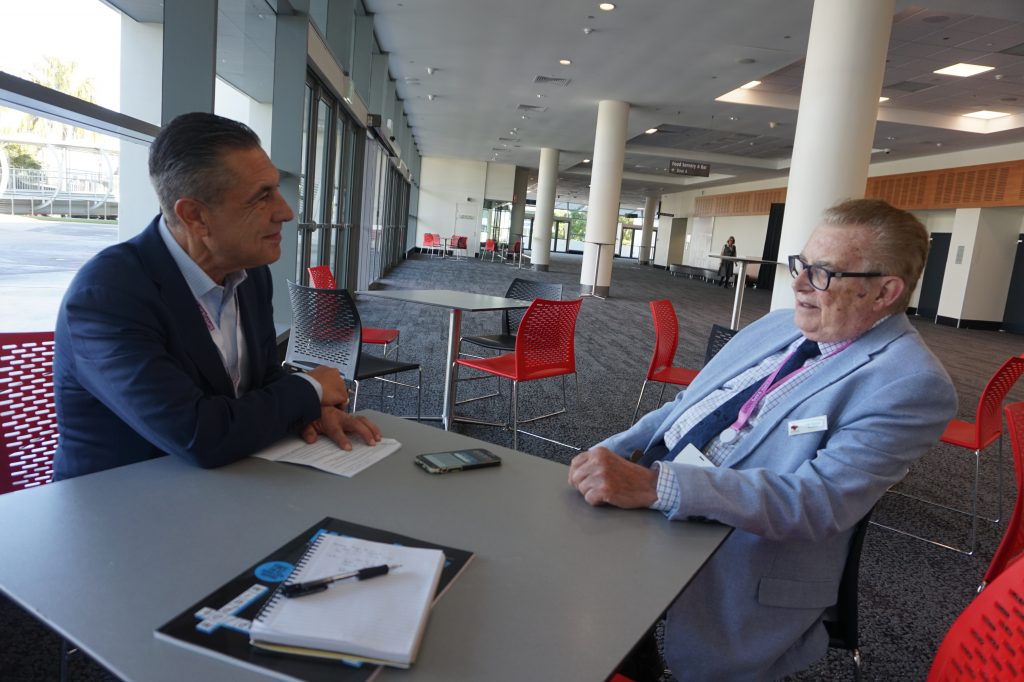 TONY: Great start Joe. If I could be a spokesperson, as a member of the BMAA, we greatly appreciate all that you've done for our industry.
JOE: Oh, thank you, Tony, thank you very much.
TONY: You've changed the industry with your input.
JOE: Thank you, thank you very much.
TONY: Joe, tell us a little bit more about your private life?
JOE: Look, as you know I have two daughters and four grandchildren who are in Canada, and they range from 10 to 17 so they're all at interesting ages. They're the love of our life, we love them dearly. We talk to them quite a lot on Face Time and we enjoy the friendship we have with them. In terms of our two daughters, Sheridan has continued on with the advertising and has done extremely well and she's a director of a company that she's with. And Tom her husband is also in advertising but he's on more the creative side and technical side. He could make your phone talk or do anything you like with electronics, very much a whizz-kid and it just blows me away with what he knows, as I'm useless with electronics. We see them quite often because we fly to Sydney once a month.
Aside from family, I have been have been very involved in youth work and I have worked very hard to try and help our young people today. And I've been chairman for 26 years with a charity called Youth for Christ. They're interdenominational. The organisation came out of America, its worldwide, it's in 54 countries. And they have a group of business guys who get together and run the board for them. But the people who are running YFC are young people; each year we have a camp for them at Christmas and activities during the year.
TONY: What ages are they?
JOE: In my time age group was sort of 14 to 16. Now they've brought it back to 10 years old. At 10 years old they're into drugs. The camps are free. We take them to a national fitness camp where they've got to do the national fitness instructions as far as exercise. And that goes every day and that's done on the beach which is a benefit. Then they have guest speakers. And each year we do that and we find that of the 150 probably at least 100 come back changed young people.
TONY: What a great success rate!
JOE: Yes it is.
TONY: You will do anything you can to contribute, won't you?
JOE: Yes. I'm kept busy! And then with the BMAA as president it's still a busy, busy life. Every day there's a drama or two.
TONY: Well Joe it's been an absolute pleasure to be with you today and hearing you share your life with us. You're a legend, an absolute legend. Is there anything you'd like to leave us with?
JOE: Yes. I wanted to say thank you to James Boston, because James has put together a magazine that's uniquely for our industry. And I don't know whether he realises how important it is to the industry. And we really appreciate that James is in BMAA, because without your magazine, I don't think we would have as much success as what we're having today. And I know and I speak on behalf of all the directors we are so grateful to yourself for your willingness to support BMAA and how great the write-ups have been. And I think Tony, well as you know one of our other magazines has closed, so we know it's a tough market. So we really thank James for what he's done. We also thank our members for taking the time to make our meetings and so forth.And as you know, it's going to be an exciting year this year because the energy rating scheme should be launched.Also there was our problem with the building code of Australia, which means that after the first floor, you won't be allowed to put a blind or an awning up. We feel we'll have that fixed and we'll have it back on track. So I think it's an exciting year and I'd like to thank everyone. Tony, you've been a legend too in your own right, and you've got a great business with Victory. You've made a company that that you can look up to. You've always been a helpful person to me; if I had a problem I could ring Tony and it was vice versa, if you had a problem you could talk to me. So we've had a great friendship and relationship and that will always continue.
TONY: Thank you and I appreciate your words greatly. They mean a lot coming from you. You've done such a great job. Thank you so much.
JOE: Thank you Tony, good on you.