TONY: Jenny, welcome, and thank you for your time today and your involvement in the Window Furnishing Australia Magazine Ask the Expert Series.
JENNY: Thanks, Tony. Great to be here.
TONY: So, Jenny, how did you first come about getting into the window furnishing industry?
JENNY: Well, it's a funny story actually. My mum worked at Hunter Douglas and my stepfather worked at Hunter Douglas. I had the opportunity to—while I was at uni-do my major marketing project, and I asked my mum to see if somebody at Hunter Douglas could bring my marketing group in to do the project, and that's when I first met Tony Politis.
TONY: Wonderful.
JENNY: So, I did the launch of Silhouette into the Australian market as a uni project, so that's how I first met Tony.
And then I went and got some career experience, worked in shopping centre marketing. I did that for a number of years. And then a role came up at Hunter Douglas in the product management team, and I applied for the job. Tony came in for the final interview and it was like "Oh, hello!" because obviously, we knew each other. So I went into product management and did that for about six years. I then left Hunter Douglas and subsequently came back into the current marketing role, in the blind maker area, on the Luxaflex, Australia Window Furnishing, side of the business. It's been a long history from I suppose my teenage years when my mum was working for HD.
TONY: So, it started off as a real family affair.
JENNY: Yes, I kind of feel like a Hunter Douglas baby that grew up with the business.
TONY: Wonderful.
What can you tell me about a typical week in the life of Jenny Brown at work?
JENNY: I think if you work in marketing, there's no such thing as a typical week, to be perfectly honest, which is one of the things that makes it great because every day is a bit different. A week can vary throughout the year depending on what we've got on.
I suppose a typical week, I spend quite a lot of time just coaching and developing the marketing team within Hunter Douglas and helping guide where we're going; a bit of time with my colleagues on the Australian Window Furnishings management team, our customers' are a big part, our aligned retailers usually, there's some correspondence back and forth with them; our suppliers; media. I do all the Luxaflex media spokesperson work. There's usually time I'm spending with media, and in more recent years, some of our influencers and partners that we work with.
It's very varied.
If it's conference time or product launch time, it could be very different than if I'm doing travelling on a roadshow around Australia spending all my time with our retailers. I think that's one of the things that make the role great over the years and why I've worked so long in the business; because of the variety, and I really enjoyed that.
TONY: How large is your current team?
JENNY: Eight in the marketing team for the Australian Window Furnishings blind maker. Obviously with me leaving Hunter Douglas coming up soon, that opened the opportunity to do some restructuring as well. We've merged our components and our blind maker team together, so it's a little bit larger now.
TONY: And you've had involvement in that change?
JENNY: Yes. Yes. Absolutely, Tony asked me to help; sort of work out what was going to put Hunter Douglas in the best position moving forward and being able to pass the skills that I've got along to coach up the team before I leave.
TONY: So, in addition to that, what legacy do you think you've left behind?
JENNY: I'm really proud of the legacy I'll leave with Hunter Douglas. It's been a fantastic company to work for and I'm glad to have been able to really put my mark on where we've taken the brand for Luxaflex.
It was a heritage brand that you used to find in grandma's house. When I started working with it, it was a bit old-fashioned. I've been able to not only develop the brand name to where it is today, but also do a lot with the company in the marketing infrastructure where we've gone with digital marketing, our full digital ecosystem across our websites, our marketing automation systems, our marketing analytics and reporting.
And I think it's about the people as well. I've worked with some fantastic people over the years and being able to be part of their development and career growth through that time has been something I feel like I'm really proud of and I've hopefully made a really good legacy for the people I'm leaving behind and the brand.
TONY: And from what we can see, you've done a brilliant job.
JENNY: Thanks, Tony.
TONY: What would be one of your greatest achievements?
JENNY: Personally, or privately?
TONY: Both. Why not?
JENNY: Look, I think one of the biggest challenges I've had in my life was I do triathlons. I did the Ironman Triathlon in Cairns six years ago. And I think if you know what's involved in actually doing one of those races, it's not the day of the race, it's the years in leading up to be able to be fit enough and healthy enough to take on an Ironman Triathlon.
When you're juggling a full time career job and training for an Ironman, it's very, very challenging and you've got to be very organised, very dedicated, and very committed. It was probably the biggest challenge I've had in my life, but definitely one of the biggest achievements because when you cross that finish line, there's nothing like the sense of accomplishment.
I'm not planning on doing another one. It was a lot of work.
TONY: Just like that old saying, it's taken 10 years to become an overnight success.
JENNY: Yes, exactly. Exactly.
TONY: Very good. What's your best part of the triathlon? What do you excel in the most?
JENNY: Well, I was a cyclist. I'm a reasonably good cyclist. I was good at running too. Swimming was definitely not my strong point. And then I came off the bike during a race three years ago which took me out of action. I'm not particularly great, at the moment, I've just had a shoulder reconstruction. But the plan is I'll get back into that now that everything's been stitched back together, I should be able to sort of tackle the cycling. I mean, there's the technical skills around cycling as well as the strength and fitness of it.
TONY: Wonderful. And how about in your professional life then – your achievements?
JENNY: I think that what I've been able to do at Hunter Douglas with the Luxaflex brand, particularly over the last five years where we've been able to really take the Luxaflex Gallery program and the advertising program. That is probably one of my proudest achievements because it's been the cornerstone of success for the business.
And it's not just what I've done but it's being able to bring all our Luxaflex retailers together, all our internal teams together and have that vision of where we could go and actually deliver it. For me, it's been a very large team effort but being one of the key drivers of it's definitely I would say the big achievement.
TONY: Brilliant.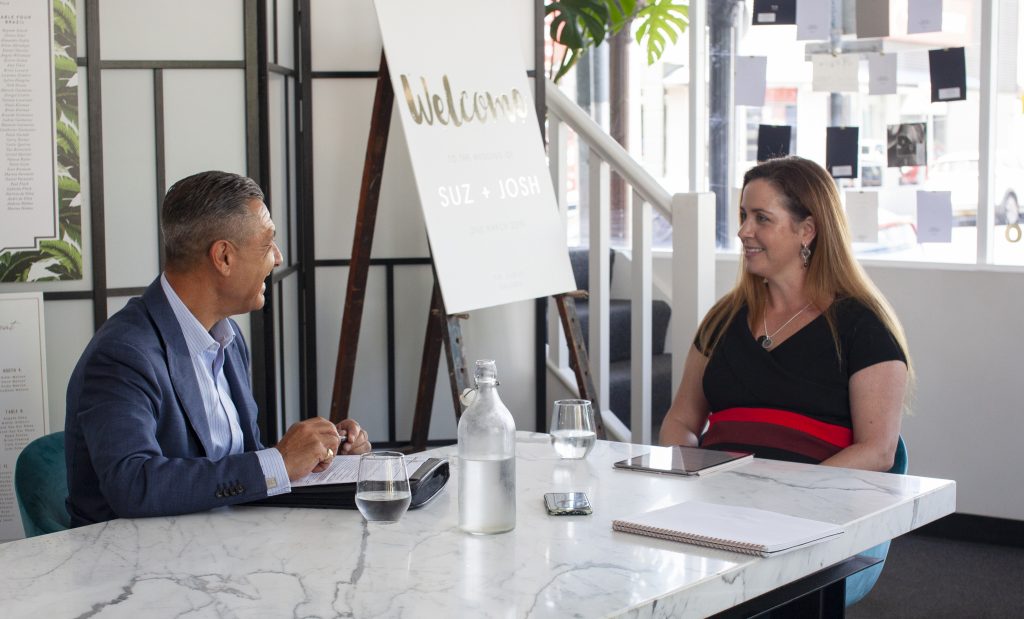 What can you share with us about some of your most difficult challenges professionally?
JENNY: Professionally, look, I think the rate of change with technology, particularly in the marketing sphere, it increases all the time. I think that everyone can appreciate how much it's impacted everybody's businesses. When you lead the marketing function in any business, you've got to be that person that knows it intimately inside and out, but you've got to be able to identify what's best, how to use it best, and how it will apply best for your business, so you don't waste money.
Keeping up with that and the rate of change and understanding how you can best use it to get the best return on investment for the business, that's probably the biggest challenge any marketer currently faces. It's no different if you're in a big business or in a small business. You have exactly the same challenges.
So I think that's probably everybody's biggest challenge at the moment.
TONY: And making sure everybody's onboard with the same
JENNY: Yes. A lot of people just don't understand it. They're scared of it. People get scared of what they don't understand, particularly on how digital works now, and how Google works, and privacy considerations around data collection, and how data's used. If it's used well, it's a great marketing tool and it's there to add a lot of value for consumers and for businesses because it's used in the right way. I suppose that's something everyone needs to probably invest a little bit more time in understanding and not being frightened of because it's actually a great opportunity if you embrace it well.
TONY: Education is very important, isn't it?
JENNY: It is. It is.
TONY: A similar question, but what changes have you seen since you began in the industry, and what changes have you seen in the way that people market in our industry?
JENNY: Yes, huge changes. I suppose I've worked across a couple of different capacities in my time at Hunter Douglas across 20 years. In that time, obviously, we go through our product and fashion cycles in what was big 20 years ago is completely different to what was big 10 years ago to today, and we do work in the fashion industry.
TONY: Exactly.
JENNY: Those cycles, hard products, soft products, colour tones, textures – all of that stuff has been huge. We've all seen that.
The changes in operating methods, the automation and motorisation sector – you've talked about it with previous people that you've interviewed in this Ask the Expert series – it's become so commonplace now. But then you look at things like Google Home and Alexa, it's commonplace in everybody's home across other industry categories. That's just something, obviously, we're going to see continue.
It's partly also triggered by child safety, so all the child safety stuff that came in, and Hunter Douglas really led the way in a lot of that in the development of LiteRise and UltraGlide systems and various hardware systems. The US was really instrumental in driving that, but it's definitely part of the culture of the business.
From a marketing perspective, the biggest change, obviously apart from digital is, the way marketing is done.
Back in the olden days, it was market to the masses. That's what traditional free to air TV advertising is. It's marketing to the masses, not marketing to the individual.
The move from that to marketing to the individual now is to do with the targeting tools through digital. Even email marketing, it's not a batch and blast process. It's an actual understanding of the audience segment and the personalisation of the customer journey through your websites, and where they are in the buying cycle, and be able to market to somebody based on their life stage, not just their demographic profile, their preferences where they're in market/out of market. That's been a massive change in marketing.
You can market very effectively if you put the right tools in place. It's just a completely different way of doing marketing now.
TV still has its place, definitely. Magazines still have their place. All of the traditional stuff – probably not so much the Yellow Pages print publication which they keep telling us it's used. I haven't seen one used, personally in years.
TONY: Not unless they're being used as a door stop.
JENNY: But when we talk digital, you've got to be careful. Not everybody only consumes digital. Letterbox catalogues; they're still important. Magazines; they're still important. TV shows, they're still important. It's understanding the marketing mix and being able to cater your message and your creative and targeting tools really well to get to your audience. That's been the biggest change from marketing to masses to marketing to the individual now.
TONY: So with programmatic marketing, do you feel that it's more about cost per response?
JENNY: Yes. It's funny. When you actually talk about what marketing metrics are the most important ones to measure against, you have to be careful about what the marketing agencies tell you because, ultimately, you want what drives a sale for your business, not what's going to give you a click, or what's going to give you an impression, or what's going to give you a share. All of us can go generate heaps of leads. But if that's not the right audience for your product that's going to turn into a quality sale for your business, you may actually be getting a lot of engagement, all the marketing metrics might be showing you, but it's not working for your business. And it's not working for your business because you're not getting the right messages to the right audience at the right time, so really, your marketing has to link back to your sales and the return on investment measures.
So just be mindful of those marketing agencies can tell you a lot of things, and you've got to be smart enough to understand is it the right thing for your business because if you're not turning the ad clicks or leads to sales, you don't generate the marketing budget to pay for it.
TONY: Brilliant insight. What state do you think our industry is in and where do you believe it's heading?
JENNY: I think the industry is constantly changing as all industries are.
Probably, the big one is child safety, with a move to cordless, I mean, there's discussion around at what point in time will a blind in
Australia not have a cord on it? I'm not sure if it's going to wait for legislation to happen before that ultimately happens just because of price points. So I suppose, I see that from a product perspective, there's going to be that constant evolution towards that as an ultimate goal. How far away that is? I don't know. Who knows? But, ultimately, it'll happen at some point. Hopefully, we don't see child deaths that trigger it.
TONY: So it's about being proactive rather than being reactive.
JENNY: Absolutely.
TONY: We've talked about triathlons. What are some of your other passions outside of work?
JENNY: Well, I do love travel. One of the great things I've been able to do at Hunter Douglas is to look after our Windows to the World Travel Incentive Program, which has been fantastic. Being able to go around the world with our customers has been an amazing experience.
The first trip I did was South Africa. Amazing, amazing trip. I've done South America, and Europe, Cambodia, Road Trip USA which was our last one. All of those experiences were fantastic. I am also a photographer. So I've been able to photograph the world while I travel. I also scuba dive, and do underwater photography. They're the constant things that I enjoy to do. And if you can mix it with work, that's great.
TONY: Very good. You're very active.
JENNY: Yes, I don't stop unless I fall off a bike. That stopped me.
TONY: What was your most interesting or fascinating place on one of those Hunter Douglas tours?
JENNY: They've all been so different. I don't think that there's a place that I haven't loved that we've gone to. I love the US, the national parks; Yosemite, Death Valley – just the amazing the scenery in the US was stunning. But Europe, I absolutely love Europe. The Prague and Vienna trip that we did there was just stunning. The culture, and the history, and just the beauty of the places is just amazing.
TONY: Which people have been your greatest influences, and why?
JENNY: I don't know. I was thinking about this question. It's hard to put a finger of one or two people. I think from an early age, my parents definitely. I think that you learn a lot from your parents from your worth ethic, your finances, how you treat money and just your attitude to life.
My husband's been a big one, obviously. We've been married for 20 years, and he's been a big influence also. I think every boss that I've ever had. I spent a long time working with Tony [Politis] and he's been a great influence on me, plus my work colleagues and my friends. I spend a lot of time in the triathlon community as well, and you meet people from all walks of life doing that. You get a unique perspective on what people do. Yeah, so all those people have influenced me in some way I think.
TONY: Good. Now that you're finishing up with Hunter Douglas after 20 years, what does the future look like for Jenny Brown?
JENNY: Yes, well, hopefully a lot of new challenges. As I said earlier, I love to travel, and I love to be involved in sporting things, so lots of that hopefully.
From a professional perspective, I'm really excited to see the opportunities that allow me to take a lot of the experiences that I've had and apply them to new challenges. I like to be able to make a difference and really push the boundaries and be at the edge of what's going on in marketing. But as I said, it's around driving the company that I'm working with achieve their goals.
TONY: What do you think the future looks like for Hunter Douglas and the Luxaflex brand?
JENNY: I think Hunter Douglas and Luxaflex are in a really great place. Being able to leave a really strong legacy for the brand, for me, was really important. I think I've done that. The business is looking really positive. All the signals are for a strong future for the industry and for Hunter Douglas and Luxaflex. There are lots of exciting things coming up as always. So, yes, I look forward to watching it from afar and seeing what's going on.
TONY: Jenny, what advice would you give in regards to marketing for all window covering businesses?
JENNY: I suppose I touched on it a little bit earlier. Think about who your audience is. If you try and be all things to all people, you'll be nothing to no one. Really, be quite clear on what your objective is. Brand building is important, but you've got to get your mix of quality lead generation for who your audience is and understand what your customers need and market to them properly.
Customers are pretty savvy these days, and you've got to give them the respect of knowing they've done their research online and they're coming to find good quality. People aren't dumb. They've done a lot of legwork compared to many years ago when people were very reliant on what they got told from the sales consultant and you just can't bullshit people now. They've got access to everything.
Find good marketing professionals to work with – ones that have got the same attitude to business and treat you with respect and listen to what you are trying to do. I hear about agencies all the time that want to push their own agendas, not the agenda of the business. You've just got to pick and choose the bits that are relevant for you. Pick the good advice.
TONY: Hunter Douglas is an advertiser and a supporter of the Window Furnishing Australia Magazine. Can you share with us why, and what impact do you think the magazine has had on the industry?
JENNY: Yes. I remember when I think James came out to our office when he was looking at starting the magazine and we said, "What a great idea." because the industry needed something. We just had no way of sharing what the industry was doing.
We've always wanted to support the publication because it gave us a voice to not only show off what we were doing but also for us to support the industry as one of the major players in it. We felt it was our place to do that. We've been advertisers since the very first edition and continue to be because we feel it's important to be supportive of the industry and to be a major voice in sharing what we are doing, and hopefully, being a positive influence to new product development, trendsetting, events and it's a sense of community, and sharing those community stories too. I think it's great vehicle for that.
TONY: Very good.
JENNY: Thanks for the opportunity to have a chat. It's, obviously, a little bit sad for me to be leaving such a great industry. But I wish everybody the best and I'm sure it's going to be something that always stays with me. I'm not going to be able to walk past houses without looking at the blinds and what brand is on the bottom rail of that blind. I think that having had that entrenched for such a long time, I'm not going to get out of that habit anytime soon.
I'd like to say a big thank you for the support everyone's given me, and a big thank you to Tony Politis and everyone at Hunter Douglas as well as our customers, our suppliers for the great experiences and friendships over the years. And thanks to James for the opportunity to share my story.
TONY: Well done. Well, thank you for your time and we wish you success, health, and happiness.
JENNY: Thank you very much.