TONY: Frank Cairns, welcome, and thank you for your involvement in the Window Furnishing Australia Magazine Ask the Expert Series.
FRANK CAIRNS: Thank you very much.
TONY: Frank, let's start at the beginning. When and how did you enter the industry?
FRANK: I started in Brisbane, Queensland, of course, in 1984. I started off manufacturing vertical drapes in my garage with my wife. After a period of about three months, we decided that the neighbours were doing too much complaining about the noise, so I rented a little factory, little shed, and things progressed from there to where we are today, really.
We'd been in business less than six months when I got a $2 million contract for vertical drapes. In those days, it wasn't as tough as it is today. We actually got a $1 million deposit, so that set the business going to a point where I thought I was doing something right. We just progressed from there.
Trends change, and we got to follow the trends or create them. From vertical drapes, things moved to timber venetian blinds, to shutters, and the natural progression was that we went from houses to doing commercial buildings. The market fluctuates and so we moved into resorts catering to the Japanese visitors coming into the country then. Then resorts went down, and commercial buildings went up. That's basically what happened with the market in timber venetian blinds. It was very big in the '90s; we then moved into shutters, and we've been making shutters now for over 20 years, and that's our main function in the industry today.
TONY: If I remember rightly, Frank, in terms of timber venetian and shutters, you're one of the leading manufacturers and one of the first to manufacture in Australia.
FRANK: Yes. We did a kind of BMAA Show in those days. It was I think the first one and we were swamped, literally swamped by big and small companies. We were not only manufacturing the blinds, but we got into supplying finished slats, and we were producing, at one stage,
enough to make 250 venetian blinds a day. We got some big customers.
TONY: And in those early vertical manufacturing days, were the processes all manual?
FRANK: Oh yes. There were no machines around in those days. On the little cutting tables, everything was done by hand and sawn by hand. All the tracks were made by hand. We did a lot of work for the commercial market. You dealt with a lot more expensive fabrics, but the margins were there, so it was a good business to get into.
TONY: Very good
FRANK: At that time, really, no one in Queensland was looking after the commercial market. Architects weren't being called or anything. It was an open book for us. It was good.
TONY: Always good to be the first, Frank?
FRANK: Yes it's good to be a leader, not a follower.
TONY: So Frank, your daily activities have probably changed a bit over the years. Can you tell us about a typical working week in the life of Frank Cairns?
FRANK: In our industry we've been focusing on Thermalite shutters. That took time to create that market. It took a lot of effort and money, I suppose, to develop a demand for the product to the extent where market trends change. I mean, you can ask anybody in the industry and around 15 to 18 years ago it was all about the timber look, which doesn't exist today. It was perfect timing, again, to come in with a painted look shutter, and so Thermalite is the way we go now.
I work two and a half, maybe three days a week, but normally, it's a matter of going in the office and then being told to get out. I mean, it's all about the right staff. And I firmly believe, and I said it many years ago that while I may own the company, it's the staff I have that run it and make it what it is today. And anybody in any business, really, they'll be nothing without the staff and that's what a successful business is about. There was a stage last year where I never went to work for eight months, and when I went in after eight months, they told me to get out because the business was running better without me! Having a good crew behind you is very important.
TONY: I read a great book called 'The E-Myth', and The E-Myth talked about working on the business and not in
the business, and getting people better than you around you. You mentioned earlier that someone had told you about working on the business and not in it. Do you remember who that person was?
FRANK: Yes, he was a business developer. I paid him to come up and have a look at my business. He spent about half an hour with me. He said, "I'm going to go into your factory." He came back and said a bit harshly: "You need to sack him; you need to sack him; get rid of him, and so on." I said "No, I'm not getting rid of anybody. You want to tell me how to get around that without sacking anybody?" So we worked on it, and he paid about half a dozen visits to me, and it wasn't that long that I realised, really, that a lot of what he's saying was correct. It's true what he was saying, and you need to spend less time hands on, and more time looking and developing, because any company that sits on its laurels isn't going to evolve. You've got to think about taking things to the next level or introducing the next product.
Another phrase he told me was when you ask someone to do something, does that person delegate it to someone else or does he abdicate it? And if someone abdicates the responsibility, they don't just give it to someone else to do; it's abdicating their own responsibilities. I don't abdicate; and I don't want anybody to abdicate their responsibilities.
TONY: You've had many great achievements throughout your career. What would be your greatest achievement and why?
FRANK: Outside of work, my best achievement is marrying my wife.
TONY: Very good.
FRANK: And our three children as well.
Work-wise, I think what I would say my best achievement is that I'm still here after 34 years. There aren't many of us that have been around a long
time. There's a lot of what we call "here today and gone tomorrow" blinds. But I'm now the old school. There's no substitute for experience. You can't buy it.
Another phrase I like to use is that nobody ever pays me for what I do. They pay me for what I know.
TONY: After 34 years in the industry, what are some of the key challenges you faced?
FRANK: Juggling my private life with work has been a big challenge. And to be successful, I think, your family suffers. I've been lucky, but some aren't. In any case, what's life without a challenge? Boring. So, I think the biggest challenge I've ever had is not to get bored.
TONY: You spoke of balance between work and play. What do you do for play?
FRANK: I'm still trying to master how to work a computer! But primarily, I play golf. I play religiously every Friday. I play with a group of friends from outside my business. I tend to separate work from my social life. None of them is in the industry, but they're all businessmen like me. We play on Friday afternoons and then I play with another group on Saturday mornings. Then if my wife lets me out, I have a quick game on a Sunday afternoon. Otherwise, I don't. At my age, I'm getting too stiff to play three days in a row.
Another thing that keeps me balanced outside work is that we have, I suppose you could call him a son. In fact he's my grandson and he's been with us since birth, so I became a "dad" at 52. He's 18 next month, so I'm very proud of both my wife and of him. That kid keeps me a bit busy; I keep him in line, keep him in check.
TONY: The window coverings industry has seen many changes over the years. What were the major changes you've seen over the last 5 to 10 years?
FRANK: I think roller blinds, really, have been a major change in the industry in Australia. Roller blinds came in and companies such as Rollease Acmeda have improved that product. Obviously for me, shutters. I mean, shutters were a rich person's product, but now they're becoming more popular. And the prices have come down in line with that.
I think shutters, actually, are the window trend of today. I've seen them go, but they're
coming back now. Same with curtains; I've seen curtains gone and now they're coming back.
Obviously in the industry, the Chinese influence over the last five years has become greater and greater, but not much really else. I mean, people are still people. I think there's more involvement from suppliers both overseas and abroad now than there ever was, so that's a big influence now. The choices are greater for the consumer in terms of what product they want. Technology, of course, the internet and Google and everything else has changed the whole marketing strategy over the last five or so years. I don't see many companies advertising in the Yellow Pages anymore. That's a big change.
TONY: Exactly.
FRANK: Technology really changes the game.
TONY: You spoke about plantation shutters being very popular these days. What product do you think, or do you believe will be the next big thing in the window covering industry?
FRANK: I think shutters will be around for a while because they become more accessible, and I think curtains will come back as a trend. But I don't see anything new. I mean, I go to trade shows, really, a lot of them are basically the same product. You see the same thing over and over again. I would love to see something new. But motorisation is getting good and less expensive. I think that the battery-operated or solar
powered motors are giving people more choices and more affordability, but I don't really see a ground breaking new product in the near future. I may be wrong.
TONY: What do you think the future holds for the industry, Frank?
FRANK: Well, I think there are challenges out there. I think some of the challenges are DIY. I think that market will grow while there are companies like Bunnings and other similar players. I think that's a challenge. I think it's a little unfair on our industry that we need to have a licence or take responsibility for fitting a child safety devise, but Mrs. Smith doesn't. Someone goes to a department store and buys 10 blinds; they don't have to be responsible for how they're installed, and we do. I wish I could change that.
But I think the internet is another big avenue. In years to come, I think people won't even bother going to Bunnings; they'll buy online. Why go to a shop and buy four blinds, and bring them on, and fit them when you can go online, have them delivered and they'll still fit them. So I think online is the next big thing. As with every other product, everything's going online now. For younger people, 40 year olds and younger, everything's done on their phone. But online will never, ever replace that personal touch and obtaining the right information and knowledge from a professional blind manufacturer installer, and that's where we'll still survive. I think the industry's just got to diversify a little and cater for both.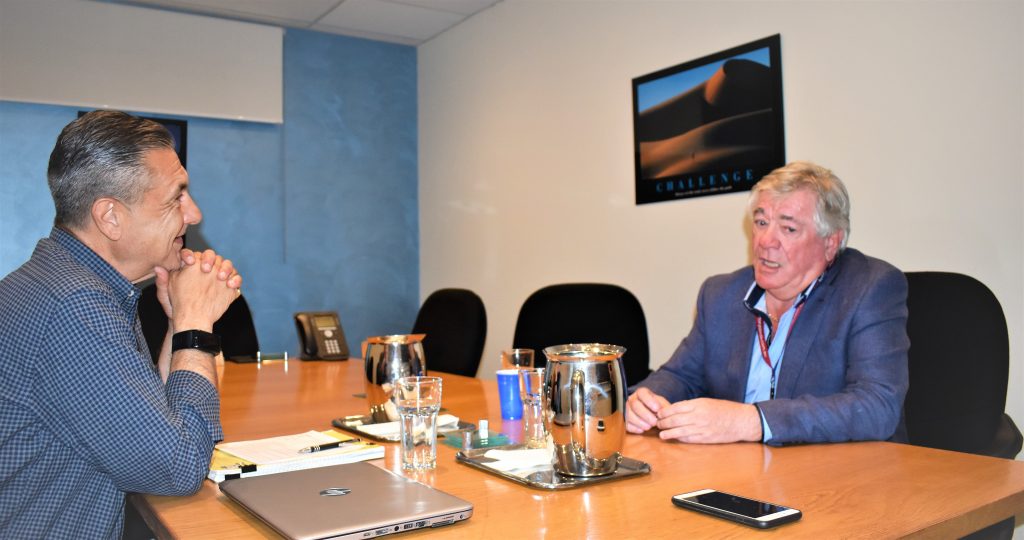 TONY: On another note, your support for the farmers suffering in the drought was a great initiative. Can you share how this came about and its success?
FRANK: I saw it on the news and one thing led to another. We decided to donate a percentage of every order of Thermalite Shutters to the buy a bale campaign during the months of August, and September. For every single shutter order we got, we donated $100 to the cause, not really thinking far ahead to realise how much it was going to cost us, but it was all worthwhile. I personally and my staff felt good about doing it. We've raised well over $12,000.
TONY: And most importantly, Frankie, helped some farmers.
FRANK: Yes. They're our customers. I know the banks and people give a lot more, but I think if we work on percentages, $12,000 was a good input by my people.
TONY: Great effort. You've completed many projects overseas. Can you share your thoughts on that process here?
FRANK: Well, I don't think it's all that difficult, really. I mean, whether you jump in a car or jump on a plane, it's not really that difficult. I mean, you're still installing the product just the same as you're here. It's just logistics. We've been to the Seychelles, Mauritius. We've done all the work. It's just as difficult, or easy, doing them as it is the ones in the Whitsundays. We've supplied product
to England, Germany. We didn't install it over there, but we've even put blinds in Raffles in Singapore. But to fly over to, say, to Mauritius, you can measure a resort, if it's done correctly as far as being at the right time, you can measure the resort in a couple of days, and you fly back, and then you send the team over, and they fit it, and they think it's a holiday. They don't realise how hard they're working. We would do resorts in four or five days.
These days, we focus a lot on commercial work. We do a lot of work for hospitals, schools. Thermalite was actually our preferred product in North Queensland hospitals because they can be washed down, sterilised to some extent as with a hospital bed. They'll wash down the mattress when a patient leaves and then they wipe off the shutters.
TONY: What was the process in getting that preferred status?
FRANK: Well, it was just a general enquiry by one hospital in the Gold Coast. I went down to see them, and we did a mock room, and then they said okay. This was the older part of the hospital. We were replacing existing window coverings bit by bit as the renovations were going on. They then built an extension to the hospital, so that was the next stage. Then that hospital belongs to private health company, so we then went from the first hospital, to the next, the next, the next, and we've done about seven hospitals. They're a very versatile product because you can throw the lights a lot better and they got insulation and acoustic protection. I never dreamt that I'd be putting shutters in hospitals.
TONY: In terms of your involvement in the BMAA, what drives you?
FRANK: I just felt that I needed to be involved not so much in making decisions but helping the BMAA
drive things through, such as child safety, like the licensing effects through awnings and shutters, then you got the WincovER energy ratings scheme now that's coming up. I managed to have, with the help of other members of the BMAA, some success with the child safety device.
TONY: Where do you see yourself in the next five years or so, Frank?
FRANK: In five years' time, I'd be quite happy if I'm still working in this industry. I mean, I had a bad spell a couple of years back healthwise, but I'm fit as fiddle now. I don't see myself retiring. I've seen so many people, not in our industry, but other people who've retired and then regretted it. They sort of "vegged out" you know? As long as my body keeps up, I'm quite happy to keep going.
After 34 years, I really don't know anything else. I can't become a nuclear scientist. I'm too old for that now!
TONY: Frank, I'd like to thank you for your time today. It's been terrific having a chat with you. We always like to chat. Is there anything you'd like to leave us with?
FRANK: Not really. I would say that at this time of year, which is a busy season, I think when the season's over at Christmas time, we should all have a rest and get ready for next year because every year's different and has unique challenges. I'd like to wish everybody success for the rest of this year and for next year. Merry Christmas! And that's it really.
TONY: Fantastic. Thank you so much, Frank. It's been a pleasure.
FRANK: Cheers, buddy. Thank you.