Tony: Andrew welcome. Thank you for being part of the WFA magazine, Ask the expert series.
Andrew: Thank you very much Tony I appreciate the honour, it's great.
Tony: Andrew when and how did you enter the window covering industry?
Andrew: It's approximately 23 years ago now, so I've gained a fair bit of experience over that time. I actually started at Décor Blinds doing commercial sales. I had a background in a trade and that really bodes well for what we do in the industry, particularly in the wholesale side of things. Customers can ring me and say I've got this scenario, and you can visualize exactly what they are talking about to assist. I hadn't had any experience in the blinds industry before but could read plans and understood plans and understood how things fitted. I was fairly young, and it was around that time that I lost my mum, and it's fair to say it was a really tough period both personally and professionally. It was during this time I changed jobs and decided to do some sales work, before spending approximately six years at Orion Blinds as the company's wholesale sales manager. Then I got to a point where I was constantly away and I'd come home from a week away and my daughter, she was only six months old, and I felt it would always take an hour or two for her to warm up to me when I got home. My wife never pressured me, it was my choice as a father, I decided that I wanted to be home more regularly. I had a couple of other things lined up, and then Dyson Wood had actually heard that I'd resigned. I hadn't spoken to him, he'd been a client of mine previously, and we'd obviously met at other events. Dyson had heard I'd resigned and said, mate whatever you do, don't accept a role until I've heard a chance to catch up.
Tony: Wonderful, what happened then?
Andrew: Yeah, so Dyson contacted me the next day and I accepted the role pretty much the day after that and have been here since and love it. Obviously, there is a lot less travel now with COVID, but if I do need to travel, it won't be as often as it has been in the past.
With the trade background I can fit quite easily awnings, shutters, blinds, no problems at all, so I can also offer our customers installation, tips and tricks and awning installation advice and training. Having the retail experience as well, gives you a good insight into what the retail businesses expects from their wholesaler. It is important that you've got a good product, you've got good lead times and you get quality service.
Tony: It's the small things that make the difference?
Andrew: Yeah, it is Tony. Sometimes you can get that busy that you sort of lose sight of the bigger picture. A lot of the retail companies now might be a one-man-band. And they expect support, and they appreciate the support from their wholesale company that they purchase from. So, they need to be able to send you a text message on a Saturday asking for something because that's when they're doing their office work and expect it to be done, not Monday morning when you're in at the office. It's providing that level of support and it also creates good partnerships and definitely it sits with growth in business because then referrals, recommendations happen, and you just grow organically from there.
Tony: How many team members do you have?
Andrew: We've just brought on another three staff and we are about 28 to 30, factory plus office staff. We use philosophies out of Lean management, and everybody knows their roles and we have some staff that are trained for multiple roles. We're in our infancy still with the wholesale fabrication side of things, only about two years. We found that we're at the right mix at the moment with what we've got going on. Our external department is going really well and will be expanding further this year with more staff. The roller blind department will also be adding another full production line on later this year as well.
Tony: So, Andrew can you tell us about how the system works?
Andrew: All our customers order online through our online ordering portal. It is a series of drop-down boxes so it's quite easy to choose different options like motorization. And then from date of order to date of despatch we run on scheduled dates so a seven working day lead time for our internal product and ten working day lead time for our external, which we are hoping we get to seven within the next month or so.
Tony: I'm sure that would play a very important part in regard to stock levels?
Andrew: Yeah 100% Tony, the business started doing cut the size fabrics skins for retailers that manufactured their own blinds. Part of that is cut to size roller blind tubes, fabrics and components and other things we part of the original offering of Skins2Go. So, for those products we offered a three working day lead time. So, if "Joe's Blinds" orders skins, they know that unless there's a fabric delay for whatever reason that product will be out of the door leaving us, on freight in three working days. Dyson has teamed up with a number of key suppliers in our industry to accommodate our lead times and stock levels. Currently over 120 stillages of fabric are stored onsite.
Tony: So, the stock keeping units are kept at your premises not at the manufacturer's premises?
Andrew: Yes, working stock is all kept in house at a Skins2Go facility, with key suppliers delivering daily to ensure we meet our time frames.
Tony: I see that the business commenced in 2012? Who came up with the initiative?
Andrew: That was Dyson Wood, our GM. Basically the idea behind it was to service those retailers that want to manufacture their own blinds. As you know cutting tables aren't cheap and keeping one of them busy is the best way to pay up for one. So, this concept of Skins2Go is the brainchild of Dyson and it's been successful since 2012, it's actually grown exponentially. It then got to the point that some of the Skins2Go customers got busy at Christmas time or whenever and requested us to make the blinds ourselves and it's just evolved from there. In the last two years ago, we have gone into full wholesale manufacturing of internal and external products on top of this skins service.
Tony: And do you think the wholesale fabrication will overtake the skins service?
Andrew: Overtake skins in volume probably but the skins service is our core and base product that services our industry well this will always be a part of Skins2Go model. The skins service is actually about to expand to accommodate an external offering to the industry as well very soon, watch this space.
Tony: What's the sort of breakdown in your wholesale business between skins and finished products now? And is that rapidly changing?
Andrew: That's a really good question actually and the answer is, yes, it is changing. The skins service is continually growing and with the introduction of the fully-manufactured products this segment of the business has seen the most growth.
Tony: Very good. And who are your customers, SMEs, sole operators?
Andrew: Bit of everything Tony, we service the whole window furnishing sector from large companies all the way down to start-up businesses.
Tony: And what would be your largest state and why?
Andrew: Queensland would make up 50%, NSW approximately 25%, with Victoria, South Australia, Western Australia, Tasmania and Northern Territory combing to make up the remaining 25%.
Tony: Now you mentioned Frank Cairns and spoke very highly of him, he's a lovely gentleman and always great to have a laugh with.
Andrew: Yes.
Tony: So, who else other than Frank have been the greatest influences in your life?
Andrew: My father was probably my greatest influence, along with my mother until we lost her in 2005 – they would definitely be my greatest influences. Professionally I learned a hell of a lot about the industry from Frank, that was a long time ago, I think probably the biggest influence on my career over the last ten years was would be Ray Chatterton. Frank like Ray has been very successful in business, and they have a lot of knowledge to pass on. I learned a lot about customer service from Ray and he really exposed me to a lot more with the suppliers. And finally, there is Dyson Wood, he's only just turned 40 last year, but the mind that Dyson has, he's got a vision, he's got a drive. So, Frank for giving me the opportunity in the industry, Ray for his expertise and taking me overseas and exposing me to the bigger industry and then obviously Dyson for the opportunity that I've got here.
Tony: So, what do you think has been your greatest achievement throughout your career?
Andrew: This interview for sure Tony! No, look the greatest achievement is just making sure the businesses that you work for moving upwards. Probably the greatest achievement is what's happening here at the moment. Dyson had always been involved in the internal side of things but bringing my expertise with the external side of products and industry that's really growing things here. Just seeing happy staff at the back doing a good job and making sure that our customers are happy, it's been an extremely rewarding exercise so far.
Tony: You spoke highly of the culture in your place of work which is great and to have happy staff and happy customers is very important.
Andrew: We are certainly focussed on providing a happy workplace, and an environment where people can develop their skill sets and progress through the business. We are fortunate that everyone genuinely enjoys coming to work, and they are proud of the projects they work on and the job they do.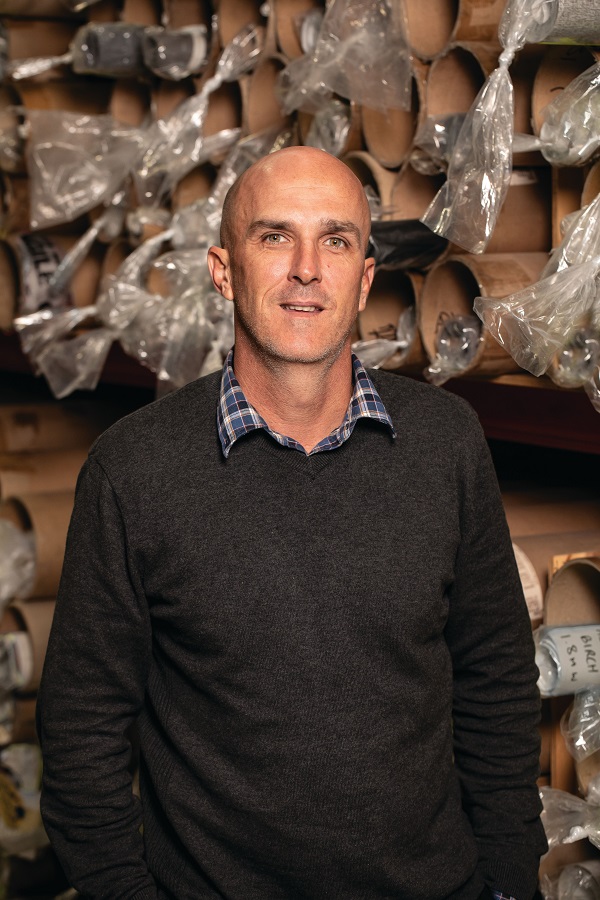 Tony: And what are your passions outside of work Andrew?
Andrew: Golf.
Tony: What's your handicap?
Andrew: Don't have one at the moment, it's been single figures, but that was a long, long time ago, I'm not single figures anymore. The good thing is that Dyson loves his golf too so if we get a chance to go out, relax on the golf course from time to time together, try not to talk about work. And boating, I grew up boating, water skiing and now I've got a little bit older we've just invested in a fishing/half cabin style boat that we love to spend a heap of time on. So, having our little two and half year-old girl out on the boat, she loves it. I was fortunate enough to grow up around water my whole life and she's going to follow in those footsteps, she loves it. I think over Christmas I put 100 plus hours on that boat, so it's definitely been the stress release for me.
Tony: And what was your biggest catch over that period?
Andrew: Not much, but the best thing about living on the Gold Coast you have access to the Broadwater, or you can go outside, so that's why I moved from the ski boat into a fishing boat. I actually had a marlin on the line yesterday but unfortunately lost it. I don't have any photographs or anything to prove it, but I know it took my hook off my line.
Tony: I'm sure it would have been very exciting.
Andrew: When you have been travelling for 45 minutes and nothing happens and then all of a sudden, the line just goes, it's exhilarating, we'll keep chasing them.
Tony: You advertise heavily in the WFA Magazine. How do you gauge its success Andrew?
Andrew: We always get an enormous amount of interest after our ads run. What James has done for the industry with regards to the magazine has been fantastic. As a wholesaler it also gives us the opportunity show ourselves and a lot of our major suppliers are advertisers in the magazine as well. The amount of people that get the magazine, it has been invaluable particularly with the release of the awnings, we get a lot of phone calls, email inquiries saying we have seen it in the Window Furnishings magazine. I think it has been great for our industry. To be able to flick through it online if you need to or we get a number of copies here which get shared around our office staff. Quite often at lunchtime you'll find them flicking through it, having a look to see what's new. The rising star segment and this interview series are great too. You sort of get a bit of an insight into the personal side of people in the industry. So, you might see us at trade shows, or you might speak to us on the phone but it's just nice to know that people can relax outside of work and we all have families, and we all have interests outside of the blinds industry.
Tony: And where do you see the industry heading in the next five years Andrew?
Andrew: I think it's just going to grow. It's going to be interesting sort of to see what happens from here with the whole Covid thing. I can see for our business motorization, home automation, one button set-and-forget roller blinds is going to keep growing. I remember years ago when I was working for Frank and a motor was $650 wholesale and now, they're affordable for everybody which is really, really good. Also, there are a number of suppliers who there's always been the environmentally friendly fabrics and now we are looking at sanitised fabric. I feel that supplies are becoming a lot more environmentally aware. And you know in our industry we use a hell of a lot of fabric and a hell of a lot of aluminium and a hell of a lot of plastics So I think in the next five years or so I think we'll see more and more of those fabrics becoming mainstream fabrics for everyday roller blinds
rather than just a retail customer that is environmentally aware requesting that fabric, so I think they'll become the norm.
Tony: Excellent. Well Andrew I think you have been fantastic today, so I would like to thank you for the time in your participation in the WFA, Ask the Experts series. And we wish you all the very best for the future.
Andrew: Thank you very much Tony, it's much appreciated, lovely to do the interview with you really appreciate it.