Blinds by Peter Meyer was engaged by construction company BuildCorp on a project to add shade and weather protection to the outdoor balcony of the New Chancellery building at Western Sydney University (WSU).
Managing Director Simon Meyer told WFA that the project, which originally called for four large Pergotex 2 systems, eventually had to change direction to achieve the client's desired outcome.
"Blinds by Peter Meyer, in conjunction with dealer Sunteca, quoted the project up with four separate Pergotex Systems mounting the front posts onto the front wall as per the project drawings. The University then requested that the Pergotex framework was used to complete the look in between the four Pergotex 2 Roof systems as they wanted the balcony to have a unified, framed aesthetic. Options in this regard were unfortunately limited due to budget restrictions limited. They were also limited by a fitting constraint; the front wall was not strong enough to support the weight of the Pergotex, and fitting to the floor was not an option due to previous waterproofing issues. As a result, the decision was made to replace the Pergotex 2 systems with Kubata LEDs."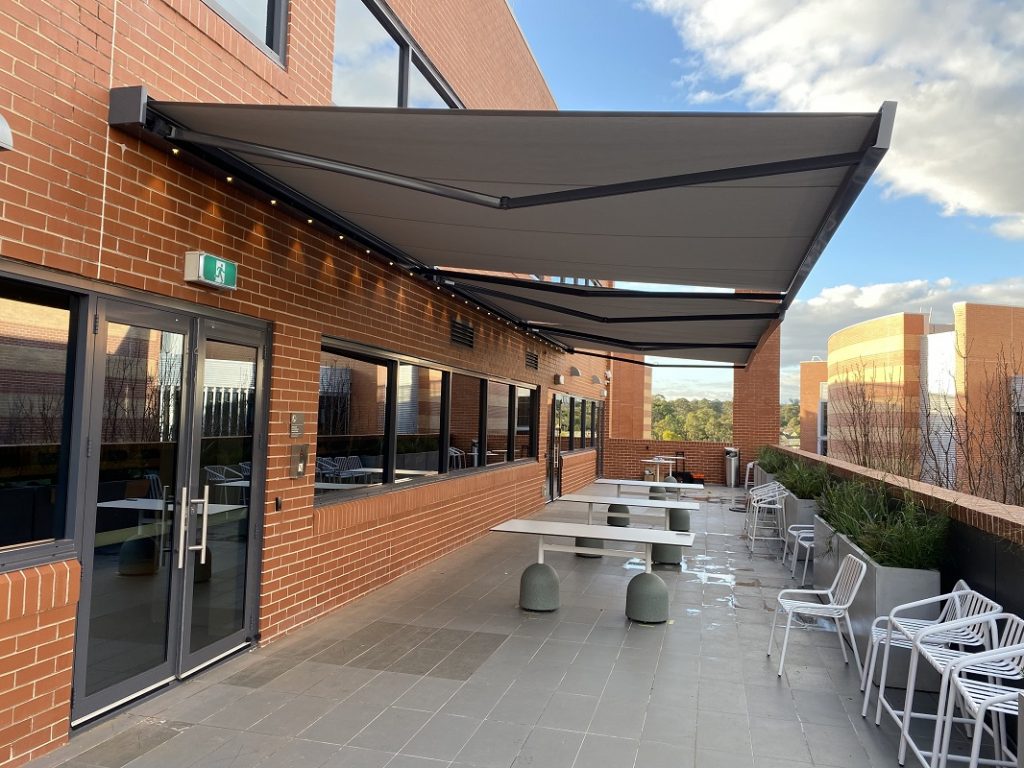 Complexities in pricing the job were added to by compliance issues, says Meyer. "Australian regulations set out by the Building Codes of Australia (BCA) stipulate that any product being fitted onto commercial buildings or high rise apartment blocks above the first floor must be non-combustible. This was a reaction to the terrible Grenfell tower disaster in the UK, where a building facade caught fire and spread across the whole tower. Awnings used to have an exemption but this was removed in a recent revision."
"The issue with this is that it requires awnings to be non-combustible and puts them into the same category as building claddings or facades. The BCA legislation requires that our awnings are tested to 1530 Part 1. However to test to this standard the products must meet a number of criteria: they must be at least 6mm thick and must be non-flexible. Clearly, this rules out folding arm awnings and retractable roof systems from even being tested to 1530 Part 1."
"To work around this legislation, the BMAA (Blind Manufacturers Association of Australia) engaged a fire engineering company to do actual fire tests on various outdoor blinds and awnings to understand how they burn in  fire. What can then be produced is a Performance Solution which shows that our products will not add to the spread of flame in case of a fire. It's then up to the Building Certifier to deem the product as meeting the standard (1530 Part 1)."
Meyer confirms that the solutions for WSU were successfully tested to meet the requirements of the Performance Solution for the project.
"The project was a success in the end, and we obtained a good outcome for the client. But it was an interesting job in that it illustrated the complexity of compliance and the sophistication of regulatory requirements that many shading solutions specialists have to deal with. We're supplying much more than products, but a solution and service offer that requires us to work closely with builders and architects to create structurally and architecturally sound results that are fully compliant."