Announced as Macquarie University's largest and most transformative project in 54 years, the educational campus has unveiled a reimagined space encompassing four new buildings placed around grassed and paved courtyards.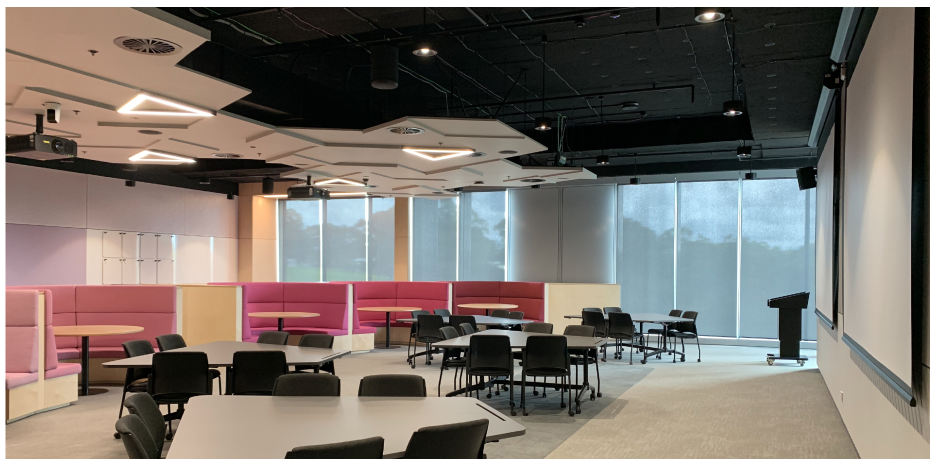 The newest addition to Macquarie University's campus, the Central Courtyard, or 1CC, boasts a four-level building, incorporating a graduation hall, multiple function rooms, beverage and retail outlets, formal classrooms and informal spaces, and a frameless glass façade.
The development has achieved a 5-Star Green Star Design and As Built rating – reflecting the strategic goal to create a sustainable campus – through its use of energy efficient lighting, a highly efficient façade system and even power generation using on-site photovoltaic cells.
Designed by Australian architectural firm Architectus, the vision for the project was to embody environmentally sensitive design principles, including building facades that are environmentally responsive – shading to northern, eastern and western facing windows.
With a strong focus on sustainability, automated technology and energy efficiency were of utmost priority during the design process.
Somfy's solutions contributed to the development's sustainability goal through efficient use of its automated shading system, responding to the external environment therefore prioritising thermal comfort and reducing consumption of artificial lighting.
A total of 333 Somfy LS40 3/30 motors were used in the project. Accompanied by 89 KNX 4AC Motor Controllers, the Somfy animeo KNX Blind Control System works seamlessly to control and communicate between the building functions, optimising both occupant comfort and energy consumption.
Somfy Commercial Expert Solis installed the almost 600 Somfy powered roller blinds, manufactured by Verosol. The blinds were a combination of internal roller blinds using Verosol's 802 Silver Screen and internal block out blinds using Verosol's 890 Originals block out.
"Verosol Australia and Somfy are both market leaders in providing premium window covering solutions," says Brenton Bailey, Commercial Specification for Verosol.
Somfy provided support at every stage of the process, with its Projects team and Somfy Services team installing controllers and commissioning the motors, switches and blind control system.
"Verosol Australia, Somfy & Solis products worked collaboratively to ensure seamless completion of the project as specified," adds Bailey.
Using Somfy's unique shadow management tool, a model of surrounding buildings is used to determine how to shade the building most appropriately. The tool incorporates a 365-day model of the building, surrounding buildings and past weather and climate data to predict expected weather conditions and form appropriate responses for the blind control system. Facades with a shadow cast on them by neighbouring buildings will have their blinds opened automatically to maximise access to natural daylight.
"The Macquarie University Central Courtyard project shows off what Somfy has to offer for automated blind control and interfacing with other services," says Somfy's Projects & Services Manager Joel Gray.
"Sun tracking, shadow management, AV & BMS interfacing at high level are all wrapped up in one package which gives the user the greatest comfort levels from a glare perspective whilst having full control of the screens and block outs at the press of a button, all supplied, installed and integrated by Somfy Services."
The Somfy animeo KNX system is particularly advantageous, giving added control and visibility of the system. Somfy Services installed high-level interfaces to both the BMS and AV systems via KNX interfaces. By doing this at high-level, Somfy Services was able to set priorities for each user or automatic function. Motors can be addressed, monitored, and controlled individually, giving occupants the flexibility to customise their favourite blind position.