Sleek, modern, linear, and meticulously considered are terms that come to mind when first viewing the exterior of Sussex House in Brighton, Victoria. Hard materials, texture, geometric forms, minimal colour and lush gardens to soften the exterior all feature in this home.
mckimm design & build provided the vision behind this project, which combines style, functionality and the environment surrounding Sussex House. The home is in close proximity to the coast and these unforgiving climate conditions require solidity. Sussex's concrete panels and large glazed windows offer this durability. On closer inspection however, and via the windows, you begin to see elements of contrasting softness to the exterior of the building.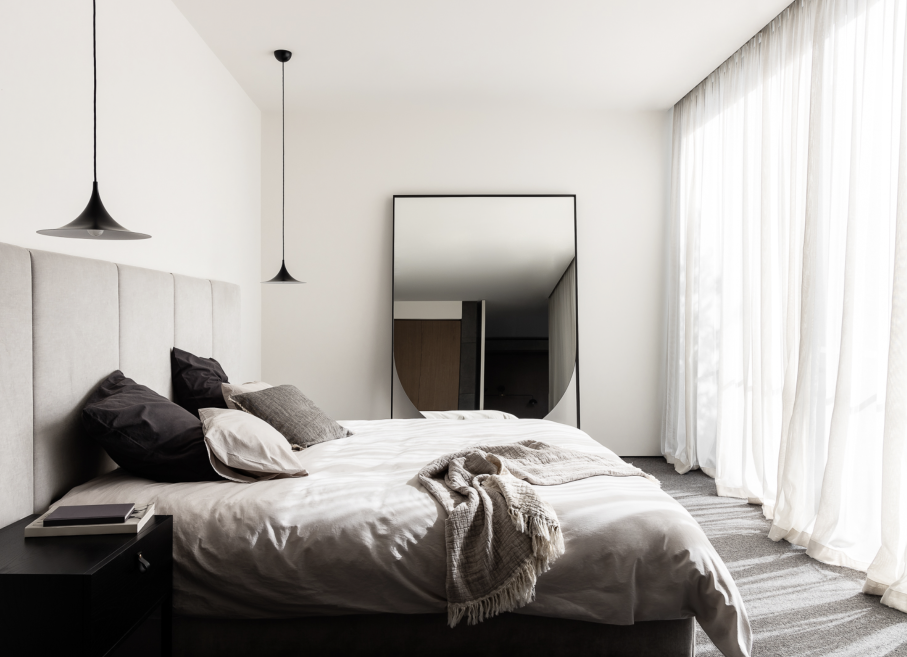 The soft folded sheers are a perfect contrast with the exterior's imposing presence. SOM Blinds worked closely with the client to select a fabric by Zepel that was functional, durable, yet beautiful.
The window coverings company then designed, manufactured, and installed the custom made window furnishings throughout the home, creating visual continuity and ample light throughout each space. The fabric chosen, Chance in colour Dune, is a super soft finely woven polyester design that has a two-tone effect, allowing for bounds of filtered light while creating privacy.
This is a home designed for entertainment; the elongated windows in the dining area allow the beautifully installed sheer to really shine – creating the perfect amount of softness against the charcoal colour scheme, hard finishes of natural/blue stone, and speckled tiled floor.
Depending on the time of day, Sussex House can also have a dark and moody ambience, which is ideal for the more intimate spaces within the home such as the bedroom and bathroom. The neutral palette and minimalist aesthetic create a serene feel in these expansive spaces, where the mind can be uncluttered at day's end.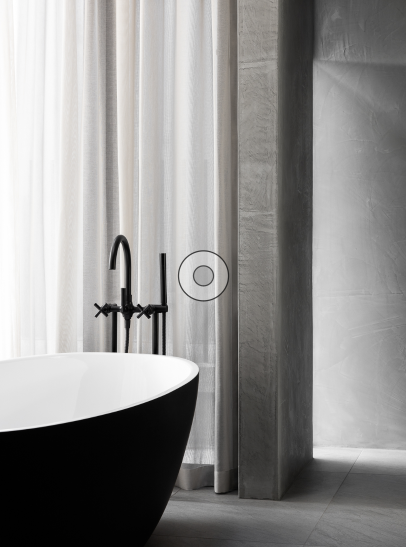 The addition of the sheer drapery in these interiors adds an element of privacy and warmth, creating a soft perimeter around the room for further comfort. The large, glazed windows also allow the homeowners to connect these spaces with the manicured gardens on the outside.
SOM Blinds and mckimm have collaborated on numerous projects showcasing their versatility and expertise in design and furnishings. Sussex House has been shortlisted in the 2021 Australian Interior Design Awards.
Photographer Timothy Kaye – timothykaye.com, @timothykaye mckimm design & build – mckimm.com.au, @mckimm, SOM Blinds – somblinds.com.au, @somblinds