In this edition's Ask the expert series, Tony Cassar chats with an old friend, Kevin Dahlberg from Hardback Wholesale Blinds and Awnings, about going up the supply chain, family values, restoring vintage cars and a serious boating accident that changed his life forever.
Tony: Hi Kevin and thank you for being part of the WFA Ask the Expert series.
Kevin: Thanks, Tony. It's always good to catch up for a chat.
Tony: Kevin, what were you doing before entering the window covering industry?
Kevin: I had my own plumbing business for 18 years, and then in 2004, progressed into the specialised field of spas. Then an opportunity to enter the industry came through my family, who were in the retail manufacturing sector, and asked could I get involved because I had been involved with spa covers and we were manufacturing at that point.
Tony: Kevin, tell us a bit about Hardback Wholesale Blinds and Awnings.
Kevin: We only specialise in external blinds and awnings as you know. The best way to describe us is that we're a hardcore external blinds business. We offer specialised blinds, systems and customised bracketry, developing our own products. We also have our own powder coating plant. We focus on external blinds and awnings, offering great service and training in the field.
Tony: Kevin, doing business with you in the past I've always found you and Hardback to be very creative and very progressive. Are you still being creative in design?
Kevin: Probably more so Tony than ever. Where we're growing the business there is a customer base that is asking a lot more of us and for a lot more support. We offer the whole package, not just the product; it's the training, it's that they've got someone to pick up the phone and talk to and we can give them an answer, usually straightaway.
Tony: And you seem to be at the very forefront of the designing of the technology of external window coverings.
Kevin: I like to think I am. It's one thing I'm still really passionate about; I could see my future in that role. I do love coming up with new products. I work very closely with our product design team here, and I wish I could do more of it. We usually try to release new products every 18 months or so.
Tony: It's the design part of window coverings is what you enjoy the most?
Kevin: Very much so, I love being able to design a product, and then put it into the production team and watch it flow through the production line. That is very satisfying, extremely satisfying.
Tony: Side retention systems in Australia are very popular. I think Australians would have to be the leaders in side retention systems throughout the world, wouldn't we?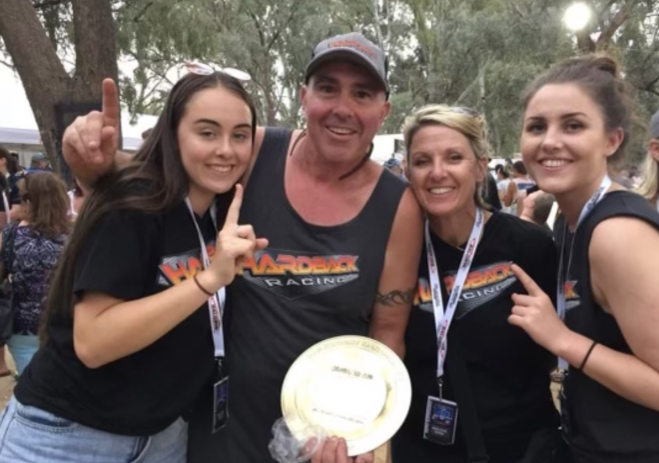 Kevin: I think so, by a long way. It has to do with our environment here in Australia. Particularly here in Melbourne we can have four seasons in one day. So we've got extreme heat and weather and we have to have the systems and fabrics to accommodate it.
Tony: What are the greatest challenges within the business today, Kevin?
Kevin: I would say the biggest challenges have been setting up good supply chains, cultivating suppliers, and designing our own product. We found that we wanted to be more self-sufficient and in control of our own destiny. So we started to design in-house here and really take control, and we found it was a challenge. We needed to raise the bar for our dealer network and for us as well.
Tony: So that must give you a real competitive advantage over the others?
Kevin: It does. It's more about customer satisfaction, and the dealer experience. Both my wife and I are extremely close to our staff but also our dealer network that we like to keep in touch with and get feedback on our products and services.
Tony: How have you found staffing recently? It seems to be a problem with many businesses in the industry at the moment.
Kevin: We've certainly had staff challenges like many other companies but we have a lot of long term staff from pre-Covid-19 times, which is great. Hiring during Covid has been very strange to say the least. But we also look within the Hardback group for promotion through the ranks and we have a very stringent interview process.
We've let them know exactly what they're in for. We also look outside the industry for people we think could be a good match for Hardback. We can bring them into the industry, train them up on product and develop their strengths, and we sit back and listen to what they can bring to the table. So we look for people who are going to fit in with the Hardback culture. That is very important to us and our staff.
Tony: You mentioned supply chains earlier. You said that you're in control of most of your supply chain. How about the ones you're not in control of? How have they been performing?
Kevin: Overall, pretty good. We had a number of systems in place pre-Covid that Hardback wanted. And we meet regularly with those suppliers and as a result we feel we really haven't felt the full brunt of it. I think that you'd find our dealer network would agree with us. We were able to get control of that and set a standard for what we wanted with the products coming through, which kept our efficiencies going in the right direction.
Tony: Tell me why you decided to go into the supply chain, was it about cost or quality?
Kevin: 100 percent about quality. There are products that have been around in Australia for a long time that people still manufacture that are not quite right. It was possibly right in the 1960s, but it's not right now. It has always frustrated me because at the end of the day, we're the guys that will hear about from our dealer network. So we have redesigned a lot of products.
We actually have a wide range of popular fabrics, as well and our own fabric collection, our My Outdoor Living book. We started making that book up ourselves seven or eight years ago. It's a combination of mesh, canvas, and acrylics and we give that to our dealers. We wanted to make it simple when dealers are selling to their customers. A lot of customers really appreciate that. We make changes over time to the book if fabrics aren't selling, but the biggest benefit is the suppliers guarantee supply if we put those fabrics in the book.
Tony: I've seen more recently fabricator retailers struggling, just because demand has gone up. Are you seeing this at the moment?
Kevin: Absolutely. I had a customer who came to me many years back, around the time social media started playing more importance with reviews, and he said that "customers are getting a lot more savvy. It's a full-time job, getting your reps out, training them on the product, coordinating installs."
Do you really want to be dealing with manufacturing, stock and supply issues, keeping up with technology, plant and equipment, which is costly as well as having skilled staff, when you may not have the volume to be competitive? Manufacturing and retailing now are two different beasts.
We've got a real mixed bag of dealers, some of them retail only, some of them used to manufacture and have been in the industry a long time. Now they just want to concentrate on selling. But we do have some customers that do partial manufacturing, and they're having their own challenges, which they will talk to us about that as well. And because we have a good relationship, we will try to offer solutions to do their manufacturing and alleviate some of their issues and help them on that journey.
Tony: You advertise in Window Furnishings Australia magazine. Obviously, that works for you. How do you gauge success?
Kevin: The magazine exposes us and brings the whole industry as one together. It lets you see what everybody's doing. It helps you see if you can build relationships with certain people, are they a good fit for you? So I think the magazine is fantastic; the industry needs something like this. I've spoken to many people after seeing an ad or story in the magazine and said, look, I'm looking to sell this product if you're doing that. I enjoy networking with people in our industry and the magazine is a vital part of the industry.
Tony: Kevin, what would be your greatest achievements throughout your career?
Kevin: Starting from a blank canvas to building the business to what it is today. Building great relationships, not only with the staff, but with our suppliers, we're very blessed. My wife and I are very close to our staff. I do know them all personally, which is a good thing in most cases. So that's one of our greatest achievements, is to get our staff to the level they want to be.
The other is introducing a lot of our customers to external products. Some of our customers are apprehensive about external products to begin with, or maybe they know the product, but they don't know how to fit it. We've got a lot of dealers now that we've really helped and supported them to grow their confidence. I think a lot of them recognise it as an opportunity for them to do external, but they need someone supporting them as well. It's all about confidence to sell the product, fit the product, and then support the product and keep selling.
Tony: Throughout your life, Kevin, who has been your greatest influence, and why?
Kevin: Tony, without giving it any thought that would be my father. My father has always been a strong, competitive man. He ran his own business. He's got good business ethics. He has pushed me and supported me in my sports career. Long before ski racing. I had a motocross career, which was every second week, all around the country. There were never any sleep ins in my family. If we were going to do something, you either did it properly, or don't do it at all, commit or don't commit. That was his theory, but a very ethical man. Good family values.
Tony: I know that you have some great passions in life, and you've mentioned your motocross, your water skiing, and your love of cars. Tell us a little bit about waterskiing.
Kevin: When I was 11, I started in motocross and made the progression across to ski racing. I started off as a skier behind the family boat, then moved up through the ranks into the unlimited class back then, which is high speed waterskiing, over 160km an hour. And then as I got older and the body got tired I went into observing in the superclass, which I did for many years with a friend.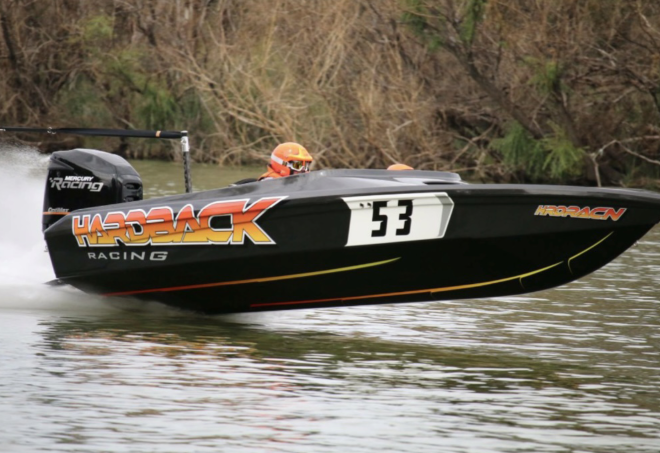 I then decided that I wanted to challenge myself and put myself into the outboard class. It was a very technical class, where speed wasn't quite as high as in the early days, but we eventually pushed the speeds back up with a purpose-built carbon fibre boat. I had some really good guys backing me that were in my team.
Tony: So you had some sponsorships?
Kevin: Yeah, I had some sponsorships which was great, including a big US engine manufacturer. And they definitely helped me dramatically in my sport. With the team we won a lot of titles, had a lot of success, but also met a lot of good people who I still see today.
Tony: Did you have to travel?
Kevin: We traveled all over. We did a lot of time in NSW, Sydney and South Australia, but probably my favourite was the Hawkesbury river in Sydney, which was a technically fast course and well as the beautiful location.
Tony: So Kevin you stopped and retired from the water-skiing itself?
Kevin: Yes, I did because of an incident. We were training on a Sunday morning and the boat was being fine-tuned for racing. We were looking for 100% top-end speed. We had a mechanical malfunction, rolled the boat over, destroyed the boat, and were airlifted to Royal Melbourne Hospital. It was at that point, Tony, where I had to re-evaluate things. When I was in hospital my wife Karen said "I think we need to look at this because I'm not being left with all this business to myself." I knew at the time It was time to give it up. We had achieved what we wanted to achieve. The whole team all retired together, but we still see each other to this day on a social level.
Tony: And now you channel a lot of energy into cars, can you tell us a little bit about your cars?
Kevin: We like to restore them. It's been one of the best things I've done. I've got a 1947 Chrysler and 1952 Supercharged Chevrolet and a nice big Imperial-Chrysler Imperial, which we use to enjoy a nice lunch and a cruise to a pub or winery. I'm also restoring a 1935 Ford convertible, which is posing its challenges. But we're definitely well into it.
Tony: And how rare is that car?
Kevin: There were only 1100 of them made. So it has got its challenges with finding parts. We hope to have that finished in the next 18 months to two years. We'll have that on the road. I'm pretty passionate about it. I've got another passion which is mountain bike-riding. I started on a social level, and now I've done a few races a bit more competitive, which I have enjoyed, doing it with a few other people in the industry.
Tony: What does the future look like for you and Hardback?
Kevin: I'm still very passionate about the industry. I've got a passion for design, training, and creating efficiencies in our factory. The sky is really the limit in Australia for outdoor living, especially if you're going to install retractable roof systems! Tony, now I've got a really great crew at Hardback and they steer the ship and the future looks bright.
I have done the seven days a week thing. So it's about getting a bit more life balance, spending more time with my family, trying to get away a bit more, to find a new winery, travel around in our RV. And on a personal level, keeping up my fitness on my mountain bike is also important to me now.
Tony: With the window covering industry moving forward is not just about climate control, you feel it's more about lifestyle?
Kevin: I feel our products are not only necessary for home and businesses, but also about Aussie lifestyle. And with the home demand that Covid created, our customers are using our products to get the family together. I think one thing that's come out of the pandemic is true family values and spending time together.
We personally spend time with our kids at home in our entertaining area. We would use it multiple times a week. We sit outside together with the blinds down in summer and the heaters on in winter. It's just good times. We get the chance to pass on this lifestyle story on to our customers, and that's the best part of the job.