The Ainsworth Building, Macquarie University's Clinical Education Building, is one of Australia's youngest, yet most innovative medical health facilities.
The striking, four storey timber building emphasises sustainability and cutting-edge technology, being awarded the 2021 NSW Architecture Award for Educational Architecture.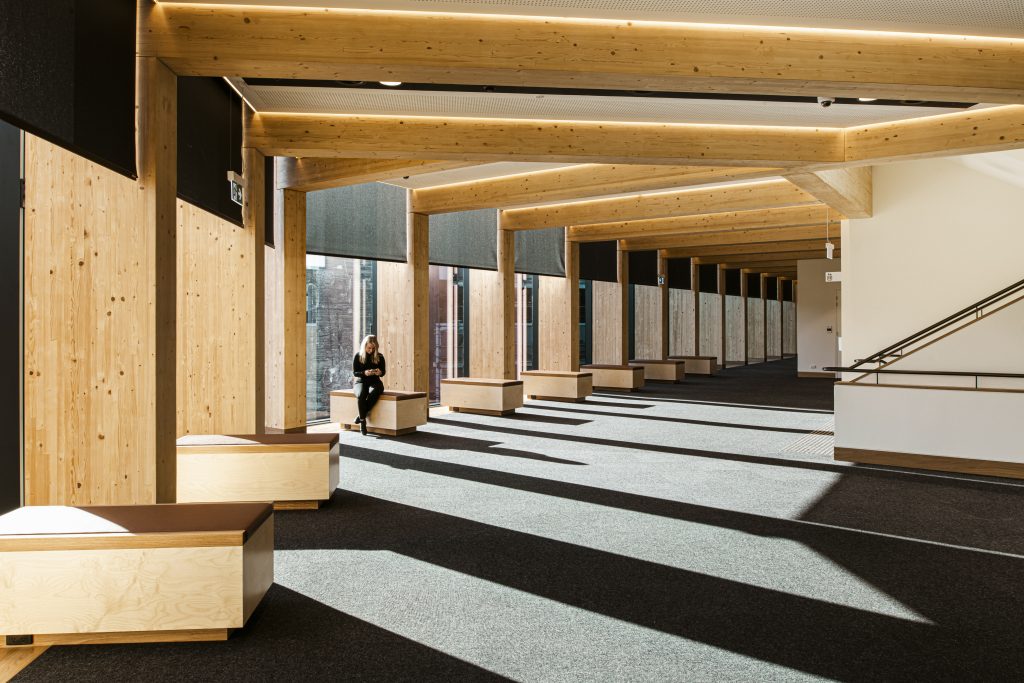 Designed by Australian architects Architectus, the high-performance building encompasses key teaching and learning spaces including a 200-seat lecture theatre, in addition to two 90-seat Harvard-style case study theatres and six 30-seat team-based learning rooms.
Its striking aesthetic and landmark 'W' column combined with an eye-catching glass facade, create an inviting building that reflects the surrounding Australian bushland.
With the structure intended to foster a culture of transformative learning amongst academics and professional staff, Somfy's animeo KNX System catered to three priorities: versatility and adaptability, high-collaborative spaces, and sustainability.
The animeo KNX system allows each blind motor to be individually addressed and configured and provides seamless integration of the blind motors with third party Building Management Systems and sensors, for ease of use by both students and lecturers.
The Ainsworth Building's glass façade brings maximum light into the narrow site, creating a visible link from learning spaces to the hospital and reaffirming the biophilic connection between the occupants and the native bushland campus.
The use of automated blinds to provide solar protection and glare control was a critical component of the high-performance building, actively managing daylight for increased comfort and well-being, whilst minimising energy consumption from artificial lighting.
The intelligent design facilitates the use of full-height glazing which connects the building's occupants to nature, via expansive views and abundant natural light.
A total of 110 Sonesse 40 WT & LT50 motors were used in the project. Accompanied by 32 KNX 4AC Motor Controllers, the Somfy animeo KNX Blind Control System works seamlessly to control and communicate between the building functions, optimising both occupant comfort and energy consumption.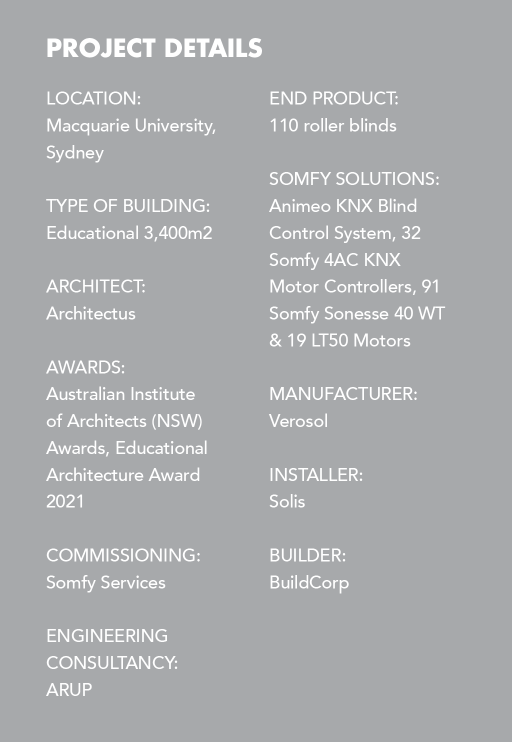 Somfy Commercial Expert Solis installed the 110 Somfy powered roller blinds, manufactured by Verosol. The blinds used SilverScreen Performance Vision Metallised Back Screen and Aspect Blockout fabrics, providing privacy, heat and glare control and room darkening when required, particularly important in the facility's lecture theatres.
"Working with Somfy has always been a positive experience," said Scott Johnson, General Manager for Solis. "Somfy's service, reliability and fast responsiveness is second to none."
"With the continued support of Somfy both during and after project completion, our commercial end clients are always assured peace of mind."
"Verosol Australia and Somfy are both market leaders in providing premium window covering solutions for varying commercial projects," said Verosol's Commercial Specifier Brenton Bailey.
Somfy provided support at every stage of the process, with its Projects team and Somfy Services team completing the installation and commissioning including KNX integration and integration with the Building Management System (BMS).
Somfy's KNX 4AC Motor Controller provides positional feedback for each individual motor output during movement and when reaching top- and bottom-end position. The system allows for the connection of different motor types to a single control hub. Its advanced operating mode means greater user comfort through local disabling of non-security commands as soon as local operation is designed.
Somfy's Projects & Services Manager Joel Gray, confirms that the Ainsworth Building was designed to the requirement from BuildCorp for BMS control of the blinds for automatic operation and local RTS override for the lecturers.
"The system has the ability to be upgraded with AV control with the addition of one device when the need arises," Gray continued.
"It is a one-of-a-kind project, with the blinds integrated seamlessly into the timber structure and glass facade."
The Somfy animeo KNX system is particularly advantageous, giving added control and visibility of the system. Motors can be addressed, monitored and controlled individually, giving occupants the flexibility to customise their favourite blind position.
System maintenance can be completed with ease, with faults or power failures on motors or motor controllers communicated directly to the Building Management System.
Additionally, motors and zones can be reconfigured through software, eliminating the need to rewire. The system can also be integrated with Audio Visual for lecture theatres, allowing for blinds to be automatically adjusted according to audio/visual requirements.
The Sonesse range of quiet motors is recognised throughout the industry for meeting the needs of even the most high-performance project. Somfy Sonesse motors are available to suit all interior shading applications.
Quiet, adaptable and intuitive, Sonesse motors are designed for all types of projects from commercial to residential, including new builds and renovations.