"One of the earliest things to be considered was something that will be installed almost last – window coverings. We considered all of our coverings at the very, very start of this project. This is because they can make or break a space, and we absolutely believe that investing in quality blinds and window coverings is essential when creating a highend finish in a room."
"Your building plans can even be impacted by the type of window coverings you want – so this is a particularly important consideration when you have to abide by the set guidelines of a heritage-listed property.
Fortunately, fitting specialists will consider a variety of factors, such as window aspect, size, function of the room, and control options."
"With a traditional facade and unique heritage features within the house, we wanted to create something modern while honouring what was already there. We worked closely with the Luxaflex Window Fashions team."
MASTER BEDROOM
The bedroom is located on the ground floor at the front of the house. Making sure the blinds offered efficient privacy, without compromising on natural light or the view, was critical.
Luminette Privacy Sheers were selected for the master bedroom in 'Ideal Greige' with room darkening opacity. A visually striking alternative to sheer curtains, they have the benefit of translucent or room darkening vertical vanes that provide perfect light and privacy control with full 180-degree closure. They are a true luxury product and really ticked all the boxes for us.
MAIN LIVING ROOM
The kitchen/living/dining area next to the master bedroom features huge feature windows and sliding doors that open out from the living area and into the garden, acting as a key visual detail of the space.
"We chose to install Luminette Privacy Sheers here too, this time in China White and translucent opacity. This style of blind is ideal for someone who would like a window covering but still wants to enjoy a view. They add luxury, but also that touch of softness that the space needed."
CUSHIONS
"Cushion selection was critical for the space. We elected to go with Grace by Linen House from Manchester Warehouse, they drew off the monochrome palate that had been selected for the main living room."
GARDEN
"Outside, we installed a Como folding arm awning – the final touch in making this a perfect little oasis in the middle of the city along with a space for parking a car. External shading not only provides shade to enhance time spent in the backyard, it also helps maintain
the internal temperature of the house by reducing the heat transfer through windows. When radiant energy from the sun touches an object inside, it gets hot, making the room hot. External shading from Evo Awnings can reduce cooling energy costs by up to 60 percent.1"
The garden continues the house's urban theme with clever paving and a dark fence. To create an ultra luxe look the awning was colour coordinated with the home exterior. This colour coordination went beyond just the awning fabric to encompass the hardware so it blended seamlessly to the building facade.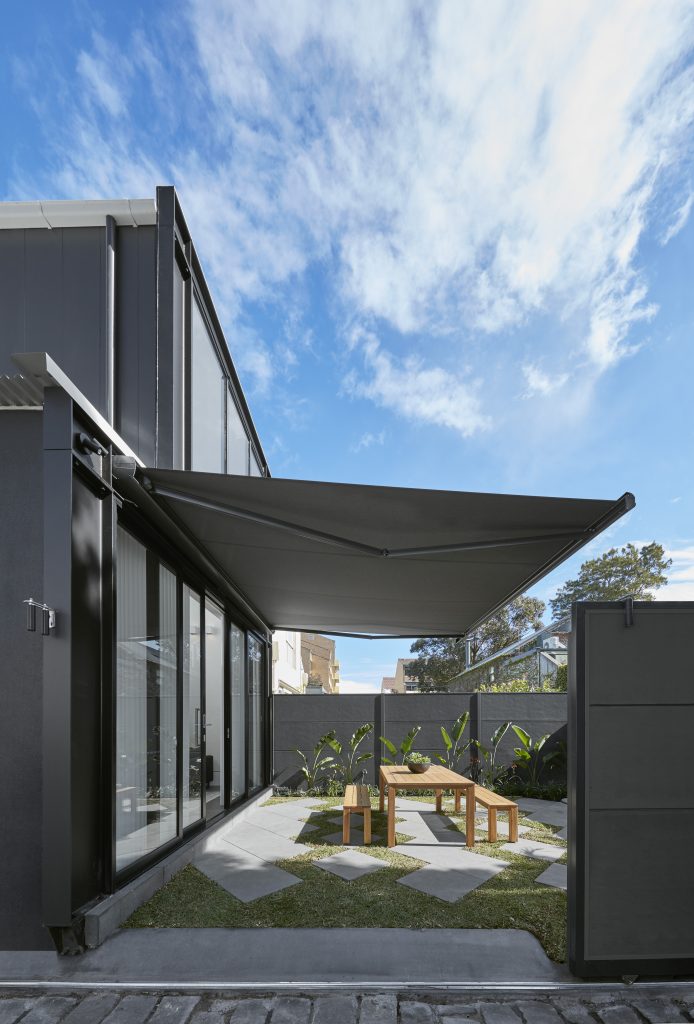 SECOND LIVING ROOM
"In the second living area on the first floor, we have big sliding doors that open onto the terrace. We selected Modern Roman Shades in 'White Dawn' with a traverse operating method so the fabric vanes sit vertically and can be easily opened with the doors."
"It used to be thought that every room should have the exact same window covering inside a home to create a consistent look, but that just isn't the case. The texture in the Sheer Linen fabric of these blinds helps bring a real sense of texture to the room. This is echoed through the vertical timber panelling and stone on the feature wall, providing warmth while staying true to the 'urban' theme we wanted. It also helps ensure the space is kept quite simple and therefore versatile, so that the new owners can transform it into an office or sitting room – depending on what best suits their lifestyle."
PILLOWS AND BLANKETS
"Styling with Pillows we again turned to our friends at Manchester Warehouse. To achieve the scattered look we used two standard Pillows, three European sized Pillows, and some assorted shaped pillows. Blankets were another area that added to the styling. Here we went for the Ardor Boudoir Lucia 350GSM Ultra Soft Velvet Fleece Blanket Range.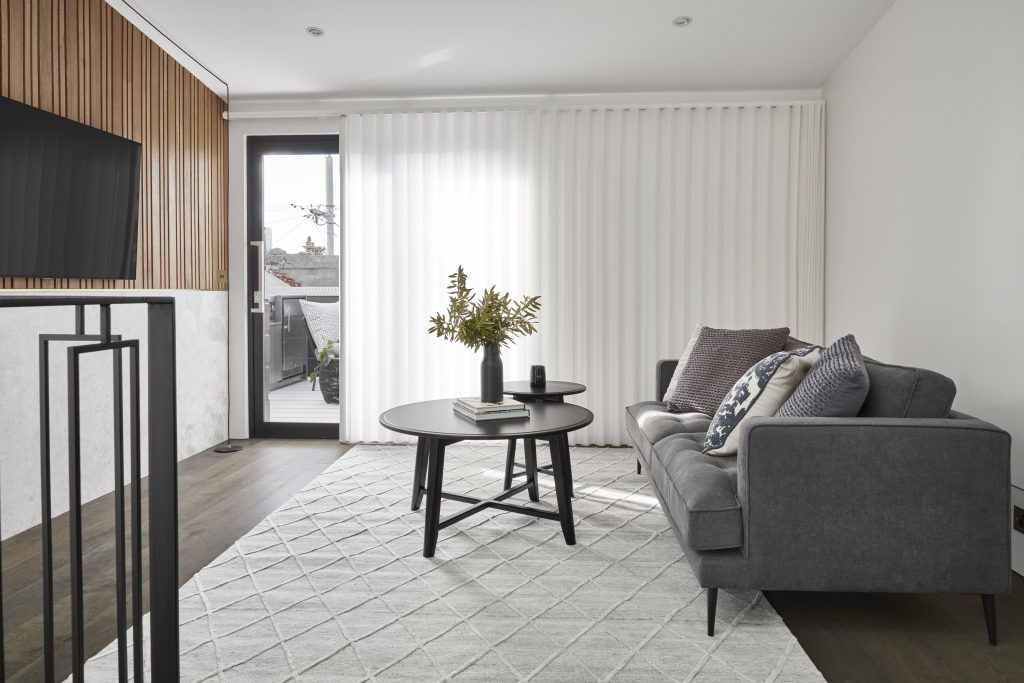 UPSTAIRS BEDROOMS
The two upstairs bedrooms both feature Duette Architella Shades in Elan Black Onyx and Platinum. "These shades are particularly good for bedrooms as they have minimal light gaps and can achieve 100 per cent light blockout so that street lamps and early-morning sun don't disturb a restful night's sleep."
"The house has a stunning location with dazzling city views, which we also really wanted to maximise. We recessed the Duette Shades into the bulkhead so when you're looking out the window you don't have any obstruction."
The strong contrasting colour was also a refreshing take on the ongoing urban theme.
QUILT COVERS
"For the quilt covers (or doona covers) we wanted a soft cotton look, so went for luxury with the Sheridan Millennia 1200THC Quilt Cover Range in Snow. The 1200 thread count on the sheets give them that six start hotel feel and add great warmth throughout the winter months."
WHOLE HOUSE AUTOMATION
"With a focus on detail, execution and character, we brought this dilapidated Victorian building back to life with highend fittings and finishes, and design that embraces the latest trends and technology."
The whole house is fitted with Luxaflex PowerView Motorisation to power its window coverings – and is one of the very first properties to install the next generation model of home automation technology.
"This clever tech provides numerous benefits. For example, child and pet safety is becoming an increasing concern for homeowners and a motorised operation system is an ideal cordless solution that combines safety, style, and complete convenience."
"The new homeowners will be able to close their blinds at the touch of a button, as well as the option to schedule their window coverings to lower exactly when they want. They can also use the PowerView App to create a unique collection of personalised 'Scenes' for their daily life. For example, greet the day with the arrival of the sun in your master bedroom and kitchen to the perfect position for your morning activities, then have them gracefully close as you leave for work in summer to maintain a cool indoor temperature inside."
"One thing is for certain; blinds shouldn't be an afterthought at the end of the project. They are a major part of a room visually, and something that you will interact with every day, so it's vital you achieve an end result that is both beautiful and practical."
1 Based on independent modelling conducted by White Box Technologies in conjunction with Peter Lyons & Associates, June 2013. Savings vary based on location, home type and fabric used.